My Trip to Southeast Asia Begins!|12 January 2016
From now I'm going to be researching art spaces around Southeast Asia for three months.
First of all, I'm heading to Manila, in the Philippines.
It takes five and a half hours from Haneda International Airport.
During my flight, I watched "BAKUMAN" (a Japanese movie about manga artists), and in a flash I find myself in Manila.
Hello, from freezing Japan!
The moment I get out of the airplane, I am hit by the hot and humid air, filling me with a sense of nostalgia.
I had last visited Manila at the end of 2014 with other members from Art Center Ongoing, but just as before, I am greeted by the humid air, honking cars, and exhaust fumes; unchanged.
This is Southeast Asia.
In Manila, I'll be staying at the members of 98B, Mark and his wife, Ms. Mayumi Hirano's house. (Mark is married to a Japanese curator / researcher, Mayumi Hirano.)
A young artist named Gerome comes to pick me up from the airport.
I can recognize him easily, thanks to the (great) info that he would be wearing a green Bob Marley T-shirt. Gerome is a nice guy in his mid-twenties, he seems full of hope and has kind eyes.
He will be helping me to navigate my way around Manila for the coming week. I feel a sense of relief.
After a two-hour taxi ride, I arrive at Mark's house.
This is the entrance to the house, the legendary place where 98B first begun.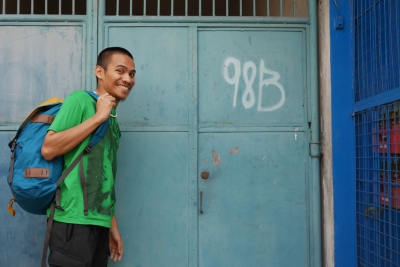 Going down stairs to get some drinks from the shop.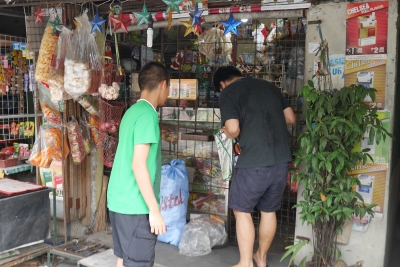 This is a famous beer in Manila, "San Miguel"
(This one is San Miguel Light), with Mark.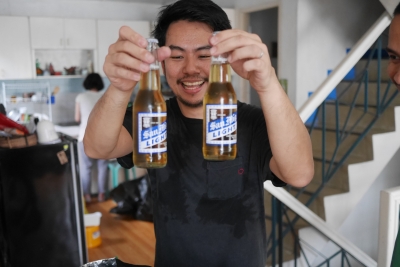 Mayumi and "super kawaii" Yoji.
Nice to meet everyone and looking forward to my stay.
Feeling very tired, I talk with Mark about how best to travel around the Philippines starting from tomorrow.