24 January 2016|Cycling and Art(FitStop Bite and Bikes)
Today I leave from Negros to Panay Island. It's like doing island-hopping in the Philippines.
Well then, I'll start!
I depart from Bacolod in the early morning and arrive after a one hour ferry ride. The city is called Iloilo, and is located on the south coast of Panay Island.
Arriving by ferry.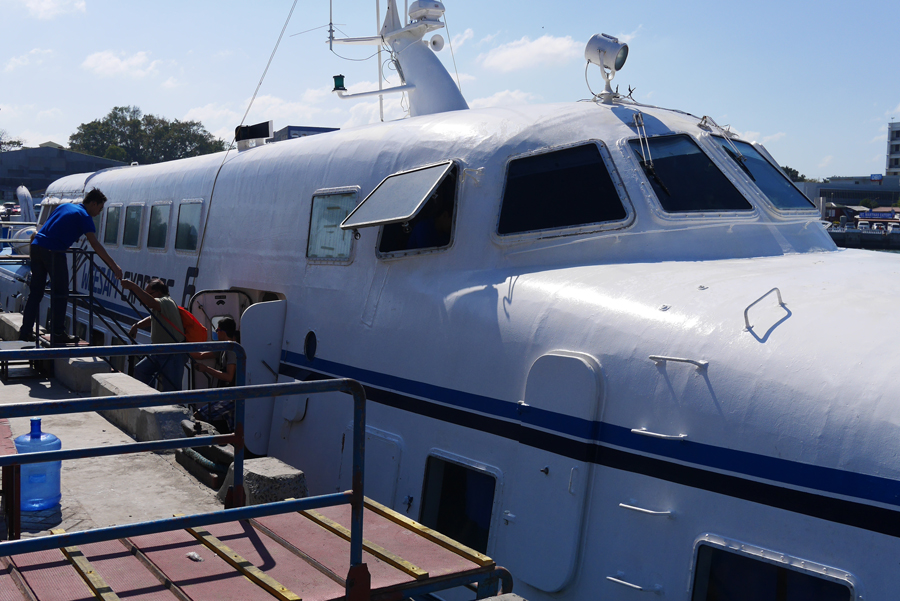 Rock Drilon, a local artist will guide me in Panay. I'm heading to a café in the market to meet him. I'm not sure if it's lucky or unlucky but "Dinagyang", a big festival held only once per year is taking place at this time! There is a big traffic jam on the road.
Crowds of people and a parade.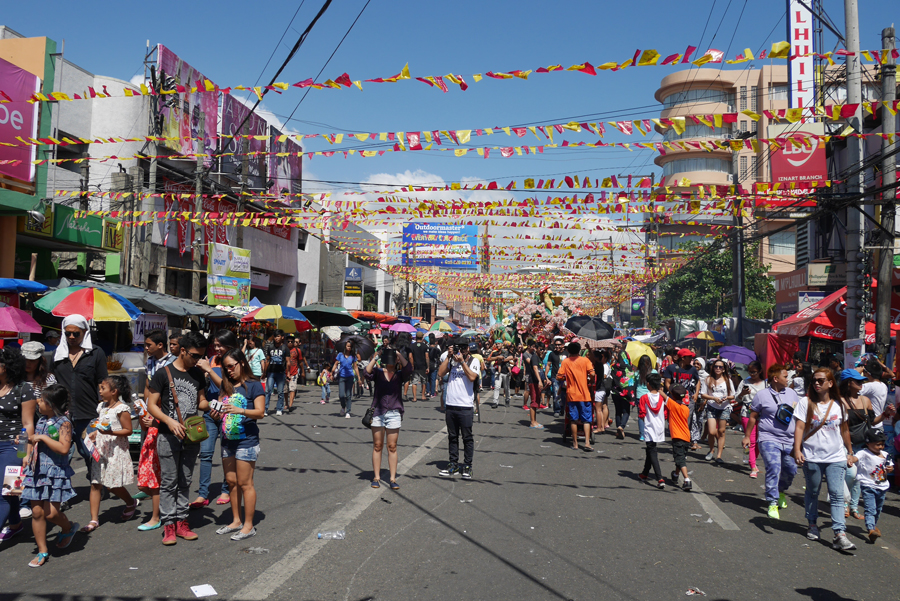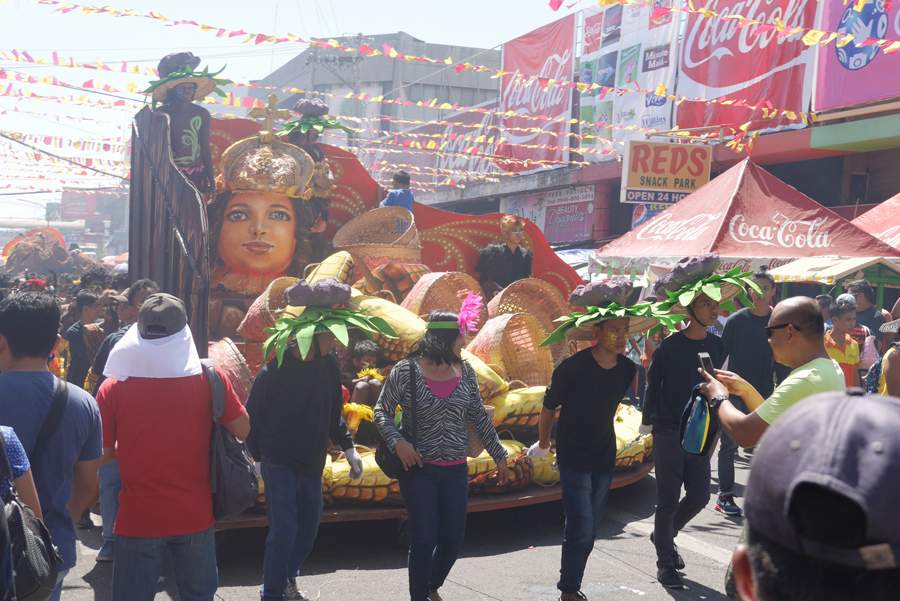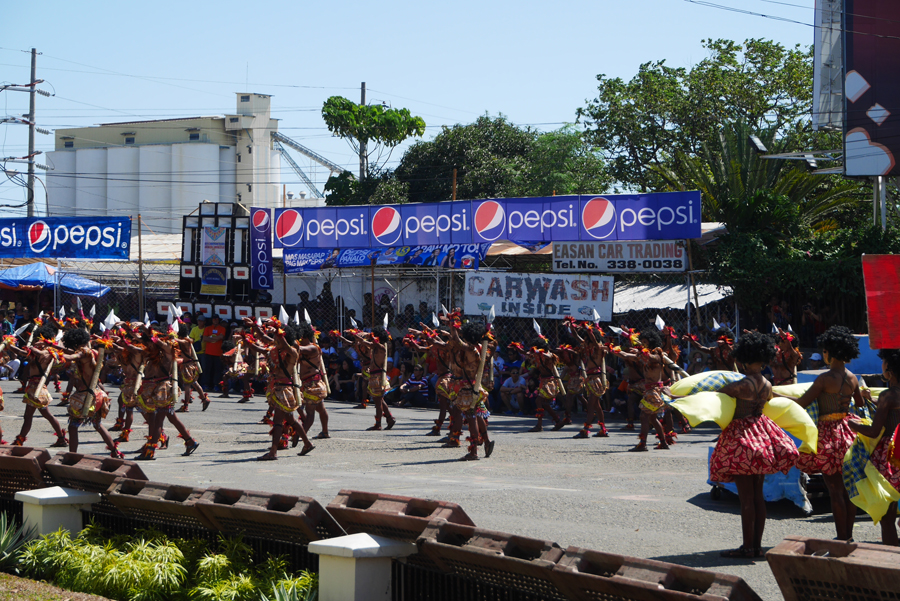 Finally I arrive at the market and meet with Rock. He is a very famous artist in the Philippines and will soon be turning sixty years old. As we go around the city people sometimes ask if they can take their picture with him. I think the locals in the Philippines respect artists wherever they go. It is very different from in Japan.
Rock is a nice guy and is always smiling kindly. I have a good affinity with him.
We go to eat Batchoy, a famous noodle dish in Iloilo.
Batchoy has a garlic flavor, so it might appeal to Japanese tastes.
It is like Japanese ramen with a topping of beef and pork.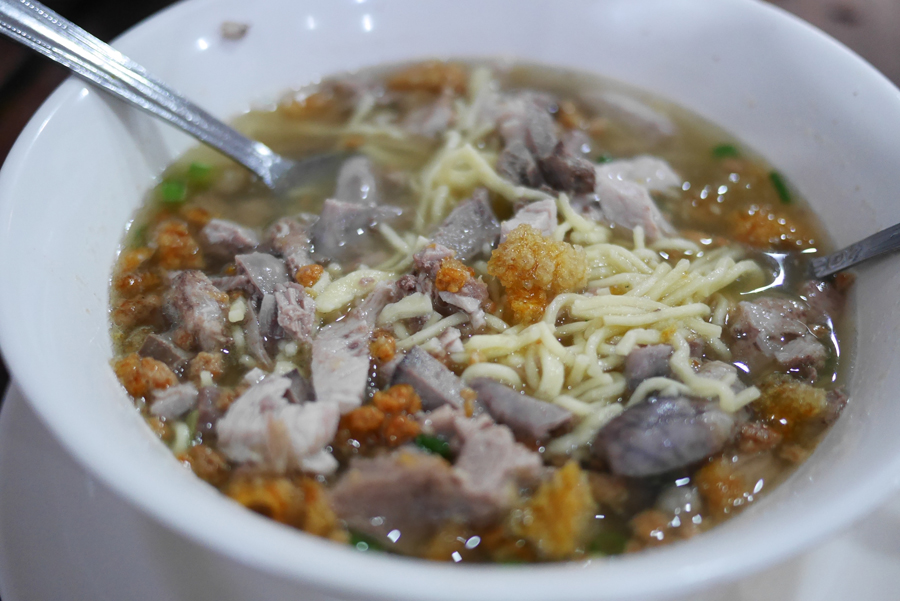 After lunch we start to go around the art spots of Iloilo. First we visit a space which has a movie theater and gallery. It was established two years ago and there are paintings by local artists lined up on the wall. At the time of our visit, a group exhibition curated by Rock is on display. The space actively tries to give young artists opportunities to show their works.
This is the art space with theater and gallery.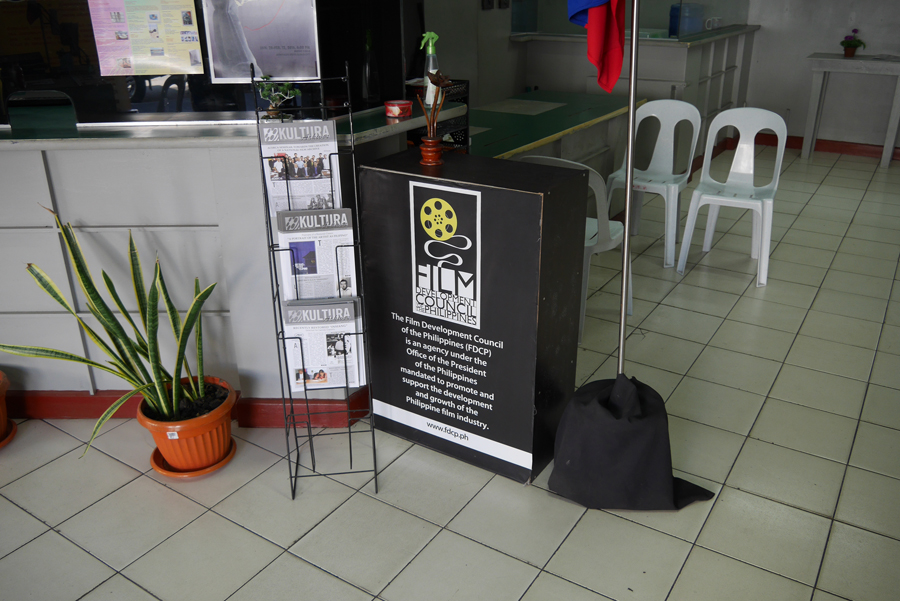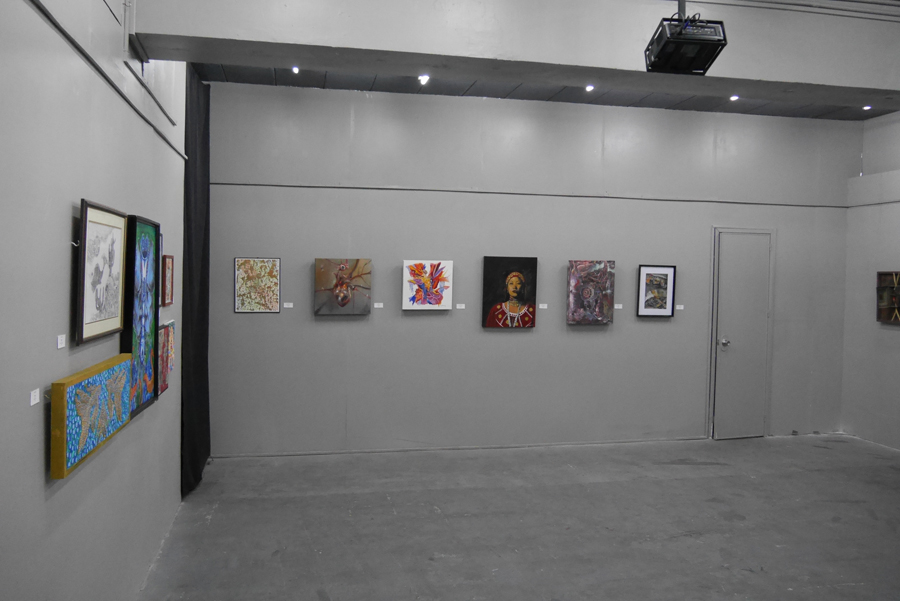 Next we go to a gallery located in the city hall. The space was established just last year and is very clean. It was also created through Rock's negotiations.
The gallery located in a room of the magnificent city hall.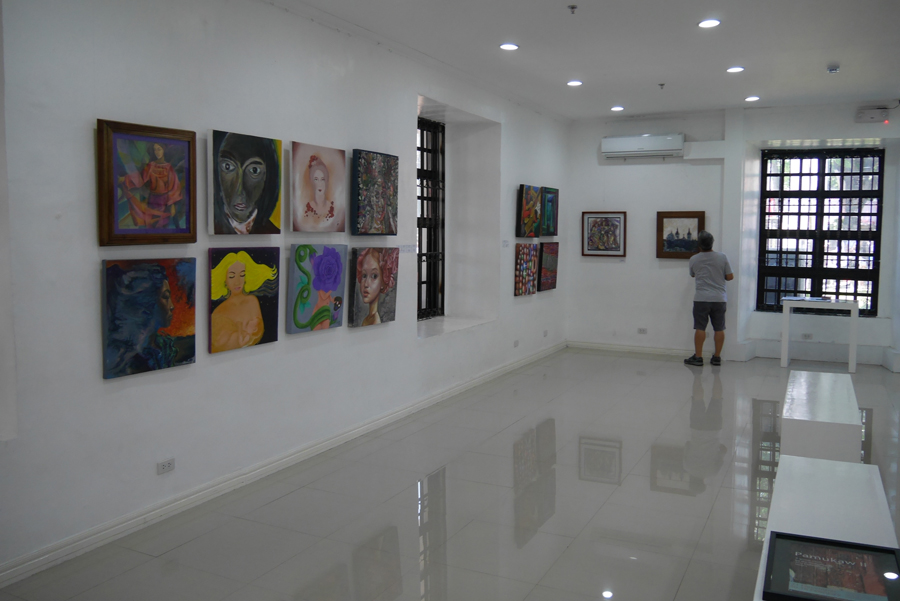 Next we move to a museum. Half of the building is a space for displaying contemporary art.
This was also created by Rock's negotiations. Wow really!?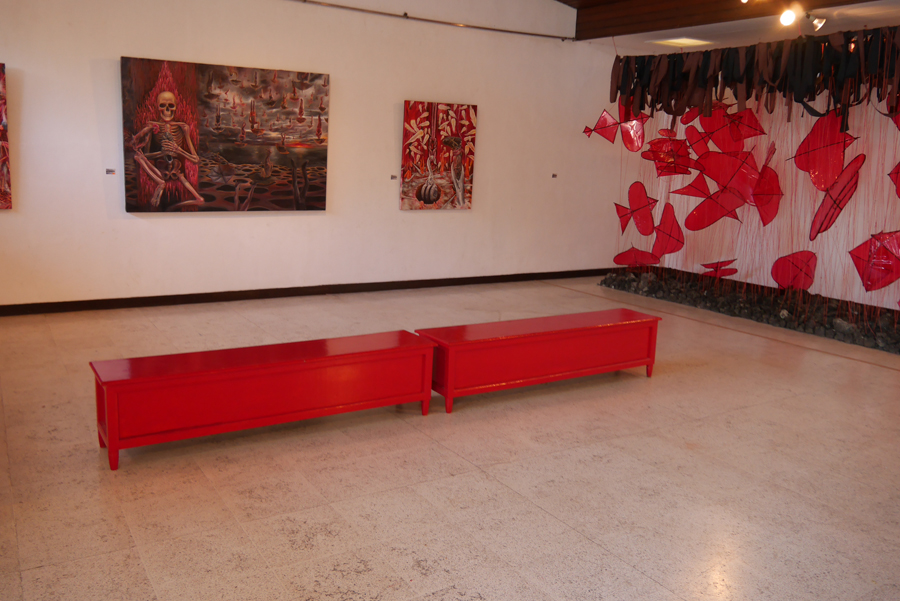 Hearing more details about Iloilo, I find out that there are no alternative art space or artist run spaces as such in the city. Instead, there are various, already established public institutions to which they are seeking to cooperate with in order to expand the scope of art in the city. Going around some universities and specialist art schools, I was also surprised to find that they contained art spaces established through Rock's negotiations. Furthermore, whilst two years ago there were only four art spaces from which they had started, this had increased to eleven last year. Under Rock's gentle demeanor, must lie a source of unimaginable capability and willpower.
This is a gallery in a technical college.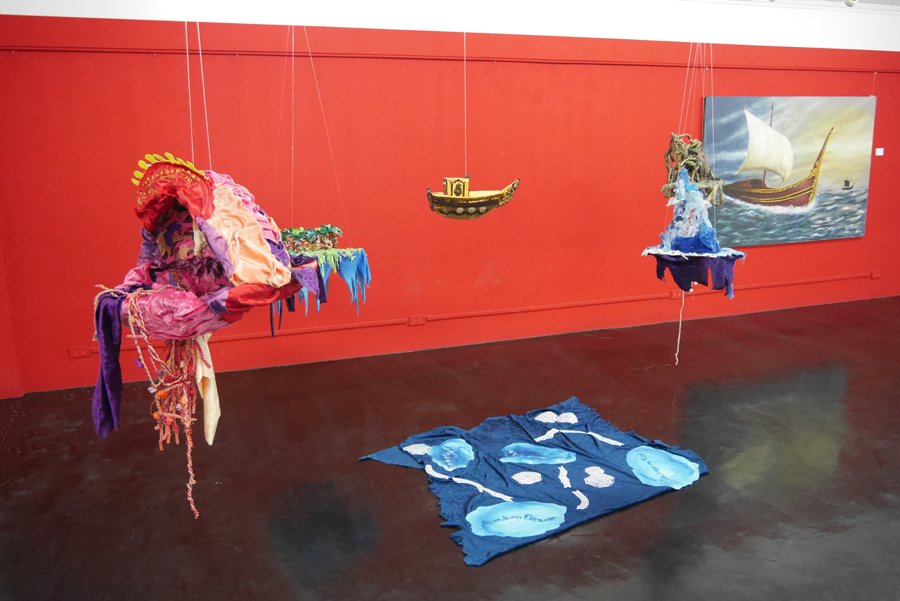 This is the gallery in a University.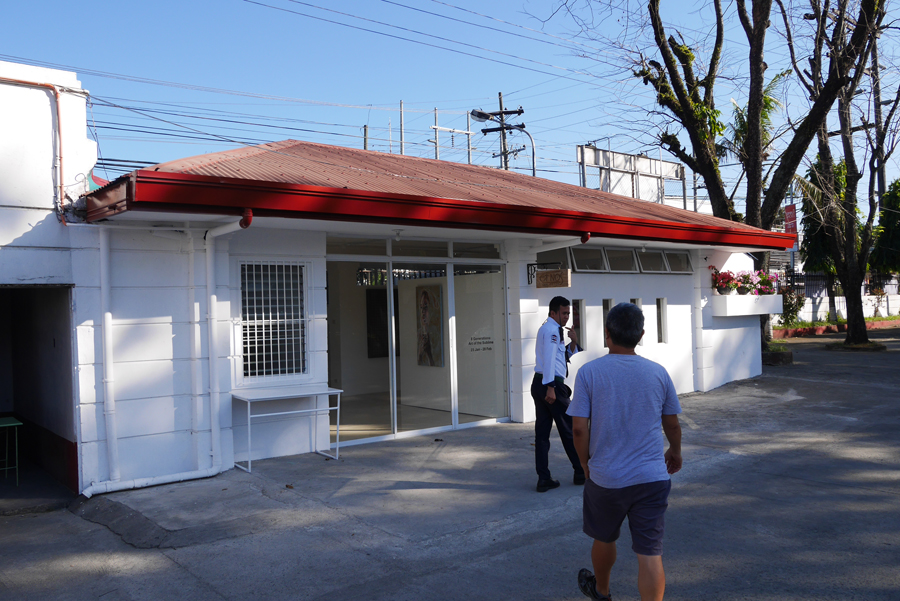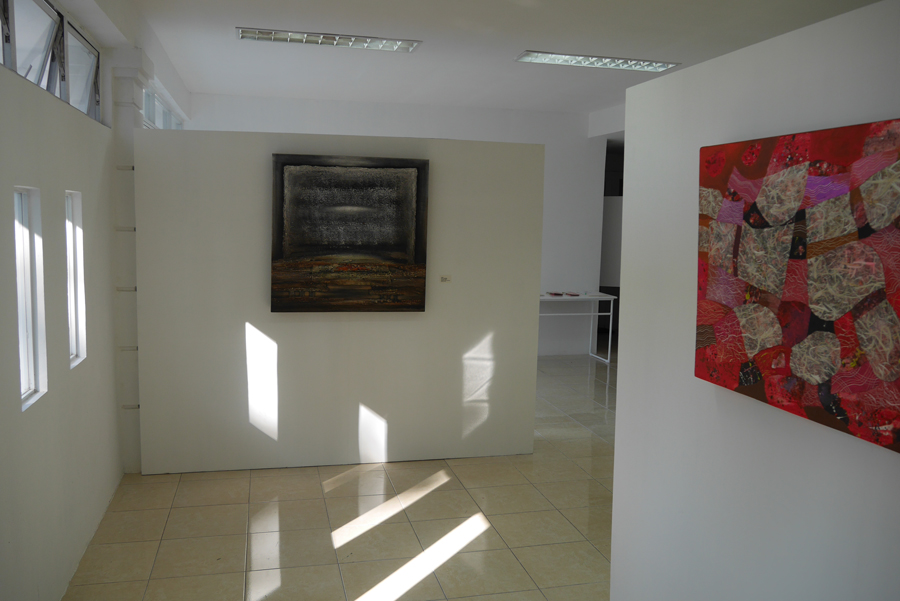 This is Rock's art work. It's bicycle!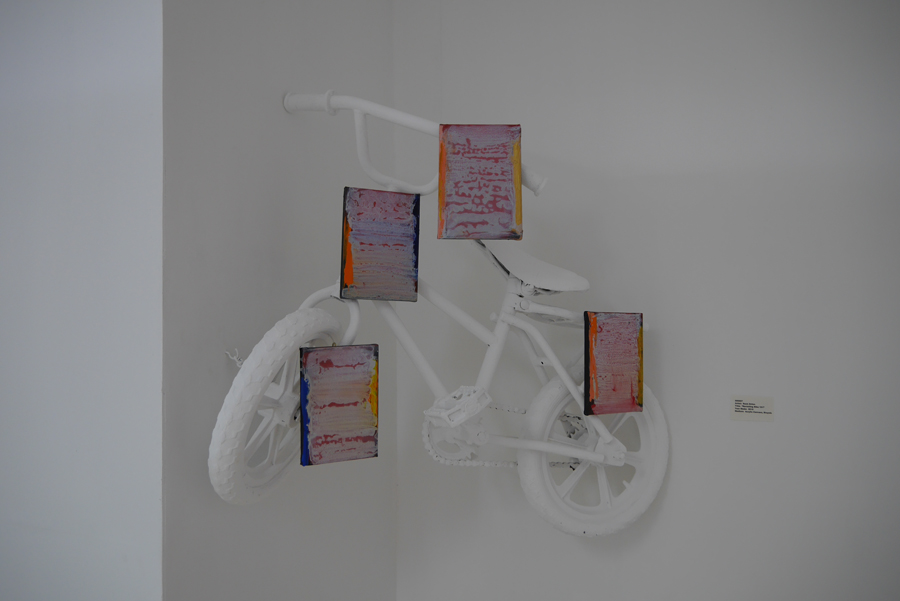 On the way we stop by Rock's studio which is under construction.
We take a picture together.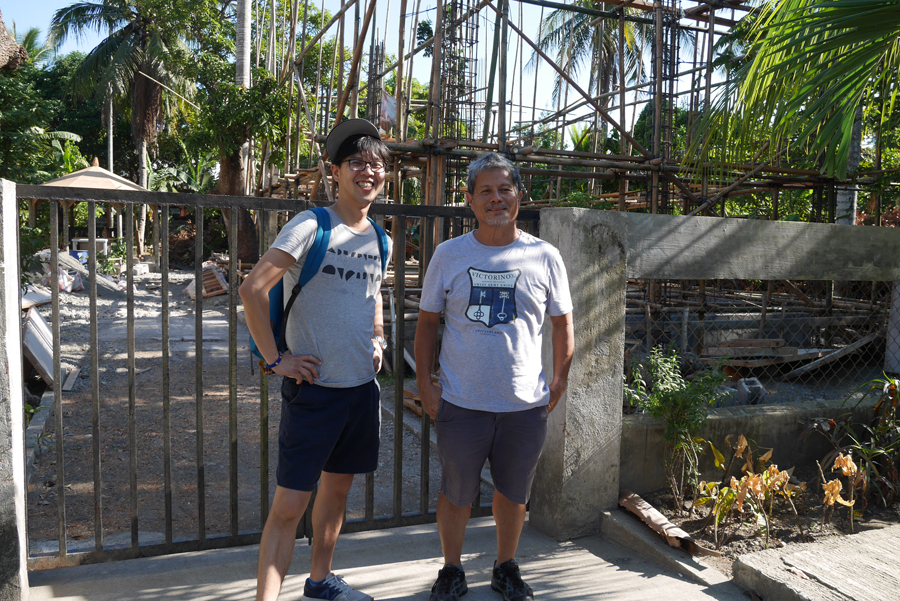 Lastly we arrive at FitStop Bites and Bikes, a bicycle cafe. The place served as a base in the development of the art scene Iloilo City. The cafe also has a gallery as well as a bicycle shop attached.
Drinking tea, I listen to Rock tell his story.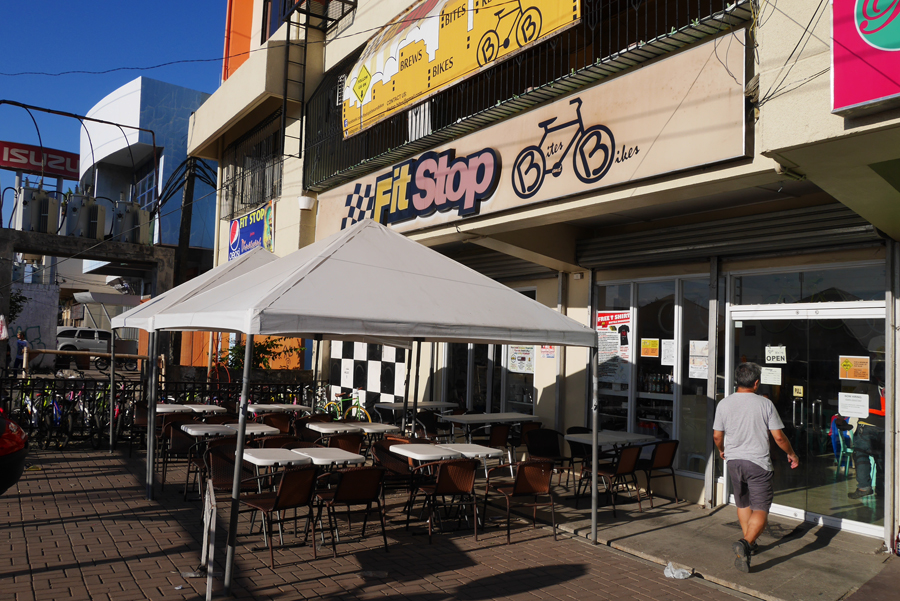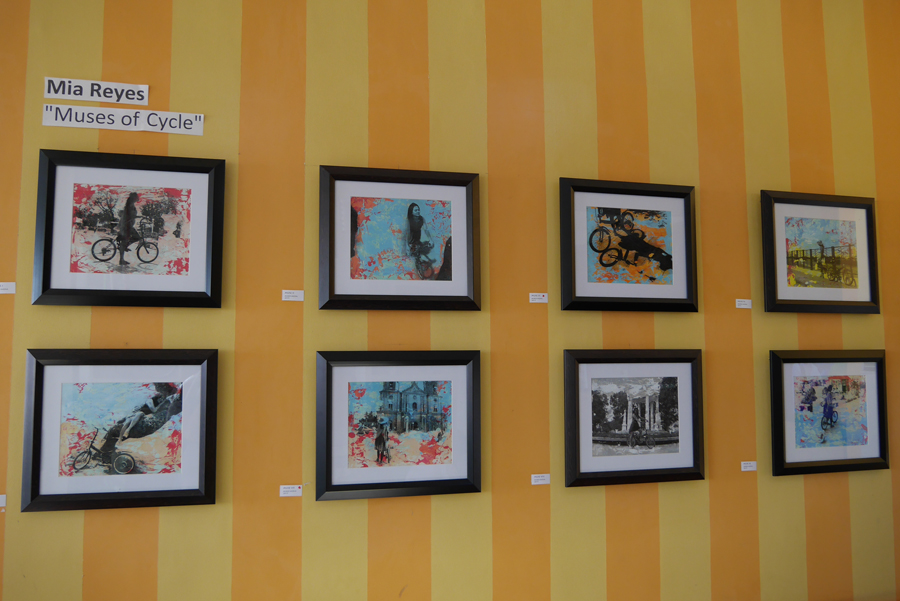 In the past, Rock worked in Manila, but he moved to Iloilo a few years ago to take care of his mother. At the time, there were no contemporary art spaces in Iloilo, so he tried to create spaces by himself.
Rock liked bicycles and wondered if he could create a project connecting bicycles and art. He Confiding in his friend, the owner of FitStop Bites and Bikes, they planned a project together named "ARTbike". The project was a kind of tour using bicycles to navigate around the art spots of Iloilo. At the same time as starting this tour, Rock collaborated with various public institutions to create more art spots for the project.
In a city by the sea, you can meet art by bike. Rock, you're unbelievable!
This is Rock, bicycle lover.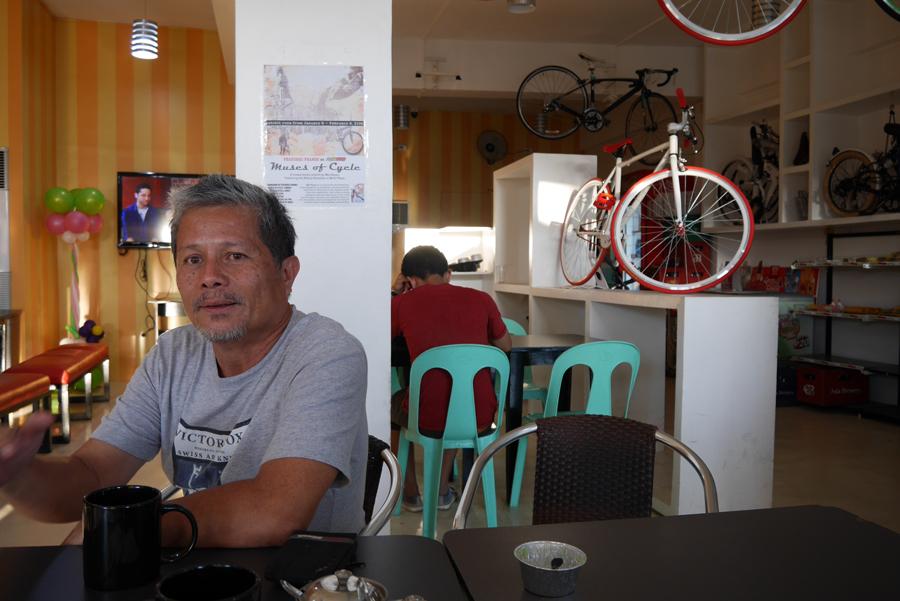 This is the ARTbike tour map.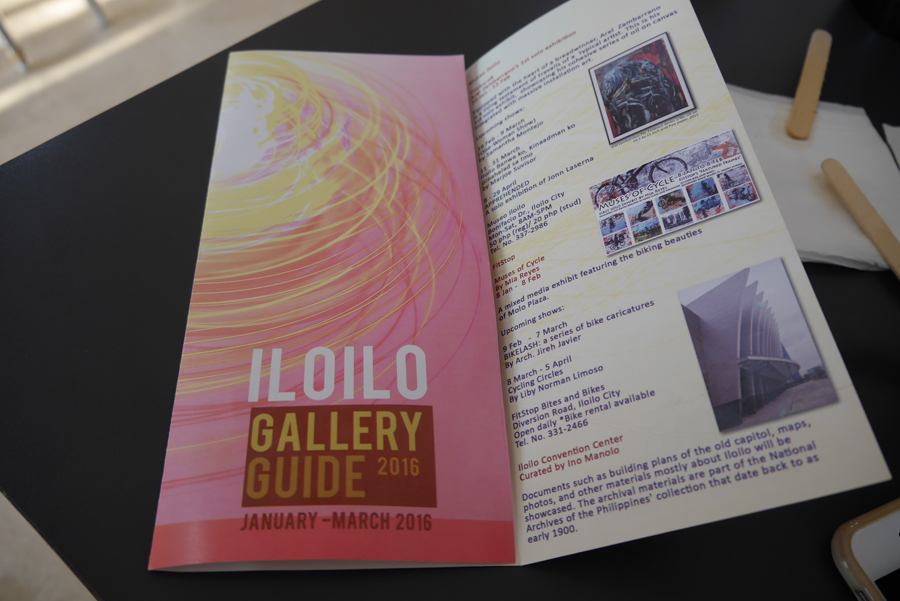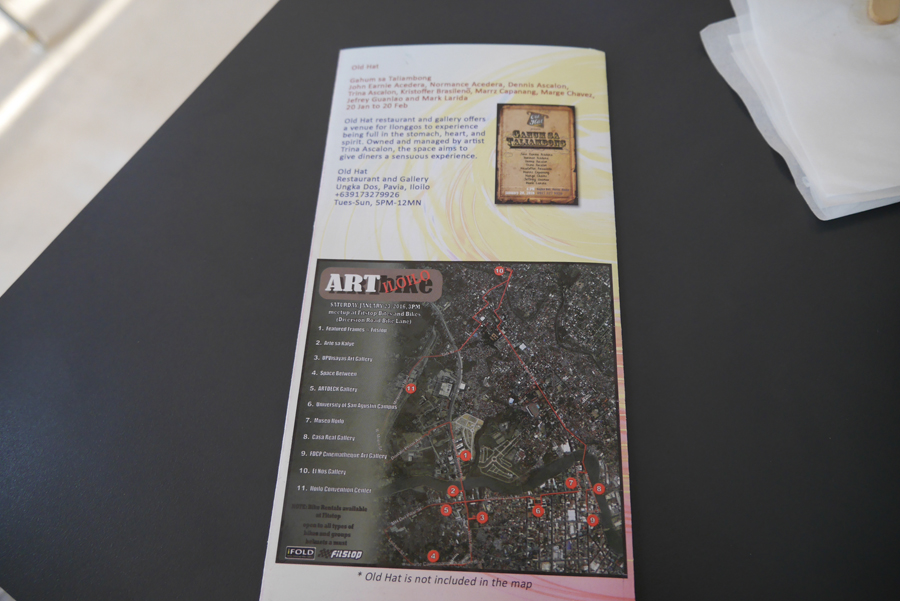 "Want to try cycling too?" Rock asks me. So with that, off I go to explore the city of Iloilo by bicycle.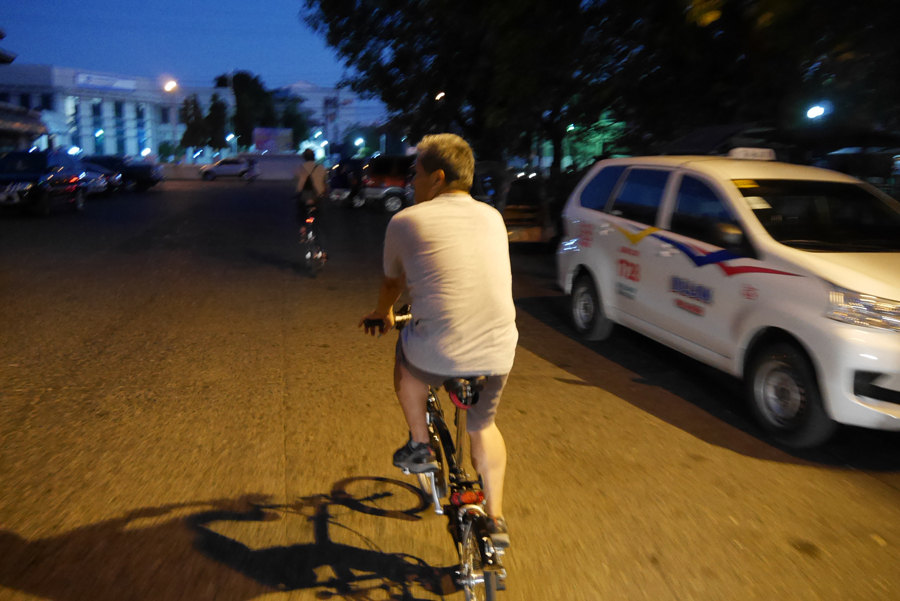 After two hours of cycling around the city of Iloilo, I grow tired and sweaty. In the end we take a picture together in front of FitStop Bites and Bikes.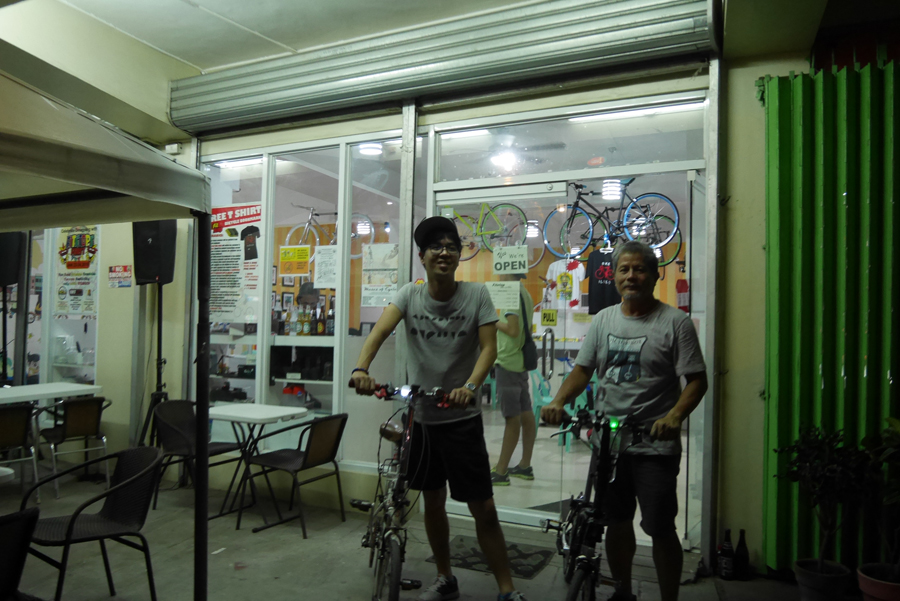 By the way, I was wondering why when I first met Rock I had felt like I had somehow known him before. Well looking at his photo, I finally got it! He looks just like my respected uncle Kiyoto. To Kiyoto of Iloilo, thank you so much~!!
When you go to Iloilo, you should definitely meet up with bicycle loving Rock
FitStop Bites and Bikes
https://www.facebook.com/fitstopbitesandbikes
Fit Stop

Ilo ilo City, BS Aquino Avenue, Mandurriao
Established Year: 2014
Facility and Activity: Gallery, Café