08 February 2016|Learn from the Masters of Life(kebun bibi art books coffee, Kedai Kebun Forum)
Today I am heading to kebun bibi art books coffee and talk with Hans Knegtmans.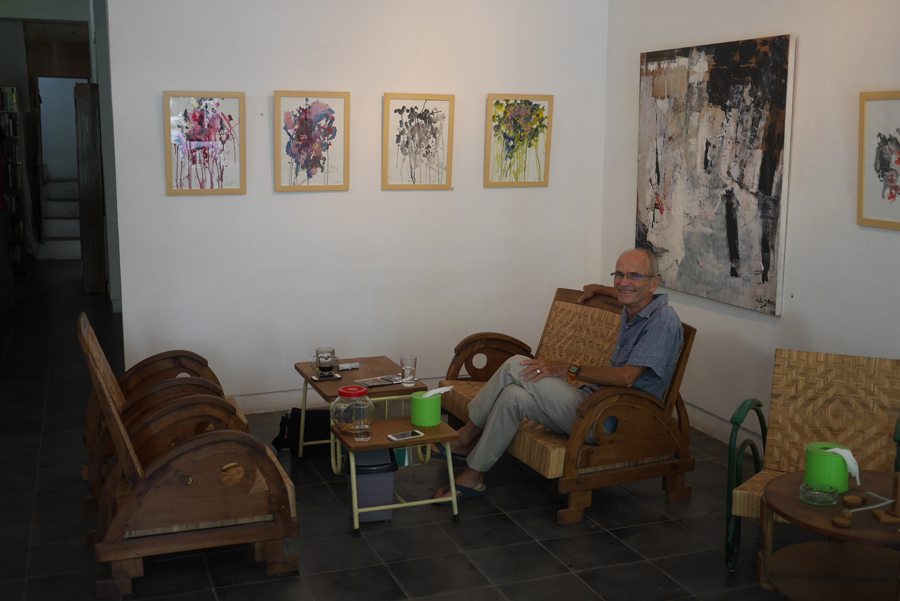 Hans was born in the Netherlands. He was charmed by Indonesia and upon the many times he traveled to this country, he dreamt of having his own space here someday. After retiring, he opened his long-desired art space, kebun bibi art books coffee with his friend Sigit Bapak in January, 2015. As its name expresses this is a space providing art, books, and coffee. The first floor (front side) is for the gallery and café, and at the back it sells used books.
A line up of fascinating used books.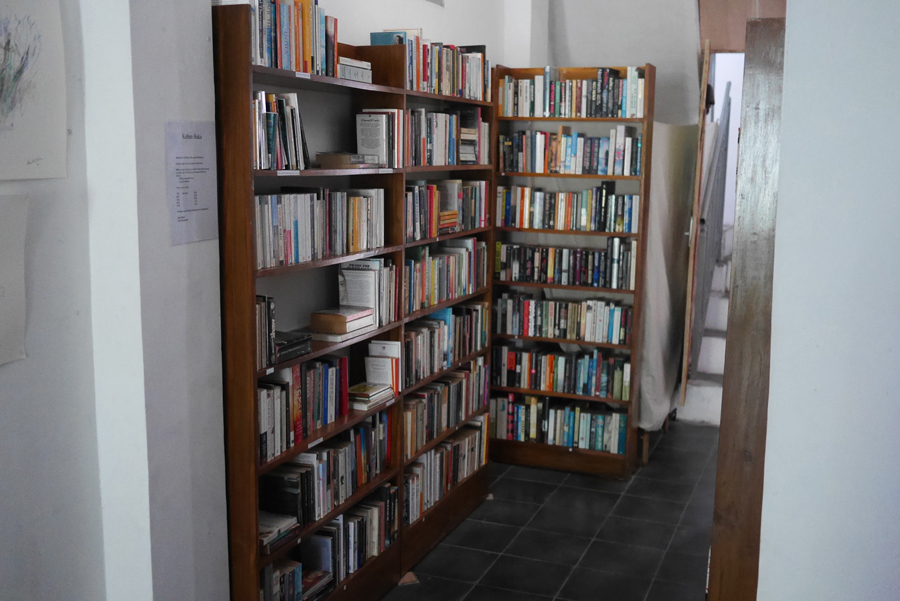 The café and gallery space.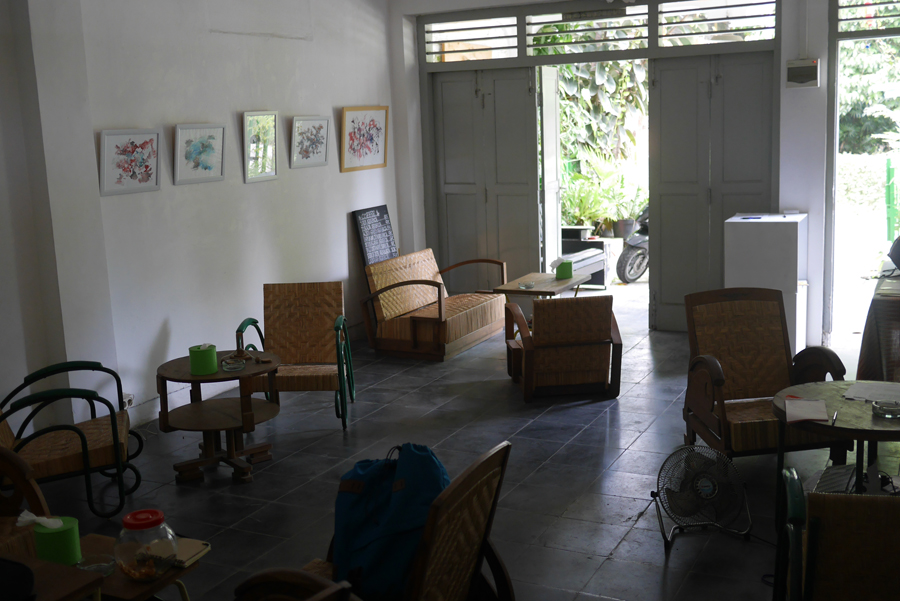 Exhibitions are held here about once every two months and offer a platform not only for Indonesian artists but also those of other countries. Hans often travels to and from the Netherlands and Indonesia, and when he goes back to the Netherlands, he rents out the 2nd floor space as an Airbnb guest house. He also imports and sells books that are usually hard to find in Indonesia. I often wondered if used books sold well, even when I was in Japan, but he shared that there is a big demand.
Murals on the wall.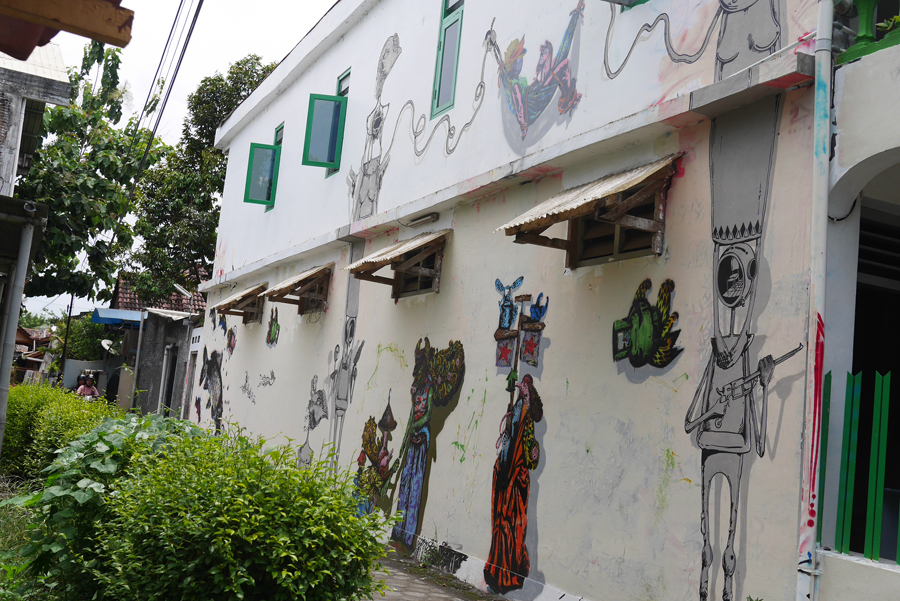 Fashionable outer appearance.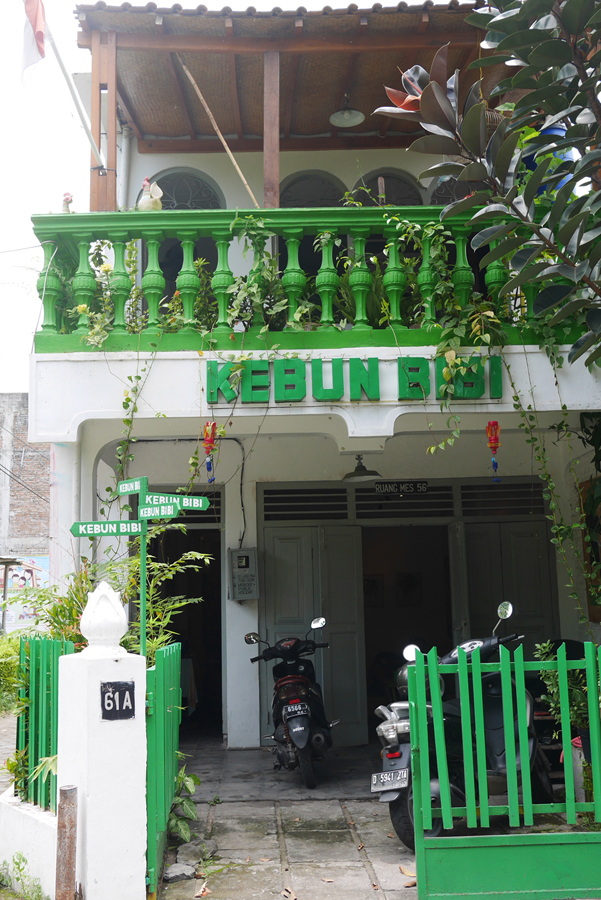 He says that various people such as local artists and foreigners in Jogja come to the opening receptions of the exhibitions. Smiling, he shares that because he has already retired, he does not have to pro-actively earn money.
Kind Mr. Han. He is very welcomed by the locals.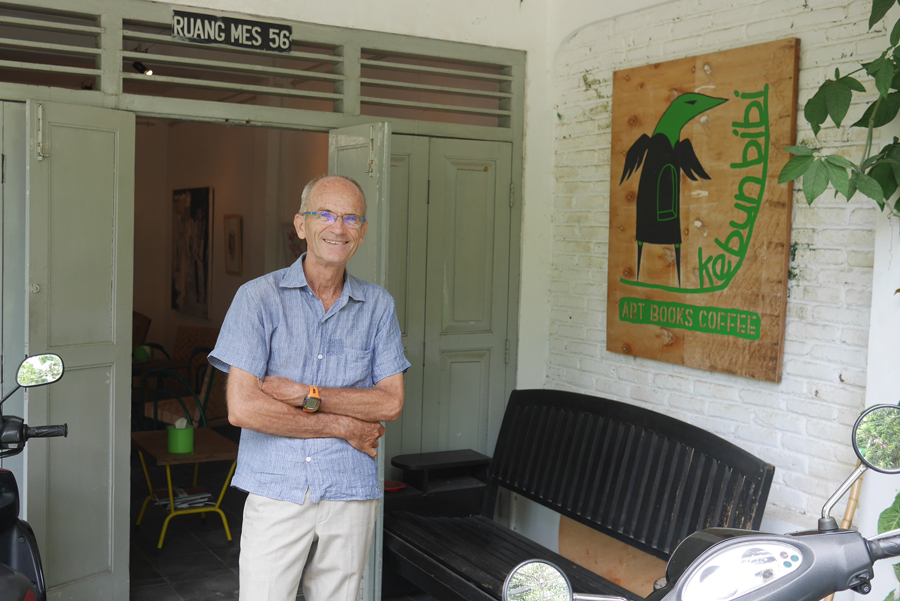 I ask him about the rental fee he pays for the space, and it is surprisingly reasonable!! The Southern area of Jogja is still cheap for rent and he could rent a wide space for about 2 years with the equivalent of one month of rental fees for Ongoing. I must really consider an Ongoing branch in Jogja …
Absorbed in reading with a cup of coffee in the leisurely space.
kebun bibi art books coffee
https://www.facebook.com/kebun-bibi-802428929807530/
I am going to one more place today. It is actually the last space in Jogja! I cannot believe it.
Walking from KUNCI for five minutes, I arrive at Kedai Kebun Forum after the sun set. This is an art space building with a restaurant. Other than a gallery, there are also multi-purpose halls available for live music, performances, workshops and so on. Anyway, it is impressively big. But unfortunately, it seems to be taking a week's break, so the restaurant is closed and the gallery and the multi-purpose halls have their lights turned off too. Even though it is during the holiday, the founder, Yustina Neni agrees to talk with me.
Ms. Yustina Neni. Her smile is great.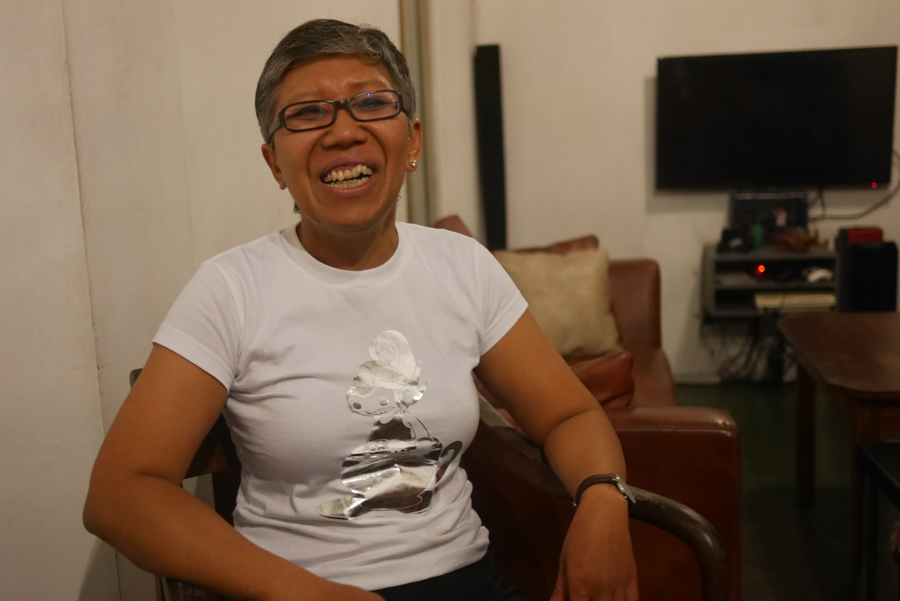 Kedai Kebun Forum was opened in 1997. In the beginning it started as a restaurant but later built the gallery and multi-purpose hall in an empty lot in 2001. It is a long-established art space already celebrating its 20th anniversary. All programs at the gallery are organized by Yustina and her husband (an artist). It holds about 10 exhibitions per a year and among them, there are projects which commission new works and cover their organizing expenditure. So amazing.
The multi-purpose space.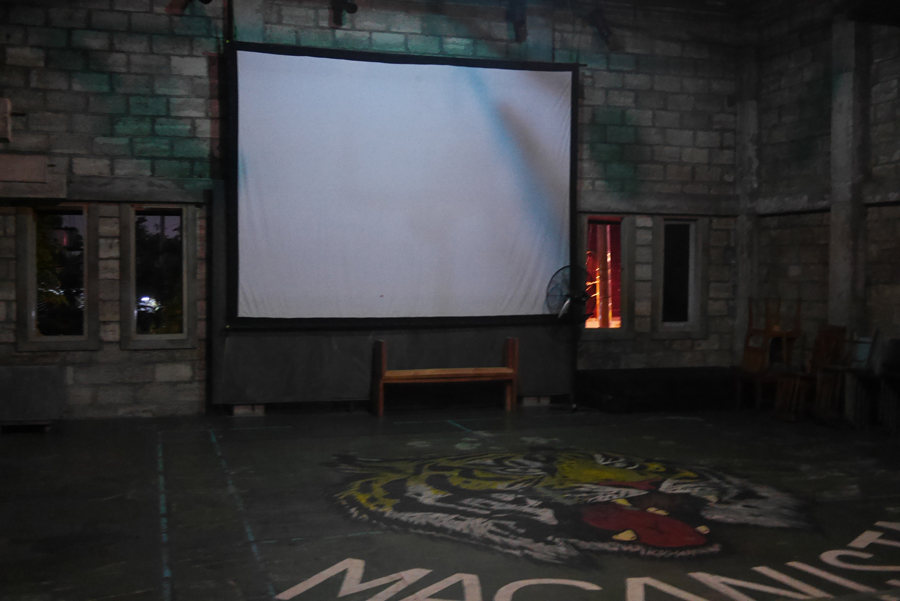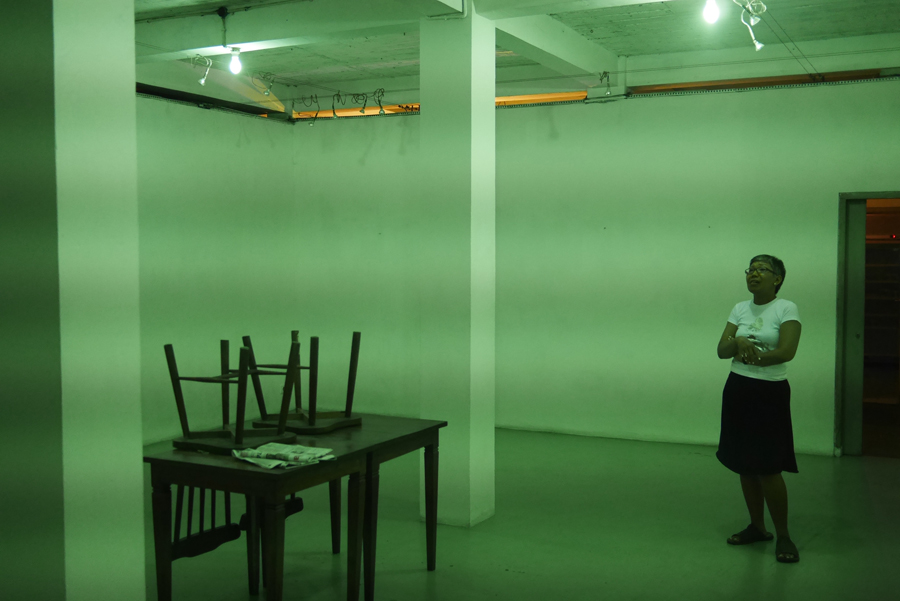 Many children's hand drawings are pasted.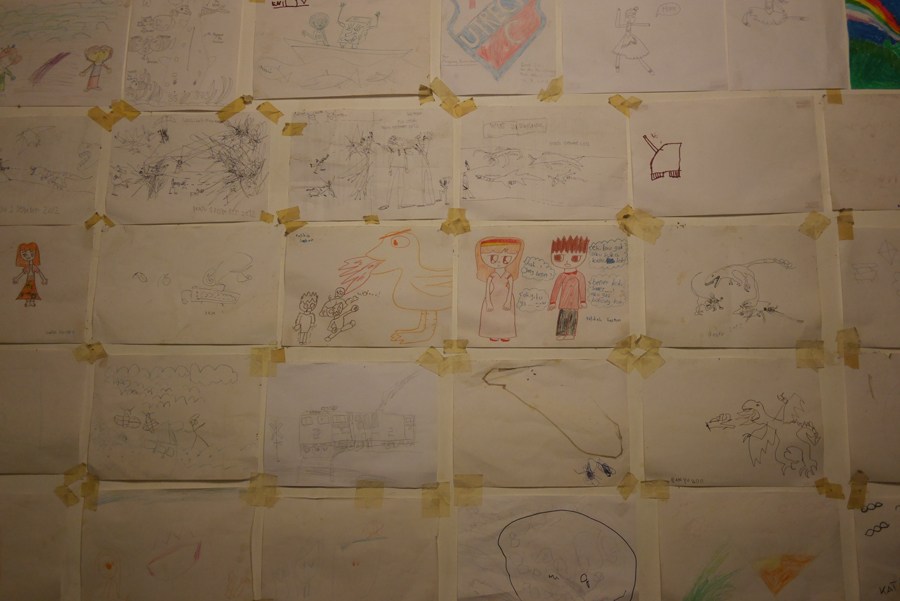 Yustina works at BIENNALE JOGJA office for a long time and she is one of the gatekeepers to the Jogja art scene. Yet in fact she does not receive a salary at the office, working purely as a volunteer. She puts her efforts into fostering education opportunities for art management and provides an assistant program which selected persons can join for up to three years and build up their experience at the art space.
The multi-purpose hall is host to regular music concerts and film festivals. This is a site not only for art but a space open to the numerous expressions of young people. It is a space everyone knows in Jogja. And above all, Yustina's up-front character is very refreshing! "As I get older, I don't do anything that I don't want to do", she says bursting out laughing. She is certainly an extraordinary person. She makes me think again that the skill gained through a long period of training and experience really makes a difference.
A photo together with her.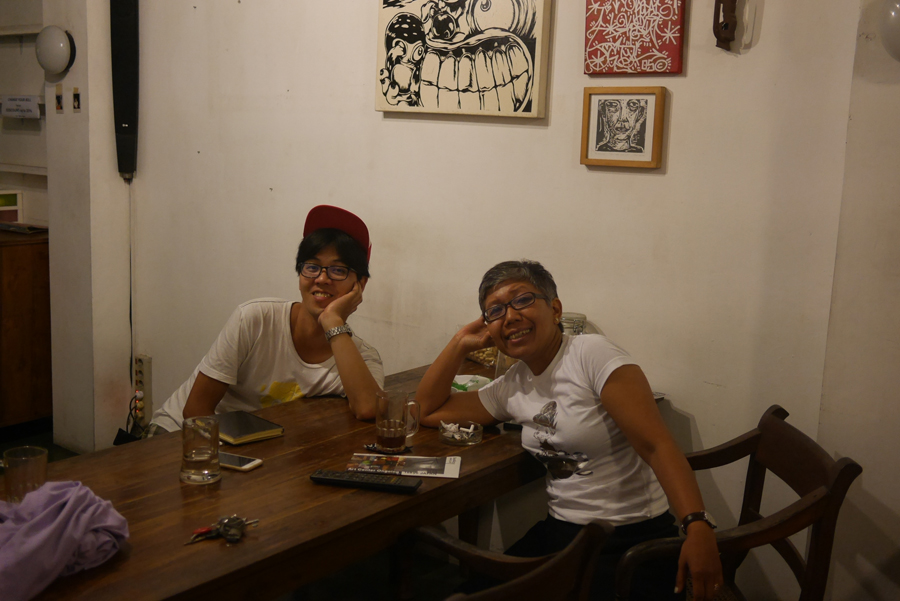 Supporting the art scene in Jogja for 20 years.
Kedai Kebun Forum

https://www.facebook.com/kedai.kebun
Well, this is the end of visiting art spaces in Jogja. I will miss this a bit.
And before I leave Jogya, I have to give my presentation at KUNCI!
Kebun Bibi art books coffee

jl. minggiran 61. A MJ II Mantrijeron, Yogyakarta
Established Year: 2015
Facility and Activity: Gallery, Residence, Café, Shop

KIDAI KEBUN FORUM

Jl Tirtodipuran No.3, Yogyakarta
Established Year: 1996
Facility and Activity: Gallery, Restaurant, Workshop, Performance, Music Event