13 February 2016|What I Think About Books(C2O library & collabtive, WAFT Lab)
Leaving my dear Jogja where I stayed for quite some time and now owe a great deal to the people there, I'm now heading to Surabaya. Goodbye, Jogja!!
Once got on board the plane, I seem to arrive in Surabaya in an instant. I head to my destination by taxi. C2O library & collabtive, here I come.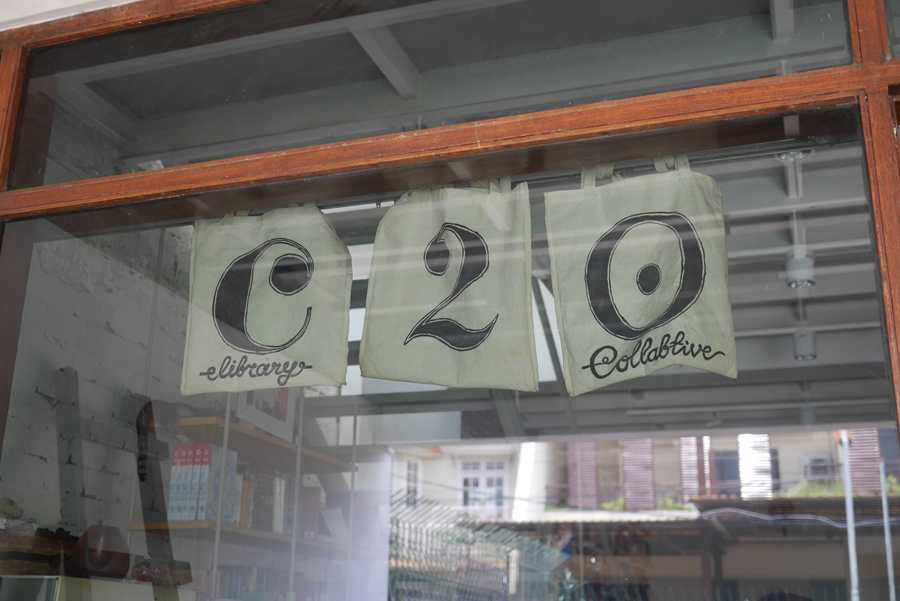 The program manager, Erlin Goentoro shares their story with me. C2O was founded in 2008 by Kathleen Azali, and boasts a library, shared working space, shop, and a multi-function gallery. With library featured prominently in the title of the space there is a clear focus upon history and archiving here. Once you enter the space the amount of the books appears quite overwhelming. The library began from Kathleen's private collection of books and it has now become a magnificent collection supplemented with people's book donations. C2O offers membership and once you join, the member can borrow books. I see my beloved master Tezuka Osamu's "Buddha" is also included in the collection.
Shelves stuffed full of books. That's awesome.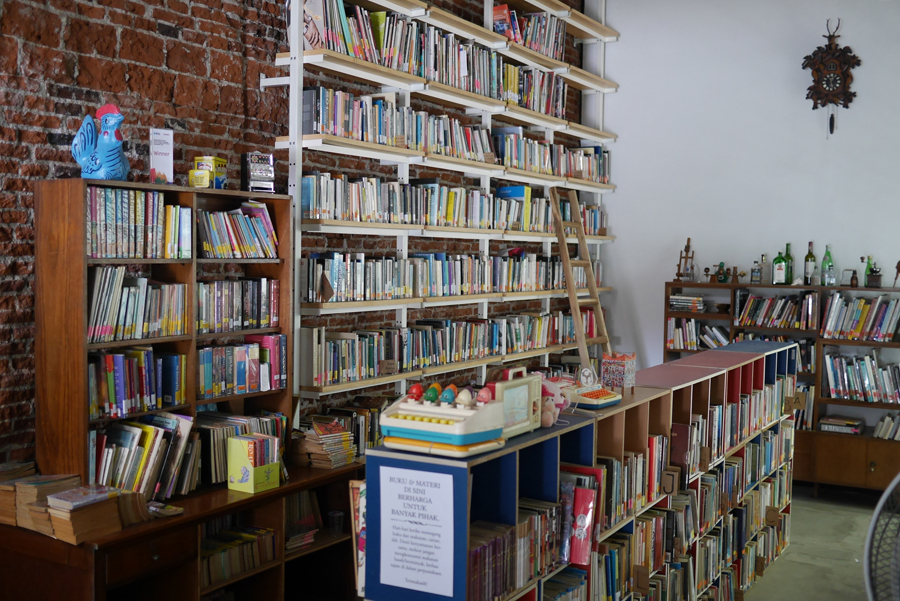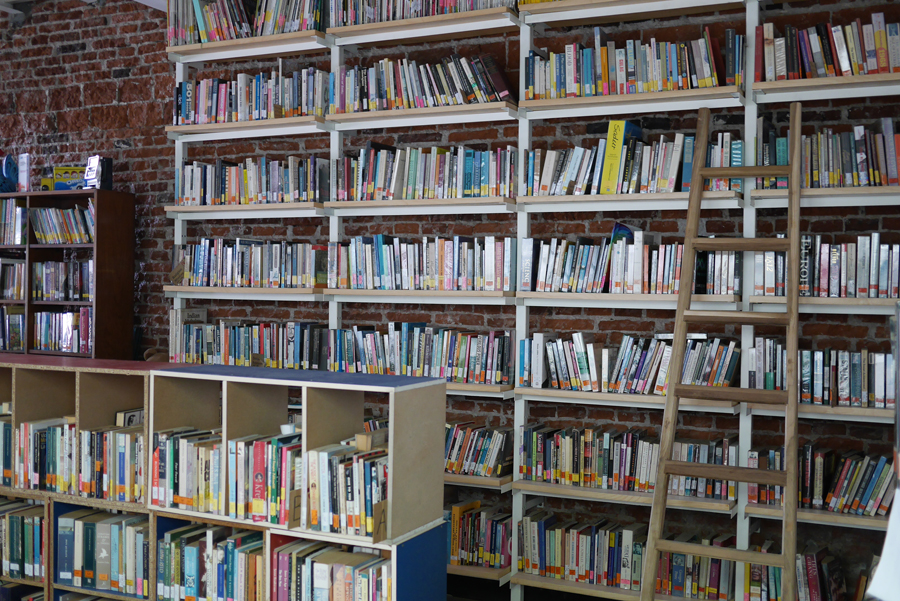 During my time in Southeast Asia, I've really felt the great presence of books. In places like C2O, the library plays a significant role as part of the overall space and it seems that they often have the books which cannot be read or found anywhere else.  In Amazon dominated Japan (and of course this is a worldwide phenomenon), where once online, you can get any book, any time, the real value of the books and libraries has been completely lost. Of course, there are used book shops in Japan, these also start to become part of mass consumption when big chain stores such as Book Off systematize the sale of used books. On the other hand in Southeast Asia, the books have been given much higher priority. It seems that it means a lot to people when they come across a book and I got the impression that people treat the books themselves with careful courtesy. In Tokyo, there are huge bookshops and very big libraries everywhere and some may question spaces which promote their private libraries, however, books play a very different and important role in the South East Asia region. While there are some dull bookshelves with large amounts of books that very few people have picked up, there are other bookshelves in which each book is full of special attachments and memories, with people who are able to explain their contents in detail. Which ones appeal to people? Probably it depends on each reader anyway.
Well, getting back to the story of C2O … The space has many projects outside the building and there is a city walk event in Surabaya called "SURABAYA JOHNNY WALKER". I thought it named after the whisky brand but Erlin tells me actually they have a popular folk song, "SURABAYA JOHNNY". Besides this, they also organize music concerts and talk events, as well as workshops for the public and involve in a lot of community based projects. I feel acutely the extent to which this art space is rooted in the community of Surabaya. Most of the managerial members are involved as volunteers and I am deeply impressed by how dedicated they are to fostering this cultural art space and ensuring its sustainability.
They have a gallery too.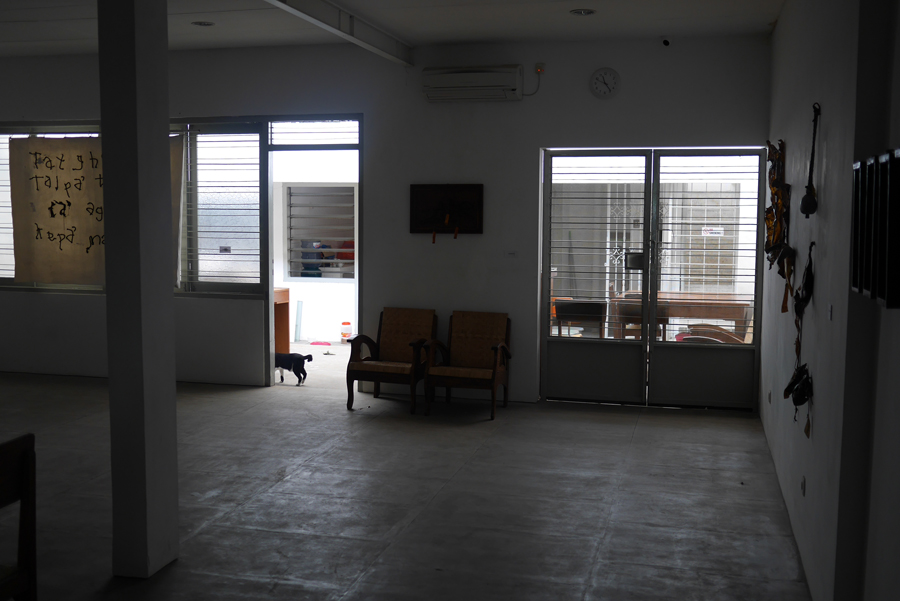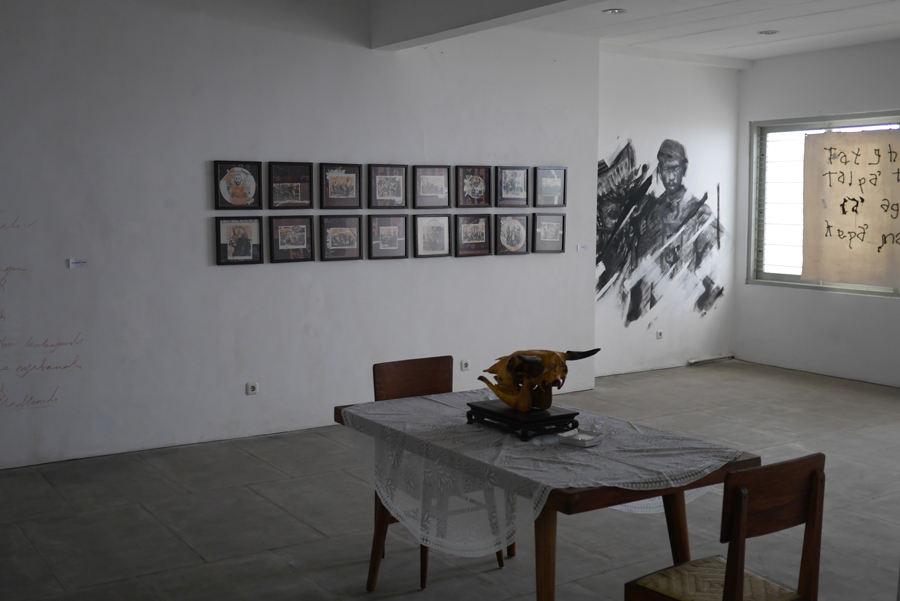 This is a shop in which some rare books are available.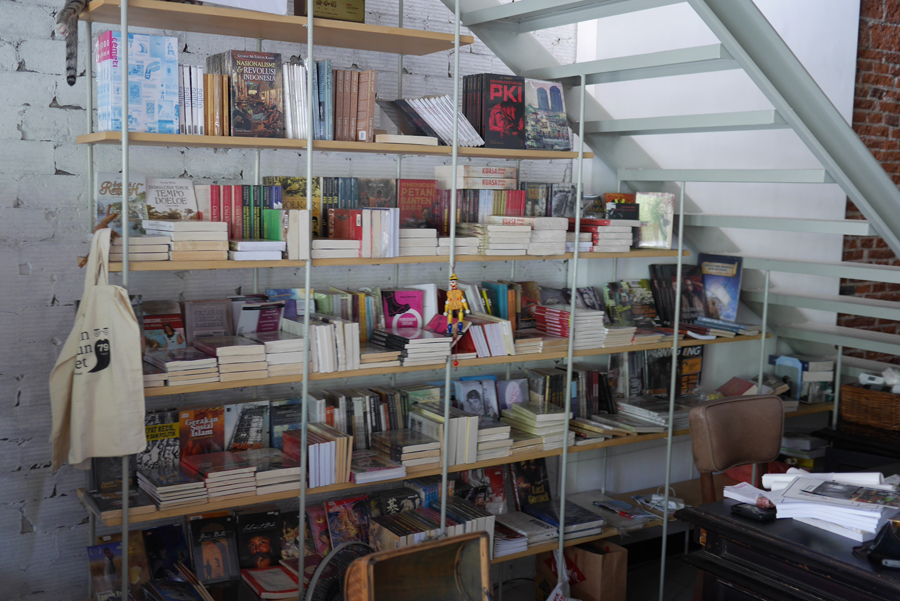 Here are the staff of C2O. The second person from right is Erlin Goentoro. The person on the left is the curator Ayos.(Amazingly, he seemed to pay a visit to Ongoing some time after this meeting.)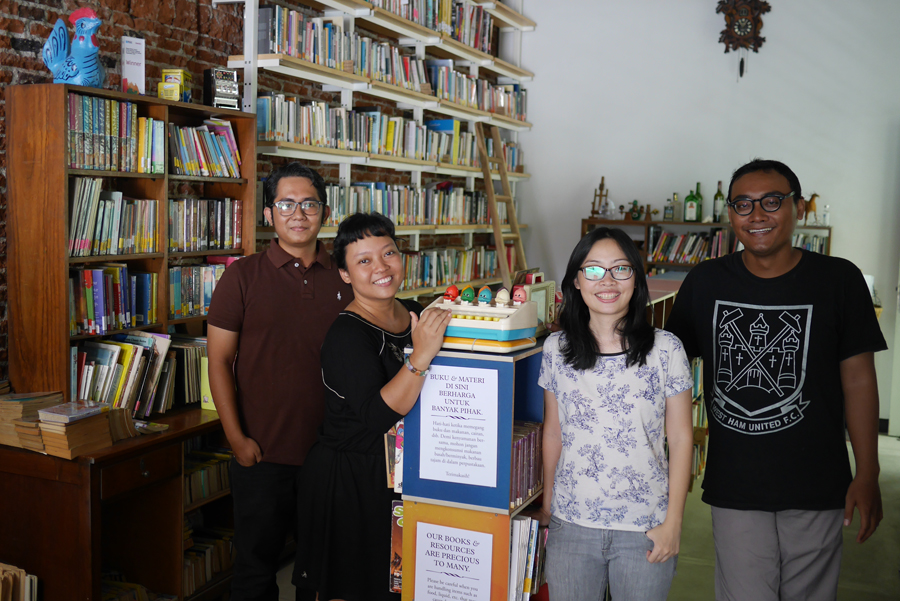 Fortunately I could also meet the founder, Kathleen and took a picture of her, as I was about to leave. She's been doing really awesome work~. I have a lot of respect for her!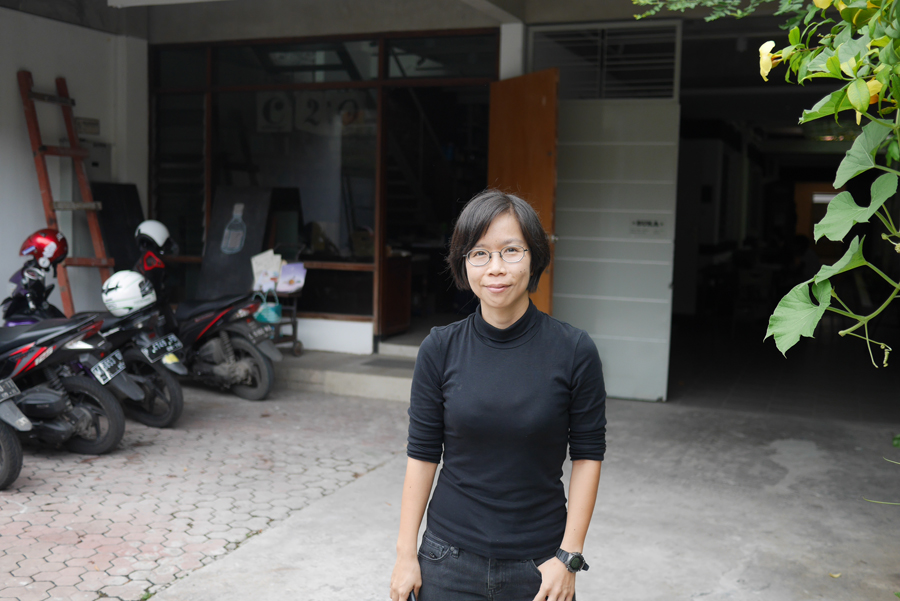 Try to take a number of books to feel the weight in your hands.
C2O library & collabtive

https://www.facebook.com/c2o.library/?fref=ts
Thank you for staying tune with me. I have another place to go to here in Surabaya.
Having left C2O, I am now heading to WAFT Lab. This is technology oriented group that have a close friendship with Lifepatch in Jogja.
Debrina Tedjawidjaja, the member and designer guides me around.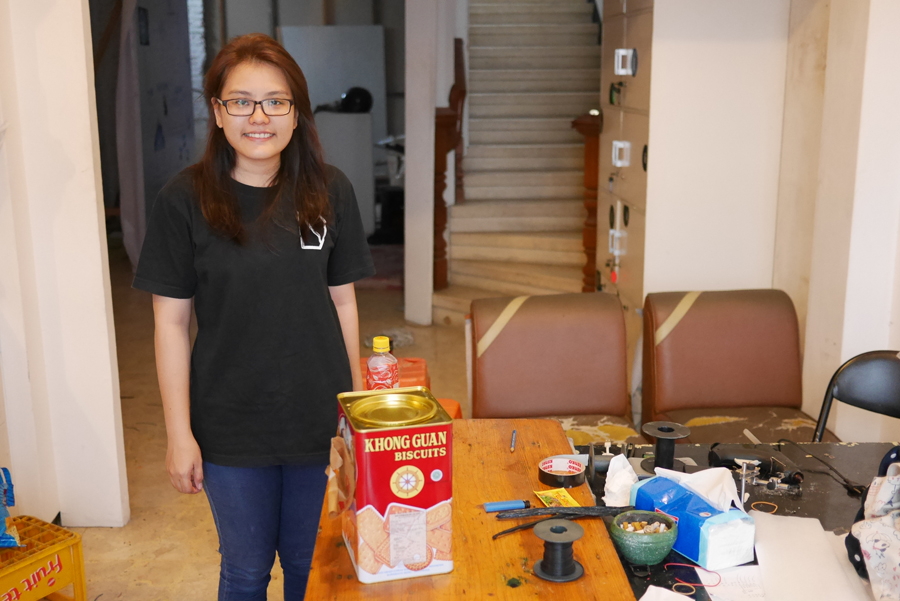 Having a look at the WAFT Lab's studio, she tells me the history.
Inside the studio.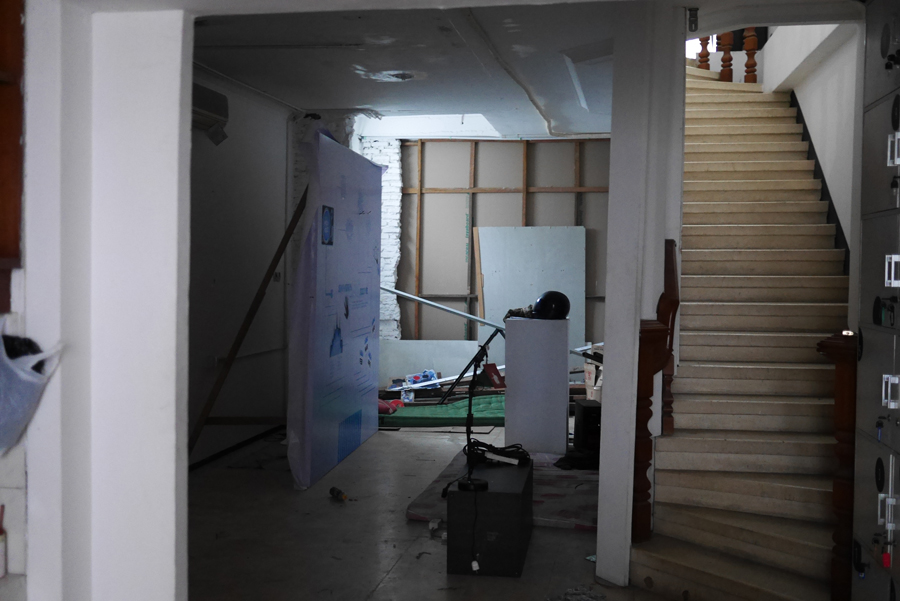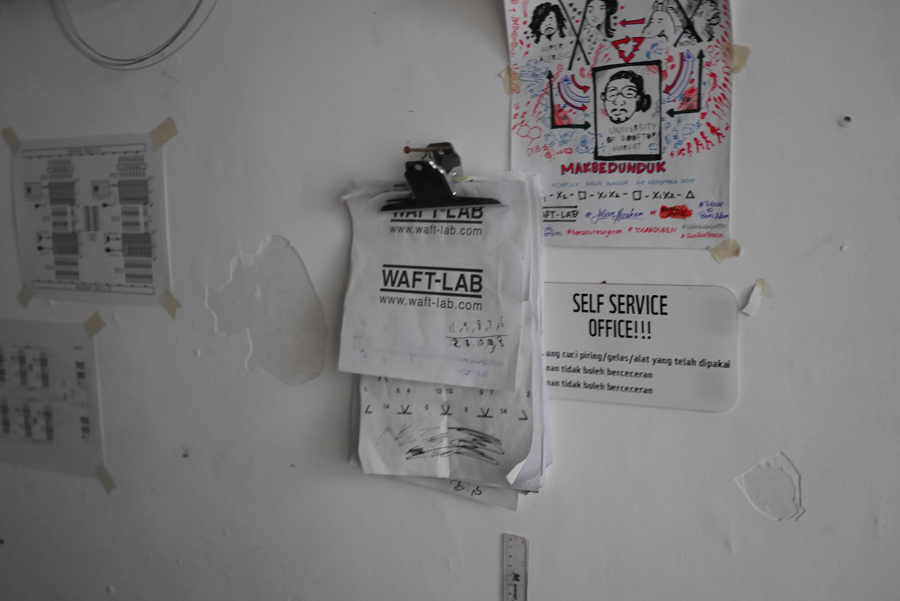 This is the rooftop of the studio. They tell me they have some music events here too.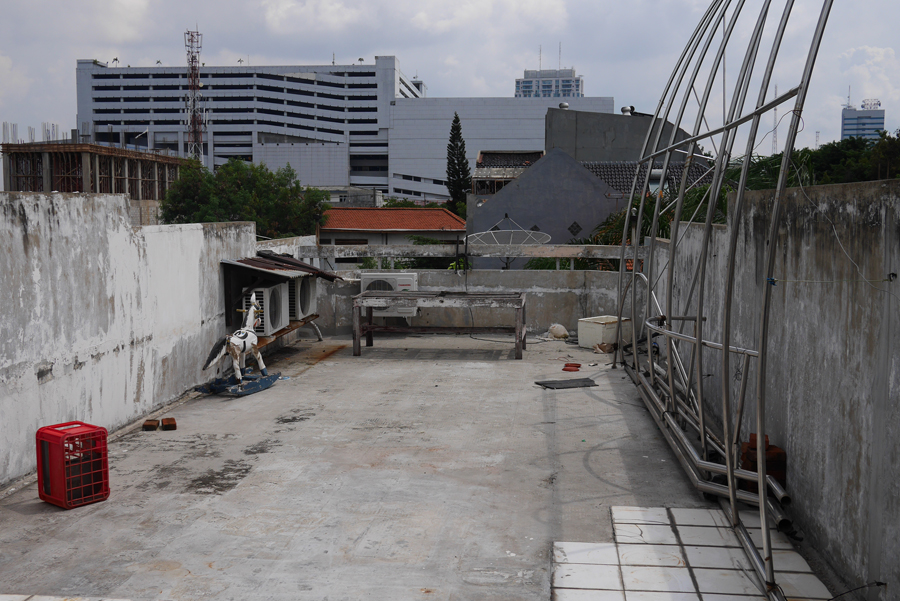 WAFT Lab first started their activity as part of a promotion event organized at a warehouse, and later they began to organize various events by themselves. In 2011, WAFT Lab established itself as a non profit organization and they've been organizing workshops, seminars and talk events since 2012. Most of their activities are focused on media art and the internet, applying such technology assertively into their workshops. It seems that they often collaborate with others and they are preparing an artwork for a club event tie-up with a tobacco company while I am there. It is great that their activities can also link well to paid work~.
Members are preparing at the venue for the club events.
Technology leader in Surabaya
WAFT Lab
http://waft-lab.com/
https://www.facebook.com/groups/320915194716040/?fref=ts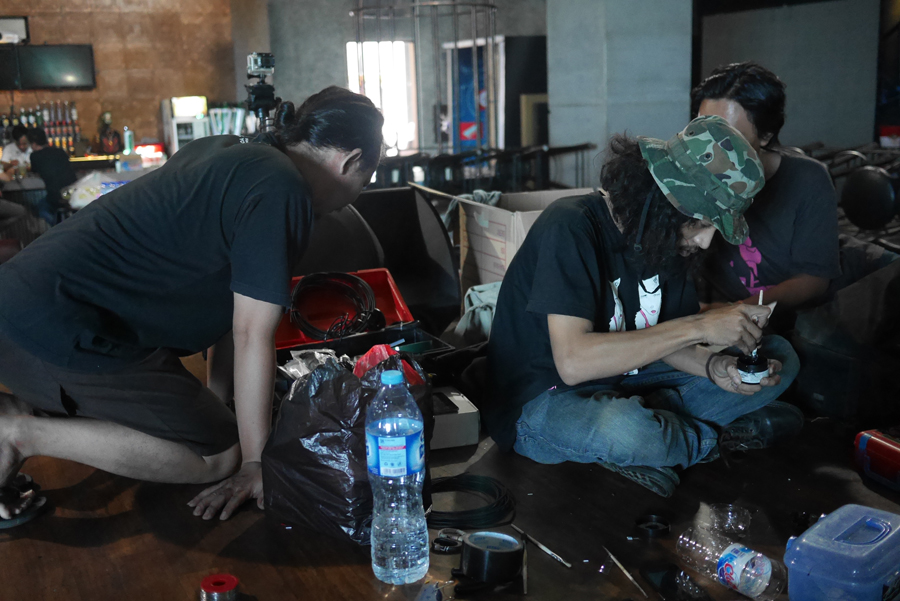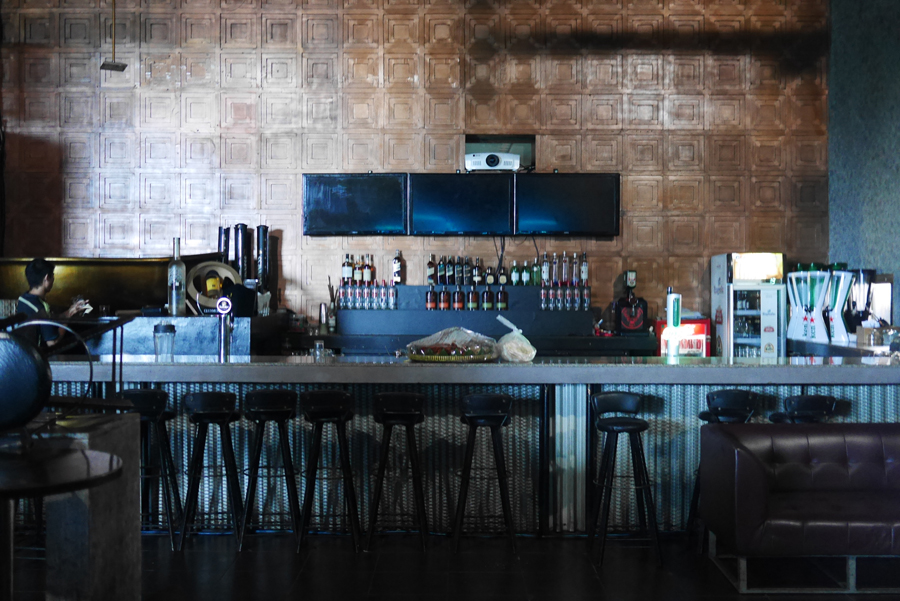 Technology leader in Surabaya.
Next, I must dash to Jakarta, the capital city of Indonesia.
C2O library & collabtive

Jl. Dr. Cipto 22, Surabaya
Established Year: 2008
Facility and Activity: Gallery, Library, Workspace, Shop, Residence, etc.

WAFT-LAB

Jl. Pandan 1A Lt.3 Surabaya
Established Year: 2005
Facility and Activity: Workshop, Planning and Coordination of Art Project