17 February 2016| Rising Legend(ruangrupa)
Finally, we get to meet with a legendary space of Jakarta today.It is not only famous in Indonesia or Southeast Asia, but world renowned. Itis the artist collective ruangrupa.   
I interviewed the veteran member of ruangrupa, Reza Aflsina (left), an artist and one of the directors, and  Leonhard Bartolomeus (right), a young curator and leading on the future ruangrupa,.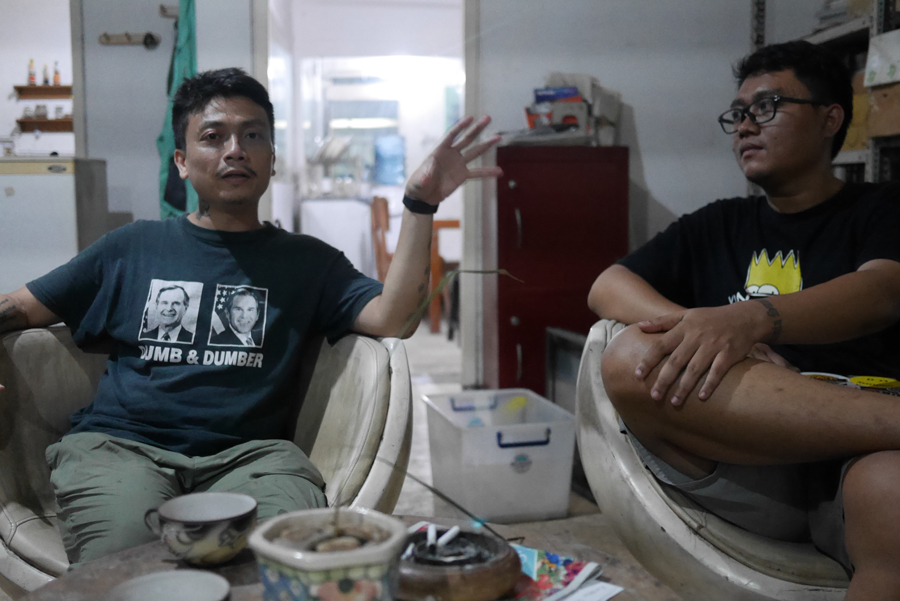 ruangrupa was founded by six members in 2000. As I said before many collectives emerged soon after the year of 1998 when such big reforms took place in Indonesia.It's been more than fifteen years since ruangrupa first initiated their various activities in the pursuit of the very embodiment of 'sharing ideas' which they held as their dream before the dramatic changes in Indonesia. Now there are about thirty members, including not only artists but also curators, musician, filmmakers, actor, and etc….They age widely between their 20's to 40's.
As for the function of the space, it is equipped with a gallery, working space, library, archive space, shop, café and also a radio station.Besides these activities, outside of the space, they work in various fields including art projects with college students, educational programs for kids, various research projects both domestically and internationally, the planning and management of international exhibitions, the publication of books, web magazines and more.These things are all going on at the same time and it seems like a huge culture organization rather than an artist run space.I had imagined they ran the space with a proper organizational structure as if it were a company, however, having talked to them, it doesn't seem like that at all.Basically, it is quite simple that once someone gets interested in something, the person takes responsibility of handling it.Besides, every member ensures to share information together in the space and every member knows what's going on in ruangrupa. Then, all the projects are carried out by the right persons in the right places.That's a really ideal situation.         
This is the gallery.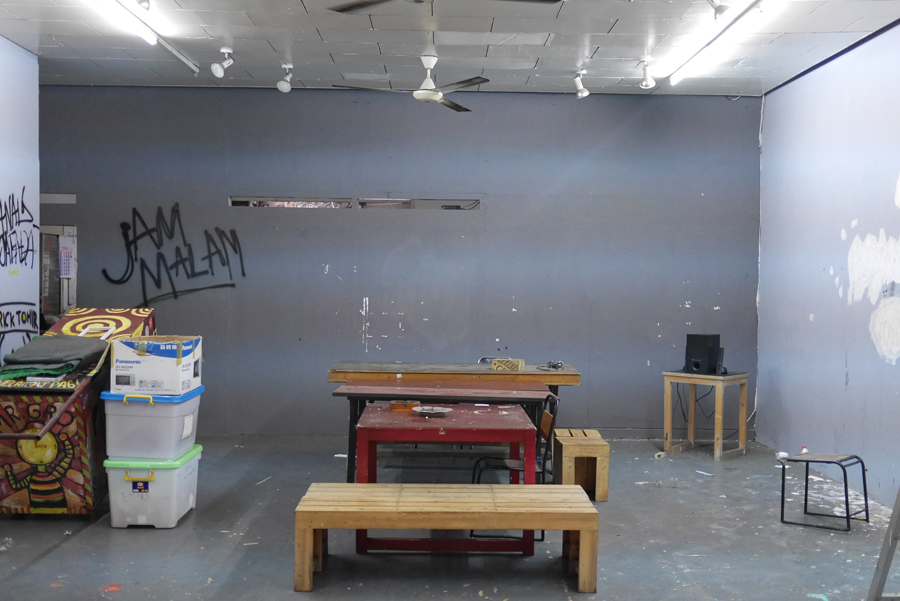 This is the lounge-cum-working space.  Everybody is hanging out.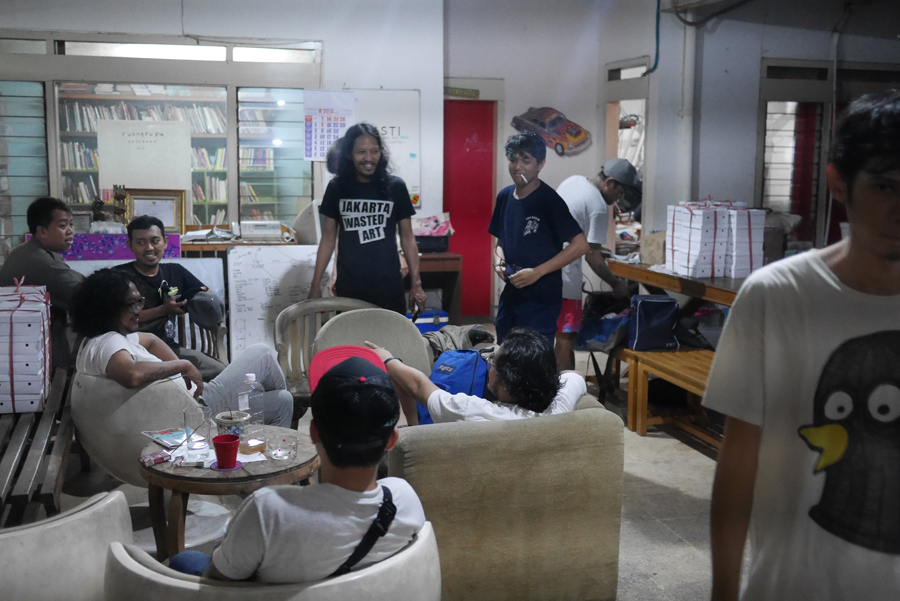 The shop is full of diverse art goods such as CDs, DVDs, books and T-shirts.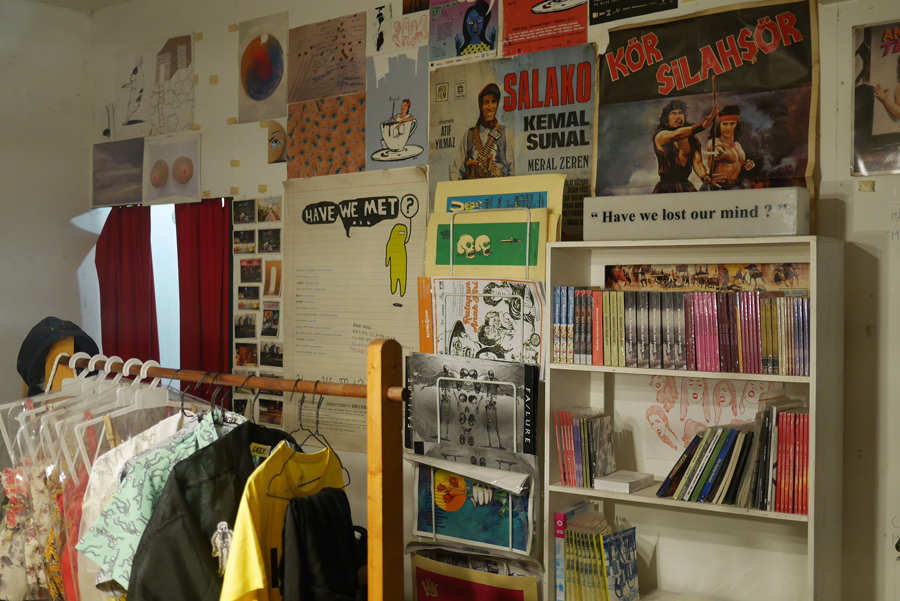 This is the radio station, RURUradio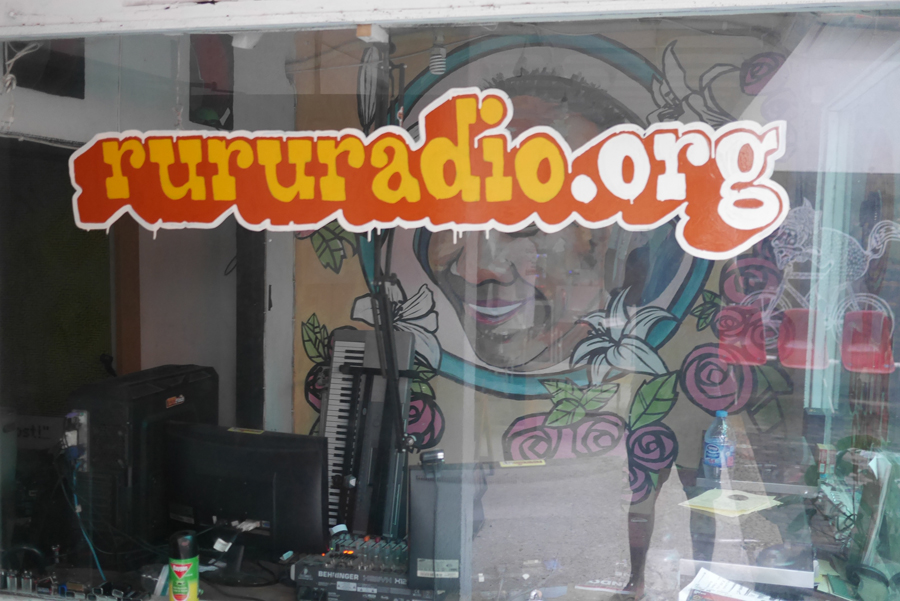 This is a room for playing games.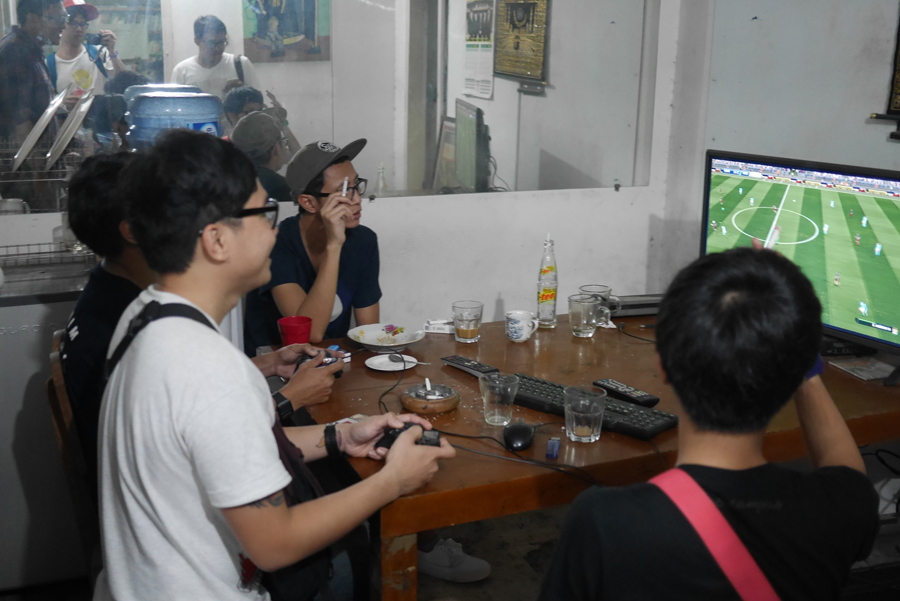 But if there is ever a member who causes trouble, then things must be hard to carry on.Since I had a question about this, I asked how people can become a member of the space.The answer is that they have no specific regulations and once some one comes to hang out at ruangrupa, eventually they might get involved in many activities and then one day, they became a member.It sounds like that very 'organic' way that artists often mention here in Indonesia. That's why everybody is such good friends.Even if there is some gap between their ages there is no hierarchy at all.  Joking with each other it seems like they are great pals. As the same as drinking, playing games, smoking and chatting, everybody commits to the art program together. Since this is different from paid work, the members are full of life and support each other like a family.Honestly, I envy them.I want to embody this idea in Japan.
But I was wondering about the operation costs, thinking it must take a lot of funds to sustain these facilities and the scale of these projects, so I asked them directly about it.In the last several years, they explained, they've been awarded significant grants from Europe.I think it sounds natural since they've been engaged in such amazing activities for many years.Besides these grants, ruangrupa has a fund raising team who not only apply for the grants, but also actively join hands with other companies and organizations, forming collaborations both on a domestic and international level.That sounds like ruangrupa, they know exactly what they are doing.
While I was visiting, there was a party for the second anniversary of the radio station, RURUradio. It was so crowded.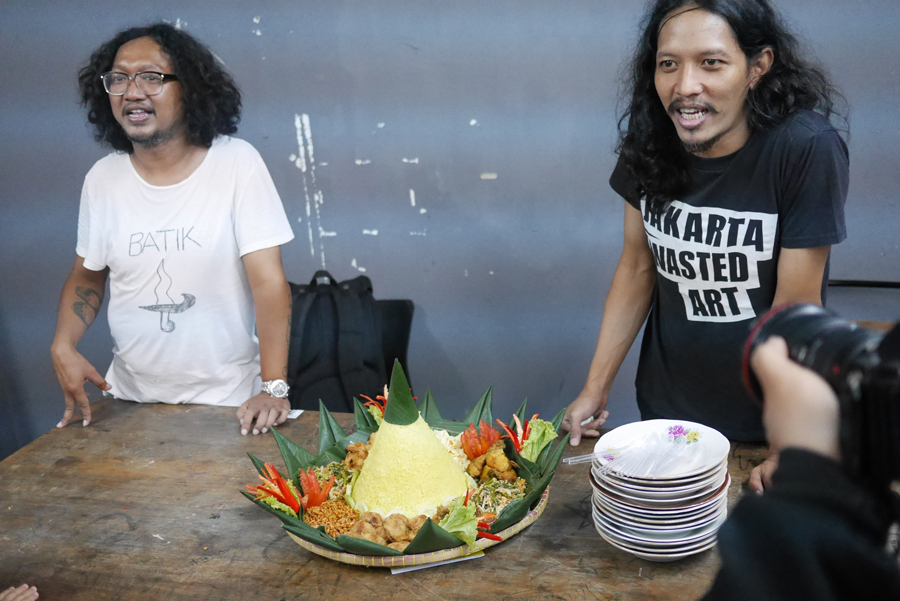 Everybody looks so happy~.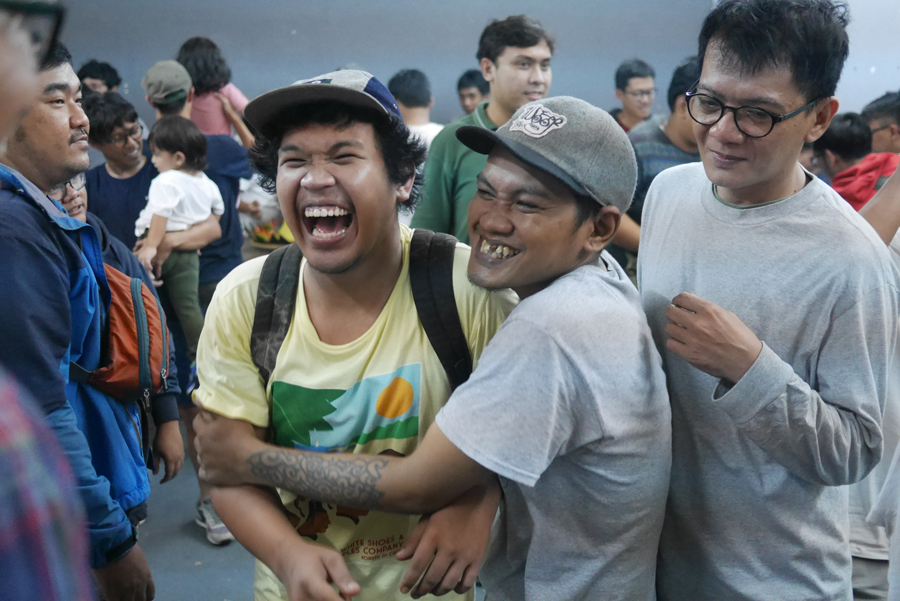 After the party, the crew departed for a tour of the broadcasting radio program across several cities in Indonesia.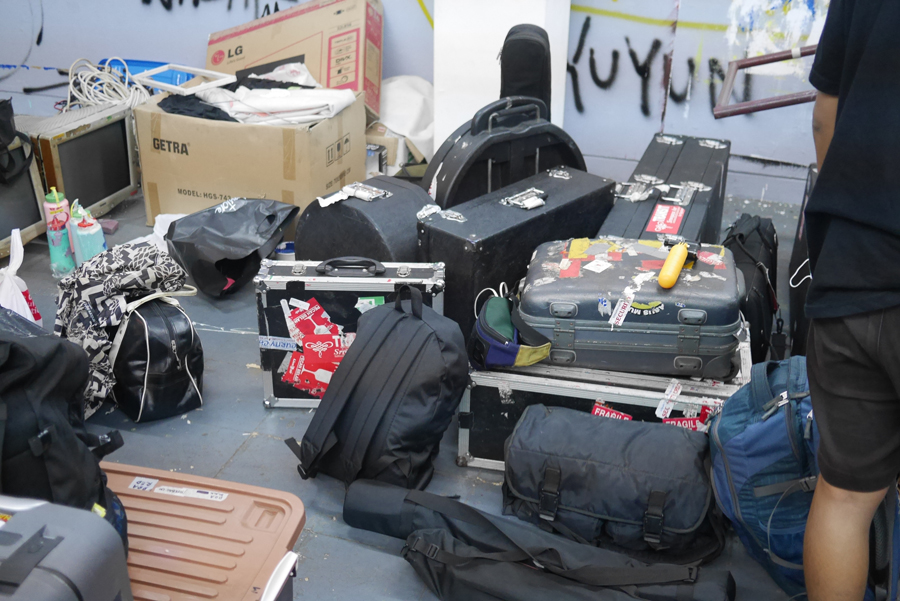 Showing concert and performance and broadcasting radio program in each city.Definitely, it sounds so exciting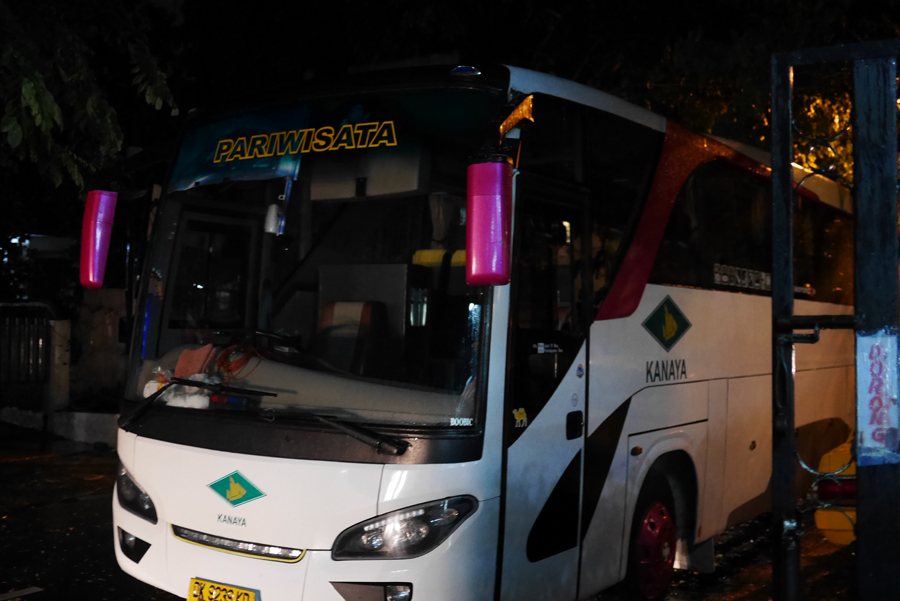 In the beginning I mentioned about this concept of 'sharing' and in fact ruangrupa actively collaborates with many other organizations and projects.By sharing issues together with many different people, they expand the range of knowledge and network.It is this form of development that ruangrupa have put such emphasis upon and will continue to focus on in the future.They don't want to repeat the same things, but continue in their desire for new connections, not closed connections, but ones which keep opening up.As they are a big organization, it is surprising that they have been able sustain themselves through such trials for over fifteen years.Naturally they are also attracting a younger generation and continue their growth and development within an expanded network.There were so many things I was able to learn from them. As might be expected, they are really a world legend. I'm really impressed.
A group shot.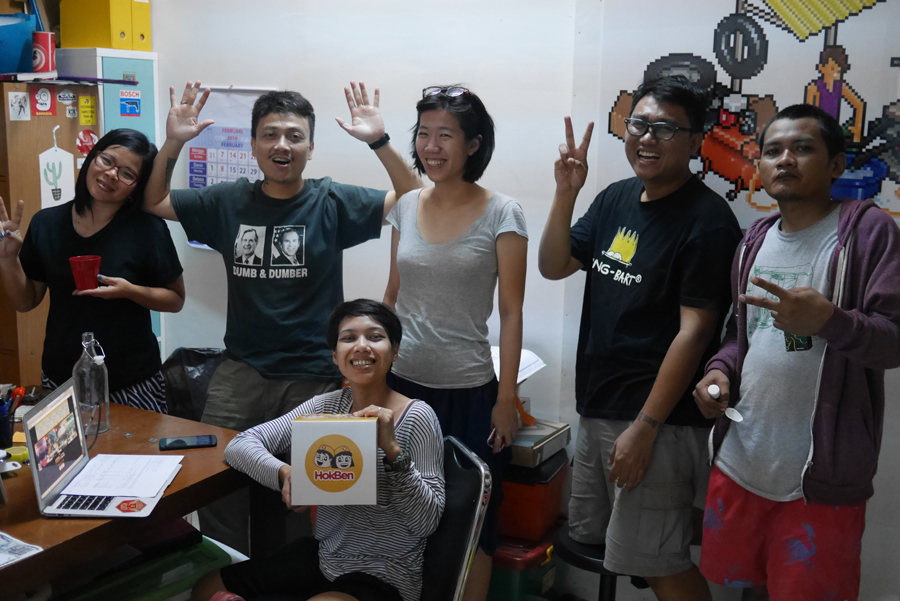 A living legend born at the end of the 20th century and still growing.  
ruangrupa
http://ruangrupa.org/15/
https://www.facebook.com/ruangrupa/?fref=ts
After I returned to Japan, I received an email which gives us the latest updates.
In 2016, ruangrupa moved their base to a bigger space called Gudang Sarinah. The building used to be a warehouse, which was used as a venue for Jakarta Biennale 2015. They are now occupying two spaces, 3000㎡ each, so huge! They are going to stay there at least for three years from 2016.
To split the cost of rent, and to build up a stronger community through "sharing", they have invited five other organizations to use the warehouse. So the space will soon to be filled with many activities such as exhibitions, educational programs, music events and movie screenings etc.
They are now planning to start a visual communication agency, RURU Corps with other organizations to manage all the profitable works for Gudang and the local community. This movement will not only influence on their workstyle, but also bring changes to their ways of thinking.
As for ruangrupa as an organization, it his shrinking in the number of members. Now, only four have remained to take care of administrative matters. This some kid of "dissolution" somehow enables them to focus on more experimental projects in some specific fields. They also mentioned Gudang Sarinah Ekosistem, as a great community to explore the new and unique way to experiment with collective works. Please visit their website if you are interested in their projects.
ruangrupa

Tebet Timur Dalam Raya No.6, Jakarta
Established Year: 2000
Facility and Activity: Gallery, Library, Shop, Café, Workshop, Educational Program, Residence, Radio, Planning and Coordination of Art Project, Publishing, etc.