18 February 2016|Shimokitazawa, a Mountain and Mirror(Kineruku, PLATFORM3, Ruang Gerilya)
Riding on the bus for three hours from Jakarta, we finally arrive in Bandung. We are only staying here for three days, but planning to visit quite a lot of places. I am a bit worried about this plan, but I believe we will get along ok because we have a very reliable guide for this town. Ms. Riksa Afiaty one of the young curators of ruangrupa, has agreed to show us around. Bandung is her home town and she happened to be here just at the right moment and she kindly offered us her time. Actually, my stomach is unfortunately in a slightly chaotic condition because of some street food I ate, but other than that there is nothing to be afraid of!
With Riksa as our guide, we are starting our tour with the space called Kineruku. This art space is a complex consisting of a library, gallery, cafe, Book & CD shop, and vintage shop in a one place.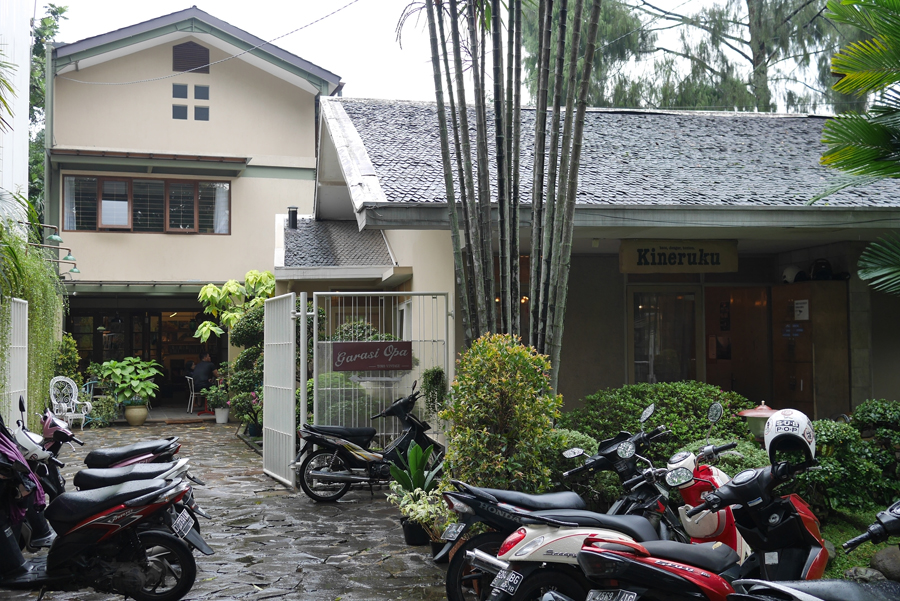 Kineruku was first opened in 2003, founded by Ariani Darmawan. In her university days, Ariani studied architecture. Having a dream of allowing Bandung's youths to read many books, she then opened a library, starting with 400 of her own books. She has gradually added books to her shelves and the collection has gone up to 5000 books now. In the year following the launch of this space, she established a film division and started a DVD rental system. At the same time she also began conducting film screenings and discussions.
Many books and CDs are lined up here. Some of them are on sale too.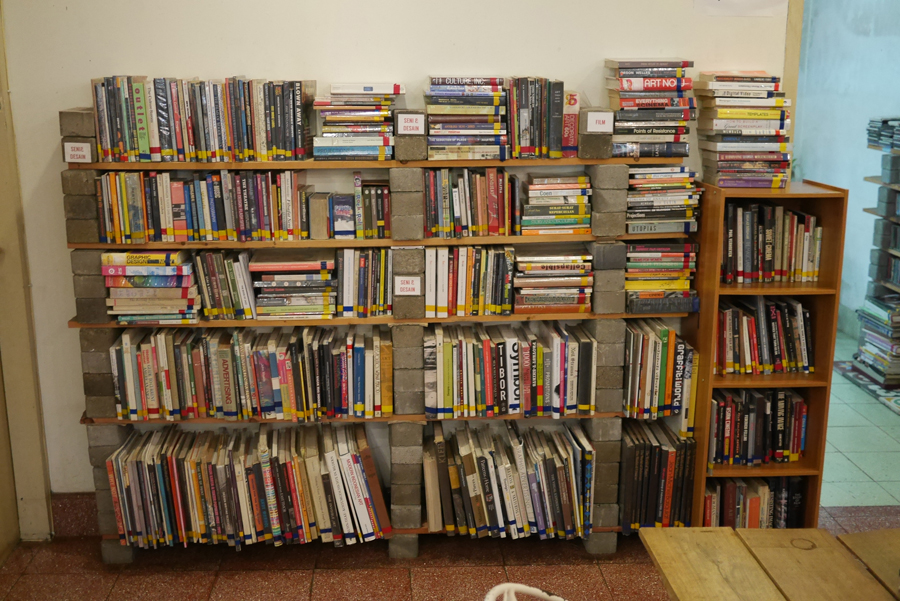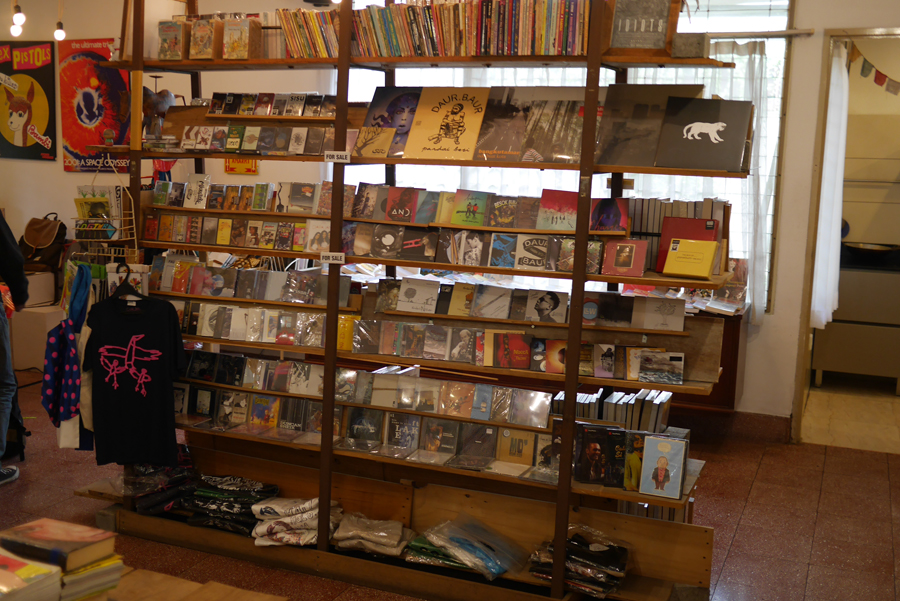 In 2008, Kineruku started to conduct music gigs and the name of Kineruku soon spread to the young people in Bandung.
In 2012 Ariani renovated her space to open an antique shop next to the bookshop. Books, music, cafe, and antiques….no doubt that young people from all over the world love to gather at this cool space. Many young people are there drinking tea and holding a book in the other hand, enjoying music from selected CDs, and looking for antiques in the next door shop during my visit.
Gallery in the courtyard.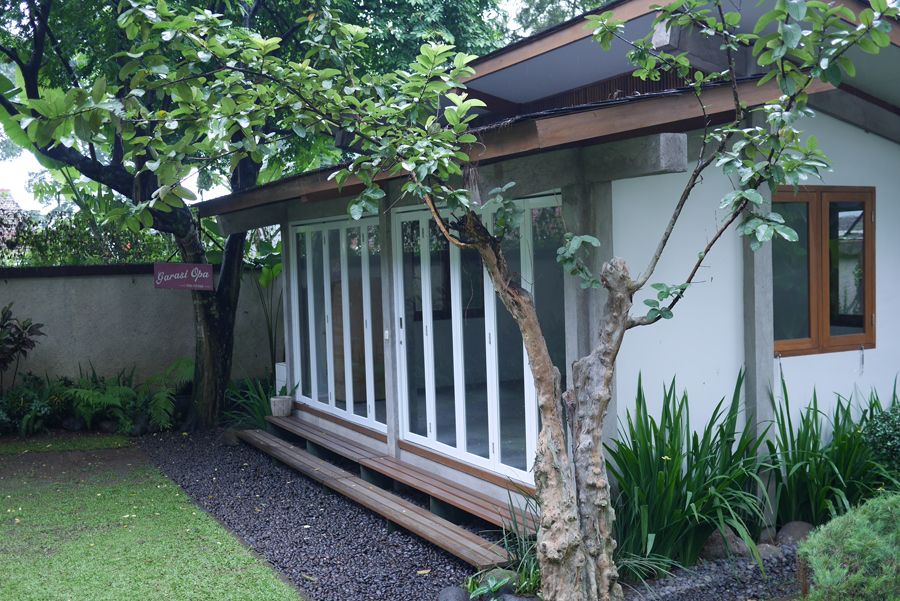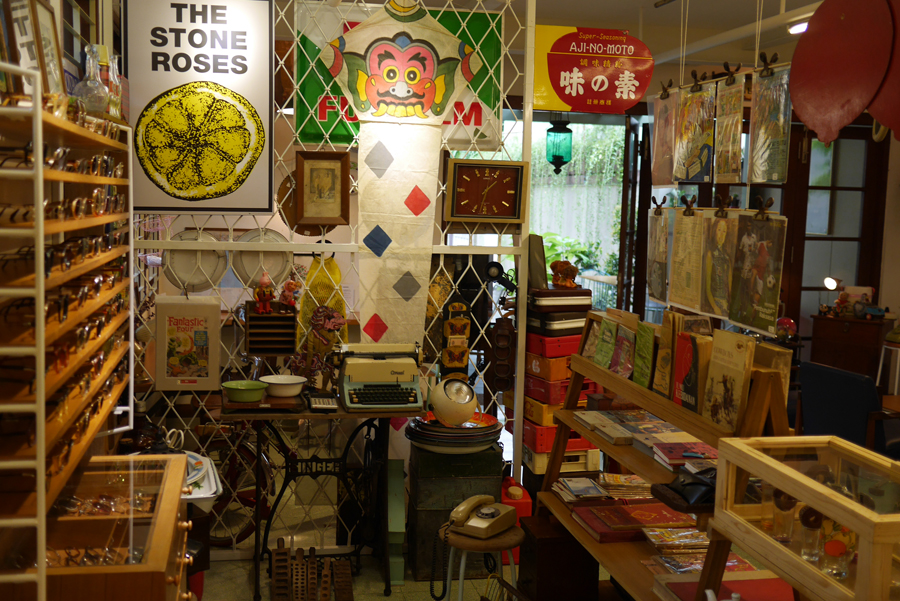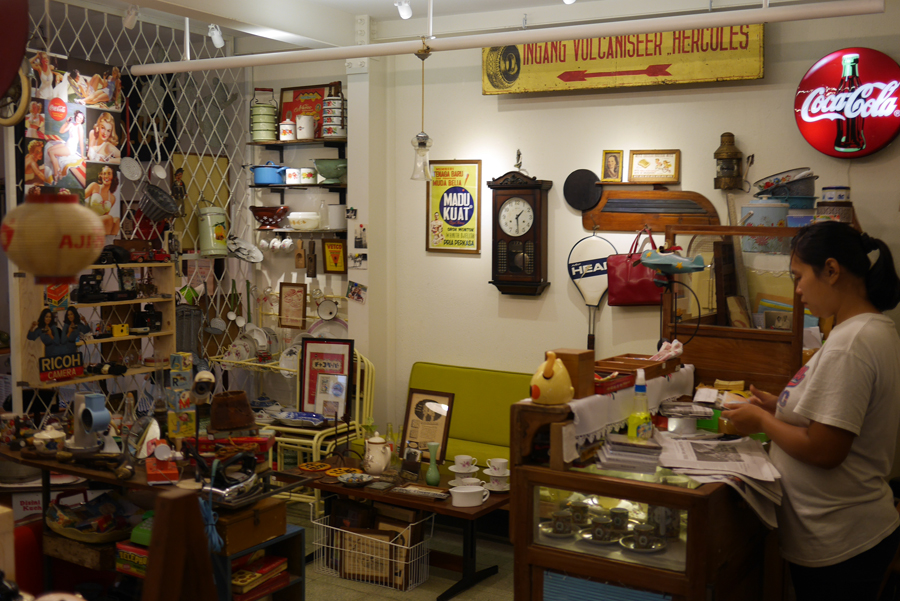 From the moment I stepped in to this place I feel something familiar, and I notice that this space resembles the good-old area of Tokyo, Shimokitazawa when I was in high school. During the early 90s I spent my time after school milling around Shimokitazawa and it is as if all the memories of that time have become concentrated in this space in Bandung. This space has a much more urban feel to it than other art spaces in Indonesia, but unlike Japan, they are not concerned with pushing merchandising, they have a more simple and honest motivation to bring "More books to more young people".
Owner, Ms. Ariani Darmawan, on the right, and Mr. Budi Warsito on the left.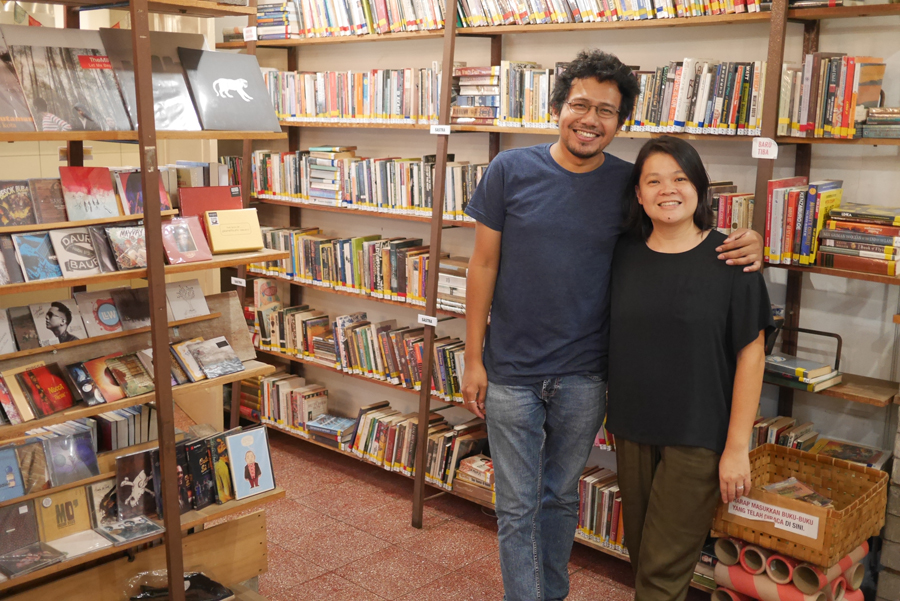 A glance of early 90's Shimokitazawa in Indonesia.
Kineruku

https://www.facebook.com/pages/Kineruku/237551133022041?fref=ts
So, by our guide Riksa's lead we are going to the next stop.
We get into a taxi and climb a small mountain, where we arrive at PLATFORM3.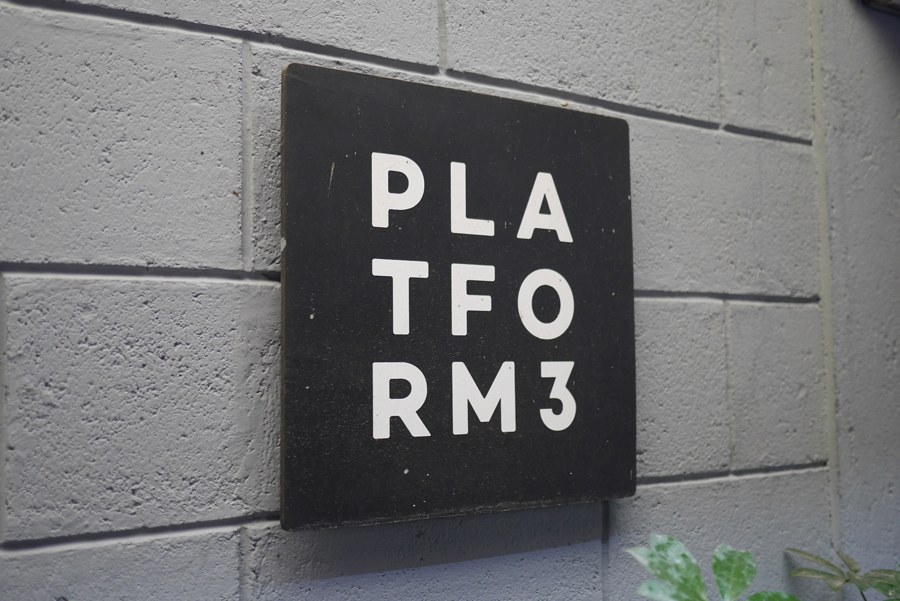 Mr. Wiyoga Muhardanto, who attended 3331's residence in 2011, and even visited Ongoing once before, shows us around. PLATFORM3 was established in 2009 by three artists and three curators. It's a compound made of a gallery, studio, and residence space. They hold exhibitions here four times a year, conducting discussion events each time before the exhibition, and also hosting screenings and small live events too. Once a month, all of the members gather and have meeting to come up with ideas for the program.
This is the gallery space.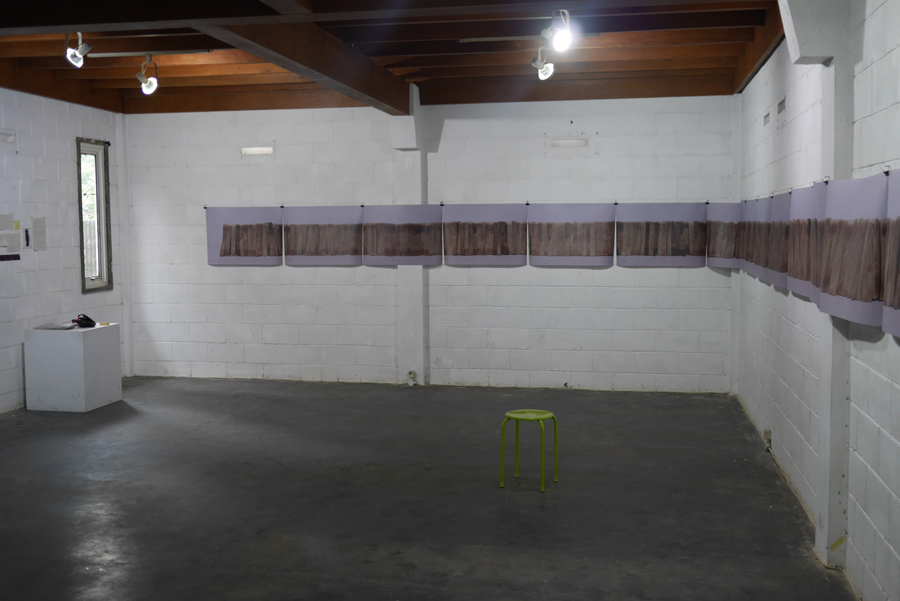 They are having the opening of the exhibition of residence artist. Wiyoga (right) introduces the artist to the audience.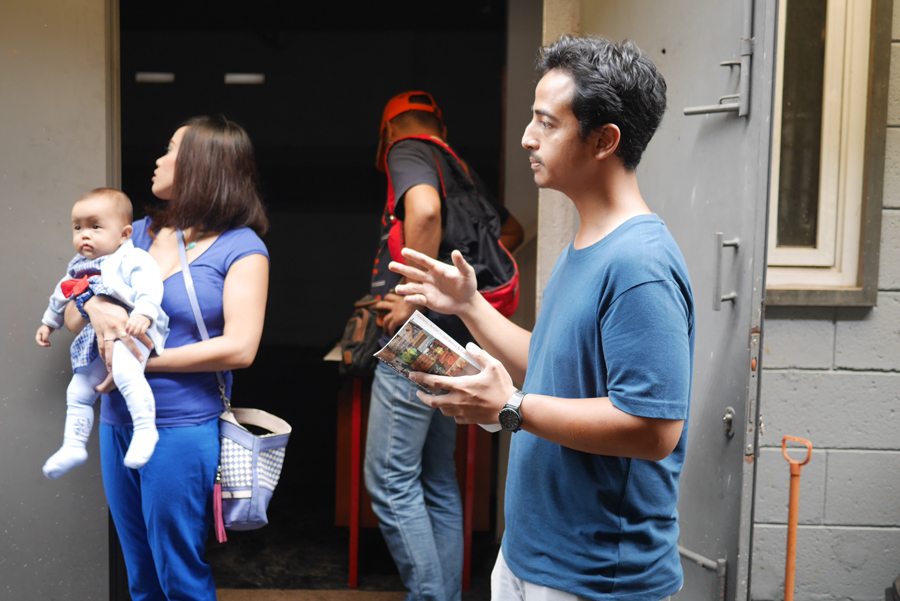 Residence artists usually stay for one month then present an exhibition at the end. All of the members contribute their personal fund towards the managing fees. Wiyoga himself is introducing his art work all over the world, he is a full-time artist who is making quite a success for himself. By maintaining PLATFORM3, he could gain many new encounters, and a new set of knowledge shared through the discussion events, which have become a great stimulant for himself and others. They say that one day they want to establish a stable financial foundation from which to run PLATFORM3's activity.
Rangga Aditiawan on the left and Yopie Nugraha on the right, who belong to the organization called "Sunday's Screening", which is based in Bandung and conducting various outdoor screening events were also at the space. I am able to ask a little bit about their activities which sounds highly independent and very exciting.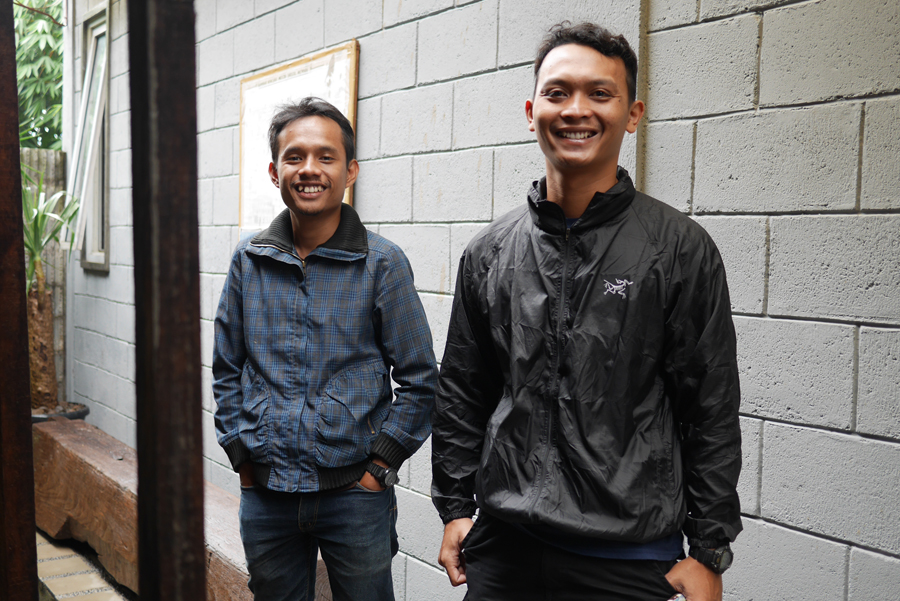 Members of PLATFORM3.
Conducting experiments day by day in the mountains.
PLATFORM3
http://platform3bdg.org/
https://www.facebook.com/platform3bandung/?fref=ts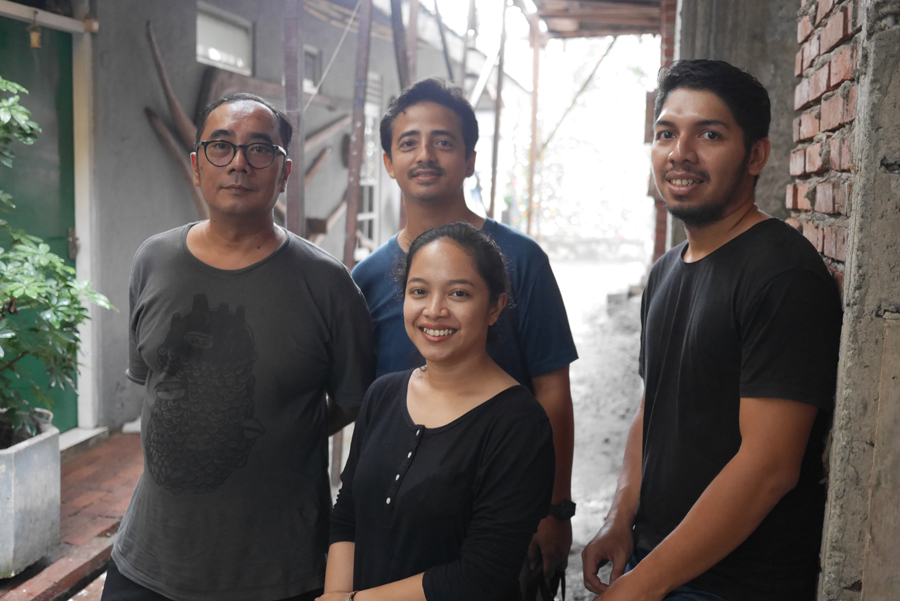 Conducting experiments day by day in the mountains.
It's about evening time but we still have one more place to go! We are arriving at Ruang Gerilya. We get to talk to staff member Dian Arumningtyas and the artist Patriot Mukmin.
This artist run space was developed in 2011 by five founders. The space targets young creators under 35 years old and runs based on the concept of opening art widely to ordinary people. 20 volunteer members are working at the space. They hold weekly meetings and discuss in a group about ideas for next event which are also held every week.
Mirror walled gallery.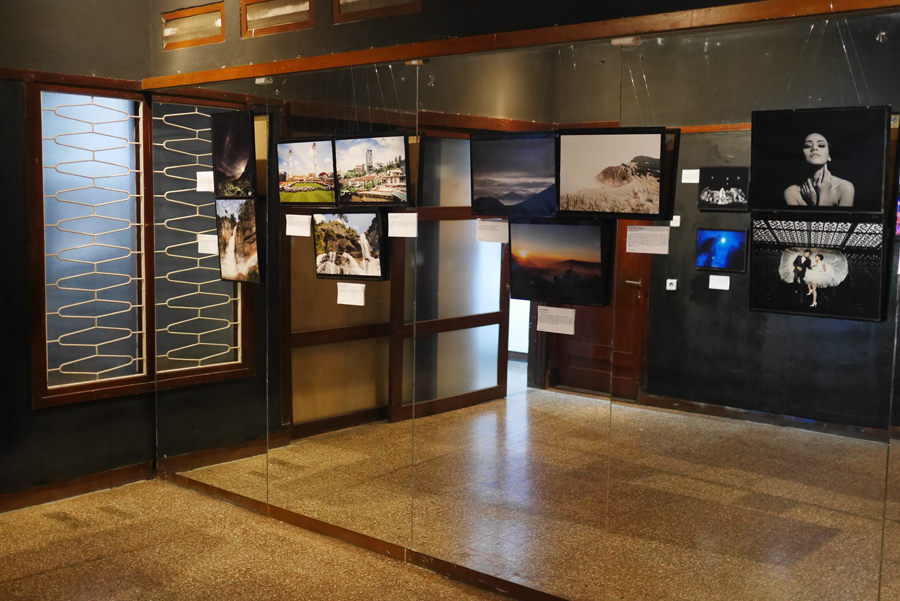 Group exhibition of students' photos.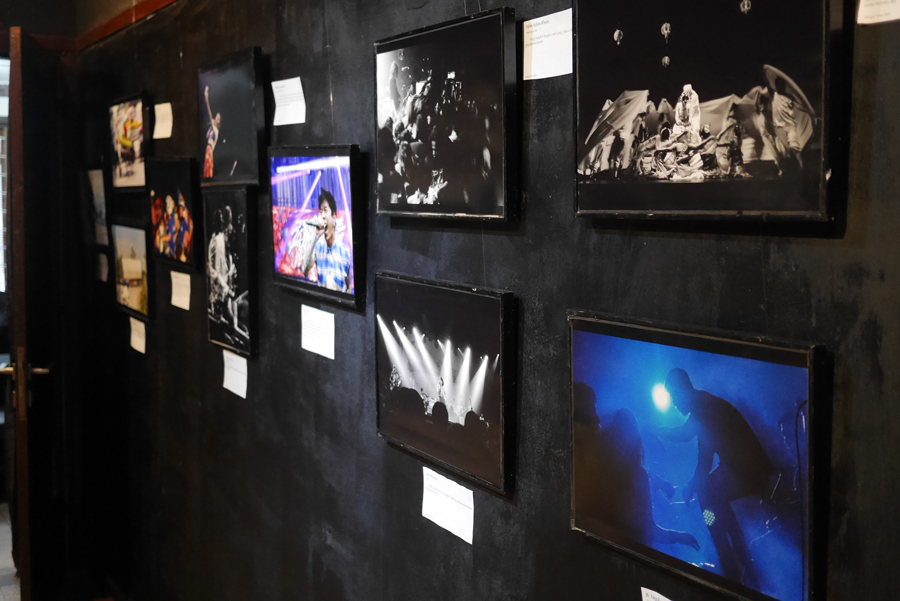 Many students crowd outside.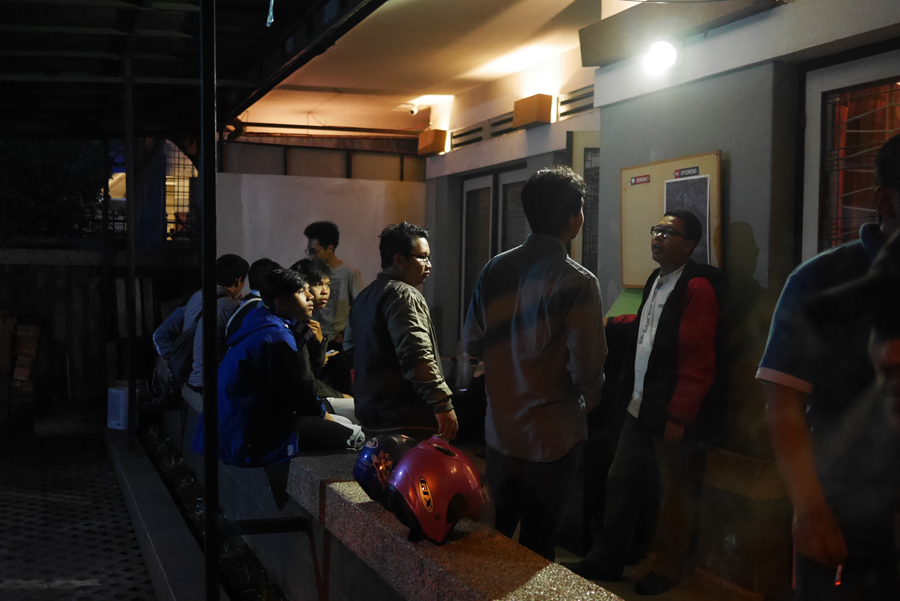 Most of the exhibitors are students. They often hold presentations alongside the exhibitions, along with discussions and music events sometimes too. The artist in residence exchange program hosts foreign artists who are invited to collaborate with students on art projects. Staff members are also young, and both those exhibiting and managing here can earn so much experience which can really enhance their careers.
The staff members. I get to talk in depth with Mr. Patriot Mukmin on the far left, second from the far right is Ms. Arumningtyas.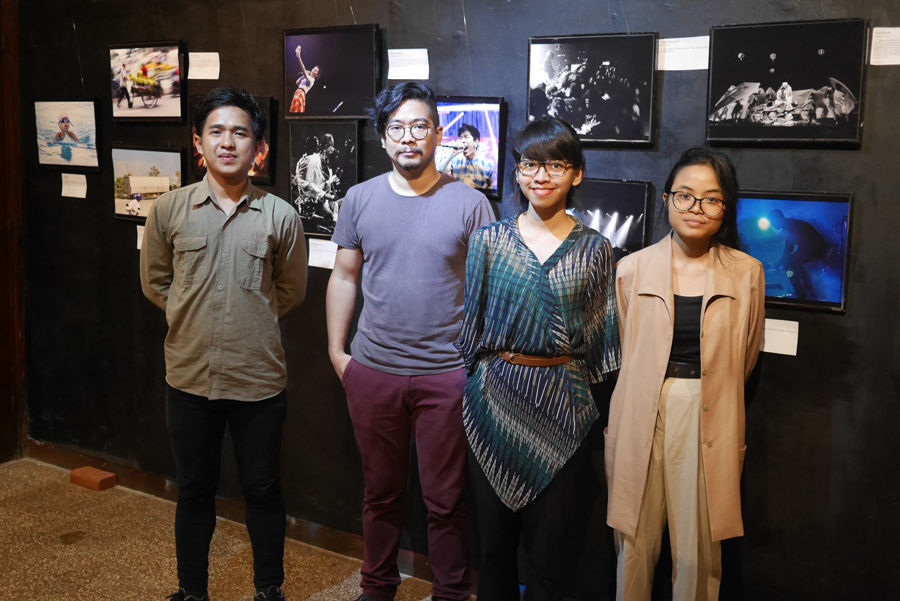 First exhibition at a mirror walled gallery.
Ruang Gerilya
https://www.facebook.com/ruanggerilya/
Kineruku

Jl. Hegarmanah 52, Bandung
Established Year: 2003
Facility and Activity: Gallery, Library, Café, Shop, Workshop, Music Event, Performance

PLATFORM3

Jl. Cigadung Raya Tengah No. 40, Bandung
Established Year: 2009
Facility and Activity: Gallery, Workshop, Residence, Talk

Galeri Gerilya

Jalan Raden Patah No 12, Bandung
Established Year: 2011
Facility and Activity: Gallery, Residence, Workshop, Music Event