19 February 2016|From the Big to the Small (Salasar Sunaryo Art Space, Tobucil & Klabs, Omuniuum)
On our second day in Bandung we are planning to visit around many places. Joining together with our guide Riksa in the morning we head out towards the mountains. After hitching a lift on a ride-sharing bus we arrived at Salasar Sunaryo Art Space.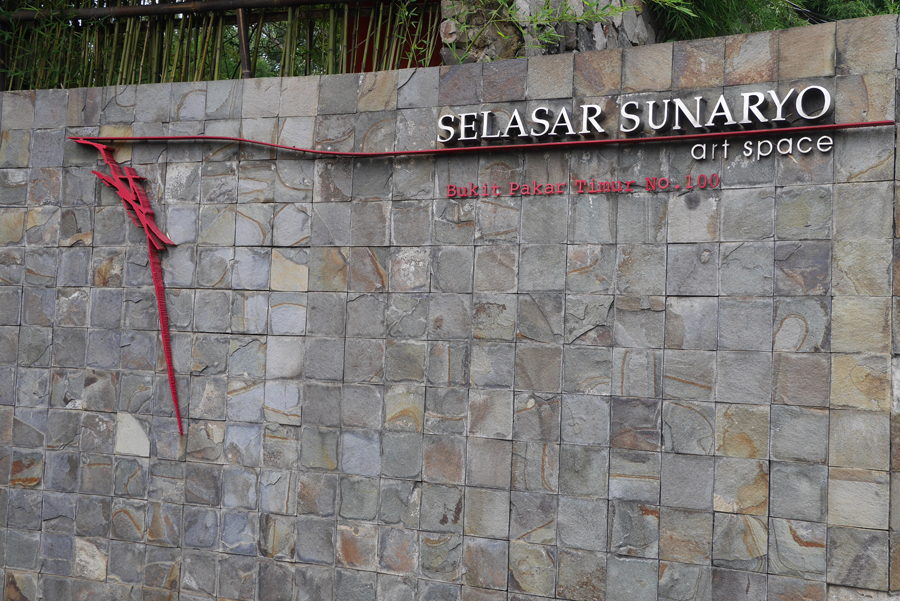 We are able to hear from Yus Herdiwan, operational manager about the history of this place. Salasar Sunaryo Art Space was opened in 1998 by Drs. Sunaryo, one of the most famous artists in Indonesia. The space consists of several facilities such as a permanent exhibition gallery, a temporary exhibition gallery, cafe, residence, theater, discussion space, shop and library. With such a scale it might be more appropriate to refer to this place as a museum rather than art space. It is like Taro Okamoto's museum in Japan.
Outdoor event space.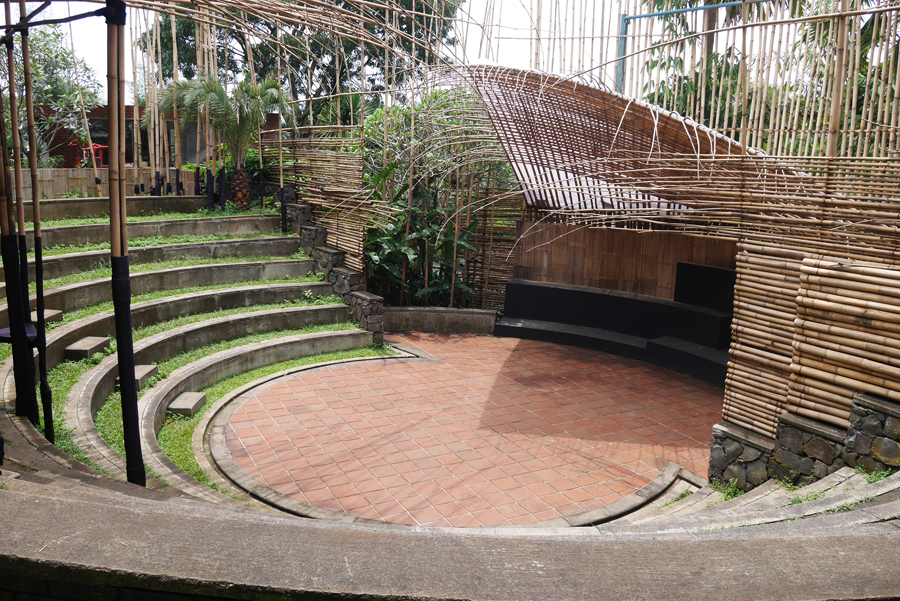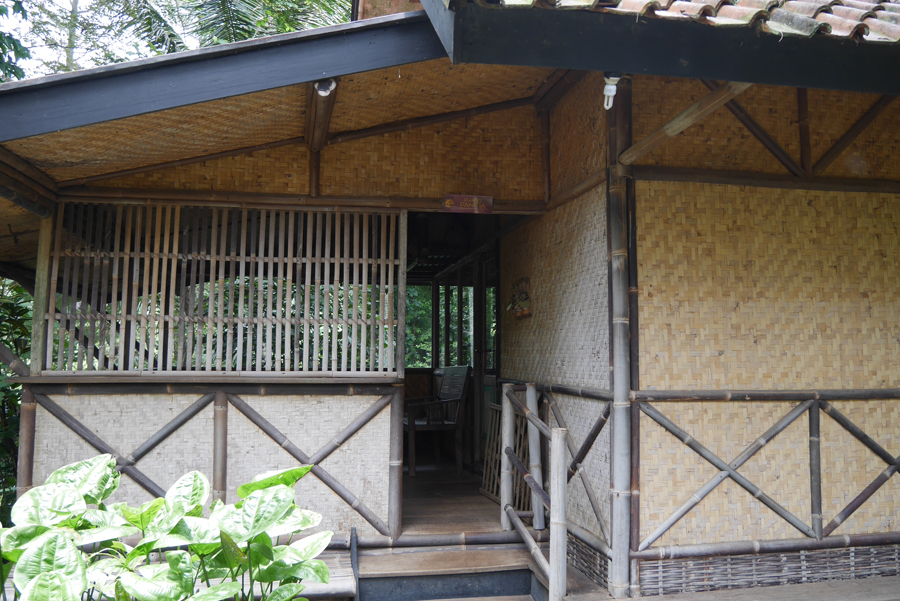 The shop is very spacious!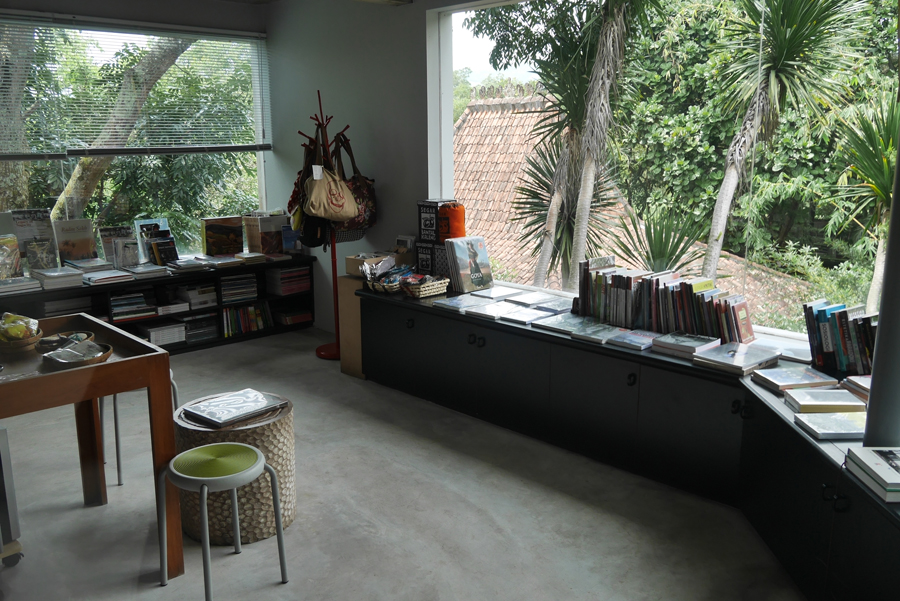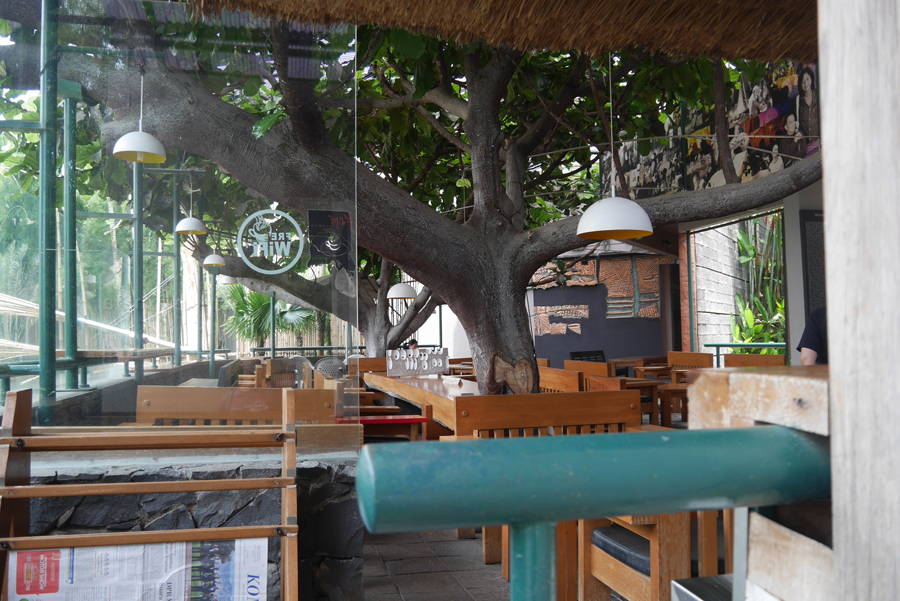 This is the exhibition gallery.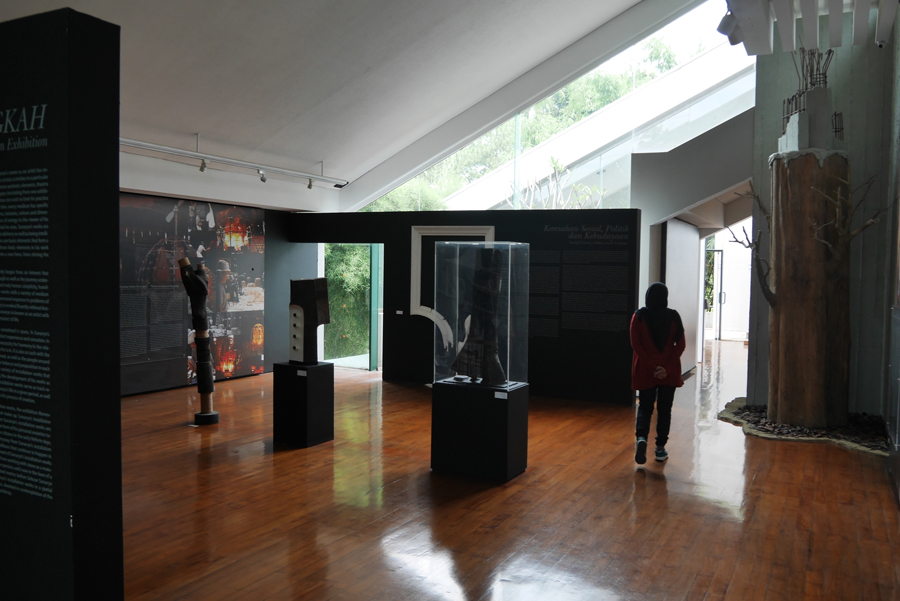 The purpose of this art space is to widely introduce young Indonesian artists. It was run with Mr. Sunaryo's pocket money for the first 10 years and you can tell what a success he made just by looking at this place. Not all of the facilities have been there since from the beginning, with as additions of the cafe, museum shop, and gallery being established later on.
This is the entrance of the building. Enormous.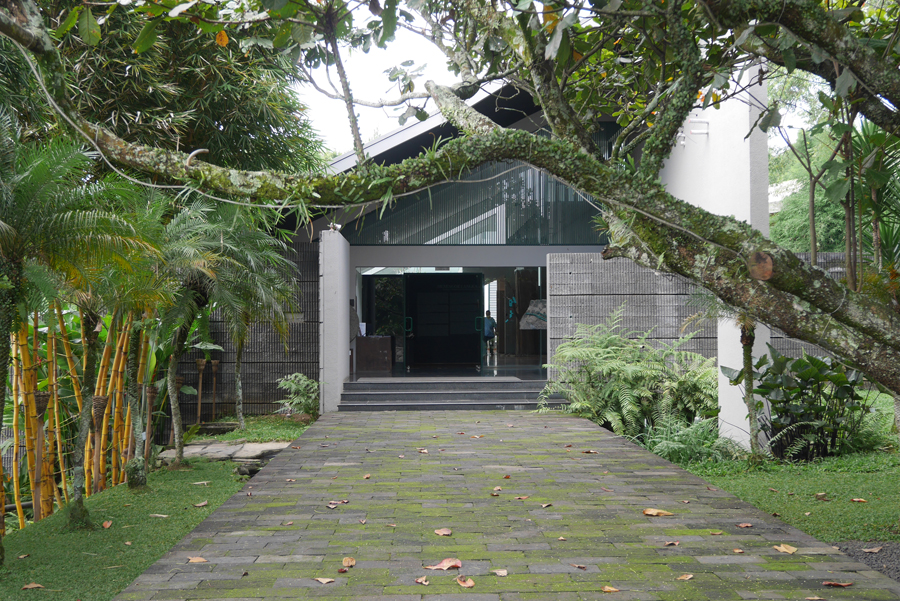 Presently, Drs. Sunaryo's foundation is managing this art space. There are a total of 25 members working as curators, office workers, cafe staff etc. We could not meet with Mr. Sunaryo on this occasion, but we have heard that despite his 70 years of age, he is incredibly energetic. Not only does he develop visual art events, but also music, dance, performance and symposium events too. He also cooperates with foreign art organizations and conduct screening events. Establishing a gigantic art space like this on his own … it's quite unbelievable ….
Mr. Yus Herdiawan (left) who introduces me to the space.
And on the right, the man you've all been waiting for, our guide Ms. Riksa Afiaty.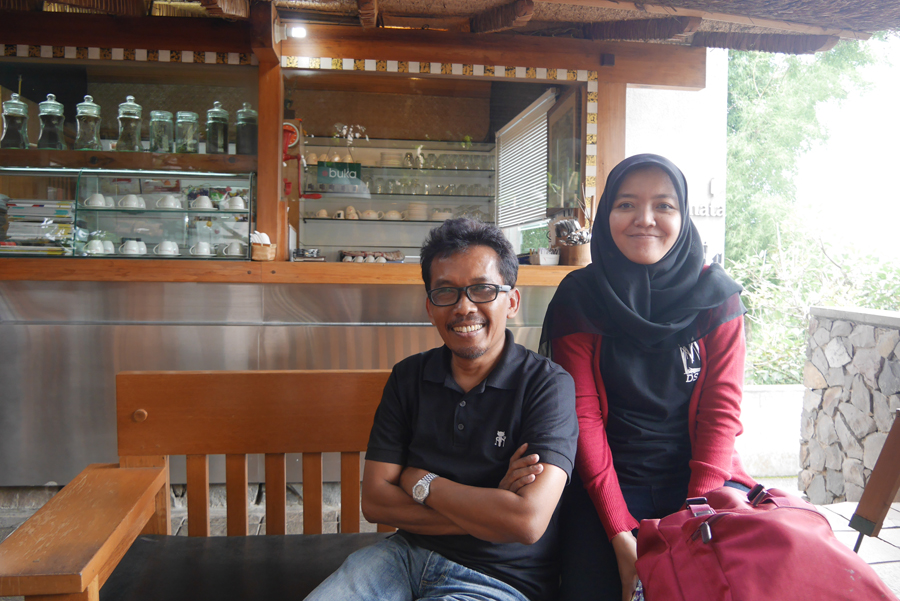 I wish successful artists in Japan would do the same.
Salasar Sunaryo Art Space

https://www.facebook.com/Selasar-Sunaryo-Art-Space-188962110561/?fref=ts
Next, after riding a scooter taxi, here we are at the Tobucil & Klabs.
Deep on the right is the entrance.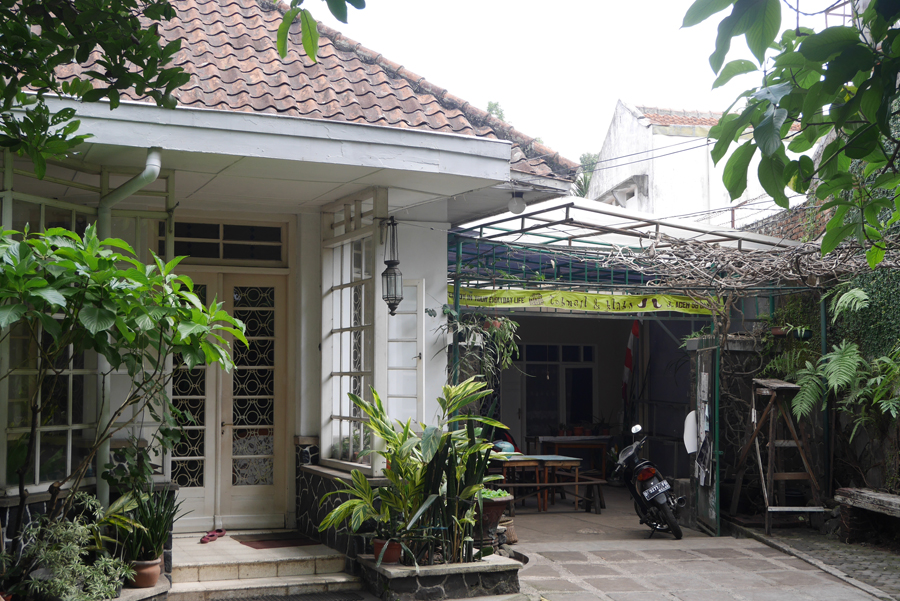 Ms. Tarlen Handayani, founder of Tobucil & Klabs, gives her time to talk with us. Tarlen started her activity in 2001. After the huge changes of 1998 there was a sense a new era in Indonesia spread through the country and many people sought out the opportunity for self-expression. But there were only a few cultural facilities in Bandung, limited to large institutions of foreign NGOs. Tarlen decided to establish an art space which welcomed the general public, and that became Tobucil & Klabs. she holds screening events, discussion events, and exhibitions here. Tobucil & Klabs has moved twice in the past, in 2003 and 2007, then finally settled in present location.
The space is full of hand crafted goods.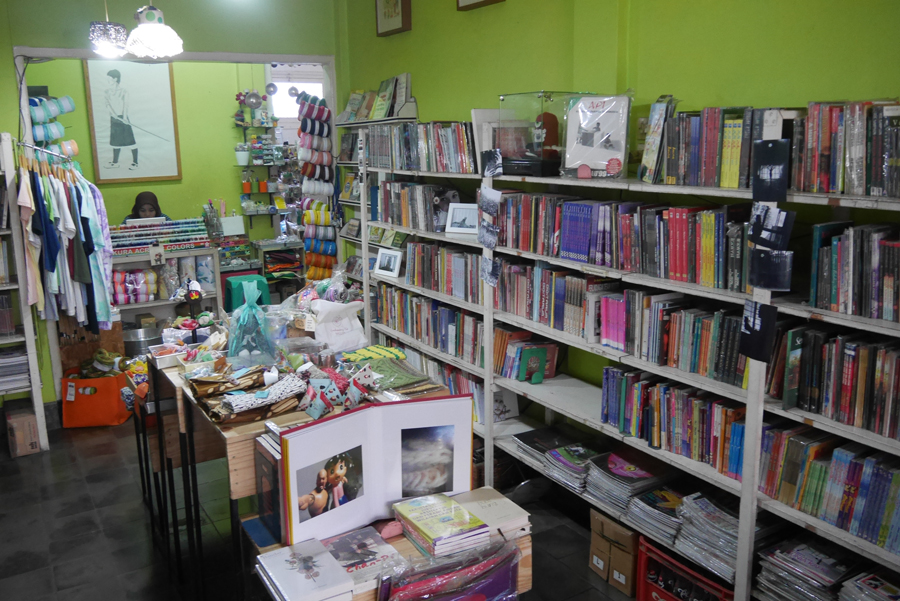 Tarlen was determined to build Tobucil & Klabs based on personal approach unique to Bandung. Other than books about movies, art, and culture, she also includes books and DVDs about hand crafting, which are also on sale in the shop. The space also hosts a culture school with participants ranging from 5 to15 people 3 to 5 times in a week. Here, local artists become teachers or lecturers, leading a class on photography, knitting, book binding, dying, and even public speech. Tarlen herself has her own craft brand and he teaches as part of the school. She describes Tobucil & Klabs' work as "small school run with personal style". Believing your way and driving forward at your own pace, this is philosophy of strength and solidity.  
Tarlen, talking very kindly and calmly with us.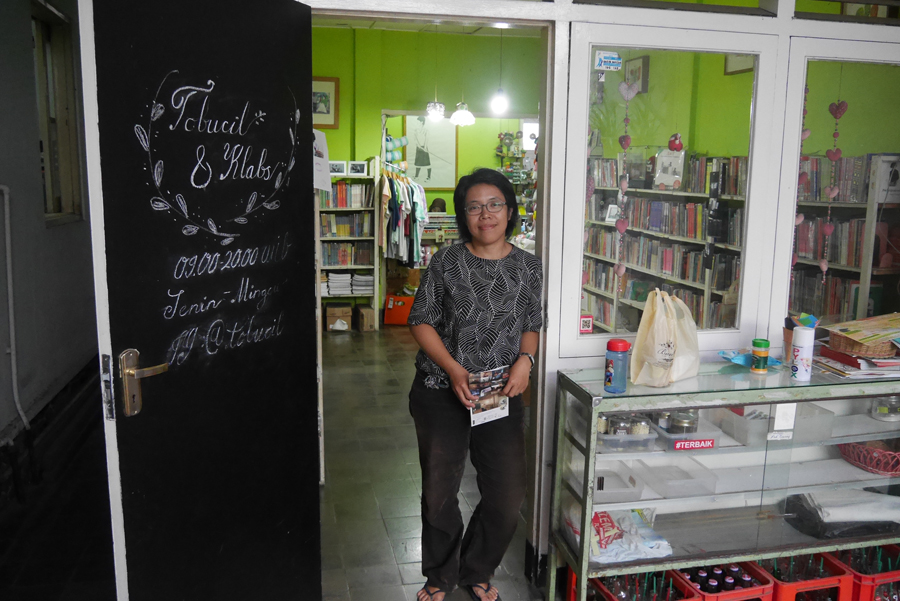 This school is small but inside is filled with the will of so many of people
Tobucil & Klabs
http://www.vitarlenology.net/
https://www.facebook.com/pages/Tobucil-Klabs/148806411850149?fref=ts
What's up, next is our final destination of Bandung!!
Led by Riksa, we arrive at Omuniuum.
The block in center is the Omuniuum.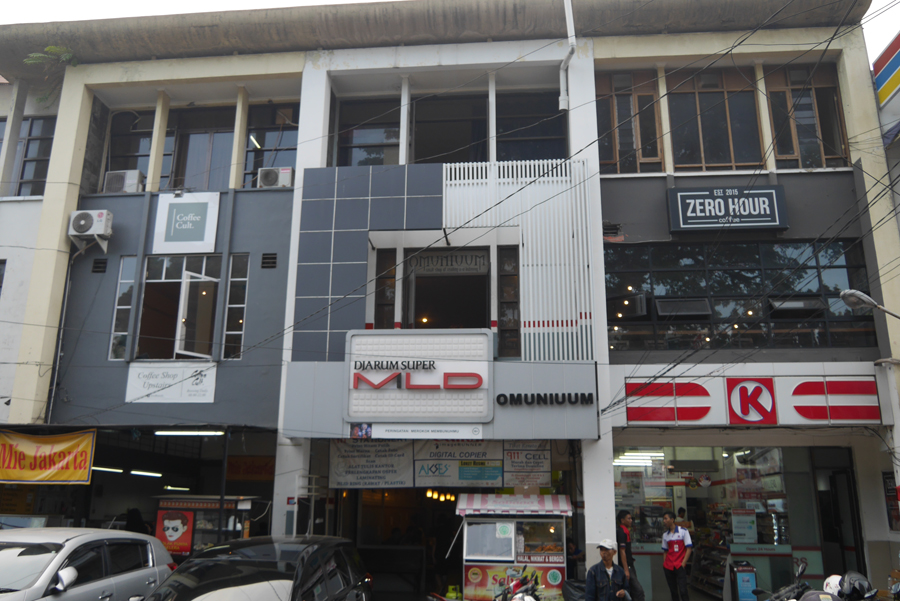 The founder couple, Mr. Stafianto Trie and Ms. Lit Boit talk to us about Omuniuum.
Omuniuum was opened in 2007 as a CD and music goods store. They have indies music from all over Indonesia. Recently, they established their own music label, and they are also planning to make CDs and organize concerts. Now the 1st floor boasts a cafe and the 3rd floor an art gallery. Music is at the core of this space, and they often offer up support to their favorite musician or band. Of course, artists come in very often, they even design the jackets of CDs or t-shirts.
Shop on the second floor. Not only t-shirts but many other music goods are sold here.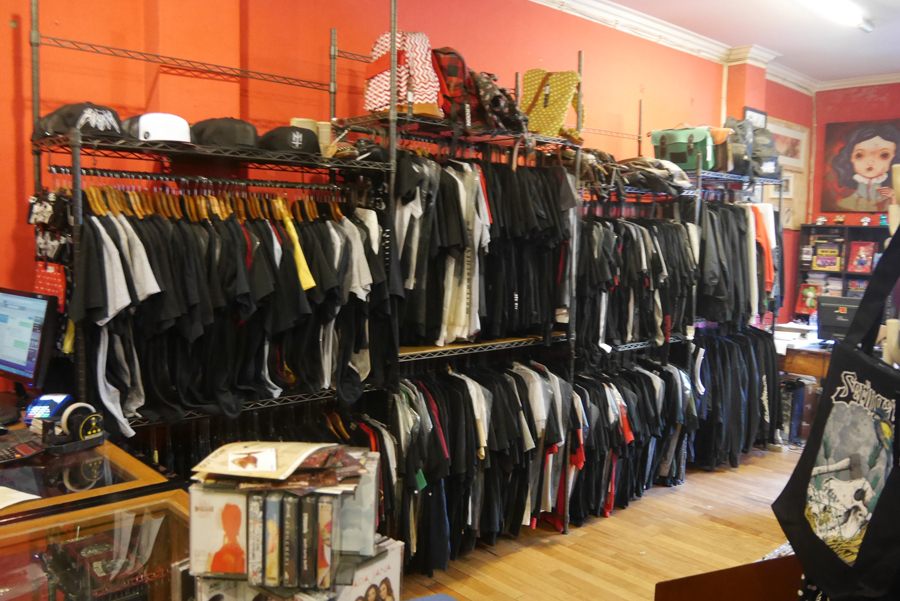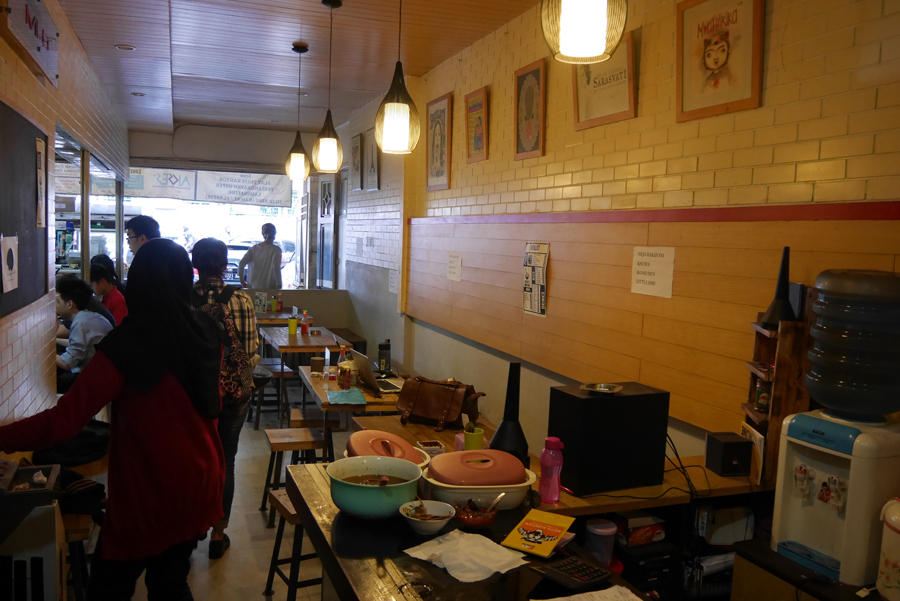 There is an art gallery on the third floor.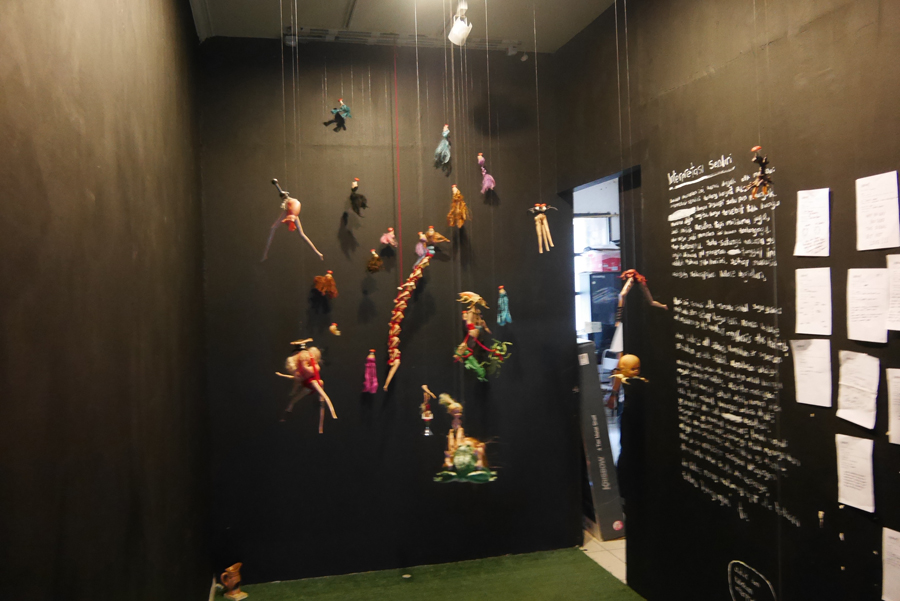 "It might not be profitable, but it is fun. I want to introduce my musician friends to many people." Trie says with a smile on his face. I feel that they are giving out the best they can and doing excellent work. I really get on well with them. You can tell they are not the excessive or aggressive in any way once you have a chance to talk. The peaceful aura which is common through the art spaces in Indonesia is definitely present here too.
Say cheese! A picture of the two founders.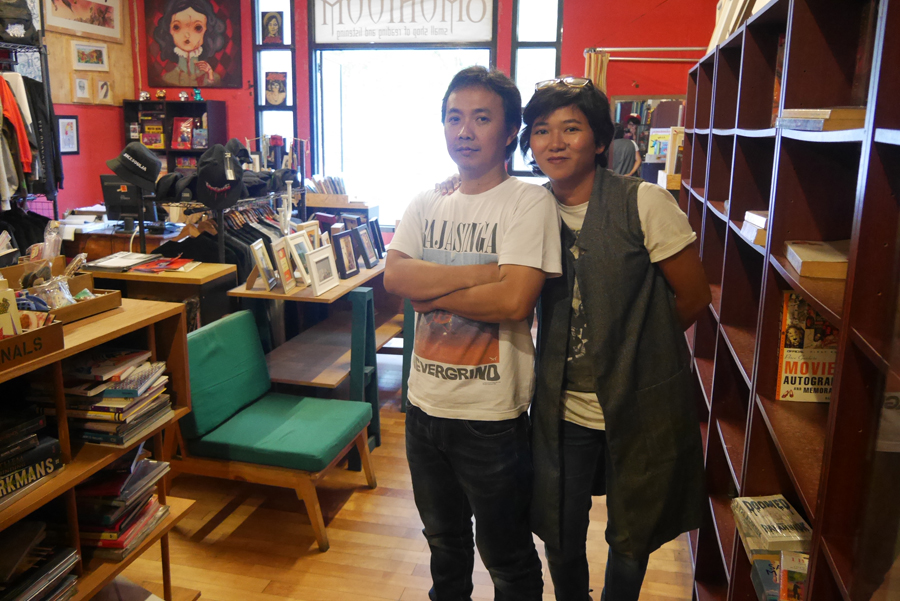 Bandung art center- music version
Omuniuum
http://omuniuum.net/
https://m.facebook.com/omuniuum
I am now finished with my report on Bandung. Riksa, thank you very much for being a fantastic guide even though you were on vacation. Please stop by at Ongoing whenever you come to Japan!
And then…… this closes the final chapter on Indonesia. It was very very long but I'm quite touched. Thank you so much Indonesia.
Next, I am heading to Thailand!!!
Salasar Sunaryo Art Space

Jl. Bukit Pakar Timur No.100, Bandung
Established Year: 1998
Facility and Activity: Gallery, Library, Shop, Café, Restaurant, Workshop, Film Screening, Performance, Publishing, etc.

Tobucil & Klabs

Jl Aceh 56, Bandung
Established Year: 2001
Facility and Activity: Shop, Workshop, School

Omuniuum

Jl. Ciumbuleuit 151 B lantai 2, Bandung
Established Year: 2007
Facility and Activity: Gallery, Café, Shop