28 February 2016|Urban Reading and Grandma(The Reading Room Bangkok、Speedy Grandma)
Today, I finally begin my days in Bangkok.
Here we go!
Wait, before that, I want to show some more pictures of my last days in Chiang Mai. They're not related to alternative spaces, though.
This is the studio of Mr. Navin Rawanchikul, a representative contemporary artist of Thai! SOM took me there.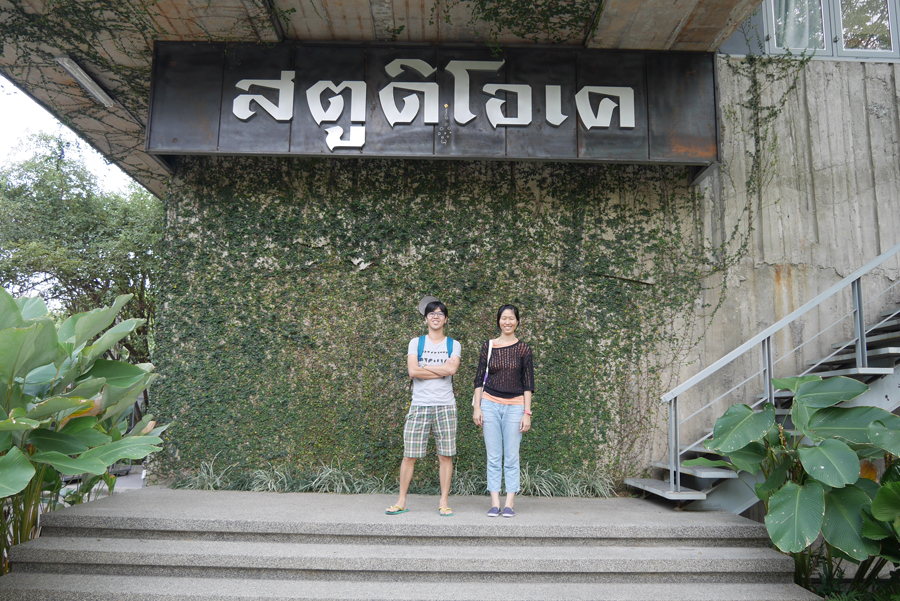 It was gorgeous, more like a museum than a studio.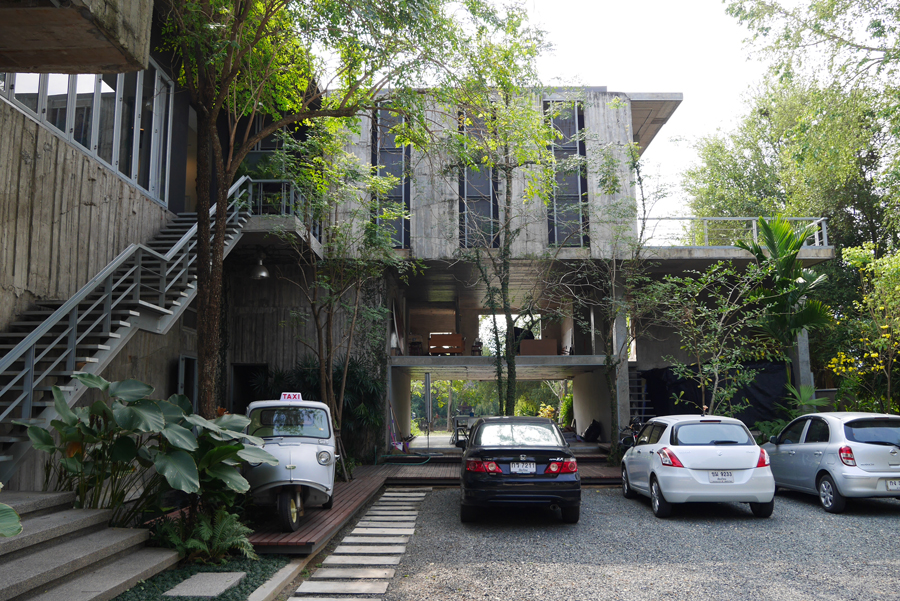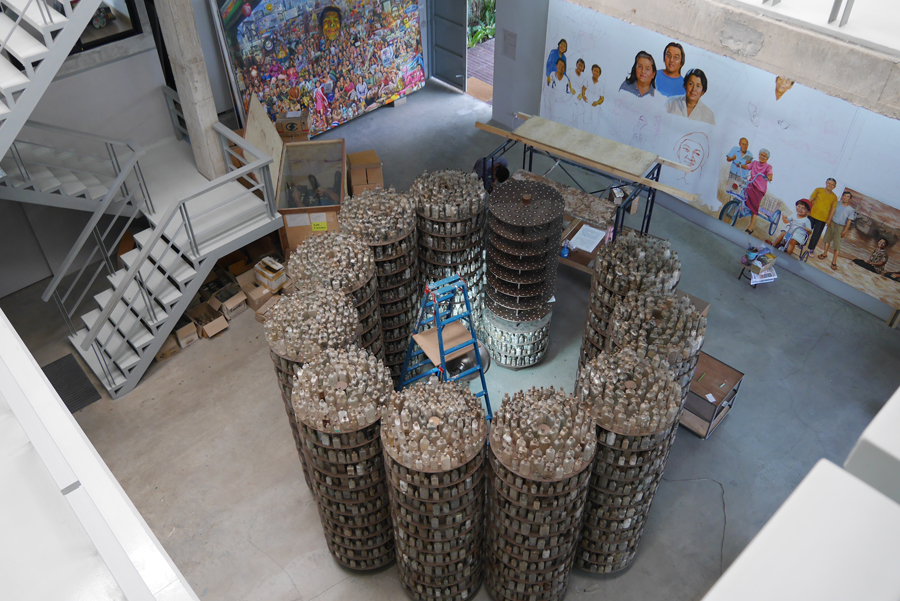 Many art pieces are on display.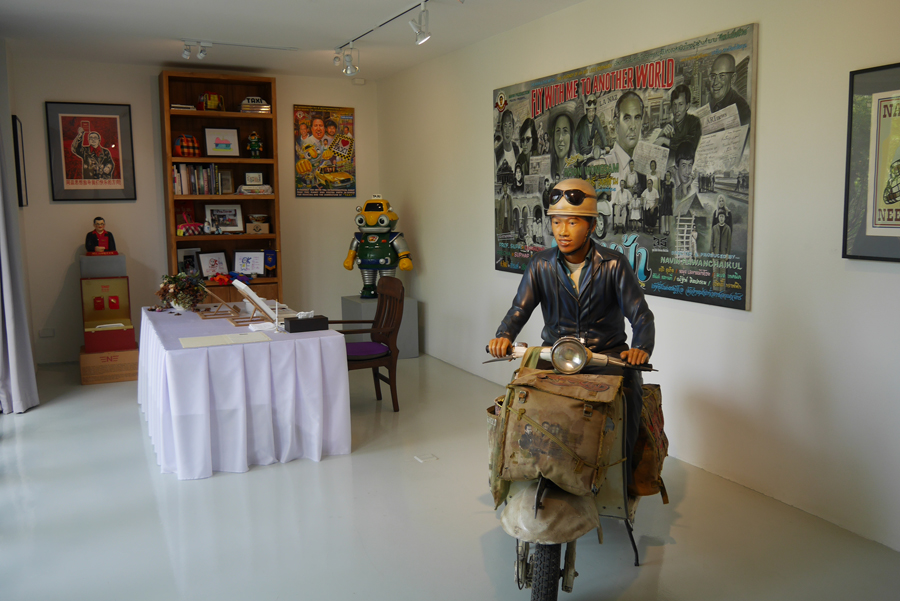 Mr. Navin Rawanchikul's father featured in this piece.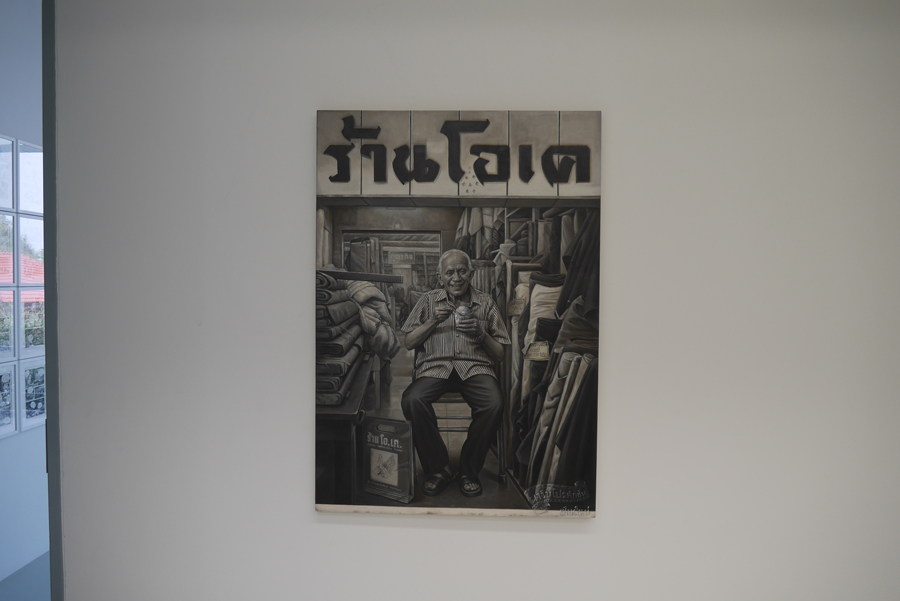 Actually I have seen him before!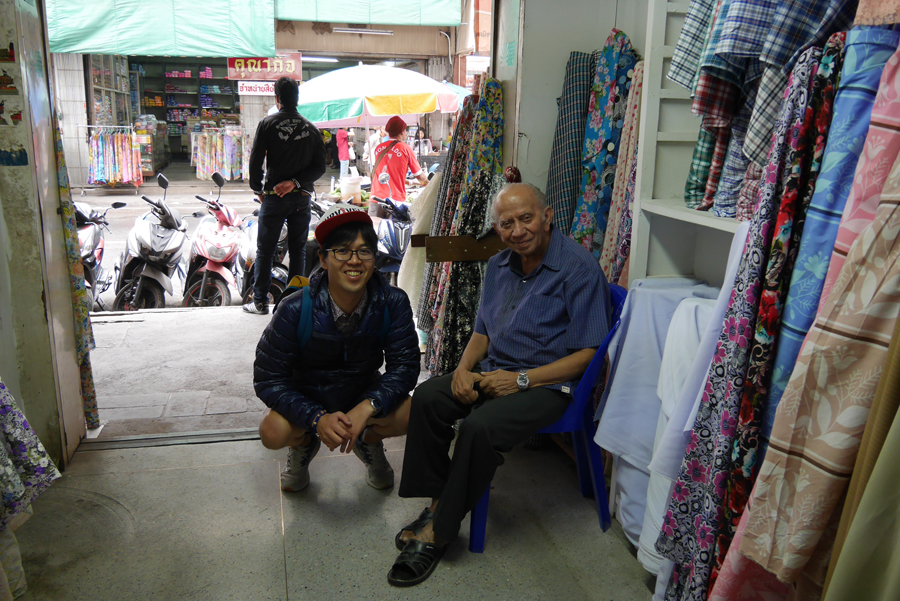 On my last night in Chiang Mai, I had dinner with SOM and Yhod! Thank you very much, SOM and Yhod!!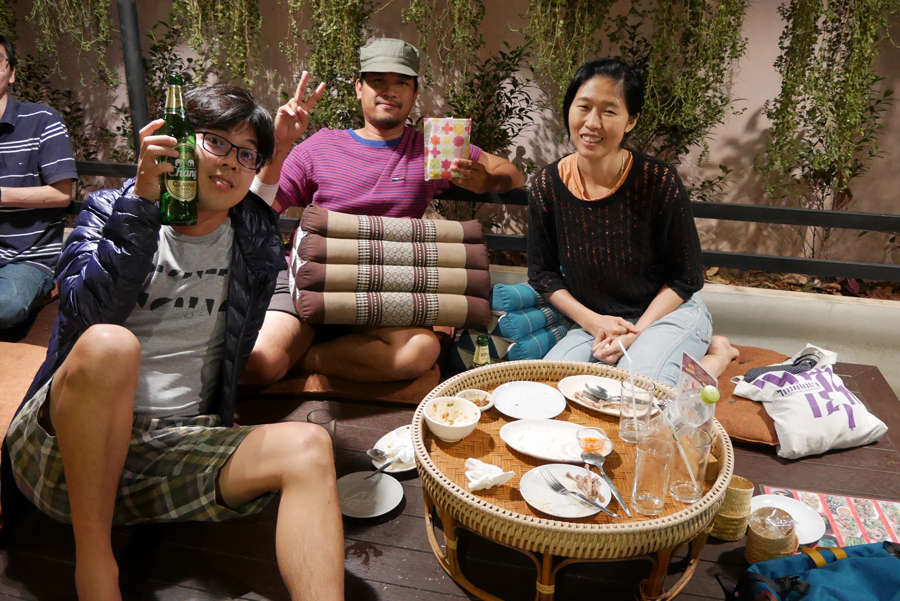 OK!!! I have come to Bangkok. Oh, this really is a megalopolis. It is like Shibuya and Ikebukuro put together, and very intense. I heard there were a few alternative spaces. You know it's kind of difficult to run alternative spaces in such a cramped, big city. First I try to visit The Reading Room Bangkok. But I can not find it easily. That address says I'm in the right place, though…
This building is the place of the address. I cannot find any sign though….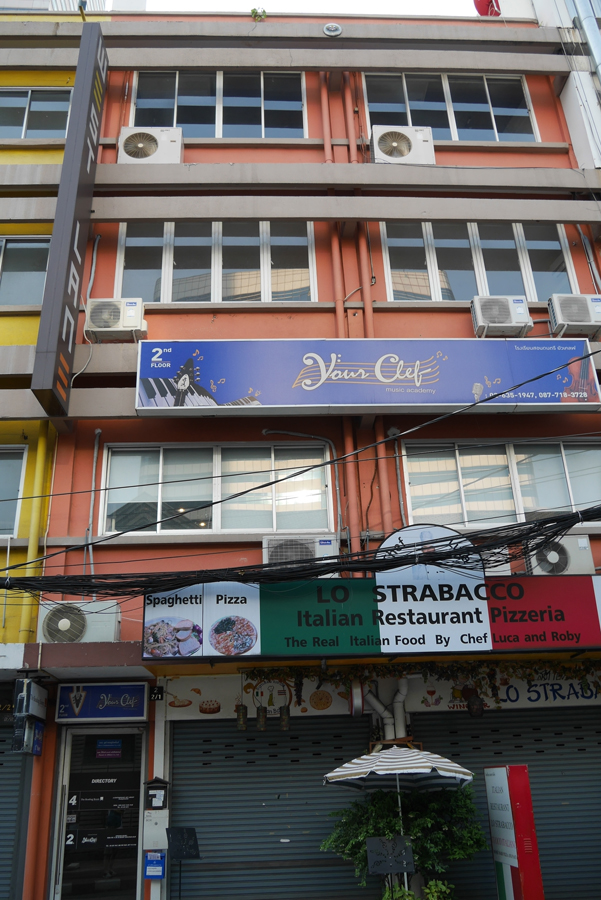 Well, I go up the stairs, and I find it, on the fourth floor!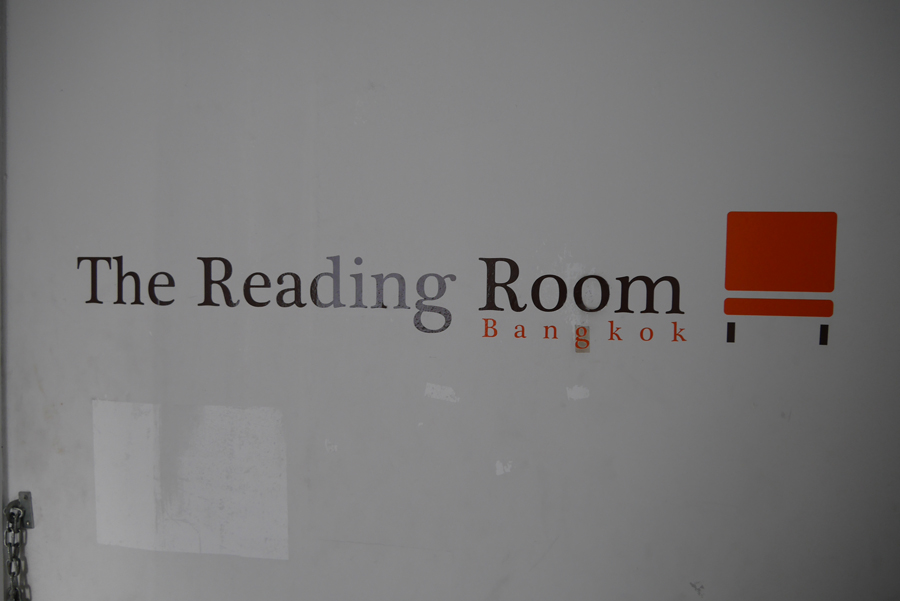 This is the space Ms. Narawan Pathomvat founded in 2009. Unfortunately, Ms. Narawan is not here now as she is in Tokyo research. Ms. Kanchala Chobrakthai, a member of staff speaks with me instead.
As the name suggests, The Reading Room Bangkok is a library space that contains open shelves of Ms. Narawan's book collection. There is no membership system, anyone can borrow any of the books. The collection has not only art books, but also books related to history and anthropology of various cultures. There is also a large collection of DVDs. Nowadays, donated books are being added to the collection of Ms. Narawan's private books. The running cost is paid out of Ms. Narawan's own pocket and donations.
Books are lined up tightly on the shelves.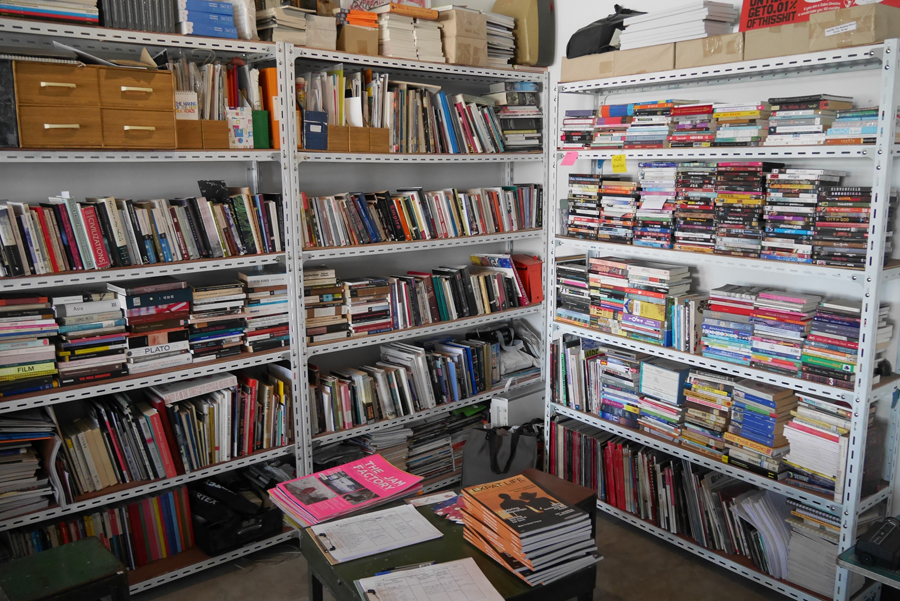 The view of this spacious room on the fourth floor.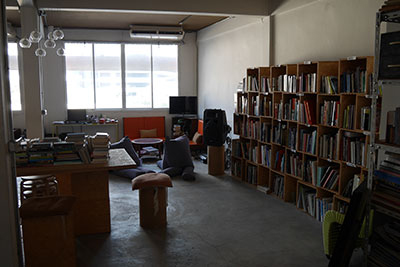 These are the DVD shelves.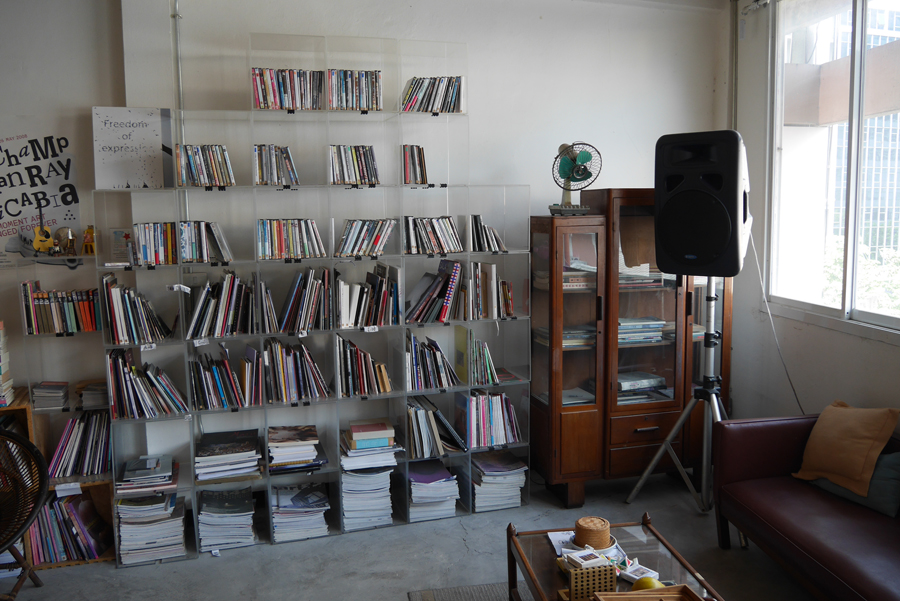 This is the lending desk, all handwritten.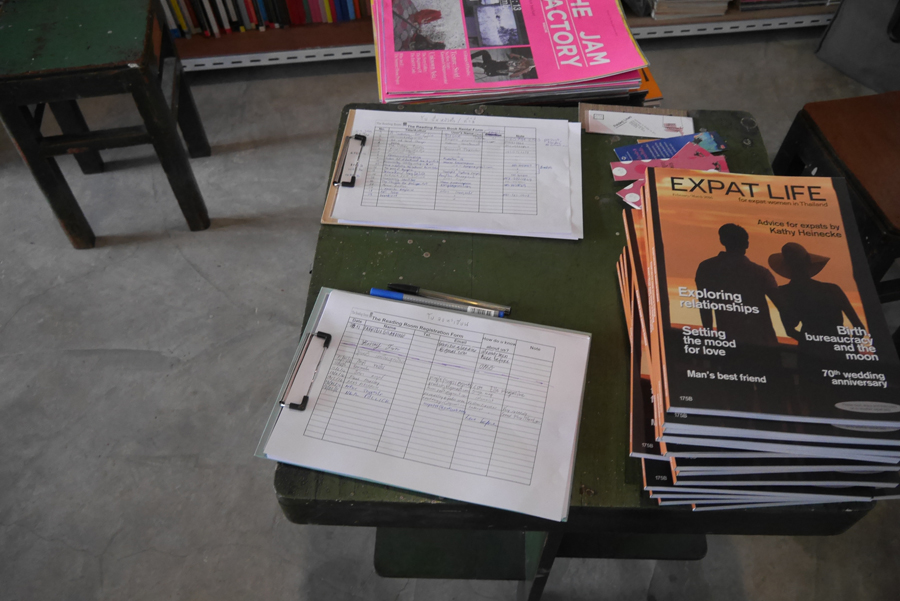 It has a café space as well.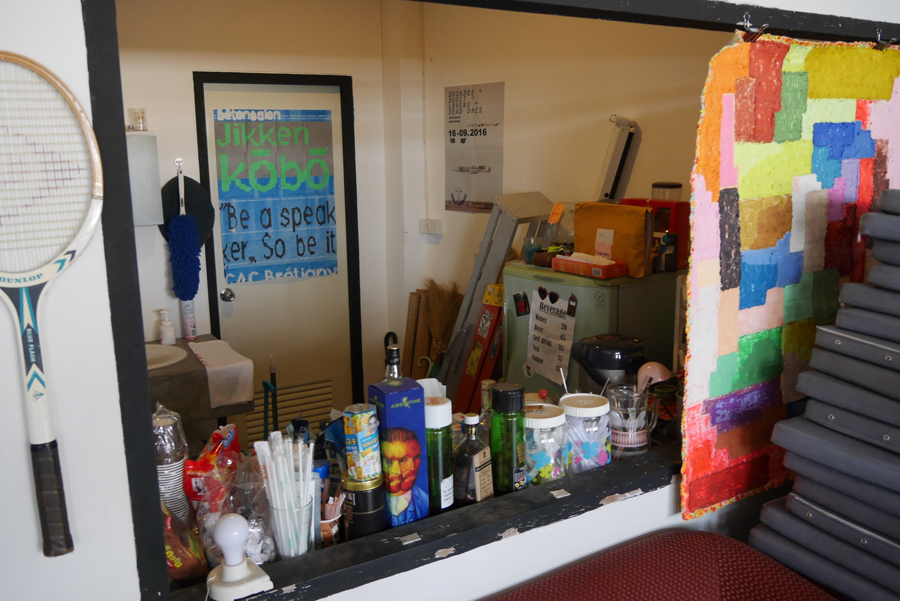 In addition to functioning as a library, this is also an event space that holds public talks with guest speakers, projections of video art, reading sessions, workshops, and more. Many people, such as artists and students, come to these events. Not only residents in Bangkok, but foreign researchers also visit this place, thus this is a special private library, one succeeding in making cultural movements amongst their fascinating books. It is the perfect place for cultural people who love books.
Ms. Kanchala Chobrakthai is holding down the fort while the founder is absent.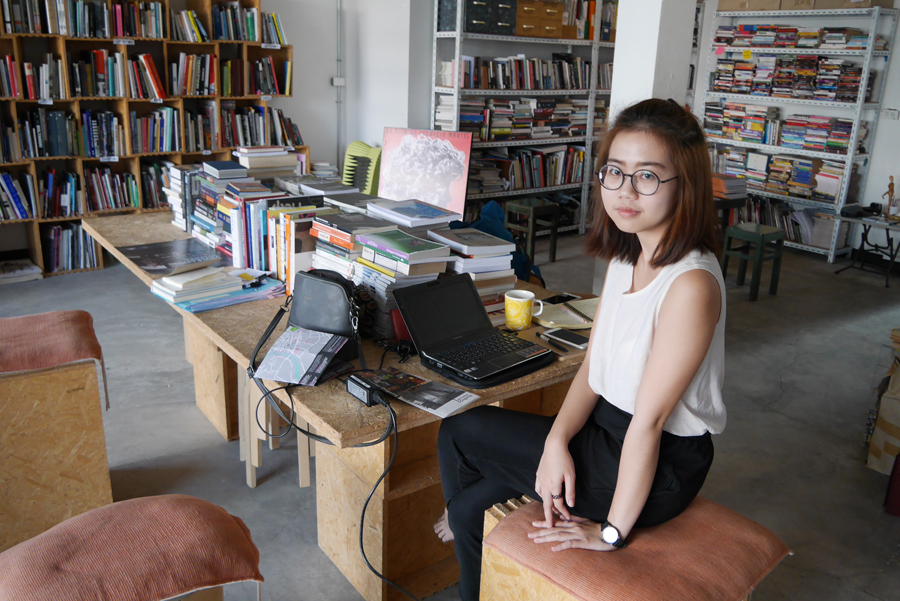 Books drawing culture.
The Reading Room Bangkok

https://www.facebook.com/thereadingroombkk/?fref=ts
While moving to the next alternative space, I stop by a gallery, 100 Tonson Gallery. At that time they are just taking a rest from installing the new exhibition, and young staff members and artists who come visit here kindly teach me more about the Bangkok art scene. Even though I just stop by here out of the blue, they are kind enough to offer me booze. Thank you very much!
This is a view of installing. Or are they showing this process as a performance? The artist herself is not here as she is traveling in Japan.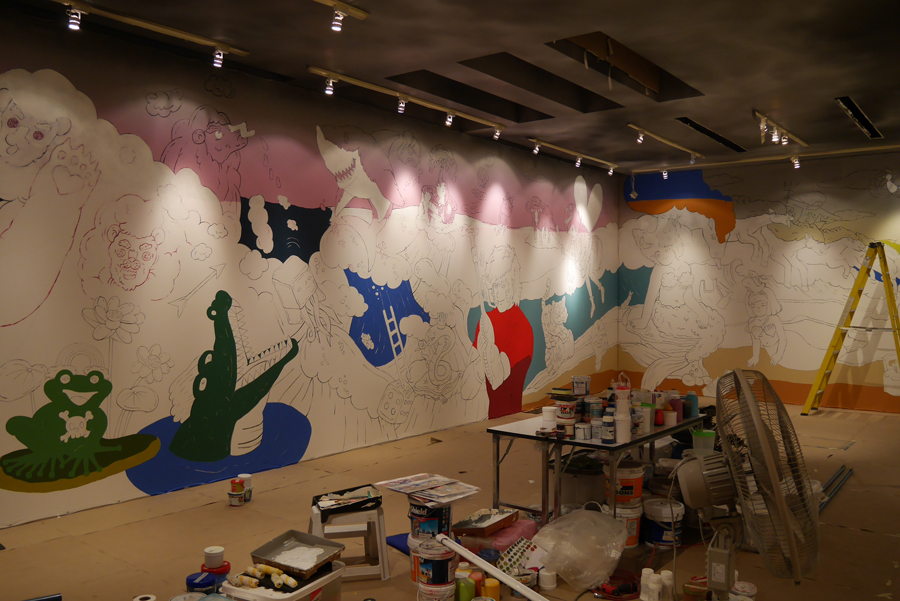 From the right, the staff are Mr. Harmish Muszid, Mr. Time Chotivilaivanit and Ms. Punch Viratmalee, then the artists, Mr. Prateep Suthathongthai and Mr. Dusadee Huntrakul. They all are very kind.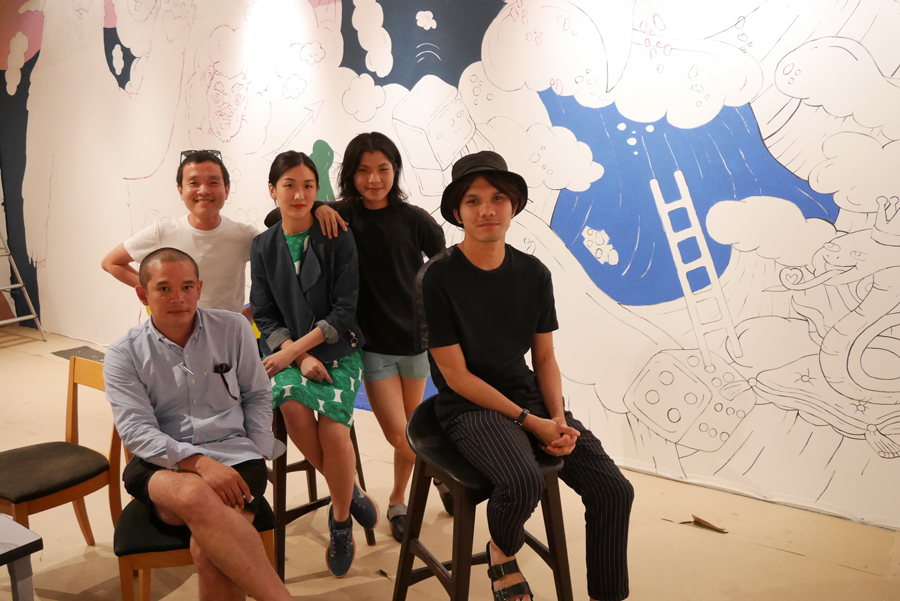 Next, I head to Speedy Grandma. It is located in a crowded residential area, but I can find it easily because it has a flashy mural painting.
A cool sign.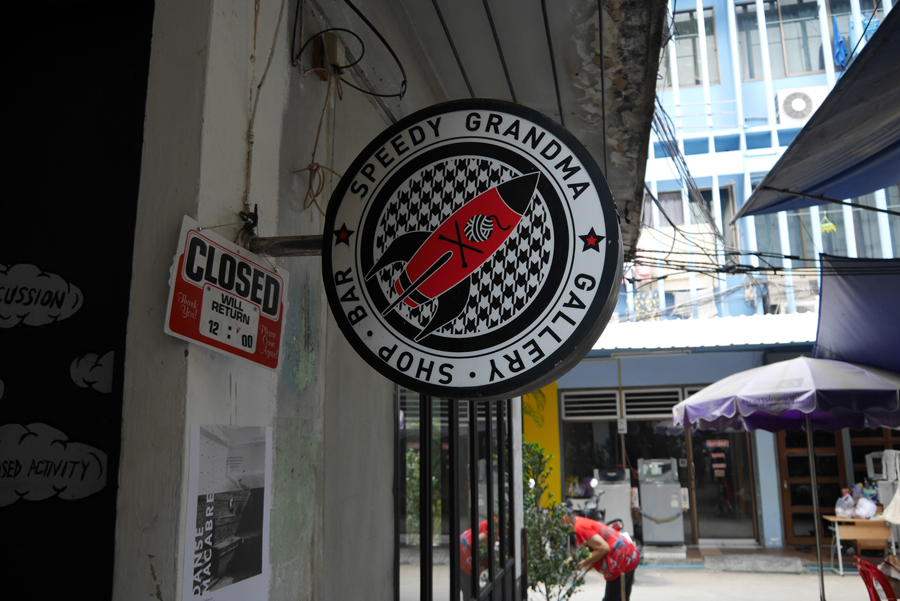 The wall is covered with murals.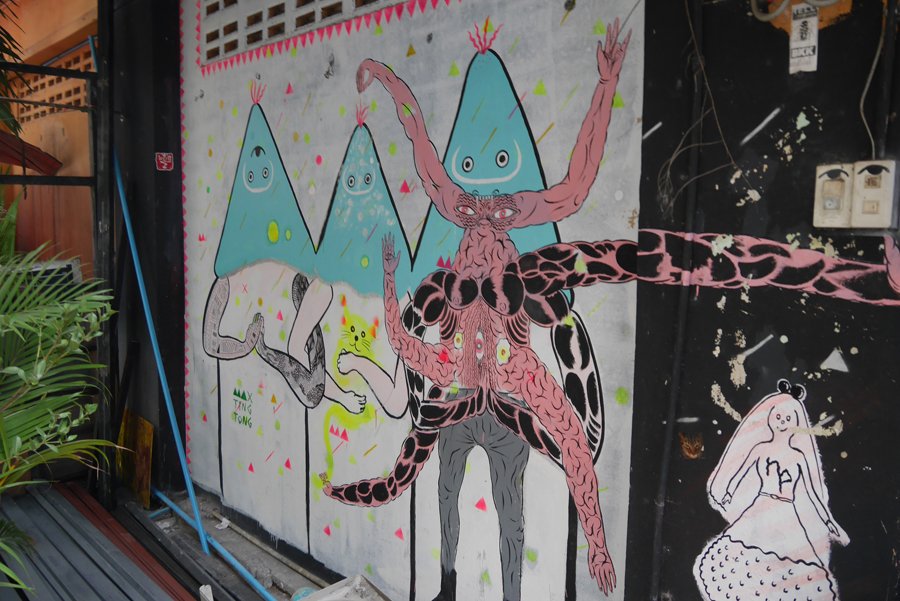 An artist and the founder of this place, Ms. Unchalee Anantawat, explains to me about Speedy Grandma. Ms. Unchalee and a French economist, Mr. Thomas Menard, co-founded Speedy Grandma in 2012. It has a gallery and a bar on the first story, and they are using the second level as the office, and renting the third floor for Airbnb. In the first two years, they held not only art exhibitions, but also many events of concerts and performances, so she says it had been like an event bar for arty tourists visiting Bangkok.
This is the gallery space, but now there is a lot of stuff because it is used for storage during renovation of the second storey.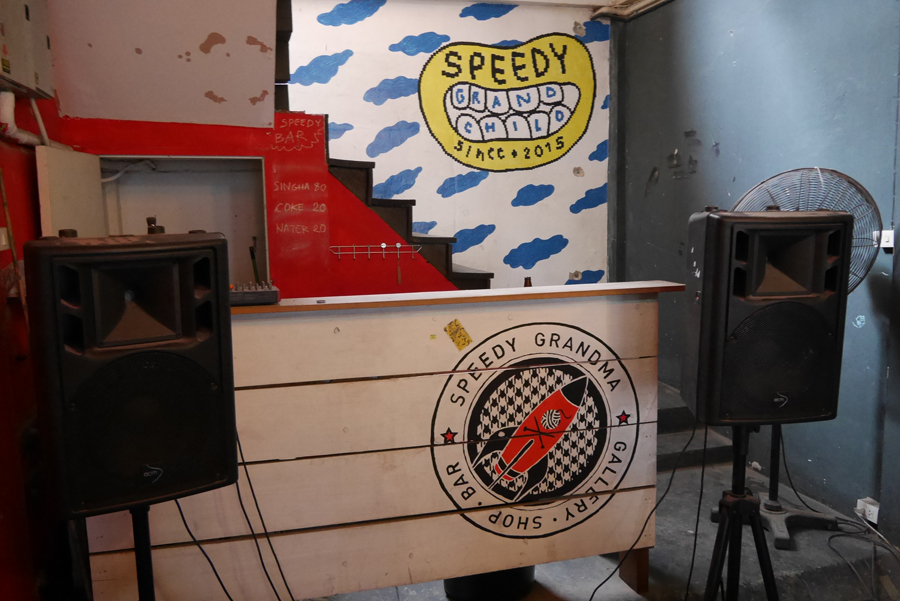 In 2015, they shifted their policy to change Speedy Grandma into an art space for young Thai artists. As a result, audiences also shifted to mainly young Thai people. They hold exhibitions around 10 times a year, which are various kinds of shows, like contemporary art, installation, photography, performance, ceramics, design, street art and so on. Nowadays, they also hold workshops, for instance workshops on zine making. At present, four people including the two founders, pay the running cost of the space. They run it without any grant, and the proceeds of the space, except Airbnb, are not much, so they need to cover it out of their own pocket. Hmm…
This is the office on the second floor, and it's in the middle of renovation,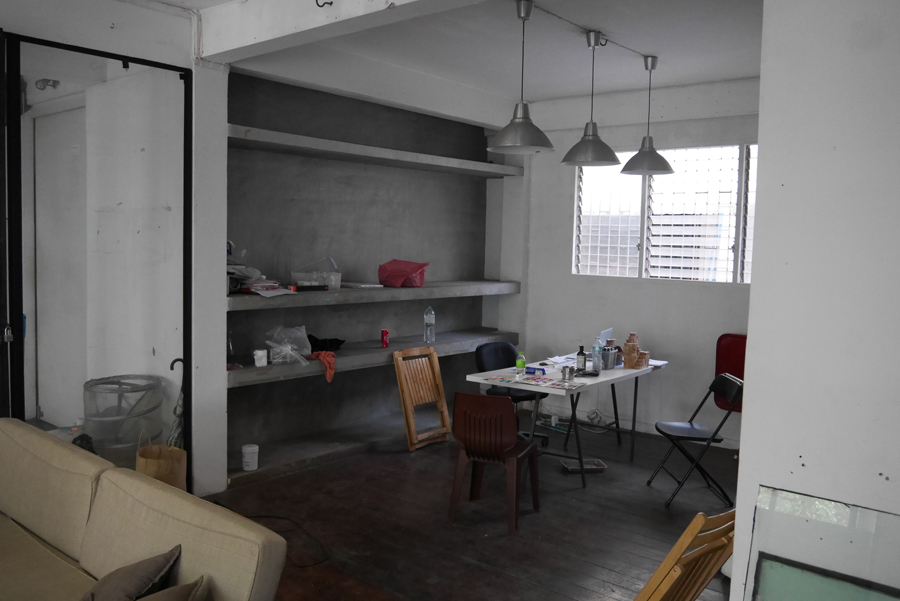 Now all of the space is out of service while renovating the second story. They are planning to change part of the second floor into a rental space. I ask about their future prospects, Ms. Unchalee answers that she is thinking about her future and taking a rest for a while, because as an artist, she is too busy with managing and curating Speedy Grandma to have much time for her own work. I understand deeply how difficult it is to manage an alternative space in an urban area from my own experience, so I strongly empathize with her story.
But I hope they can continue it in regardless. There are not many spaces like this here in Thailand.
This is Ms. Unchalee.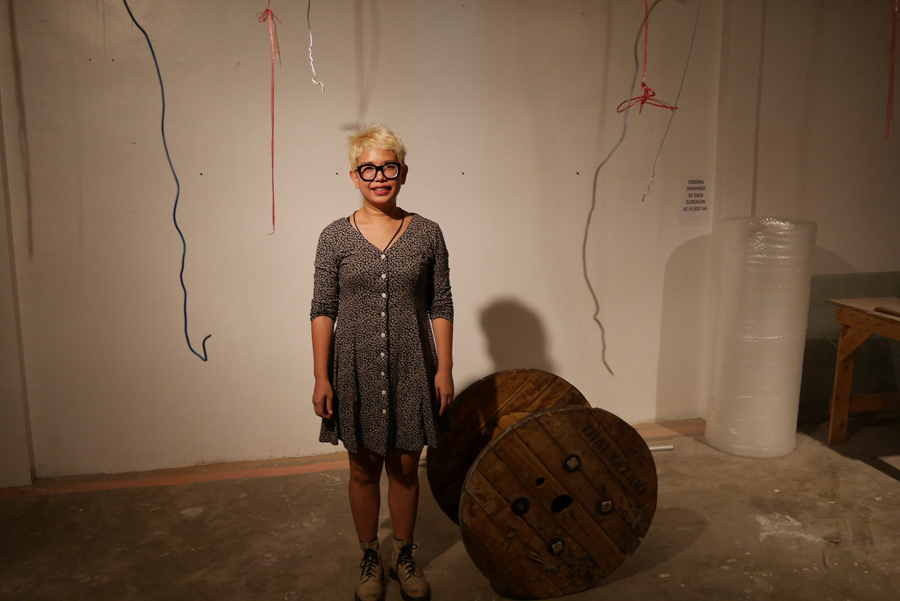 Hope you live long and with good luck, Speedy Grandma!
Speedy Grandma
http://www.speedygrandma.com/
https://www.facebook.com/SpeedyGrandma/?fref=ts
After Speedy Grandma, I visit the show of Mr. Dusadee Huntrakul, who I saw at 100 Tonson Gallery. He is also a friend of Mr. Unchalee, so we have dinner together before I finish the day.
Mr. Dusadee Huntrakul's conceptual sculpture.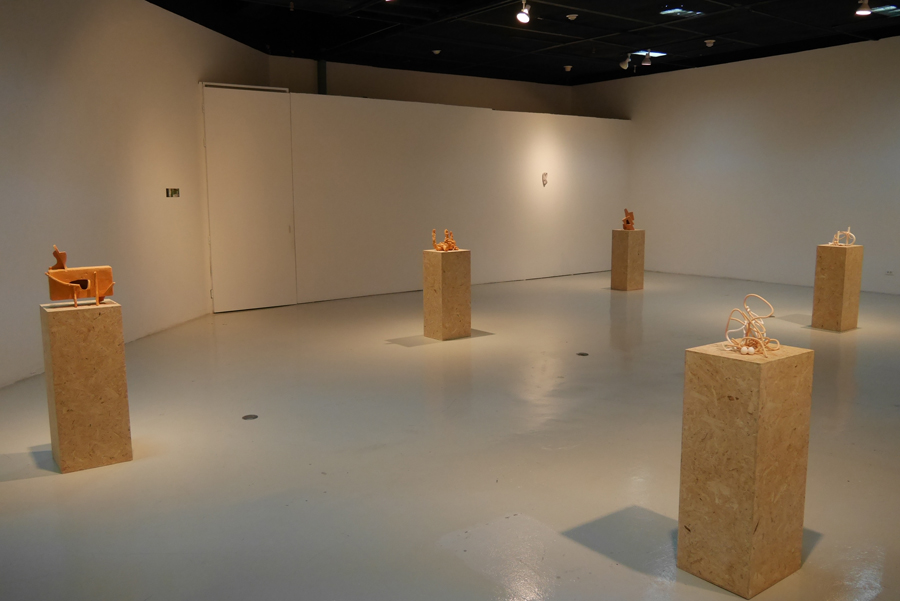 This is Mr. Dusadee. He is a talented artist, thus he will become famous, I guess.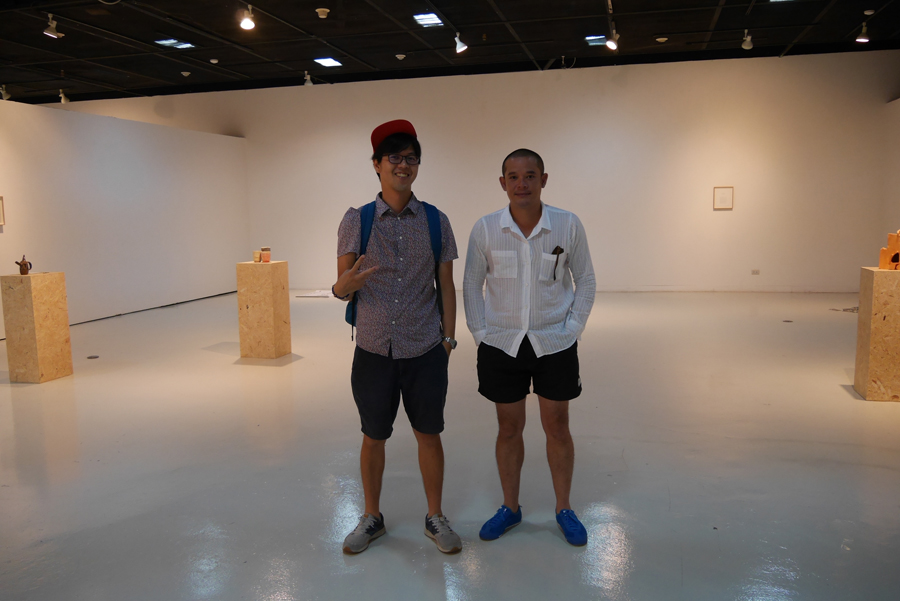 Today, I finish in Bangkok, and now I will move on to Vientiane, the capital of Laos. By the way, today I feel how tough the cities can be, in any place.
The Reading Room Bangkok

2 Silom Soi 19, Bangkok
Established Year: 2010
Facility and Activity: Library, Café, Workshop, Talk, Film Screening

Speedy Grandma

672/50-52 Soi Charoenkrung 28 Bangrak Bangrak
Established Year: 2012
Facility and Activity: Gallery, Café, Film Screening, Workshop, Talk, Music Event