31 March 2016|Passing to the Next Generation(Nhà Sàn Collective)
Flying out from Hue, Hanoi here I come. Compared to the mega city of Ho Chi Minh, the remaining old buildings and rows of houses in this town have a calming effect. I have made a reservation for a cheap inn in downtown Hanoi and right after putting down my luggage, somebody from the inn comes to meet me. His name is Tuan Mami. He is a local artist who was introduced to me by the powerful twin artist duo I had just met in Hue. Riding two-up on Mami's scooter, we go to my first destination. We arrive at a giant high-rise. The space is located on the fifteenth floor of the building. Its name is Nhà Sàn Collective.
Brand-new high-rise building where the art space Nhà Sàn Collective is located.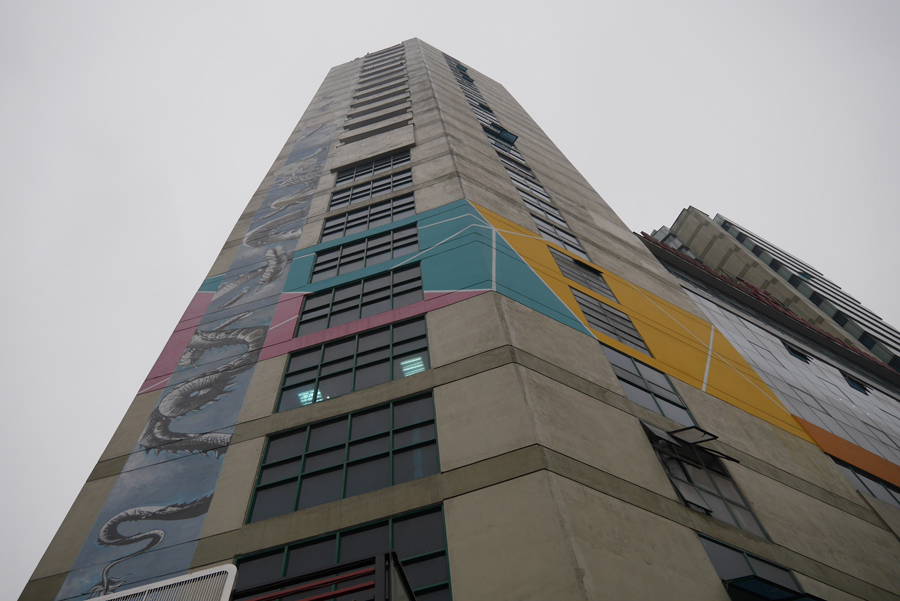 On the wall leading to the building's car park, I find a mural painted by Ben whom I had met in Ho Chi Minh!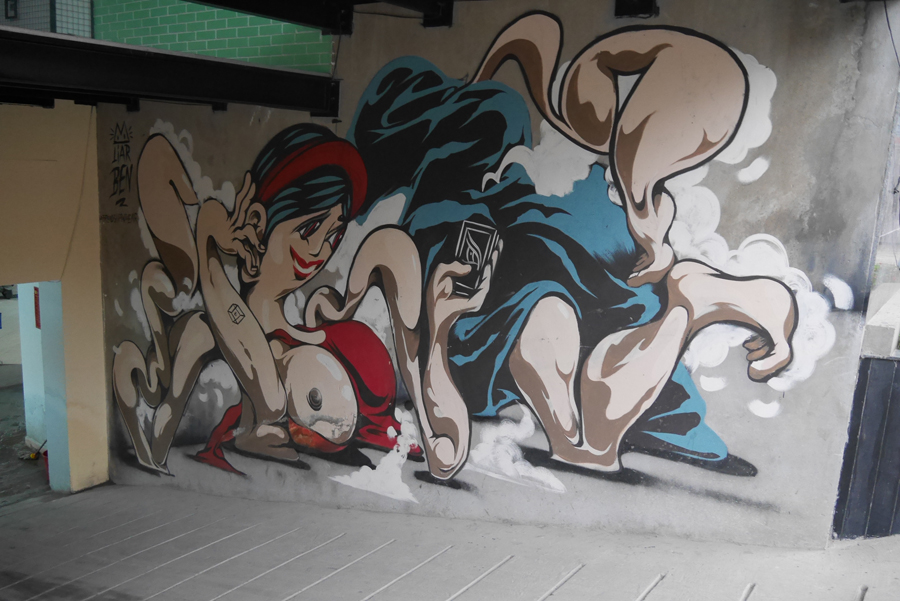 After climbing to the fifteenth floor, here is the view from the building.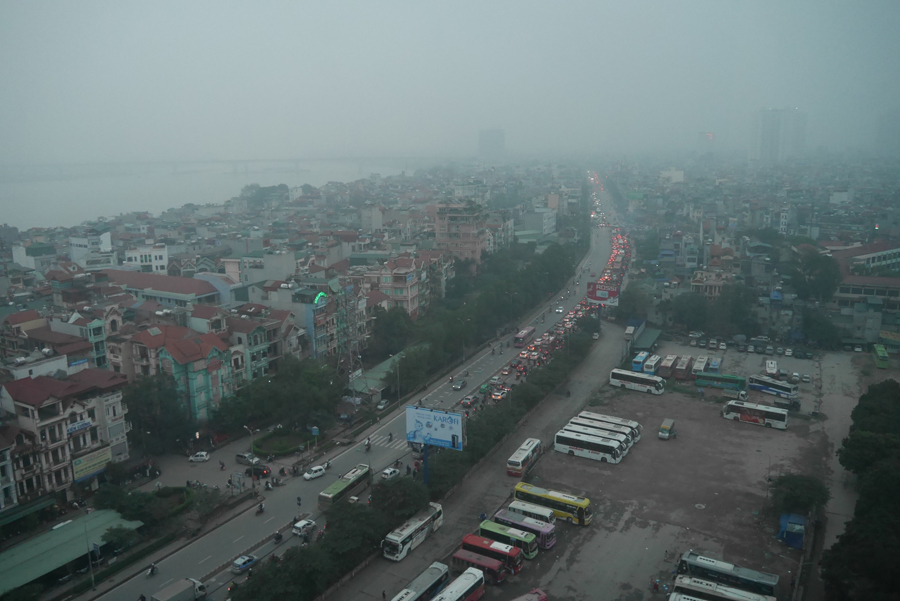 This is the signboard at the entrance to the space.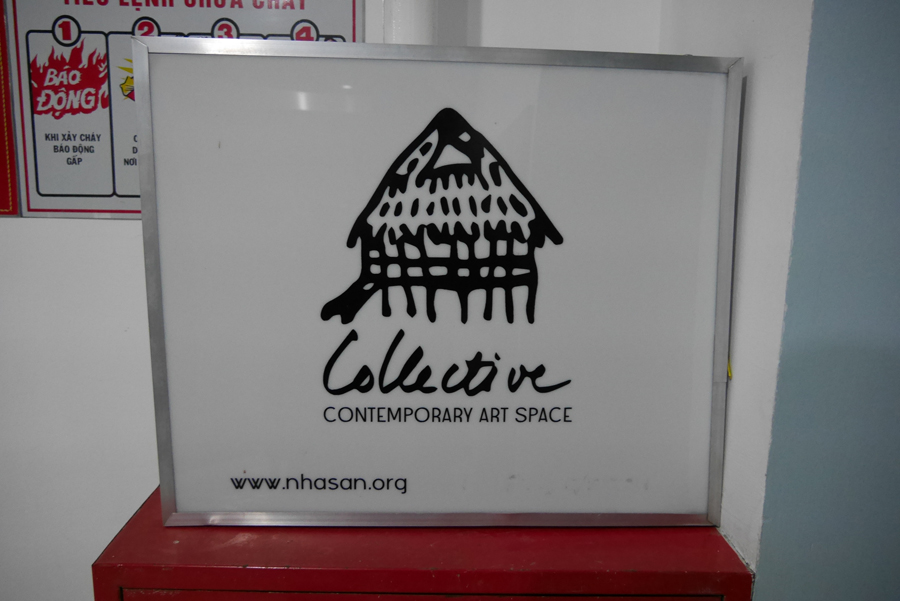 When I visit, there is an exhibition in which Mami is also participating.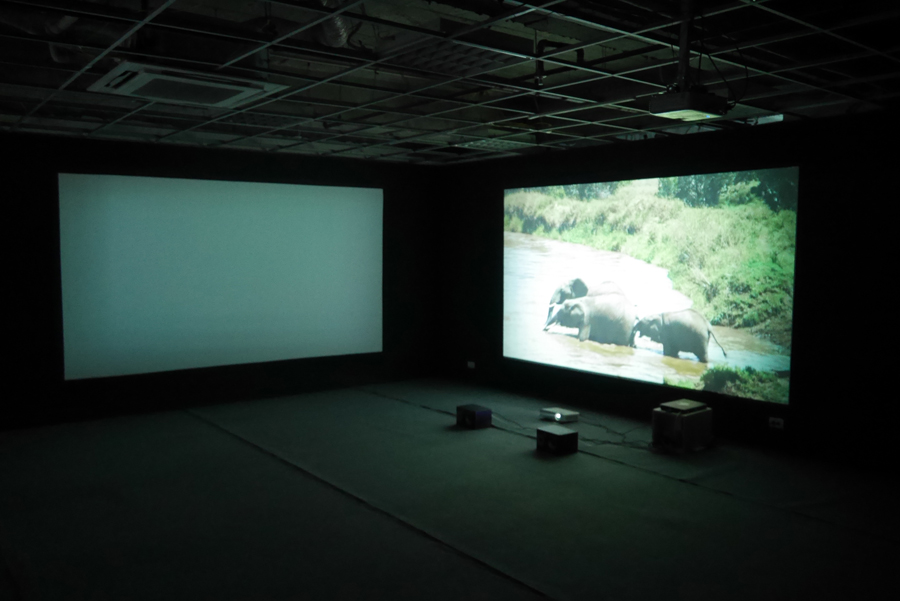 Works by members of Nhà Sàn Collective are currently being exhibited.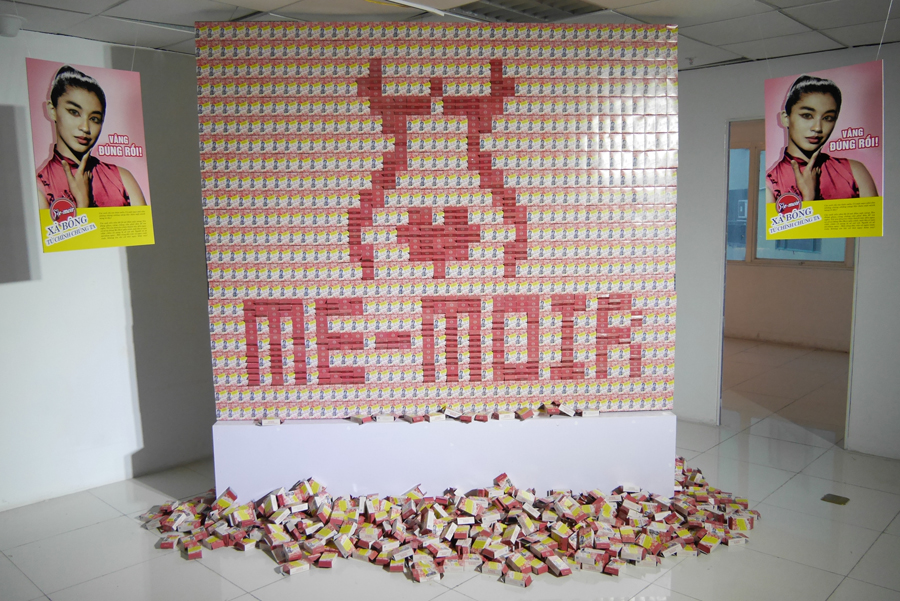 After taking a look at the exhibition, I interview Mami and the assistant curator, Ms. Chau Hoang about the art collective's activities. "Nhà Sàn Studio", the antecedent group to Nhà Sàn Collective, started their activities in 1998. Since then they had focused their attention on creating experimental performances and art exhibitions. Once the group's activities were brought to the attention of the Government of Vietnam however, their activities were seen as dangerous, and their studio was forced to shut-down in 2010. However, continuing in the legacy of "Nhà Sàn Studio", Hanoi-born artists and curators of the younger generation formed a new collective in 2013. The nine founders named their activities as Nhà Sàn Collective. Carrying the spirit over from the former "Nhà Sàn Studio", this new collective aims to extend their activities further outwards toward the public. Whilst the former "Nhà Sàn Studio" had mainly focused on the creation of artworks, Nhà Sàn Collective emphasizes the importance of being connected with the public through their activities including: guest talk shows and discussions, open workshops, film screenings and art classes.
The collective currently has 13 members including artists and curators. These young members, actively join hands with overseas organizations besides working domestically. They also run a residency program where the resident artists can stay at members' houses. On hearing that their running costs were financed by grants alone, I ask them how they could manage to rent such a nice space. They answer by telling me that the owner wanted to convert the whole building into an artistic space, and had allowed them free usage. Laughing they say "We are the full-time poor", "We are artists".
Ms. Chau Hoang(left) and Mami(right). Mami is usually a lady's name in Japan but this Mami is a cool guy~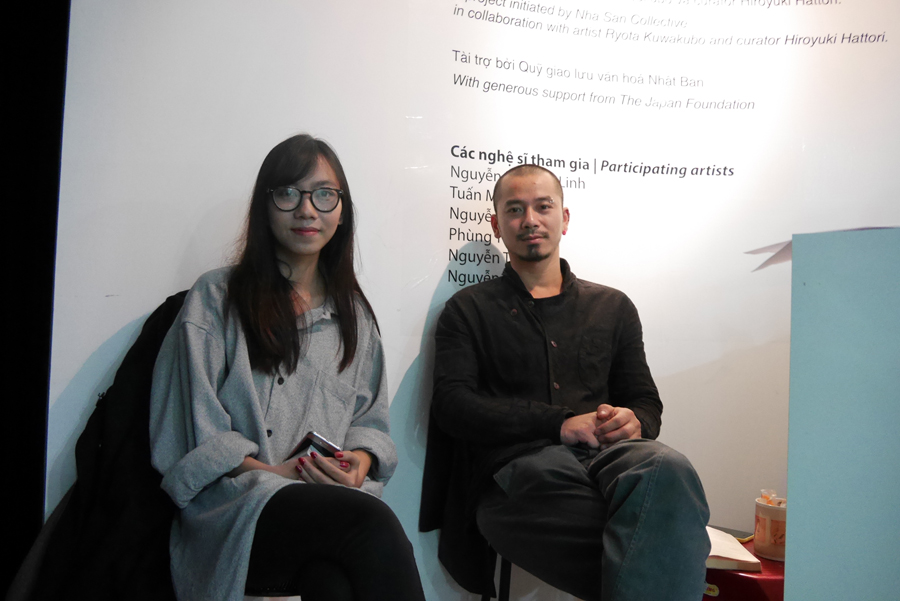 Mami knows many Japanese artists and curators and he's also a representative artist of Vietnam, traveling all over the world to participate in residency programs and exhibitions.
He's such a friendly and nice guy. During my stay in Hanoi, he invited me to his studio/home, and we went to drink several times together, talking again and again about our plans for the future.
Hope to meet you again somewhere, sometime soon.
Thank you, Mami!!
Mami's home-come-studio.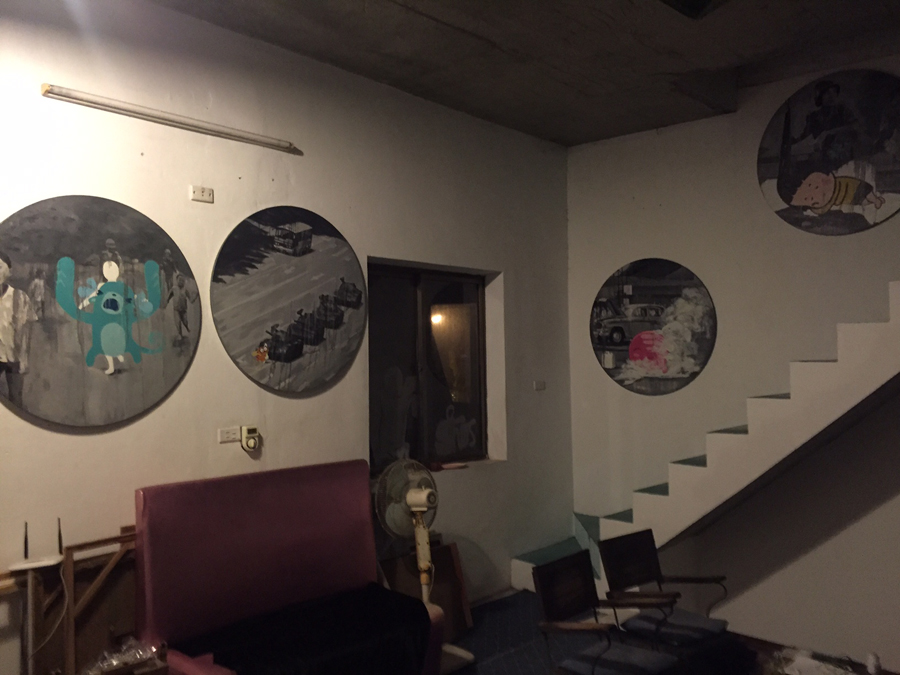 His well-kept rooftop garden.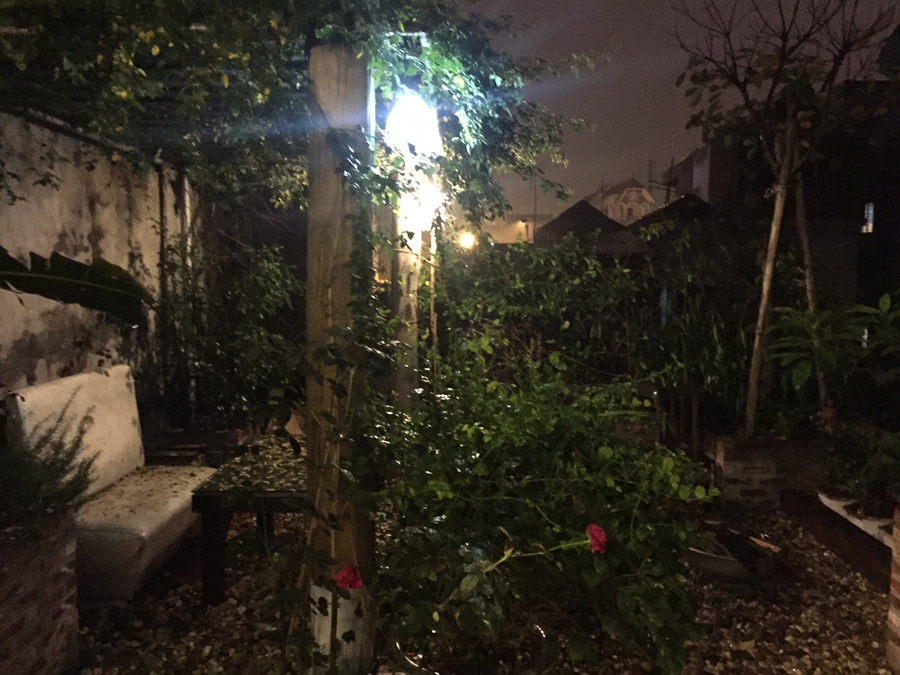 At a bar in Hanoi, we drink each other under the table with Lao beer.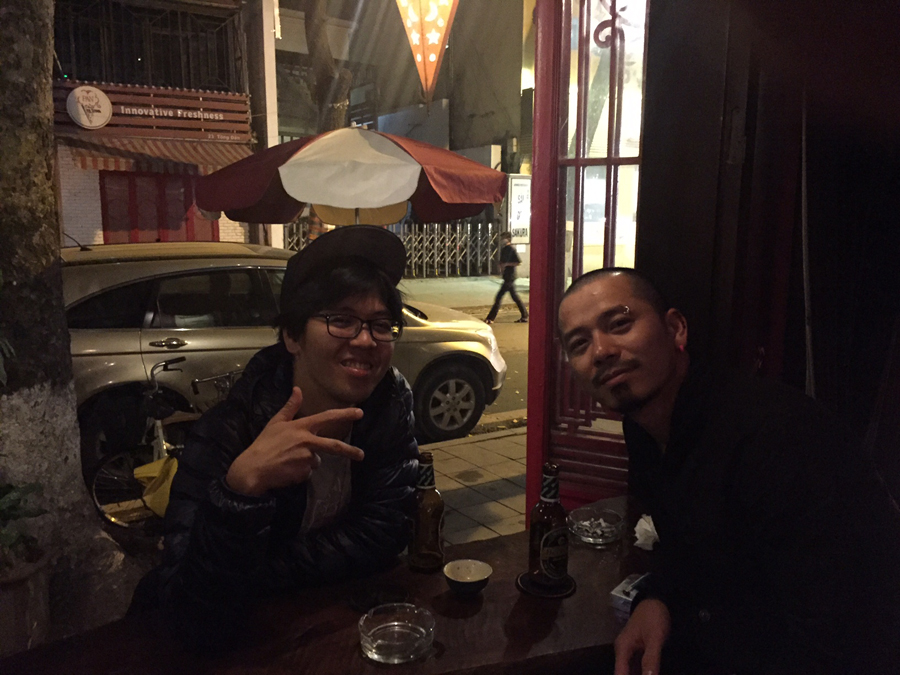 A reliable new generation pushes forth.
Nha San Collective
http://nhasan.org/
https://www.facebook.com/NhaSanCollective/?pnref=lhc
Nha San Collective

1 Lương Yên, Hai Bà Trưng, Hanoi
Established Year: 2013
Facility and Activity: Gallery, Residence, Talk, Film Screening, Performance, Planning and Coordination of Art Project