19-20 January 2016|With a Father and Son in Baguio (VOCAS、Ili-likha Artist Village)
I'm traveling far today! Riding on the night bus, I head to Baguio, a city in the mountains.
I'll be going back by night bus as well so the trip will be for "three days, one night".
It'll be tough, but since I already got some rest, I'll do my best.
Well then, I'd better start!!
Although people had warned me about it, the air con on the night bus to Baguio was put up so high that I almost froze to death. People in the Philippines really do love their air con very much, running it full blast in shopping malls and taxis. I really can't understand it at all. Thinking that with my far eastern blood, I might be the only one who felt the cold, I look around the bus only to see everyone shivering under their blankets. Hey driver – can't you tone down the air con a little? But I couldn't get myself to ask, so frozen, I arrive in Baguio at around five a.m. Thinking that I would finally be free from air conditioning hell I get off the bus but once outside, Baguio is also cold. Even though it's in the Philippines, the mountains are cold.
Anyway I go to the hotel. After getting some sleep, I start to go around Baguio!
This is Micah Hilotin who will be guiding me, she works at a local NGO and is a recent graduate from the local art university. At first, we visit the gallery and studio of local artist Bumbo who is Micha's teacher and mentor.
This is Bumbo Villanueva. His eyes are so kind.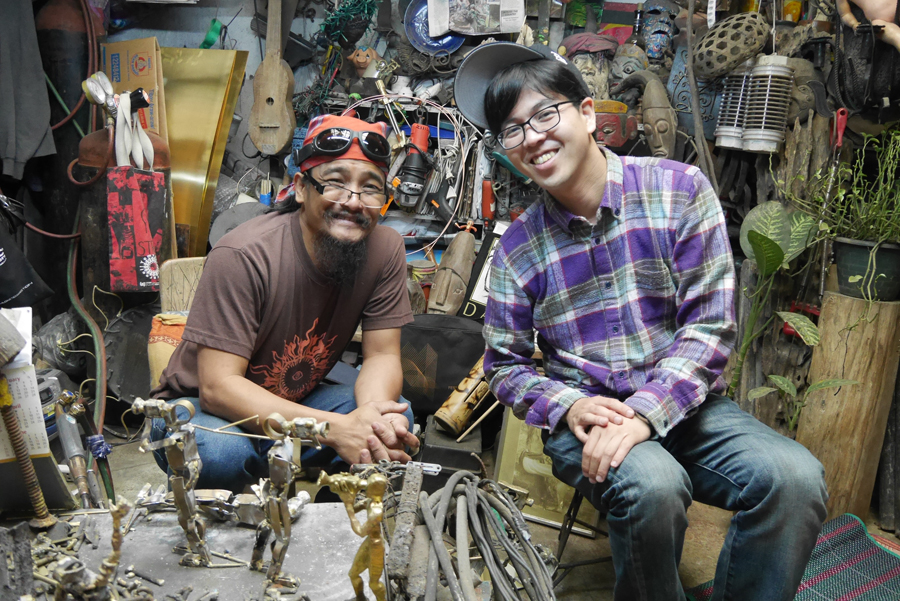 This is an artwork in process.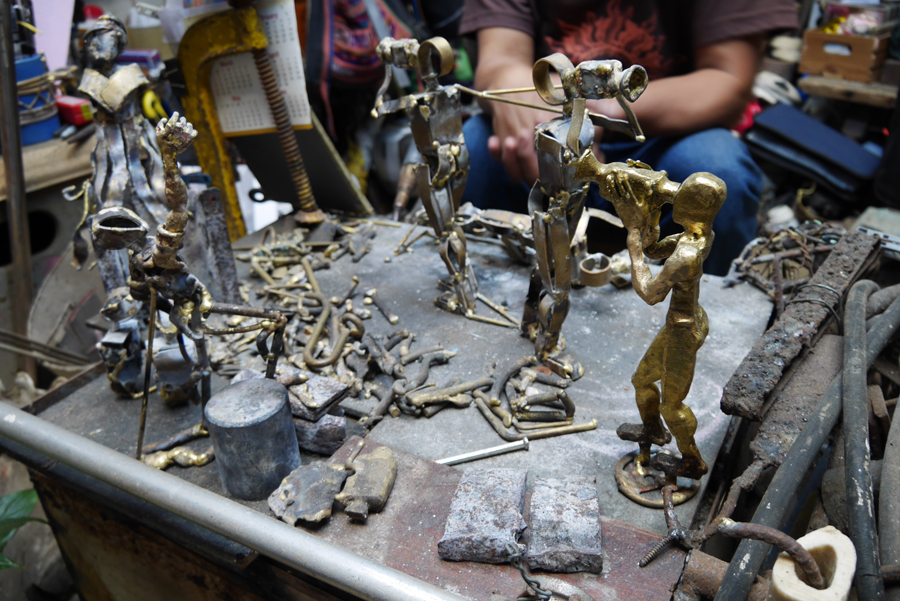 With a kind smile, he talks about his artwork and the history of Baguio. Bumbo's father is also a sculptor and he was also an art teacher at a school for long time. Both father and son are sculptors, they are also very kind.
I take a picture with his father as well.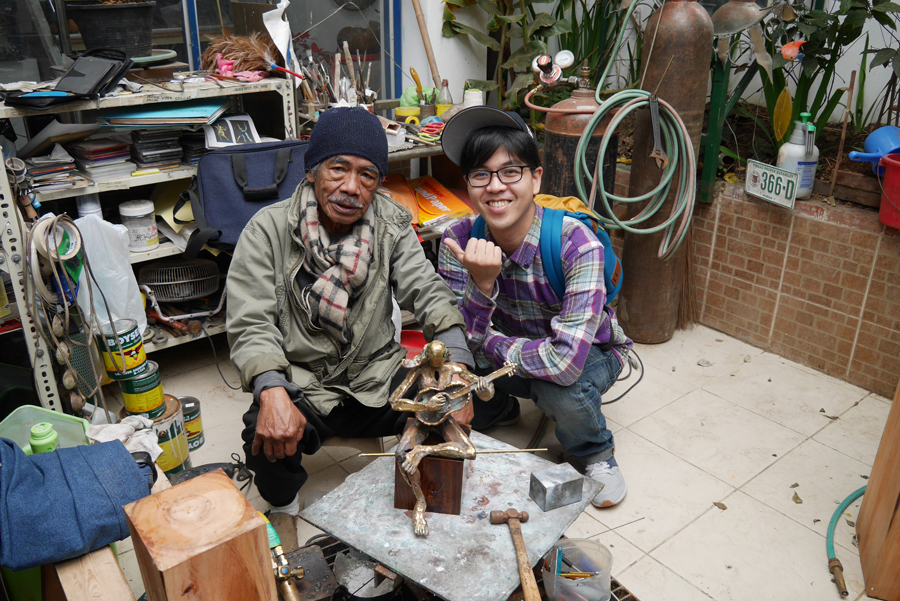 After that we go to "TAM-AWAN VILLAGE" in front of Bumbo's atelier. There is a gallery and café managed by several local artists. Umm…it really is a sightseeing spot. There is graffiti on the wall at the entrance.
Well this is kind of just sightseeing so I'll keep it short.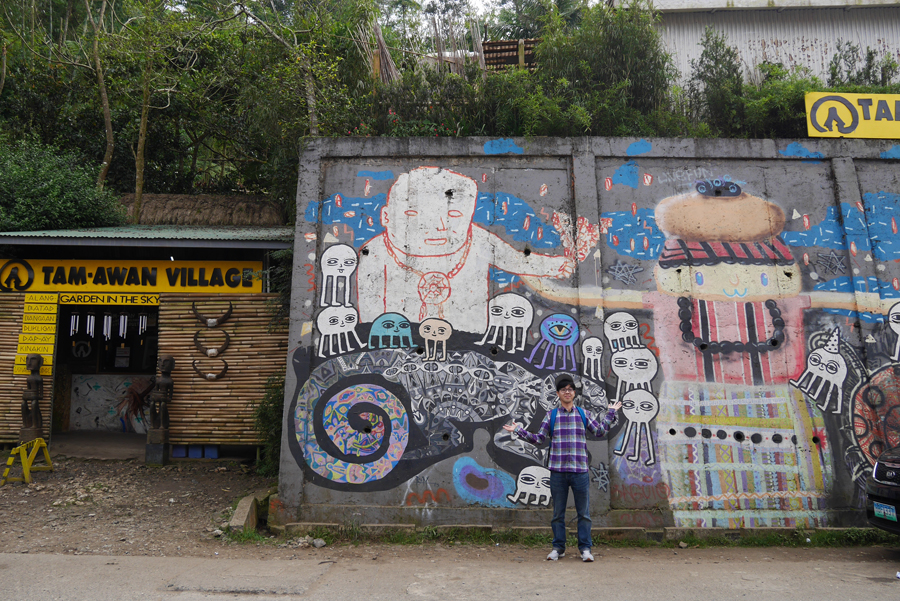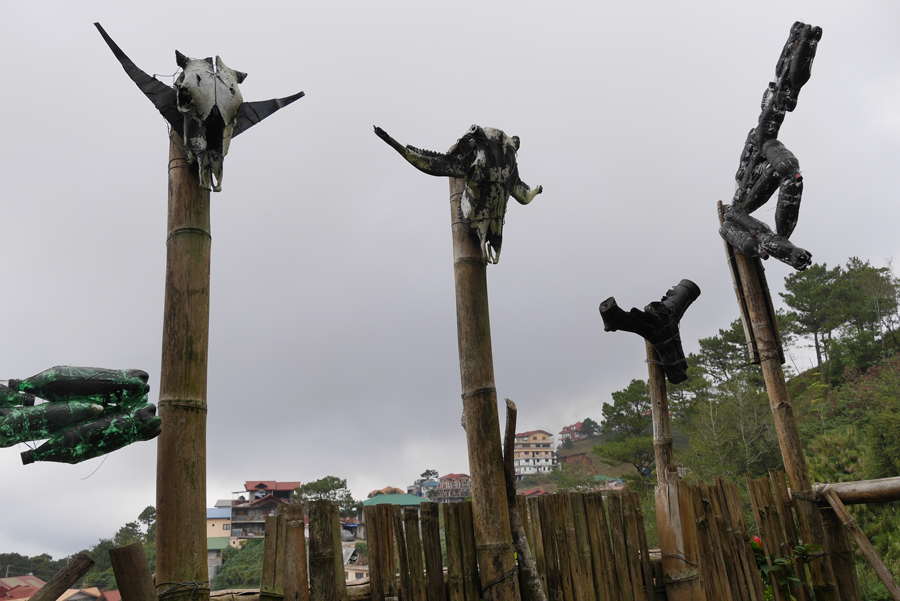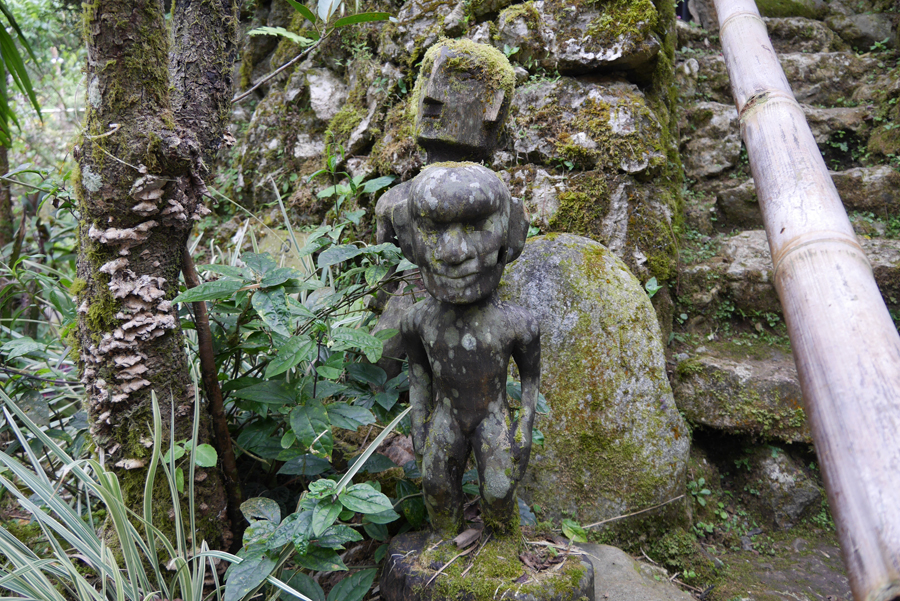 Well let's keep going. This time we ride by Jeepney to deep within the mountains. We arrive at "BenCab Museum". In the Philippines, there is a "National Artist" honorary award system which began in 1972. It is awarded to those artists who make outstanding contributions to the art scene in the Philippines. In general, it can only be awarded to artists who have already passed away, but BenCab was the first living artist in history to receive the award of "National Artist". He is a big artist in the Philippines and everyone knows him.
Anyway, I found more graffiti on the wall at the entrance so I took a picture.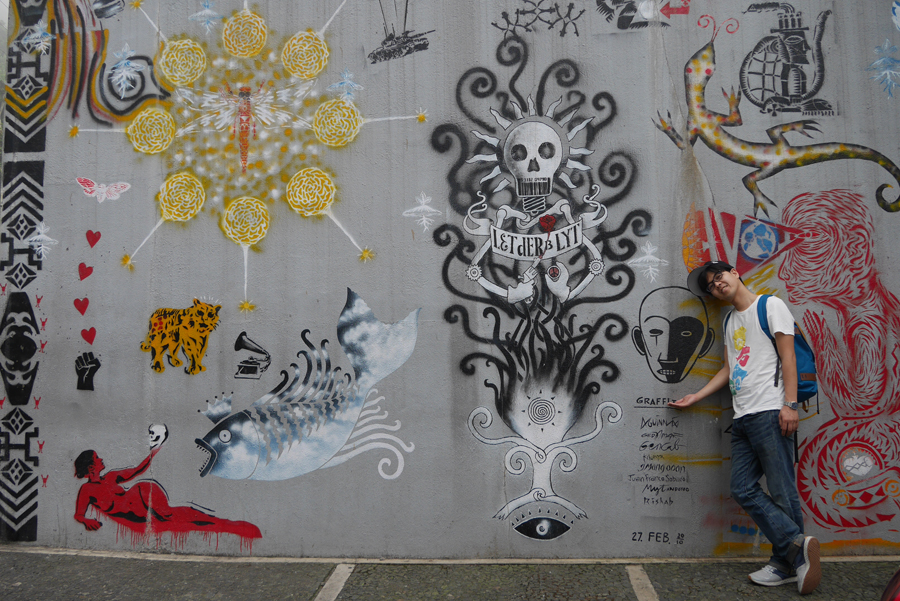 As I go inside I meet BenCab in person!!!
Although I haven't seen his works yet, I take a picture with him.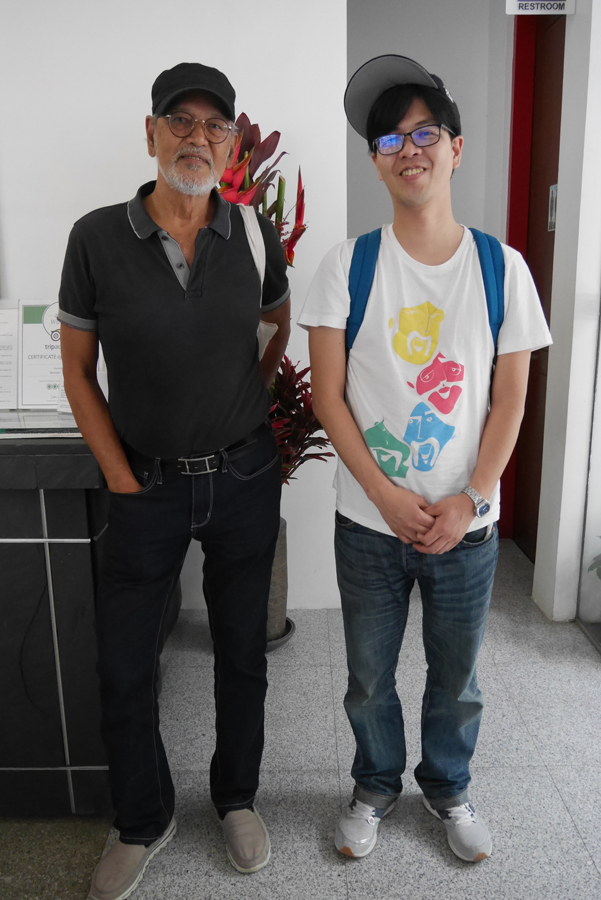 I'm guessing that he is a really great artist!? But he seems to be very busy and I can only meet with him for this one moment. Hmm I think it's only about fifteen seconds before he has to leave. There are a lot of artworks by BenCab in the museum. In addition, there are collections of works from past to present. BenCab also seems to be very wealthy. He also has a big mansion next to the museum. Wow, really a National Artist.
Cool artworks.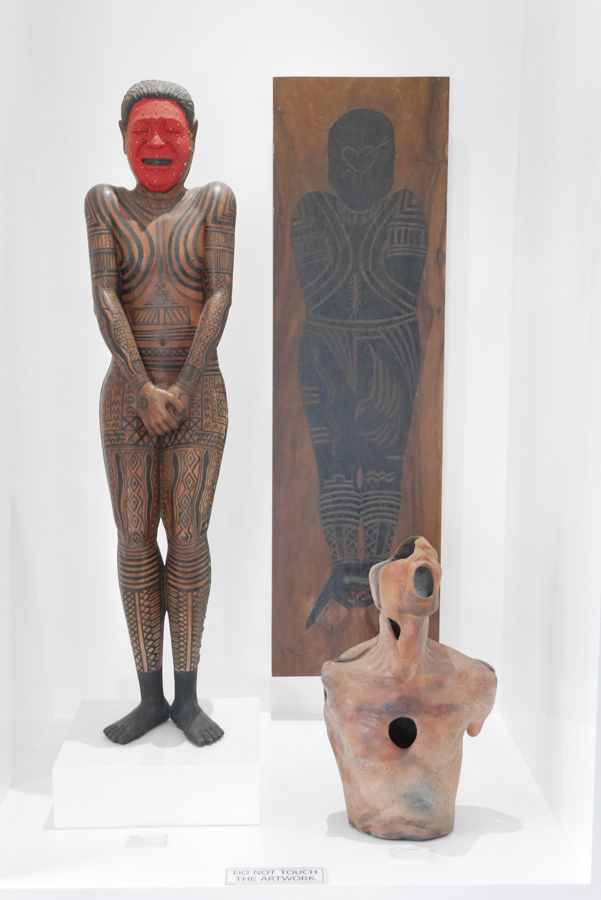 The National Sex Museum of Okutama would want this collection.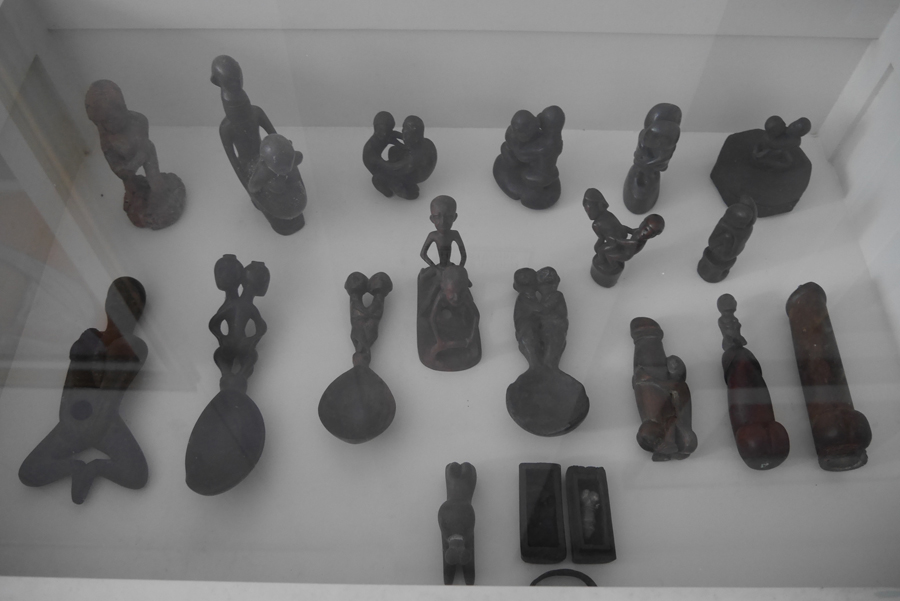 This is Micah who is guiding me around Baguio. We are by the pond in the garden located around the BenCab museum. She is always laughing, but is a very reliable Baguio lady.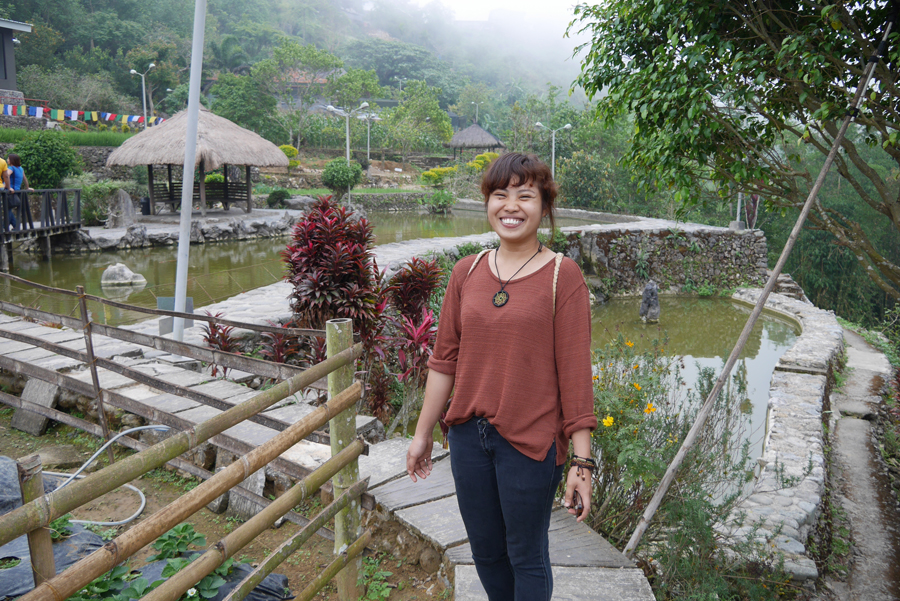 We come back to the city and Micah brings me to VOCAS, which was established in 2004 as the most alternative art space in Baguio. Kidlat Tahimik, the owner of the space is a filmmaker and founder of "Baguio Arts Guild", the legendary artist collective (BenCab is also one of the founders). Kidlat Tahimik is a famous film artist who has won prizes in the Berlin International Film Festival among others. In addition, he was also invited to participate in last year's Tokyo International Film Festival. Unfortunately, I can't meet with him today, but I am able to have a good look around "VOCAS". At the gallery restaurant, they hold not only exhibitions but also live music events, performances, dance recitals and film screenings. Introduced a wide variety arts to the public, there is not one person in Baguio who hasn't heard of this alternative space.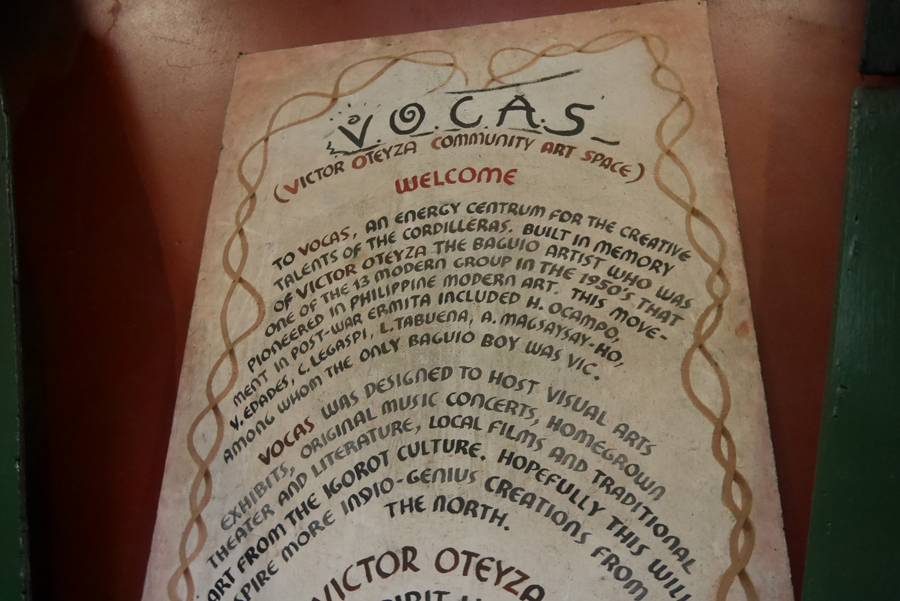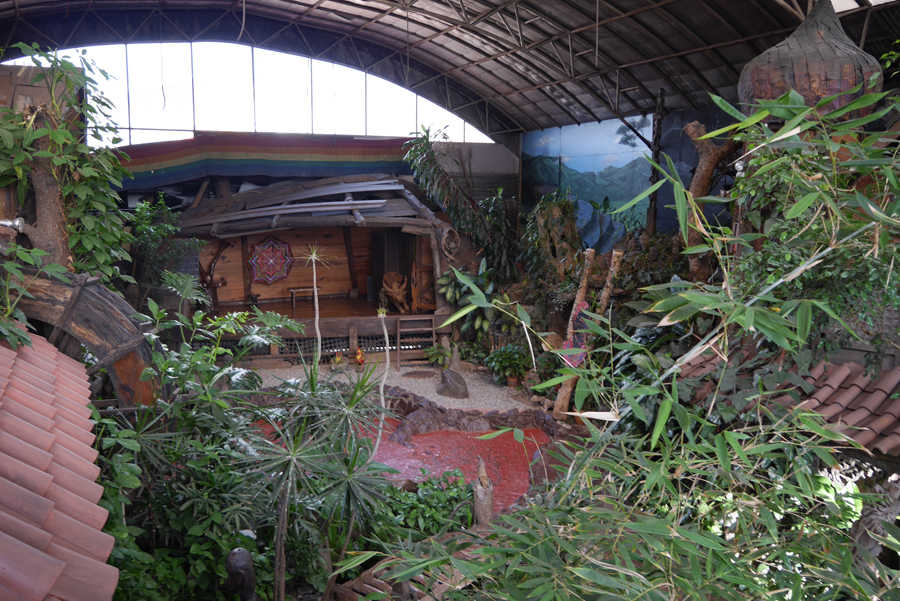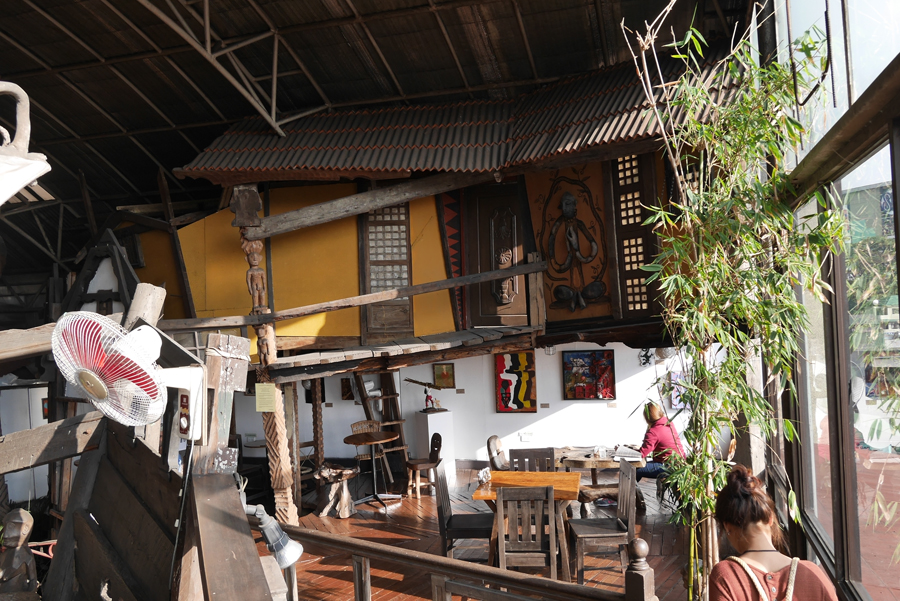 There is a huge space with a lot of plants on the rooftop of the building. The view from the window is also fantastic. Fara Manuel, who helped arrange a lot of my research in Baguio also joins in. Fara is a local artist who also teaches at the Baguio art university. She is pregnant so instead, Micah a recent graduate of the university is guiding me.
We eat a meal and take a picture together.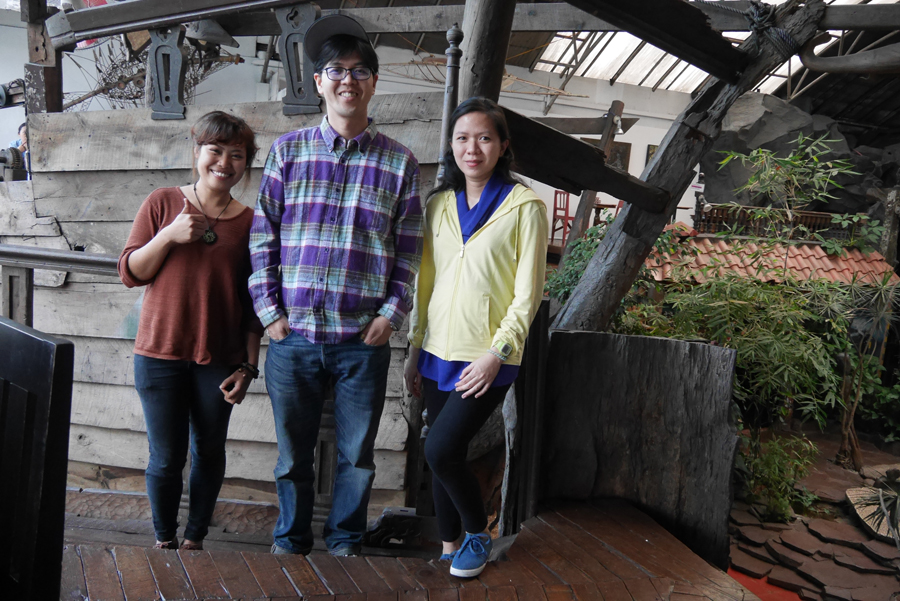 We move to KATIPUNAN, the gallery restaurant which also serves dog. Dog.
!!! Dog!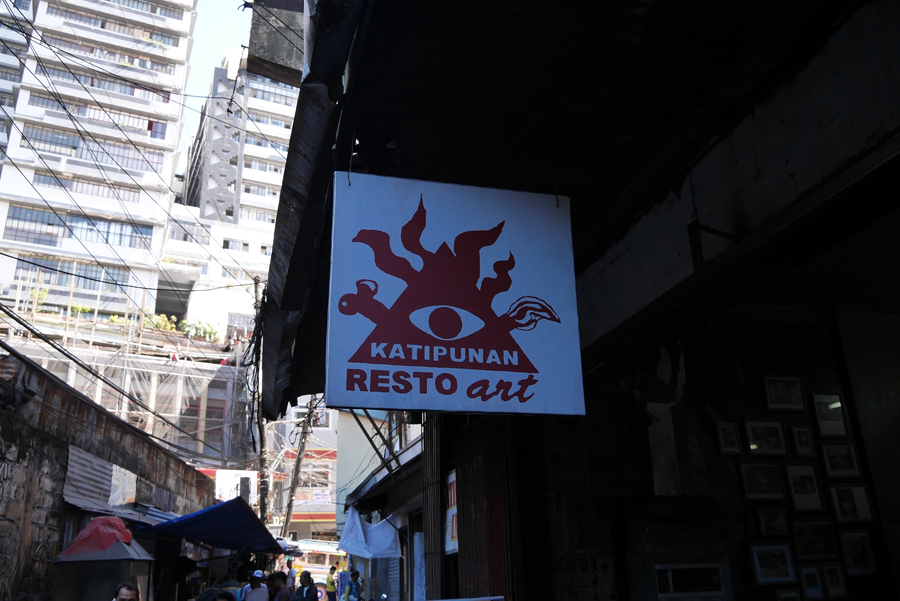 I thought the story of rows of restaurants serving dog, and the custom of eating dog was a thing of the past, however talking to Mark, I learn that if we order it, they will serve it as normal. I can't believe it!
On the wall are artworks by contemporary artists. The song lyrics to famous rock songs featuring dogs are written on the backs of the restaurant chairs.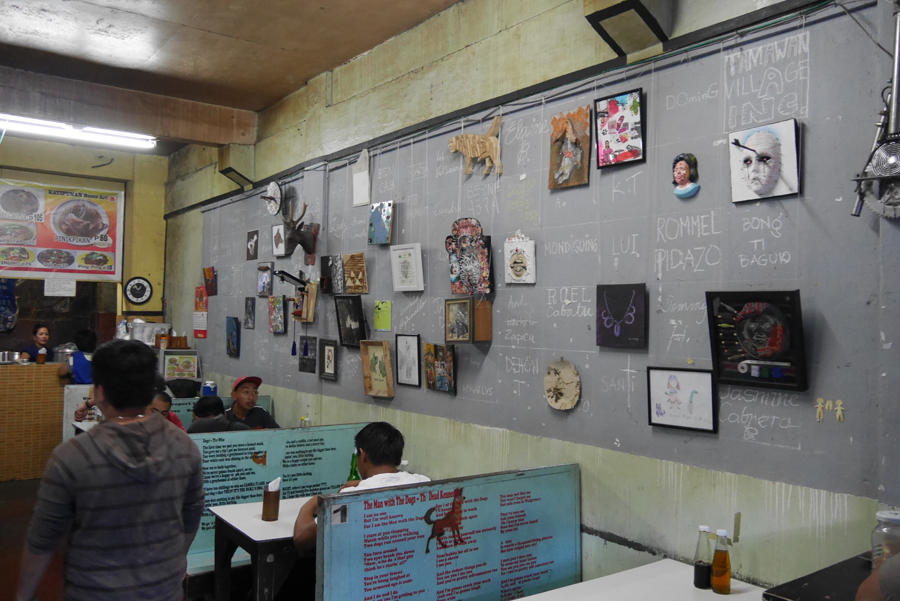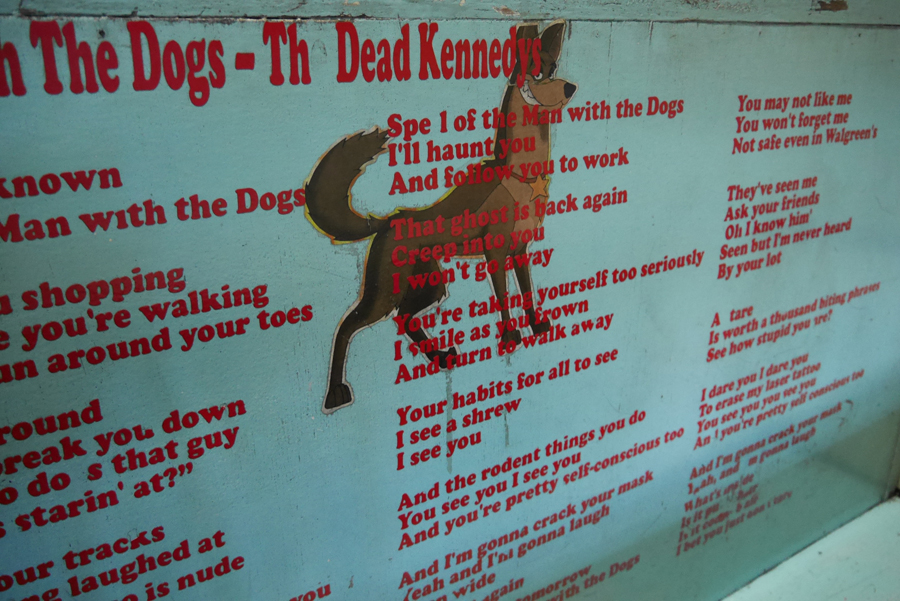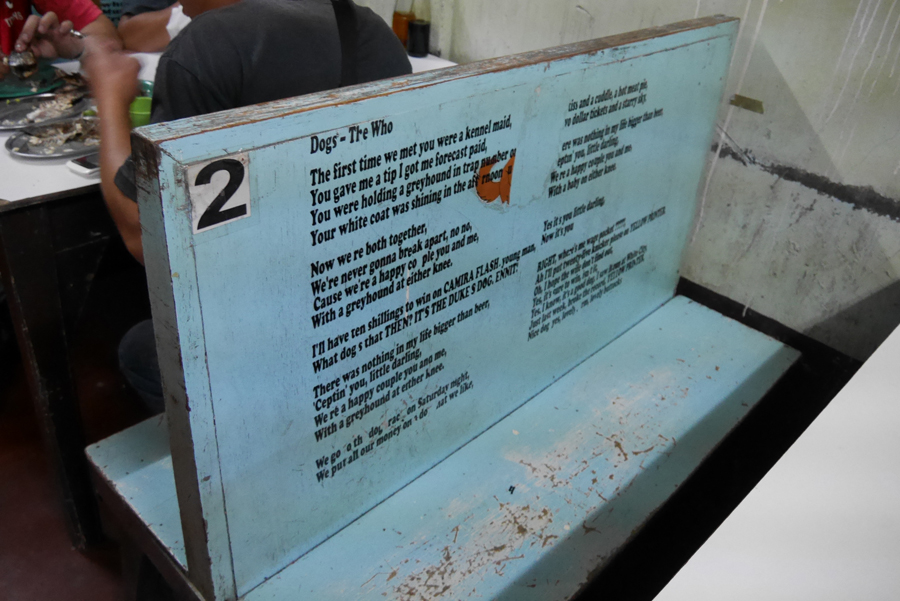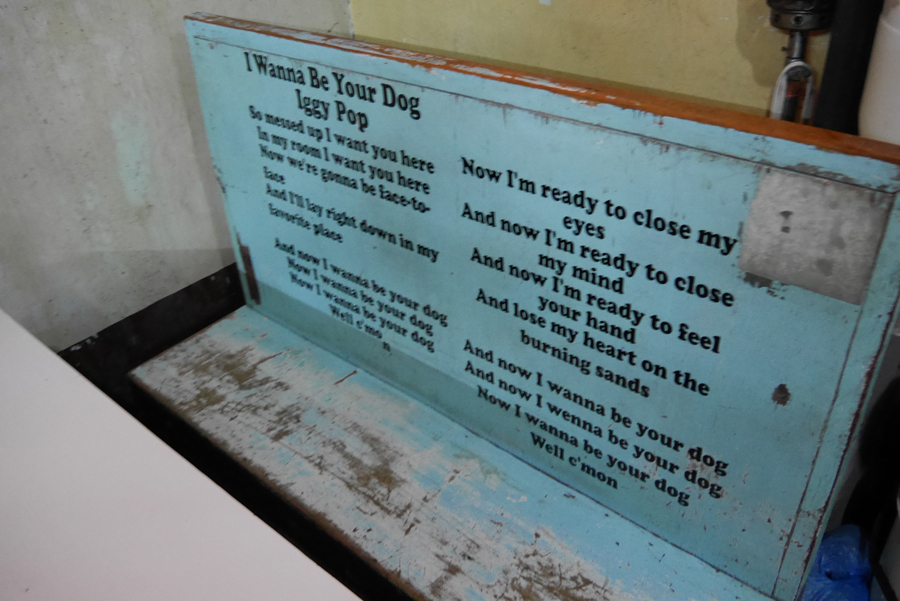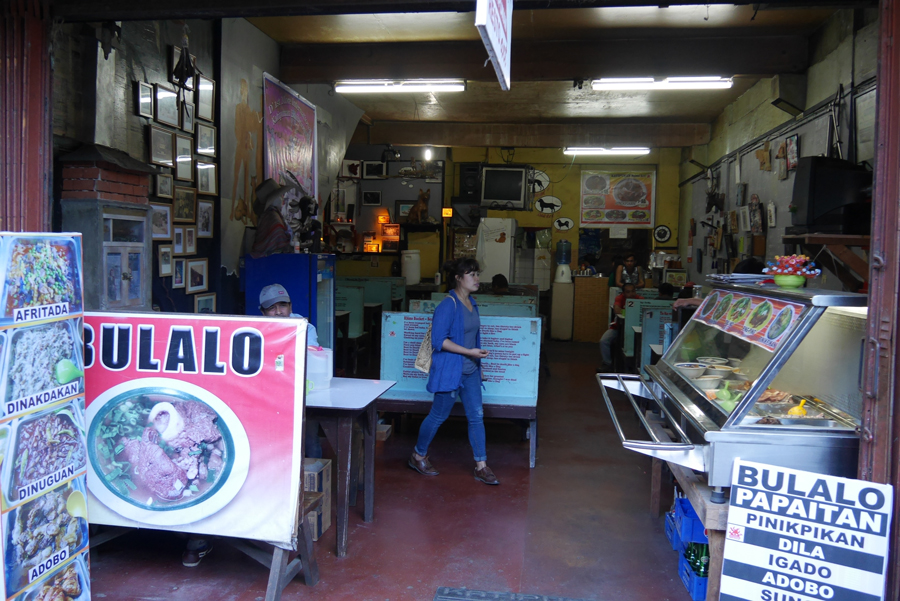 But is there a link between eating dog and contemporary art? … I don't get it … .
After visiting so many art spaces on my first day here, and also having hardly slept I go back to the hotel to rest and prepare for tomorrow.
But there are so many things to do in Baguio at night. Artists in Manila recommended that I visit the artist's studio called KAWAYAN DE GUIA. After a thirty-minute bus ride through the mountains, I arrive. KWAYANE is a very nice guy. Born in 1979, he is from the same generation as me. His works are really great. I think they are the best works I have seen in the Philippines. In his studio, there are a lot of art books, records, and mysterious motifs.
On the second floor, they are preparing to start up an artist residence. They really have an active and contemporary feel about them. From now I'm sure they are going to take on the world, but perhaps they are already famous here.
On the first floor many artist visit. The drunk man behind me is KAWAYAN.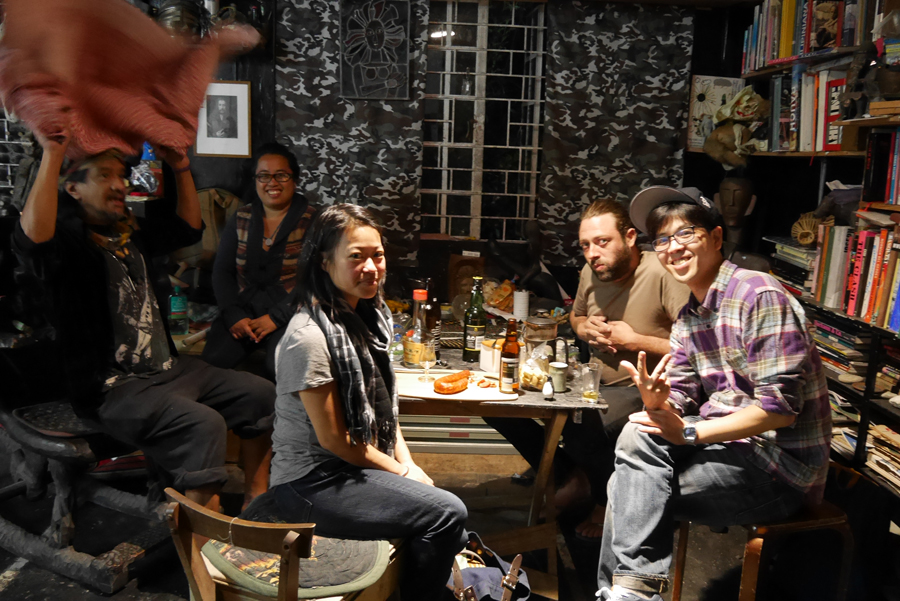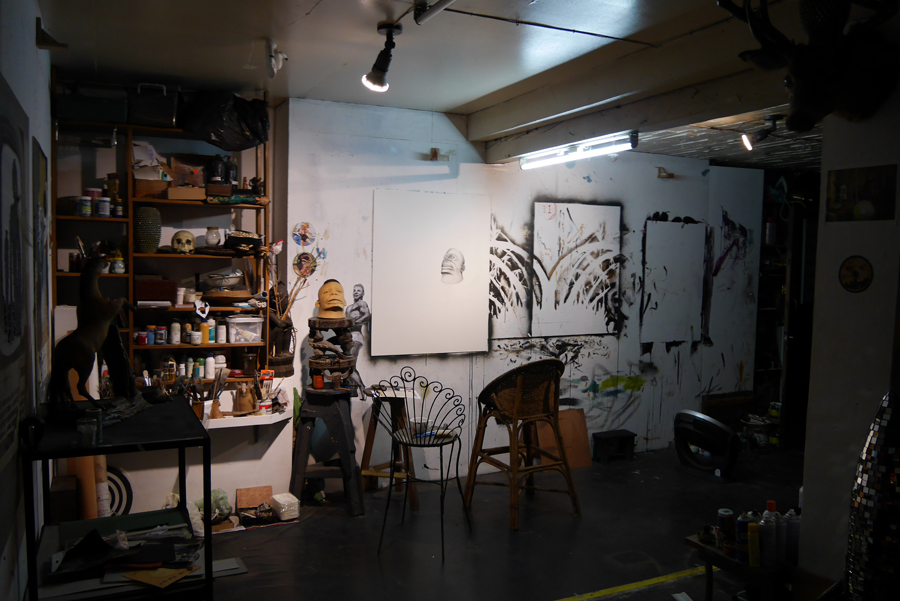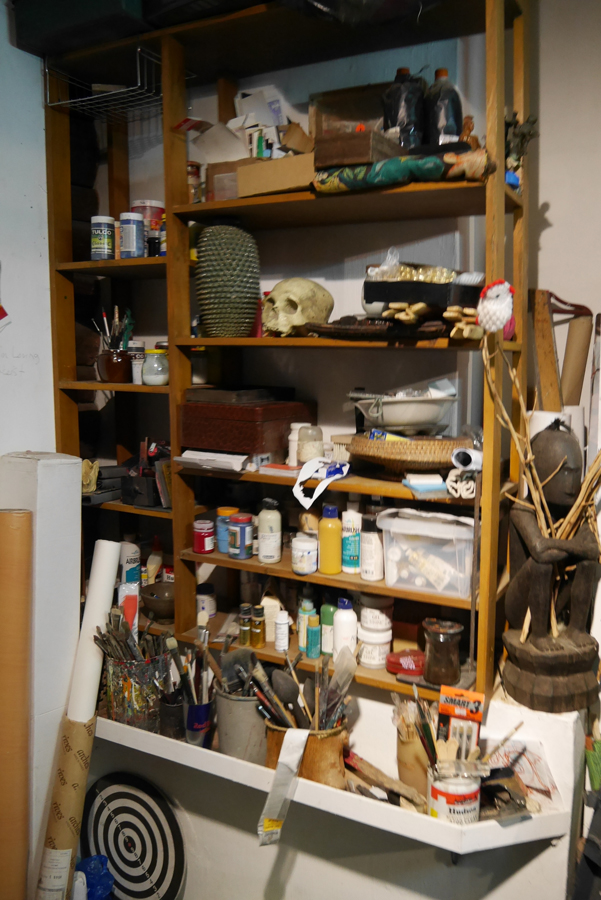 This is the residence space on the second floor.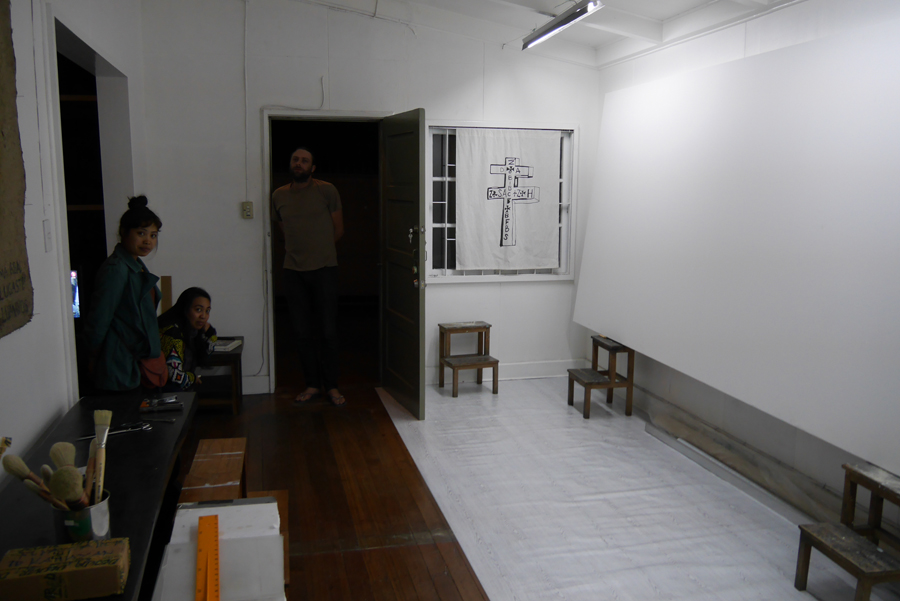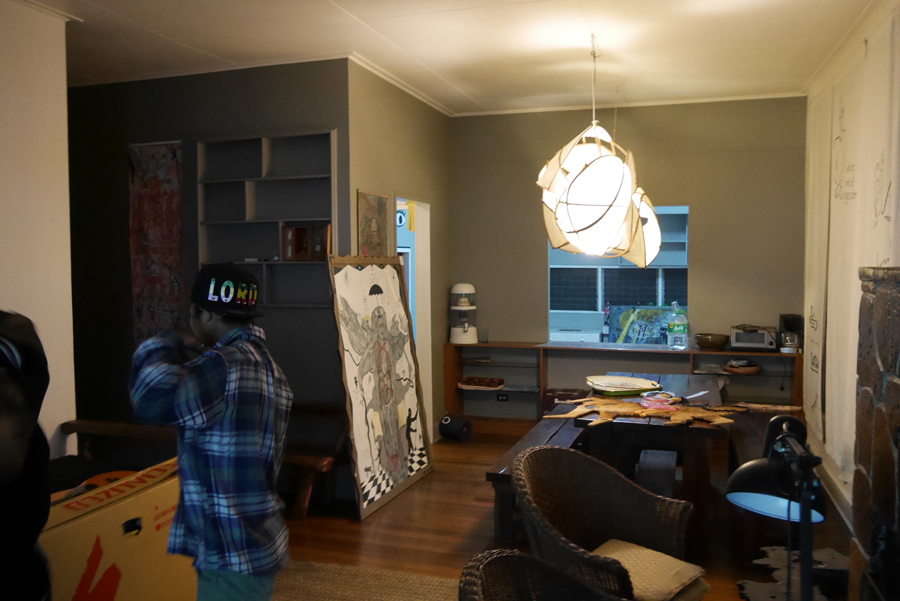 He looks completely European in appearance but actually his parents are a Baguio film maker and a German lady!!! I find out that KAWAYAN's father is the filmmaker Kidlat Tahimik.
I'm so surprised but I understand that artist's children are also often artists.
He sends his father an email so that I can also meet him tomorrow. So many things are connected~ Thank you KAWAYAN!
At the end of the day we take a photo together.
KAWAYAN screams out "PINOKIO". He is super drunk.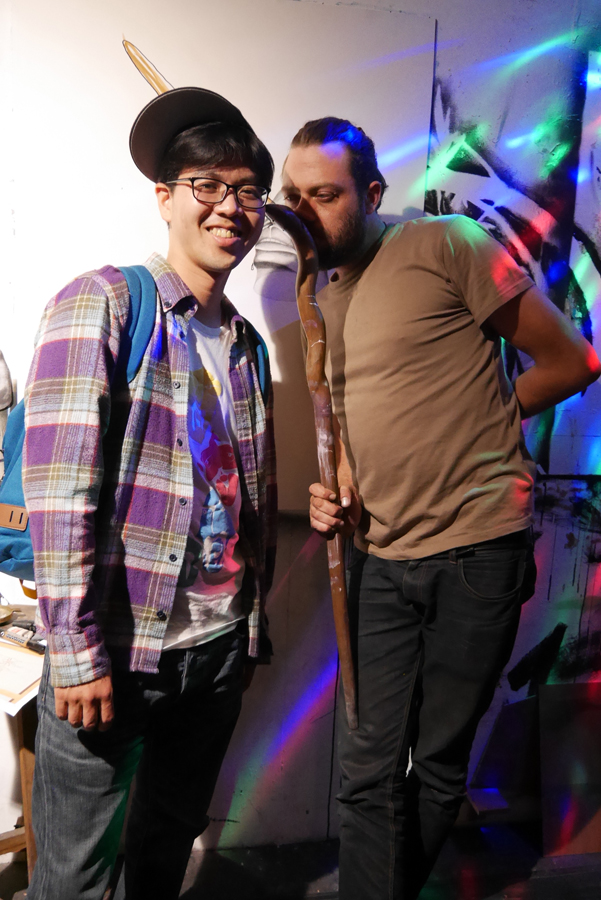 The next day we meet at Ili-likha Artist Village which is close to VOCAS. There are many shops and a very nice comfortable cafe which I find out are run by Kidlat.
At the entrance. Actually we had briefly stopped here on the first day as well.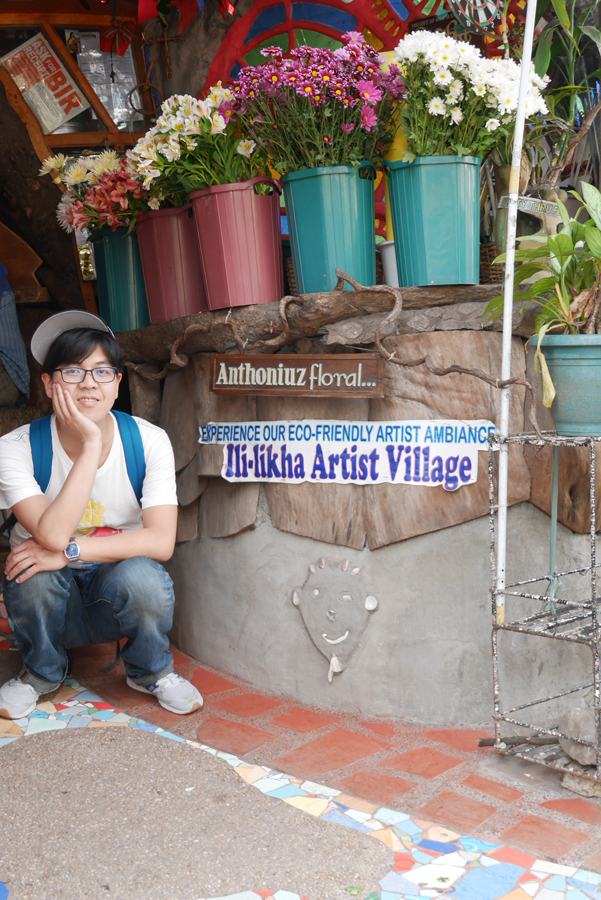 Kidlat Tahimik in person. When we arrived he was already here.
He's like a great mountain sage. He doesn't look anything like his son.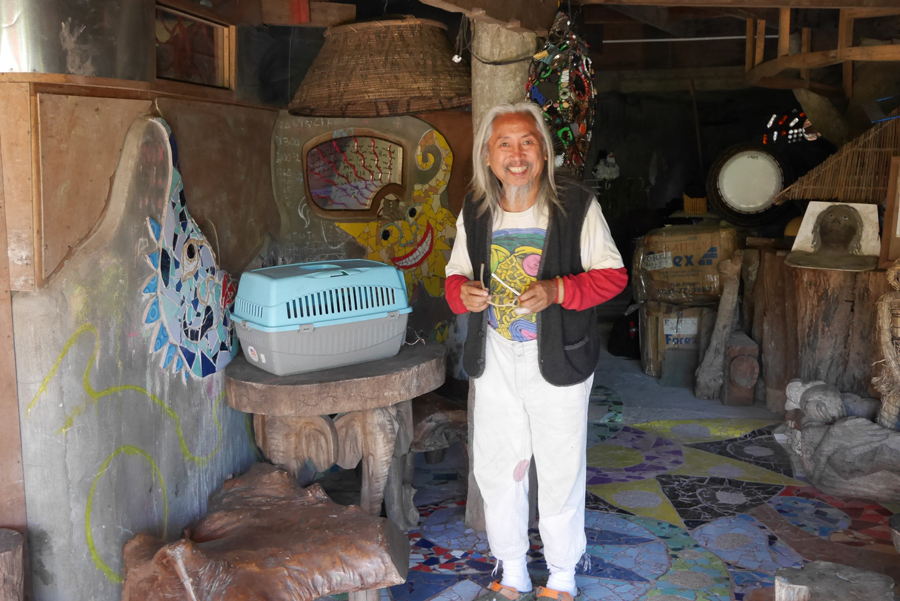 This space was established at the end of 2008. It was given the name of "Artist Village", with the idea of expanding out the space in order for various artists to open up their own shops. In the end, 20 shops are planned to be installed in the space with all of them being managed by artists. It's a great idea isn't it. The space is being constructed by skilled carpenters in accordance with Kidlat's vision. The space is more like a big art work itself rather than simply a structure. Even though the initial idea may have seemed quite unreasonable, they have persevered for many years to combine technical skill with feeling and perception. It has been constructed by recycled wood and leftover materials that Kidlat collected. Looking closely, the building style is highly irregular and I'm sure that it would be illegal according to Japanese building standards. Laughing, they tell me that they don't know when they will finish building. Perhaps it is the Sagrada Familia of Baguio, no maybe more like "Howl's Moving Castle".
Kidlat is a great guy and he was very willing to tell me about "Baguio Arts Guild", VOGAS and Ili-Likha Artist Village.
He guided me around the envisioned shops which were under construction.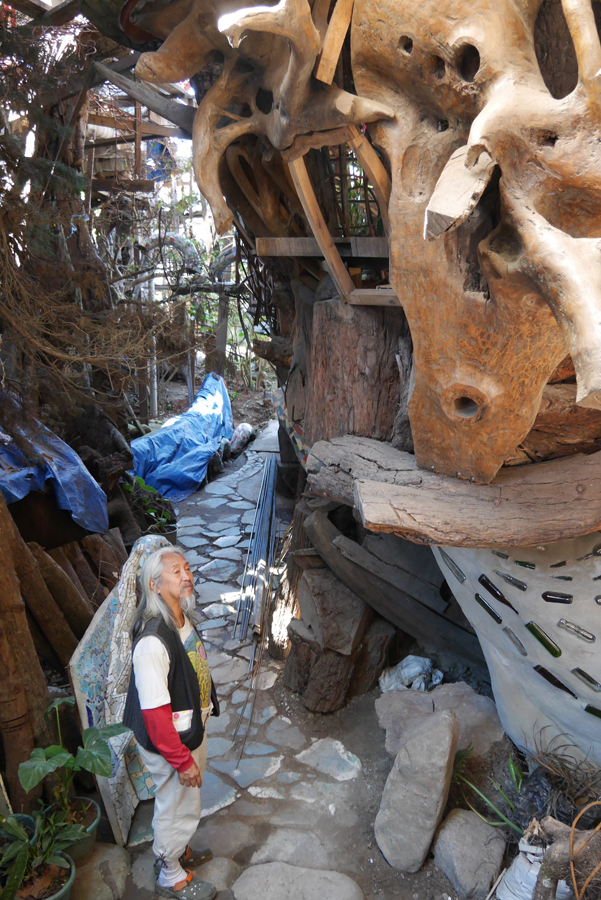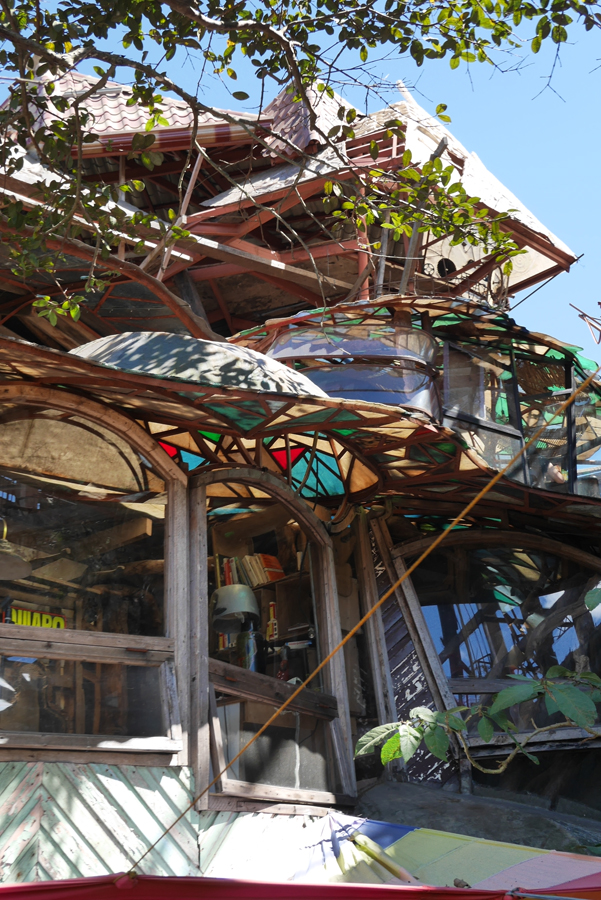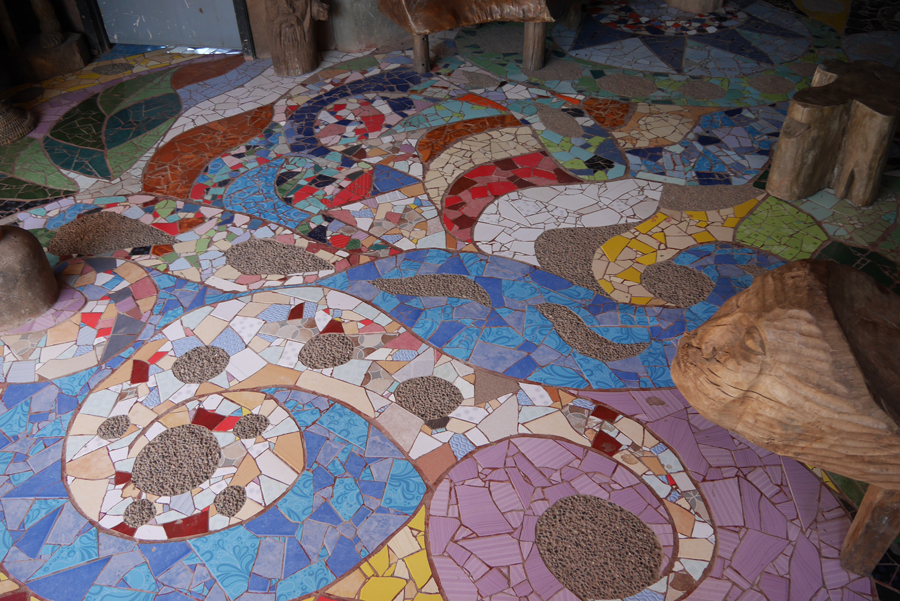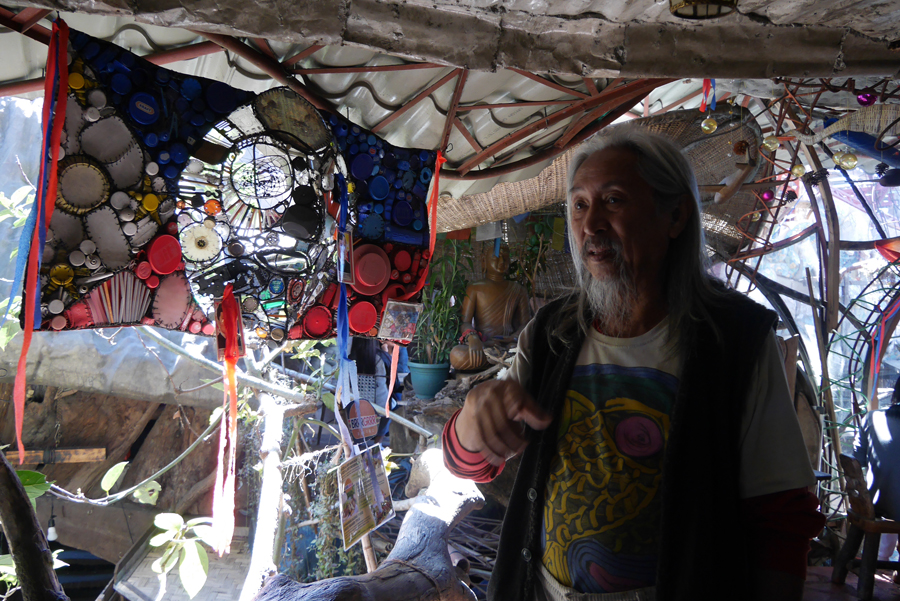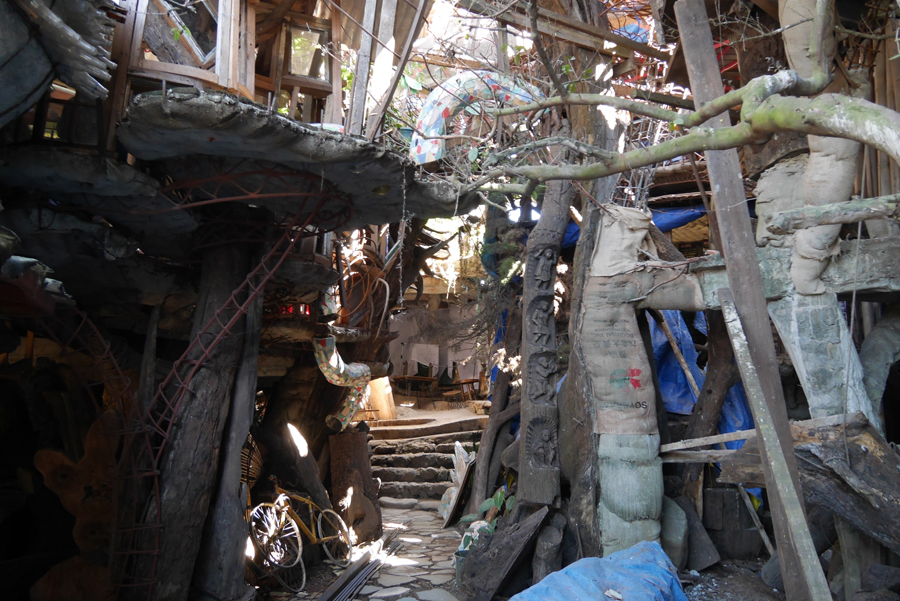 A drumming session in the space. What a great atmosphere.
Everyone who comes to the space greets Kidlat, whom they respect very much.
Encouraging local artists and continuing to support them to become self-sufficient is a feat no ordinary person could achieve. In addition, he isn't a rich man but an active filmmaker over seventy years old. I think he's more than just cool. He really is a great sage. It's great that in Baguio, the art scene will be inherited from this legendary godfather to the next generation of young talented artists.
When you go to the Baguio you must drop by VOCAS and Ili-Likha Artist Village created by the Great Sage Kidlat.
VOCAS
https://www.facebook.com/pages/Oh-My-GulayVOCAS-Baguio-City/122223281243167?fref=ts
Ili-likha Artist Village
https://www.facebook.com/pages/Ililikha-Artist-Village/1415457855370717?fref=ts
VOCAS

La Azotea Building, 108 Session Road,Baguio City
Established Year: 2004
Facility and Activity: Gallery, Restaurant, Performance, Film Screening, Music Event, etc.

Ili-likha Artist Village

Assumption Road,2006 Baguio City
Established Year: 2008
Facility and Activity: Gallery, Restaurant, Café, Music Event, etc.