01 February 2016|Open Your Piggy Bank of Knowledge and Wisdom! (KUNCI Cultural Studies Center )
Well I will talk about the organization KUNCI Cultural Studies Center , where I am staying at the moment.
They are really kind and organize a talk for me, inviting many local artists to come and listen.
Thanks, guys!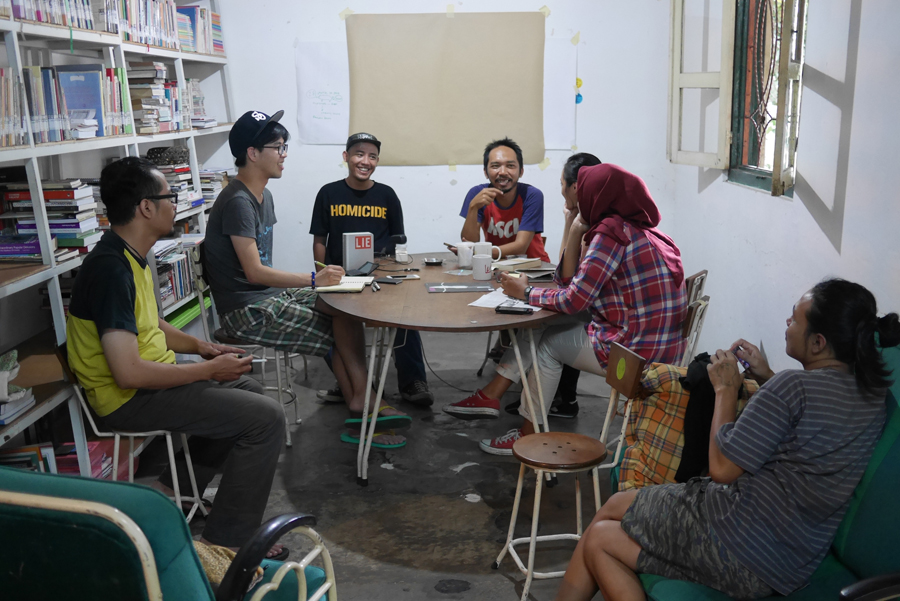 "KUNCI Cultural Studies Center ", which means "key" in Bahasa Indonesian, was found in 1999 by Antariksa and Nuraini Juliastuti, who is currently studying her doctorate degree abroad. They were still students when they founded it, and started their work by sending out newsletters once every three months. Of course, they didn't have email at that time, so they hand-printed all of the news letters in a small room, and they wrote mainly about cultural studies. They expanded their activities by giving opportunities for artists to have presentations, hosting talk shows, and enriching their library, which allows visitors access to valuable books and resources about art and culture.
The founder, Antarikusa (on the left), who's been so kind to tell me the story of KUNCI Cultural Studies Center , and Gita (on the right) who just came to do research in Japan recently.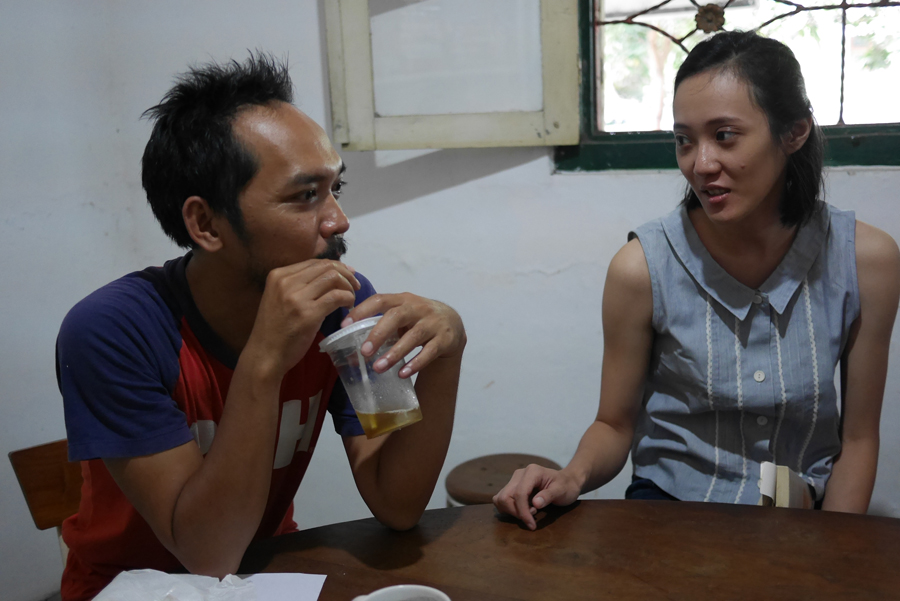 This is such a dependable member, Dina.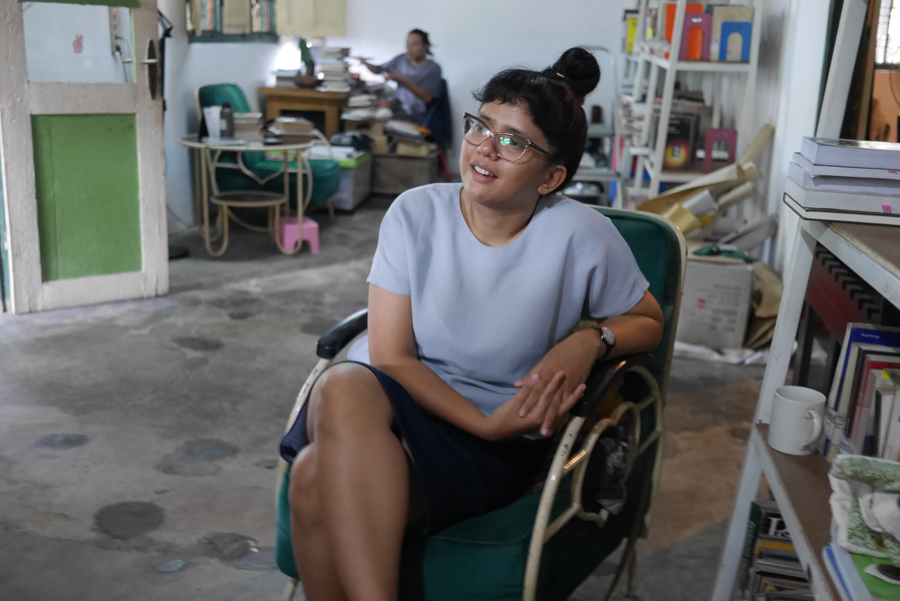 This is the hand-printed newsletter from the early days.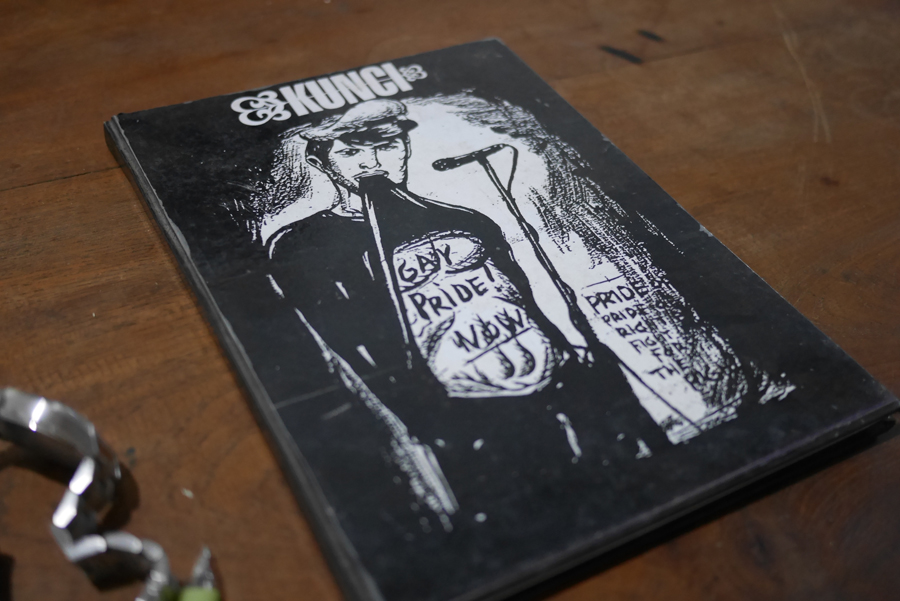 After moving from their original tiny room to here and there, and getting more and more members, they now work with ten people and one dog, Cephas, five main core members and five members who participate project by project.
They don't have a specific leader or director, but they interact with each other as equal individuals. Instead they select a lead on a project by project basis. They have a weekly meeting so that they can all get together and catch up with each project, and discuss things where needed.
Besides all of their collective activities, each one of the members also has their own personal project, interest and specialty, making up a very rich and varied team. This might explain how they are able to hold such a range of different perspectives and maintain an important diversity.
This black furred fellow is Cephas, he is such a smart doggy.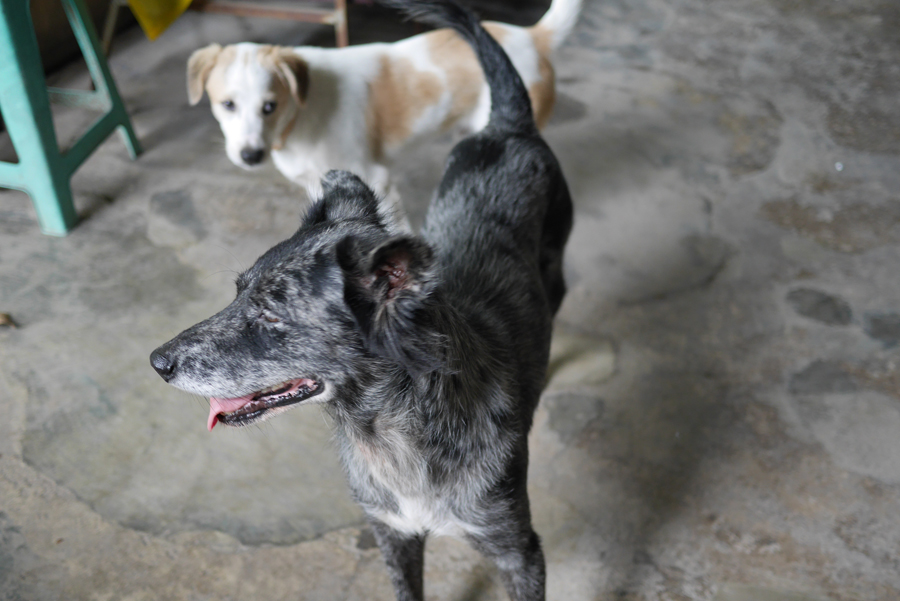 The residence has three rooms. There are so many people from all over the world come stay and leave while I am staying here.
It seems that not only artists but also curators or researchers who have some connection with KUNCI Cultural Studies Center 's activities can stay here too.
A lot of the visitors stayed here give presentations and talks, so many artists and locals of Jogja come to listen to them. I gotta do my own presentation next week. Which is a little nerve racking.
Wok The Rock, aka everyone's favorite Wowo, is not actually a member of KUNCI Cultural Studies Center , he rents a room there and takes care of guests with his sparkling eye of murder(lol), worrying about them with a sweet heart (even if his appearance would suggest otherwise). He is actually the sweetest guy.
Talk by a curator from Poland.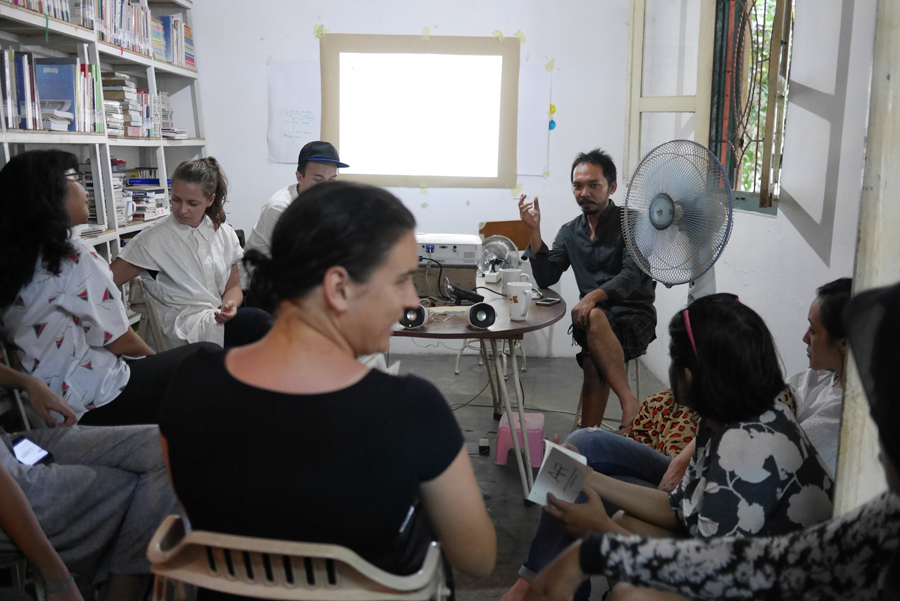 Their library is also awesome, and there are so many people who come to this library just to read books here. It is an open space for everyone, so people with free time come here with books or laptop in their hand, and spend time just hanging out. They have an amazing hospitality, even better than any public institution.
work, hang out, chill….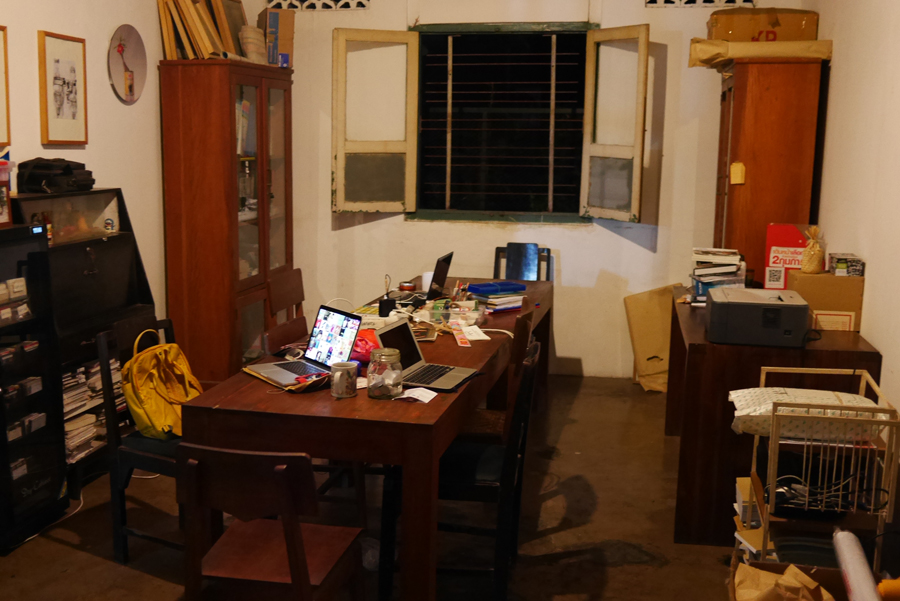 This is a scene from everyday life here.
Natasha (participated Koganecho Bazaar2015) and Wowo (resident)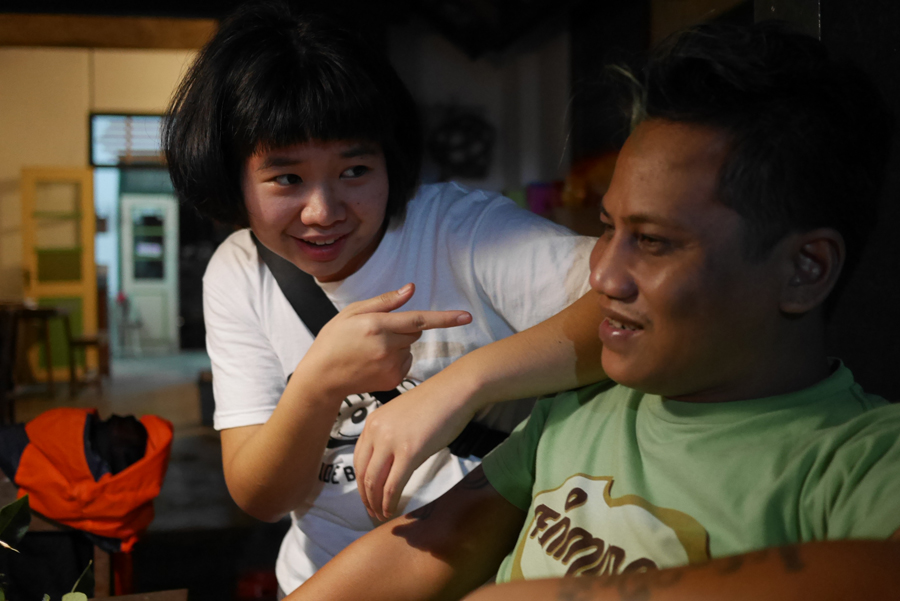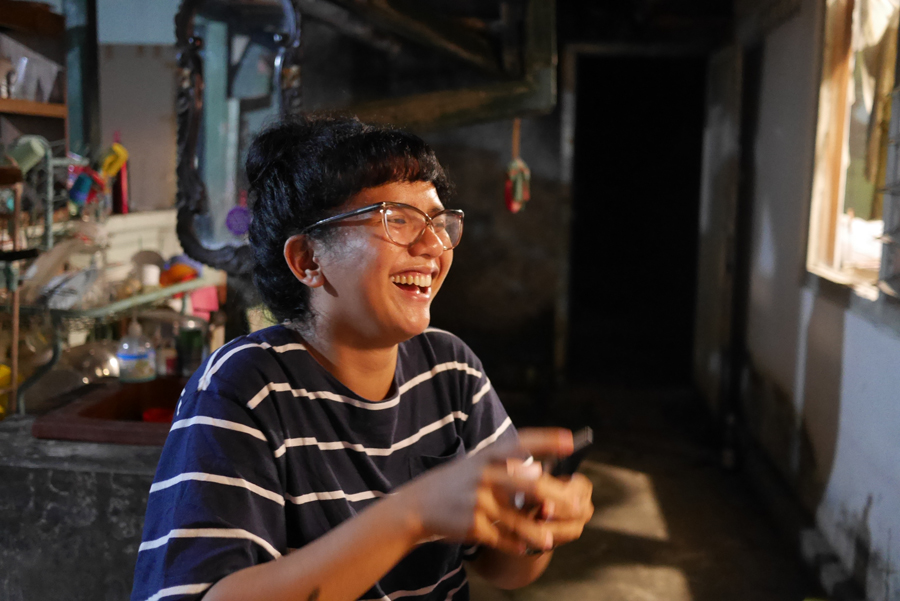 This is how time flies at night here in KUNCI Cultural Studies Center .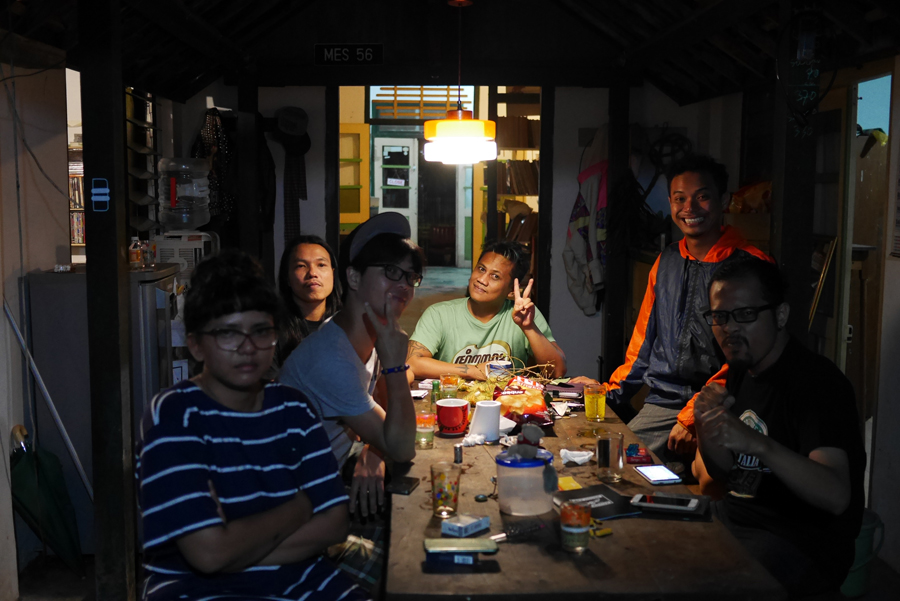 I asked how they manage to maintain such an awesome place. It seems like the fund grant which they got recently from the Netherlands could cover the rent and the salary for some of the members working there. That's awesome, huh. They are of course able to receive such support due to the high evaluation of their and their power to make things happen. I wish Ongoing will be like that… in near future.
I actually didn't know until I visited and talked with them, but they are in fact not an artists group nor a curator squad. When I asked, "Then what are you? How do you always explain who you guys are?" they laughed and said, "Well, let's say…'researcher'."
With each member researching what they are interested in and in the way each wants to … that sounds like university I say, but they say universities have more technical rules to follow or have too strong a context so those in such institutions cannot actually do whatever they want. I guess KUNCI Cultural Studies Center fills in the gap which University or other big institutions cannot cover, with more specific fields or targets together with their own approach which makes their work more individual, unique and valuable.
One more thing I asked them was how do they relate themselves to art. One commonality between them is that everyone loves art above all else, and the second is the belief that you cannot avoid art as long as you work in Jogja, because you will find art literary everywhere, you cannot do anything without art. Jeez. I wish that was my line.
KUNCI Cultural Studies Center opens its arms to members of the young generation like Dina and Gita too, being careful to avoid hierarchy and instead valuing the constant exchange of knowledge and wisdom which never fails to inspire or activate each other. There is no limit to what the members can do here, they are always researching and always connected to art…that is the impression I got from KUNCI Cultural Studies Center . I feel like I got to witness the existence of an ideal organization.
Here is a picture with all of them!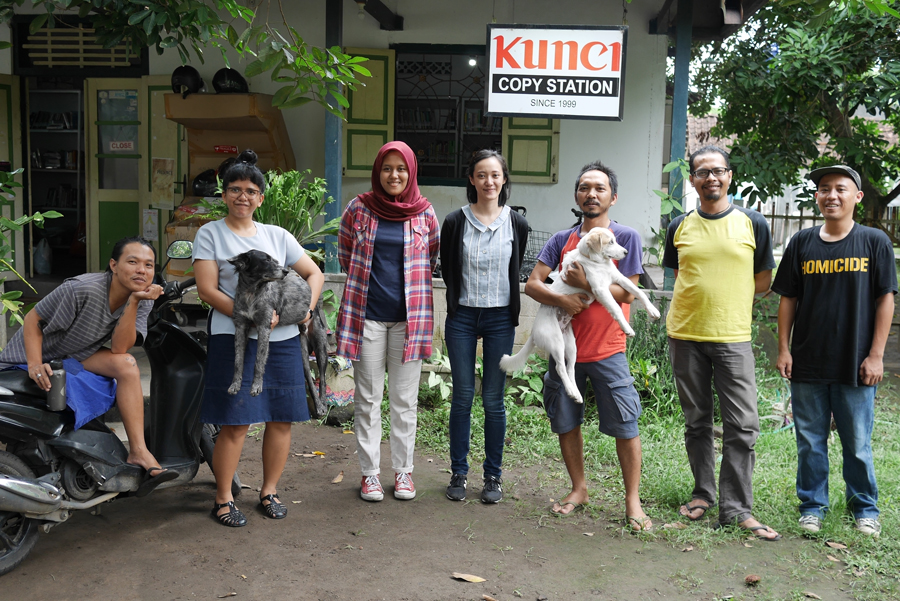 If it is your intention to touch upon the front line of intellectual thinking in Indonesia, then KUNCI Cultural Studies Center should definitely be one of your first ports of call.
KUNCI Cultural Studies Center
http://kunci.or.id/
https://www.facebook.com/groups/39286251054/?fref=ts
KUNCI

Jalan Ngadinegaran MJ III/100 Jogjakarta
Established Year: 1999
Facility and Activity: Library, Residence, Workspace, Exhibition Planning and Coordination