24 February 2016|Tradition, Meditation and Dogs (Ne'na Contemporary Art Space, The Land Foundation, Pongnoi Community Art Space, Maa in Soi)
OK! Waking up early in the morning, I am going to research art spaces in Chaing Mai, one after the next, under guidance of the reliable man, Yhod. First off, we head to Ne'na Contemporary Art Space. On arriving at the place, I am surprised by its appearance. Is this really an art space?
New build architecture in an old style.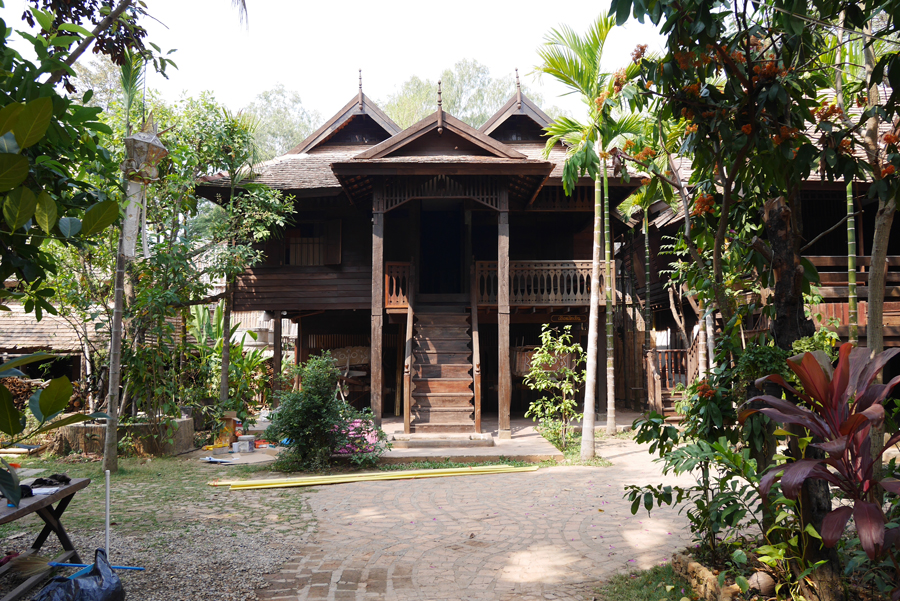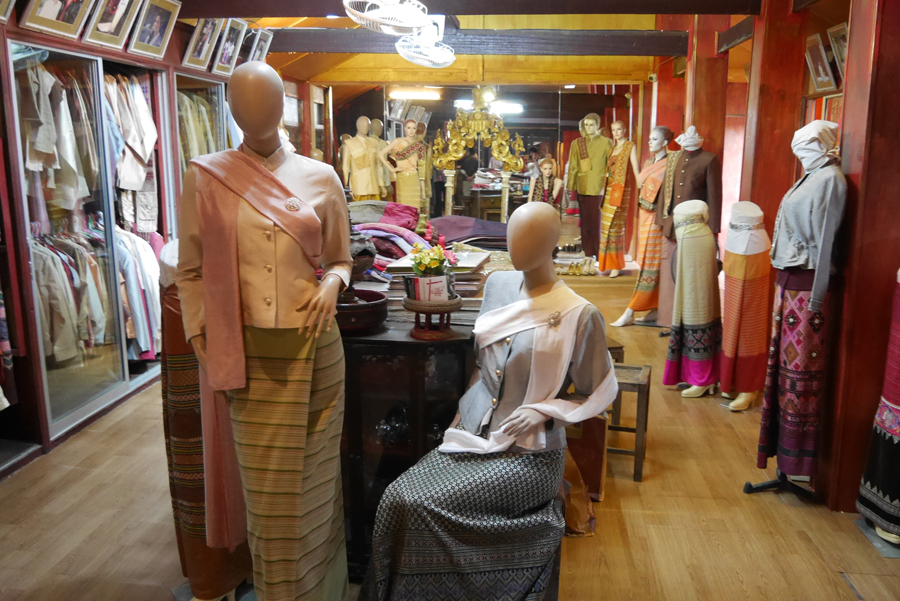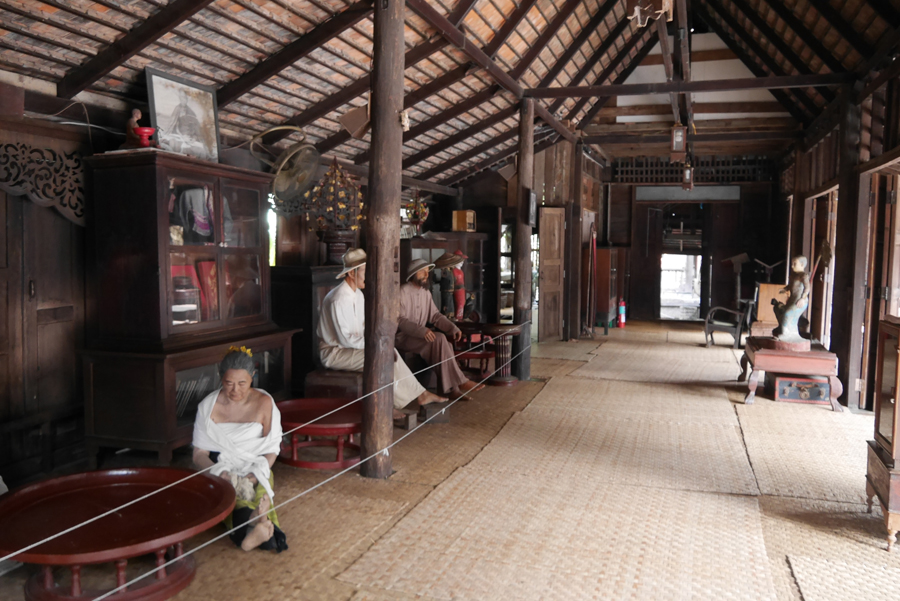 They seem like reproductions of the lifestyle of Thai in a past time, for example, EDO WONDERLAND in Nikko. Hey Yhod, isn't it just a tourist spot? Are you kidding me, man? Wait, Yhod is going ahead rapidly. Finally we arrive at the innermost building.
The program manager Mr. Shukit Panmongkol welcomes us. He looks like Mr.Kishin Shinoyama; the most popular Japanese photographer.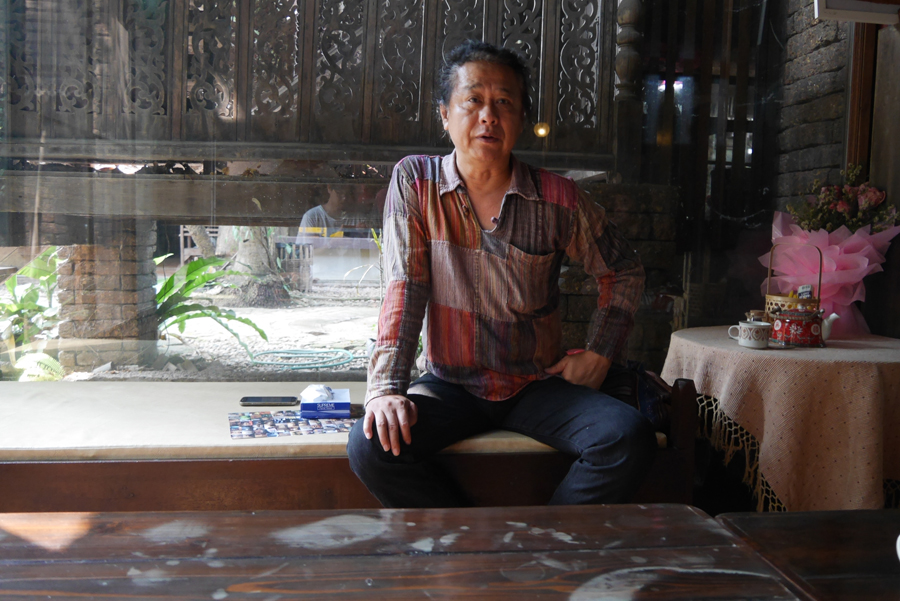 Ne'na Contemporary Art Space was started in 1998 in a corner of Monfai Cultural Centre; a museum reproducing traditional craft, architecture and the life style of Thailand. It has residency programs for international artists and curators, and holds public talks and workshops from resident artists and curators. They accept on average seven residents a year.
This is the residence room. It's luxurious!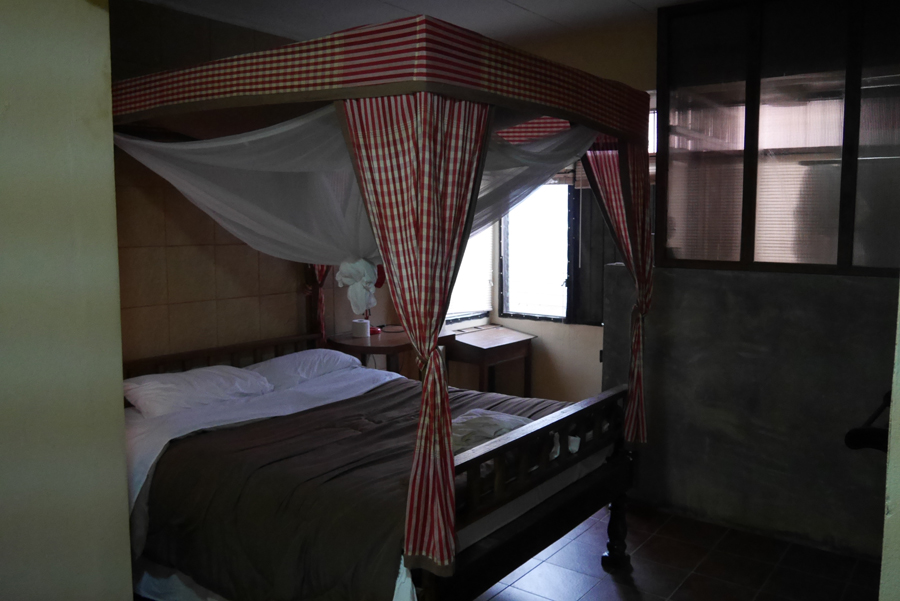 Mr. Shukit Panmongkol, a curator working all over the world, co-founded Ne'na Contemporary Art Space with his wife Ms. Rampad Kothkaew. She is also the founder of Monfai Cultural Centre, aimed at improving the situation of art in Chiang Mai, at a time when there was no chance to make international connections. They tell me happily that unique chemistry happen because contemporary art and traditional Thai culture intersect here. Resident artists often have shows in the site of Monfai Cultural Centre, and I can imagine how it would be more interesting than just putting art in a white cube space.
Sometimes they hold performance events at these open places in the site.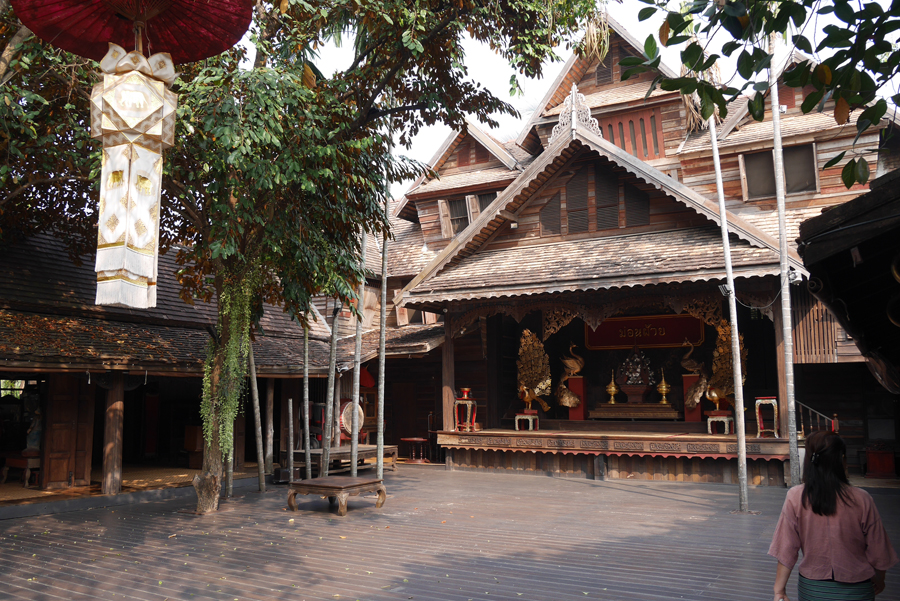 They are steadily building up international networks, for instance an exchange program with Sweden. It seems as though a lot of resident artists had been here.
Mr. Rampad Kothkaew and Ms. Shukit Panmongkol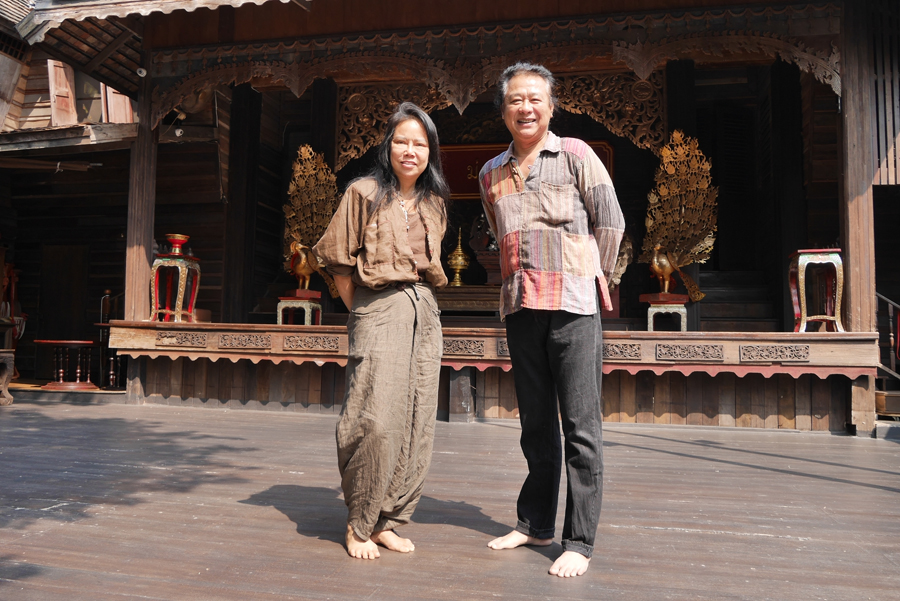 CHIANG MAI WONDERLAND!
Ne'na Contemporary Art Space
http://www.nena-artspace.com/
https://www.facebook.com/NenaContemporaryArtSpace/?fref=ts
Saying goodbye to them, we head to The Land Foundation.
A signboard on the field path is telling us the way.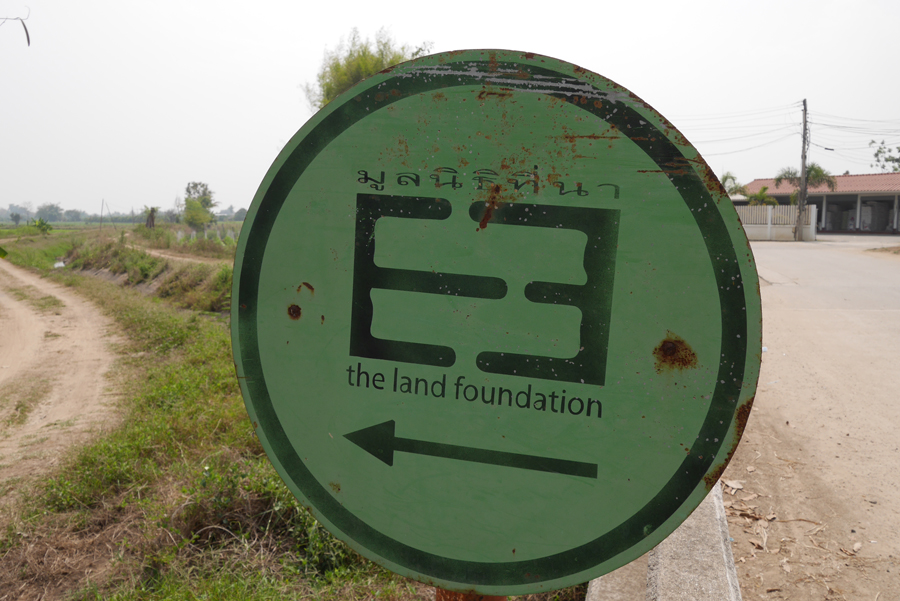 We got lost on the way, though at last we arrive by car with Yhod driving. Sedhapong Kirativongkamchon, who comes here to take care of the field, farm and plants on weekdays, introduces this place to me.
This is Mr. Sedhapong, His nickname is "Dong". He is a real man.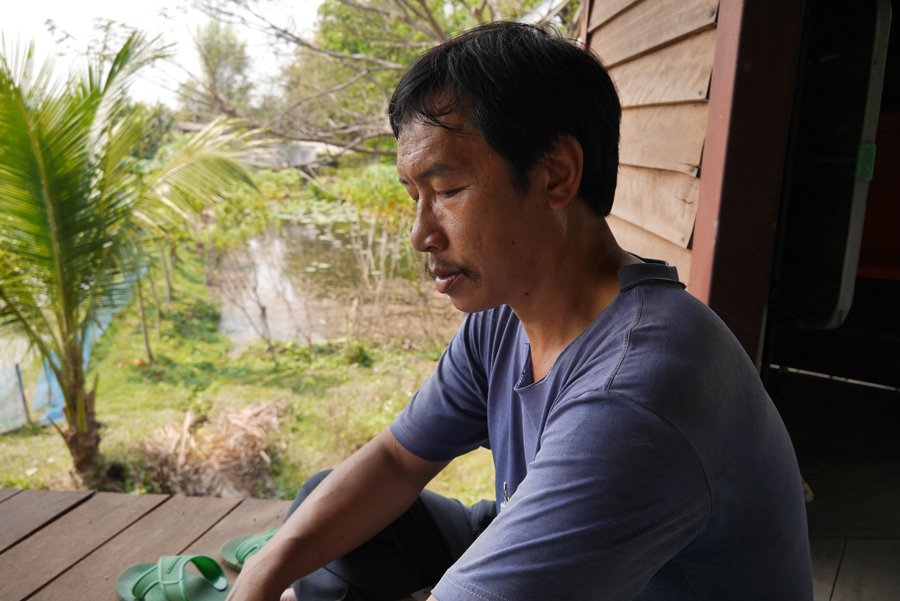 Kamin Lertchaiprasert and Rirkrit Tiravanija and Uthit Atimana, international contemporary artists of Thailand, established The Land Foundation in 2004. Originally, they carried out an art project named "The Land Project" connecting art and communities. The Land Foundation is the place where they can continue that project.
The view at the site.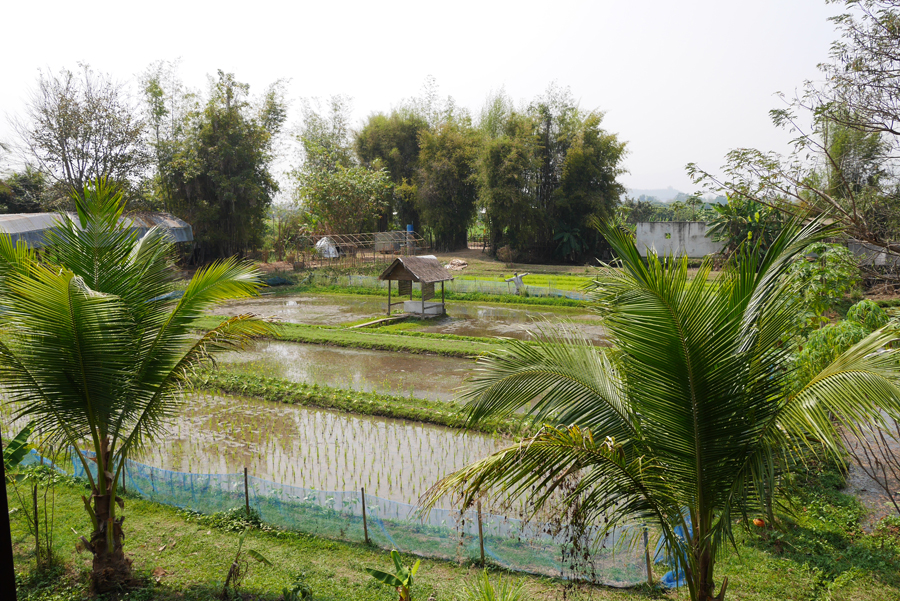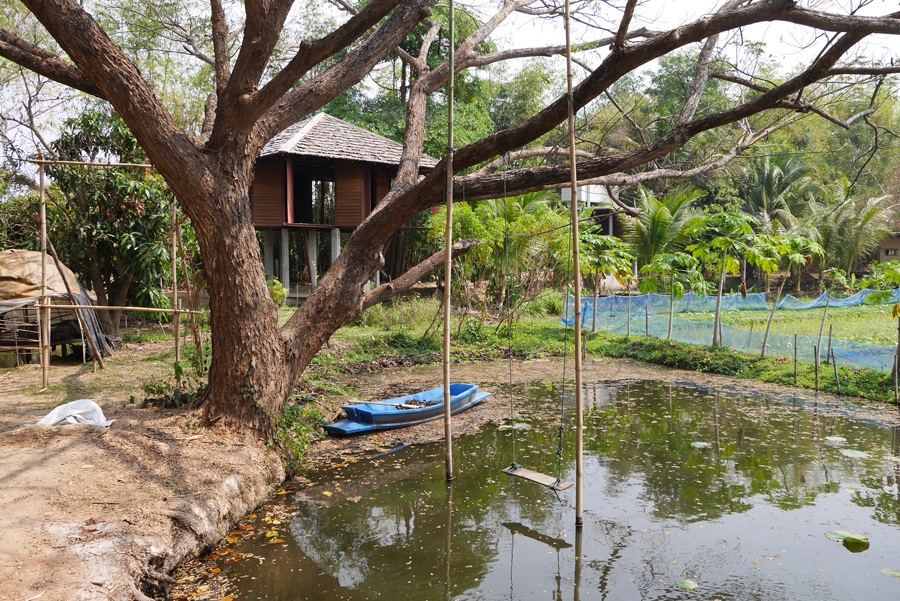 Looking like a jungle, nice!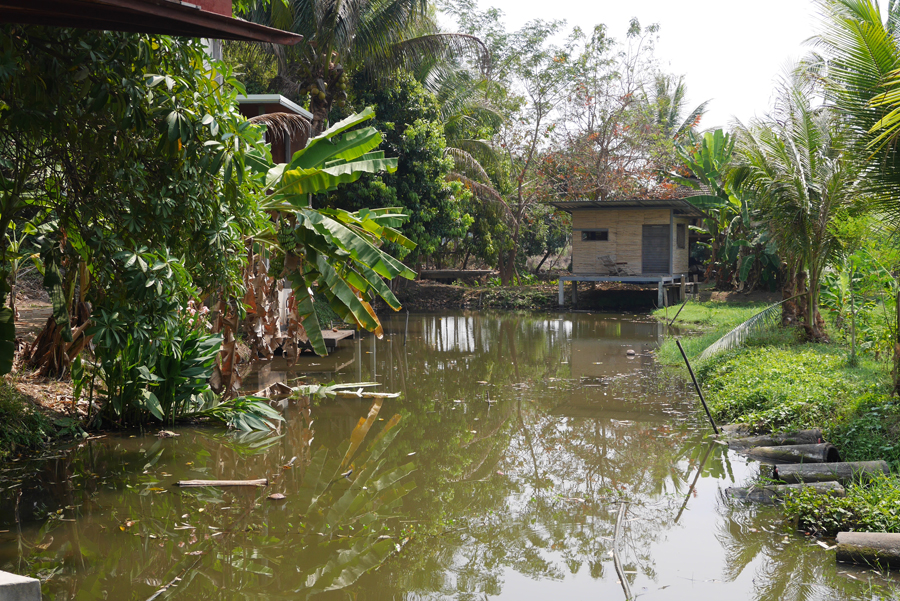 It's surrounded by rice fields.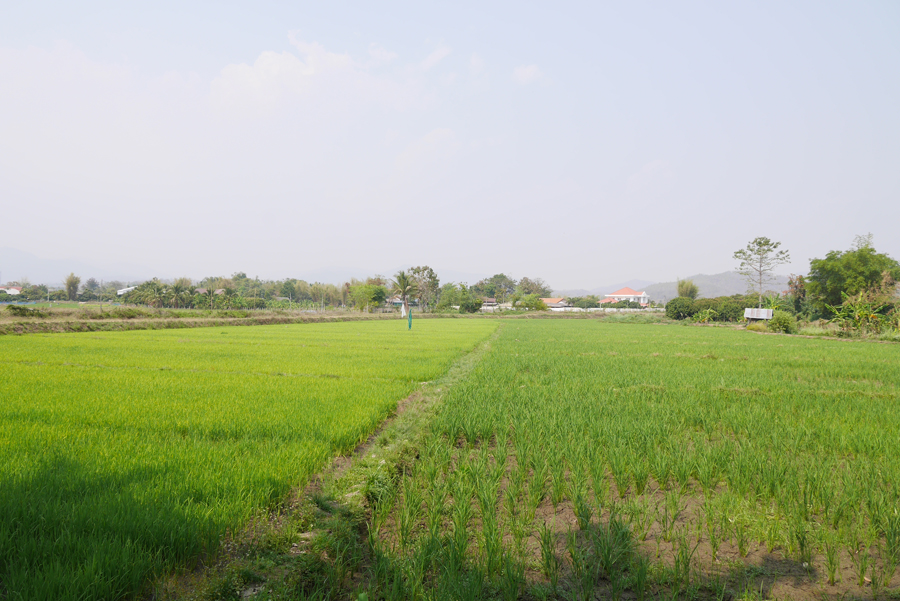 The Land Foundation aims to help people get to know these three: art, cultivation, and themselves through meditation. They don't have any particular program. Visitors just spend time in their own way. They don't take any entrance fee or charge. So it can be said that this is the place to spend their own time freely while viewing rice fields. Some people stay just a few hours, and others stay longer than a year. There are many buildings designed by architects in the site as well as the rice field and the farm. Visitors can enter buildings, as they like.
Various architecture.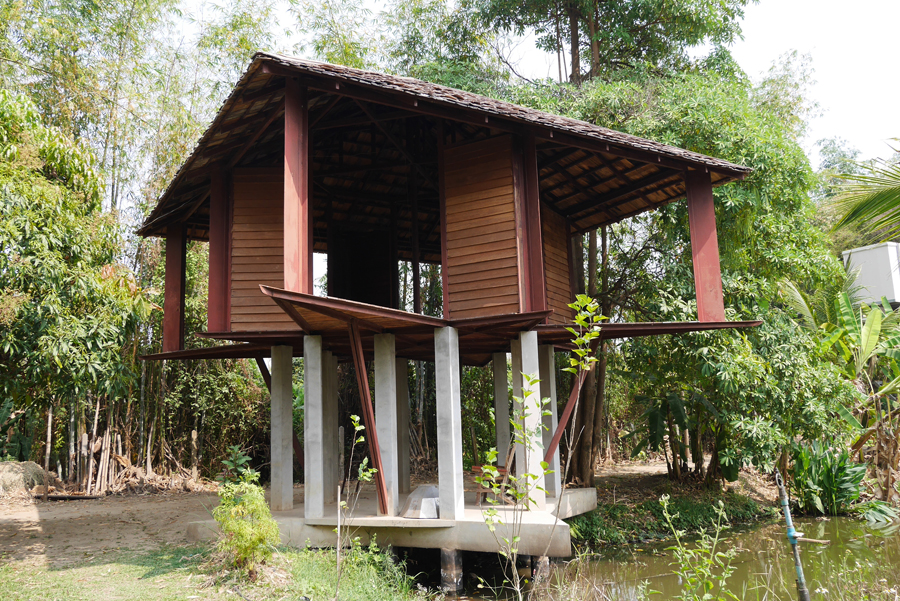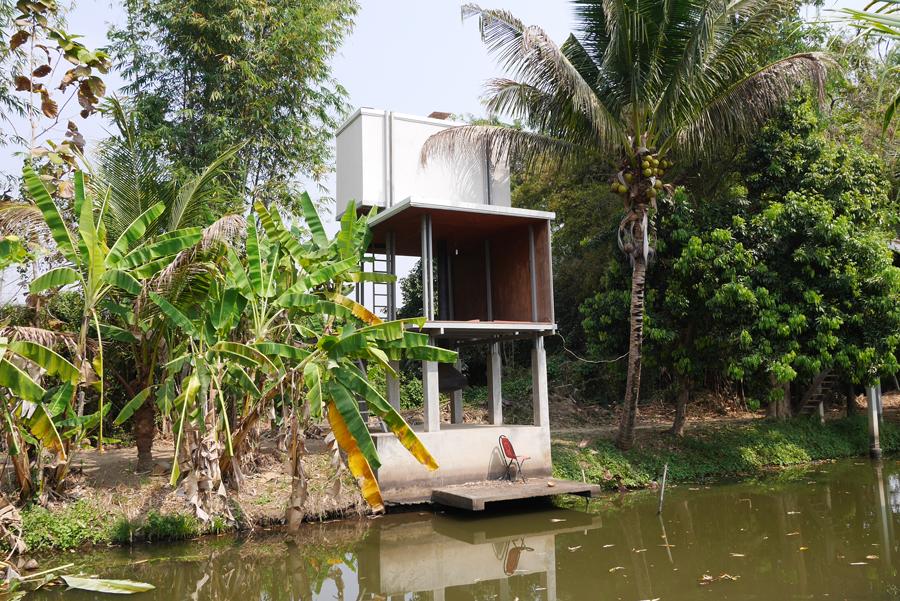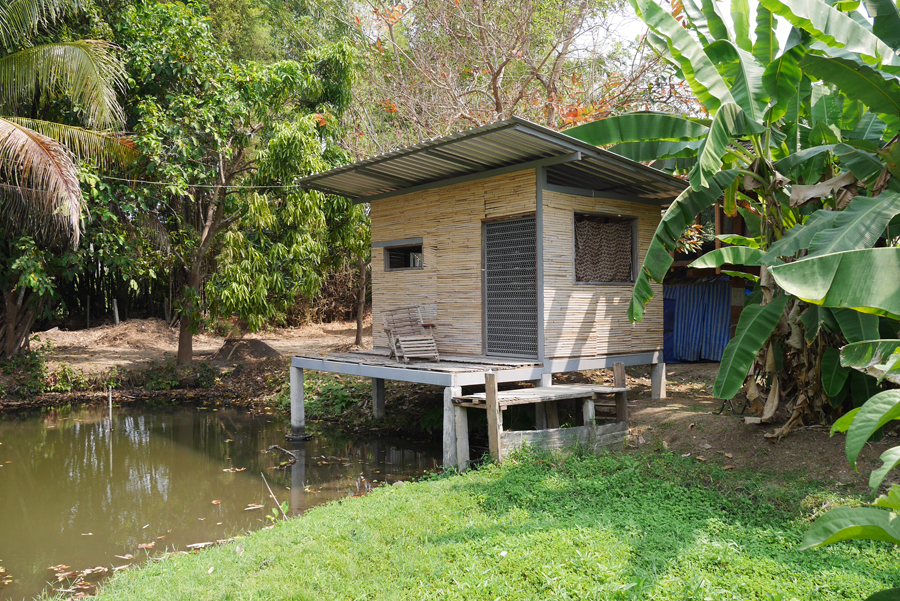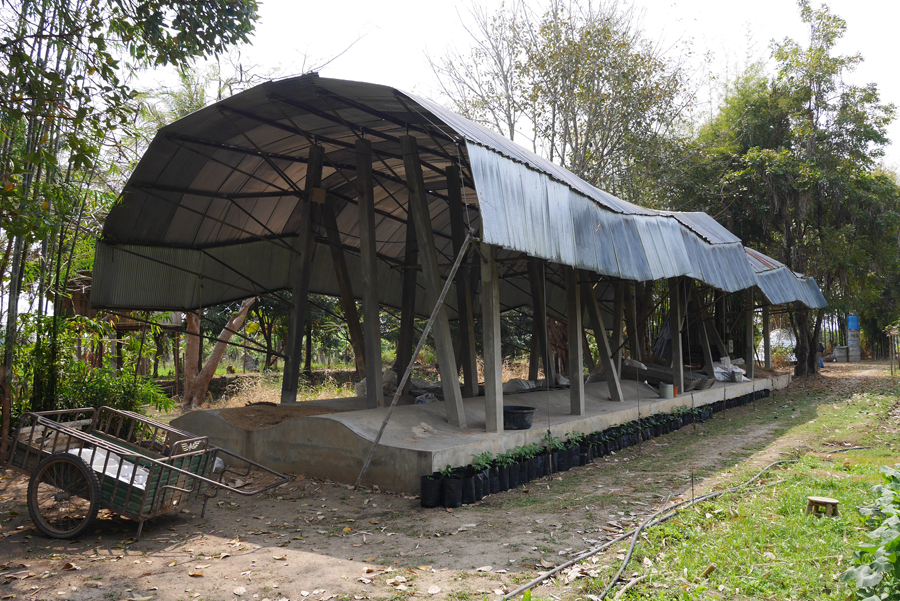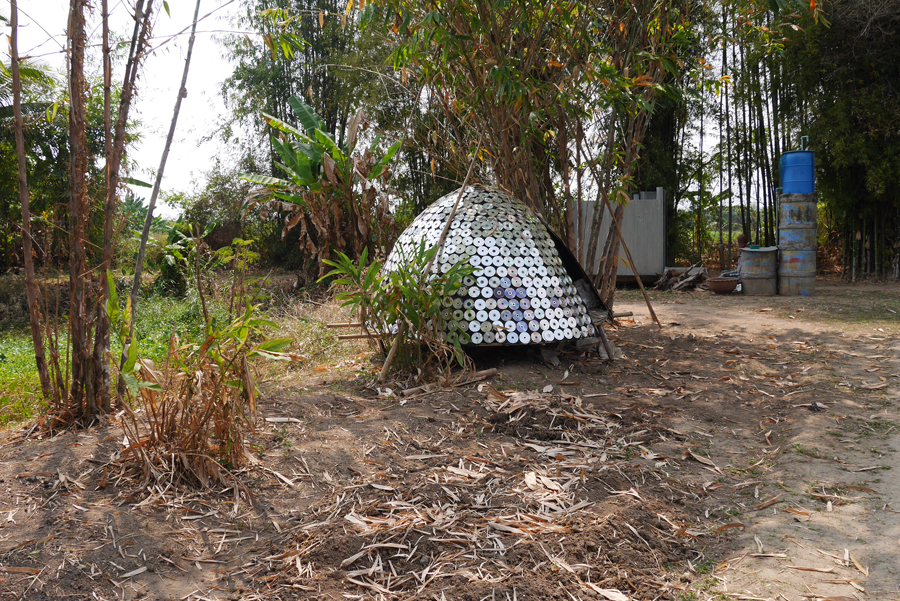 Up to 50-70 groups visit here each year. Almost all of them are artists and scholars, but ordinary people also come to meditate sometimes. Besides Dong, one more farming family is living on the site and growing rice and seasonal vegetables. All of the operating costs, including payment for these families, are financed by donations and fundraising events. The Land Foundation stands alone in rice fields, and there is no gallery or no plaza here. It just has various architectural structures, ponds and farms, and people come and stay here to meditate or stay with themselves in their own way.
The view from the second floor of one of the buildings.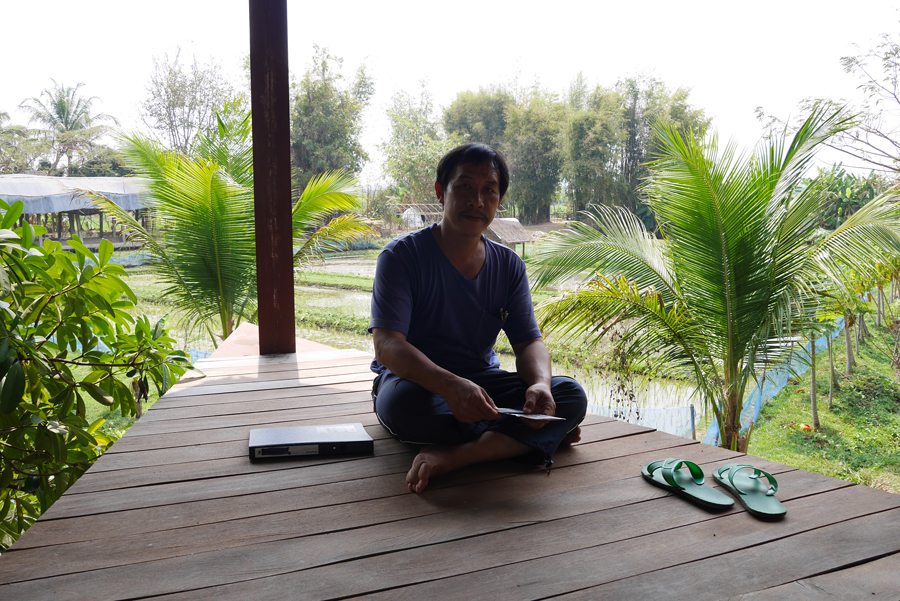 Dong used to work as chief of HR in an ordinary business companies for almost 20 years. But six years ago he knew this place by chance. And after being chosen by board of committee in 2010, he decided to become the caretaker of this place, subsequently giving up all work and career he had at that time. "Though I don't have much money, I am very contented with just being here every day." He tells me with a calm smile. I also go up to one of the buildings, and have a view of the rice fields. Tender wind caress my ears, the water of the pond is glistening, and rice fields is rustling.
For meditation in art and rice.
The Land Foundation
http://www.thelandfoundation.org/
https://www.facebook.com/The-land-foundation-266095456835934/info/
I could recover my energy a little though mediation. Let's head to the next place.
Here we arrive at Pongnoi Community Art Space.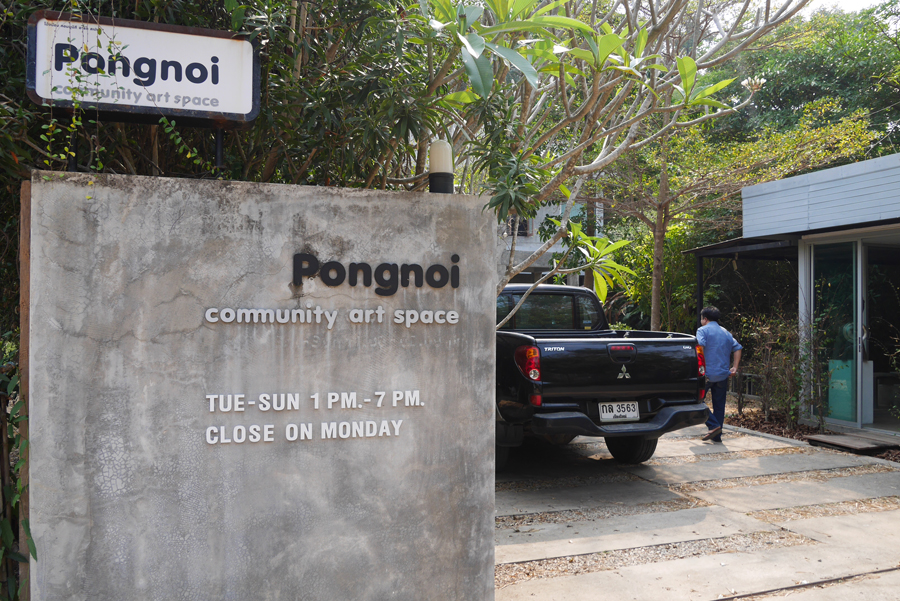 Mr. Waneak Juntaratip, an artist and the founder of this space, introduced it to me. Pongnoi Community Art Space was started in 2008, and houses a gallery, a shop and Mr. Weneak's studio.
This is the gallery space.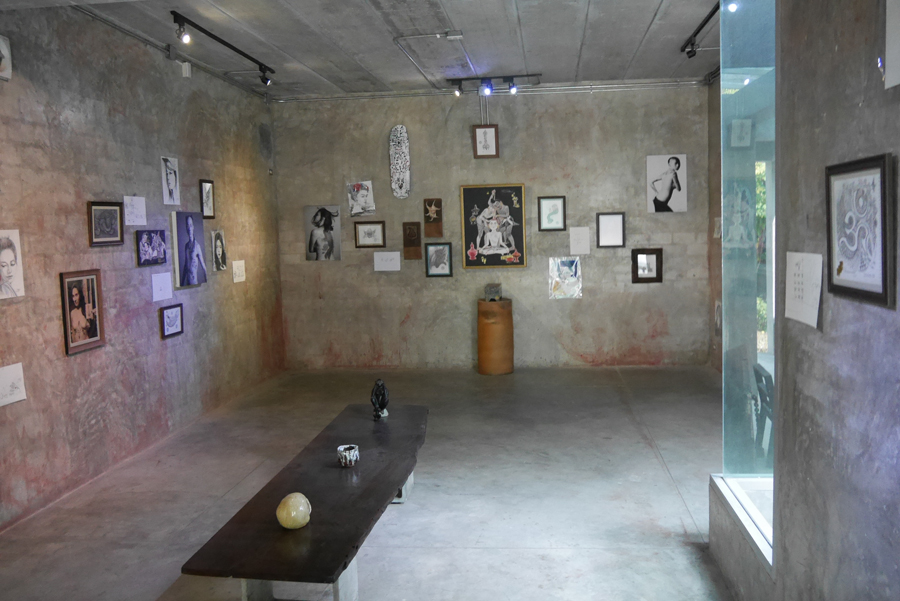 The gallery holds shows once a month, and Mr. Waneak curates five shows every year. He choses five exhibitors: two local artists, an international artist, a young artist and an experimental artist. He does not take any money from them and offers them food for an opening reception. In return, the artists should hold a public talk or workshops at least once.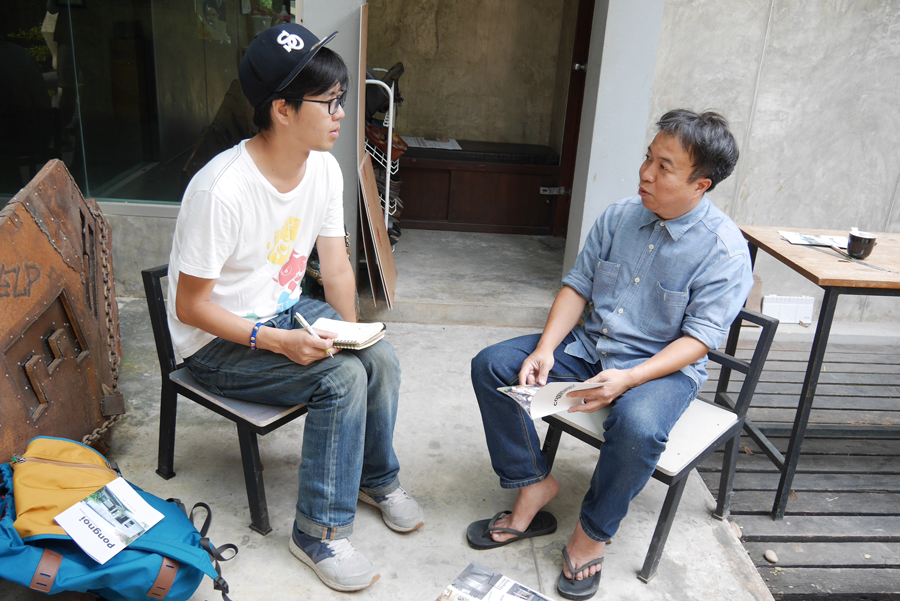 For Mr. Waneak, the aim of this space is to connect art with the local community. This involves activities not only in the gallery, for instance painting workshops from artists at local elementary schools and art performances at the nearby temple. He tells me that he is trying to plan events that are more focused on local than international.
I ask him why he is so particular about the local. He replys that this area used to be known for drug problems, and he originally wanted to change that situation. Now the situation has much improved and they don't have the problems anymore. The nonprofit gallery "Pongnoi Community Art Space" will continuously serve the community and plays an important role to bring people and art together to share various things with each other. I think it is not easy, rather difficult, to choose the local in the field of contemporary art where people opt to focus on the international.
Mr. Weneak, the man knows his own mind.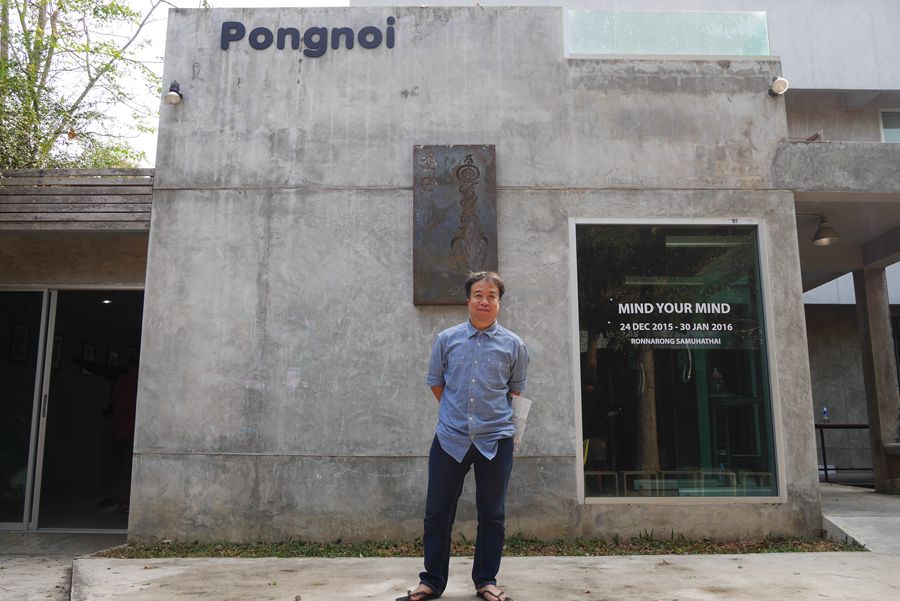 aiming at local.
Pongnoi Community Art Space
https://www.facebook.com/pongnoi/?fref=ts
Now I am almost exhausted, but Yhod continues our march with vigor. We head to Chiang Mai University, which has produced a great number of Thai artists. Mr. Anurak Tanyapalit, an artist who has remained in the university, guides me around the campus. As I am also teaching in an art university in Japan, these facilities are not much different from those of a Japanese university, to my eye. I am glad to see students earnestly producing their works.
This is the fine art department.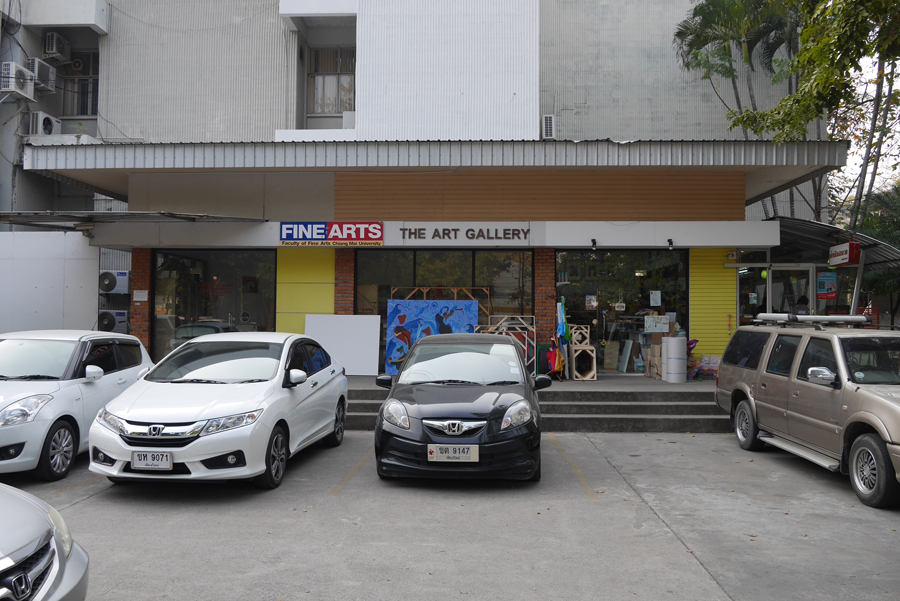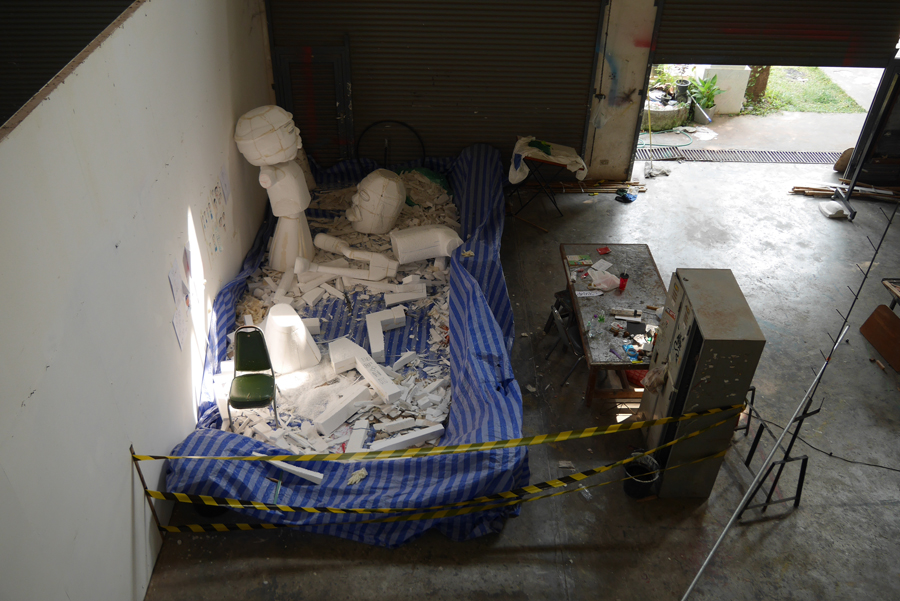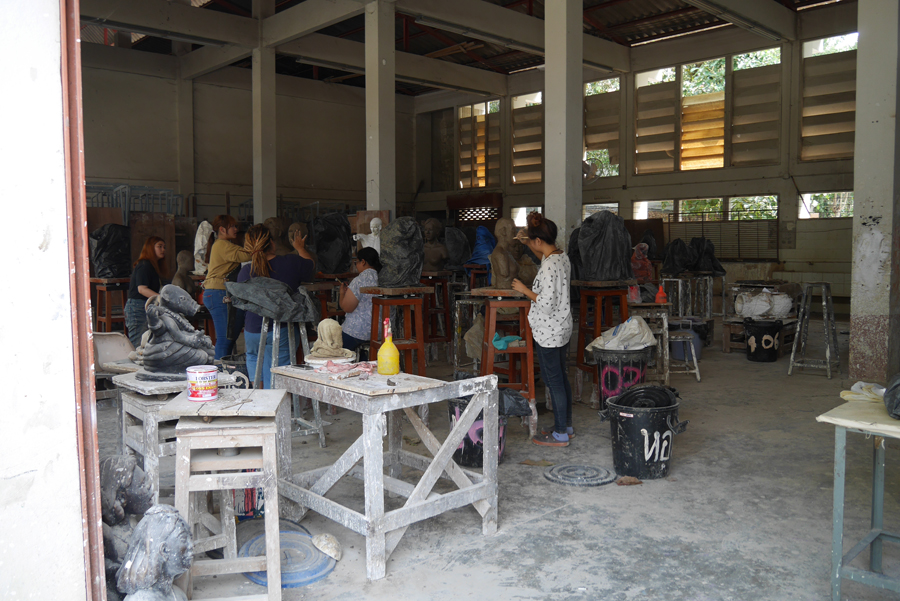 This is Mr. Anurak Tanyapalit guiding us. Thank you!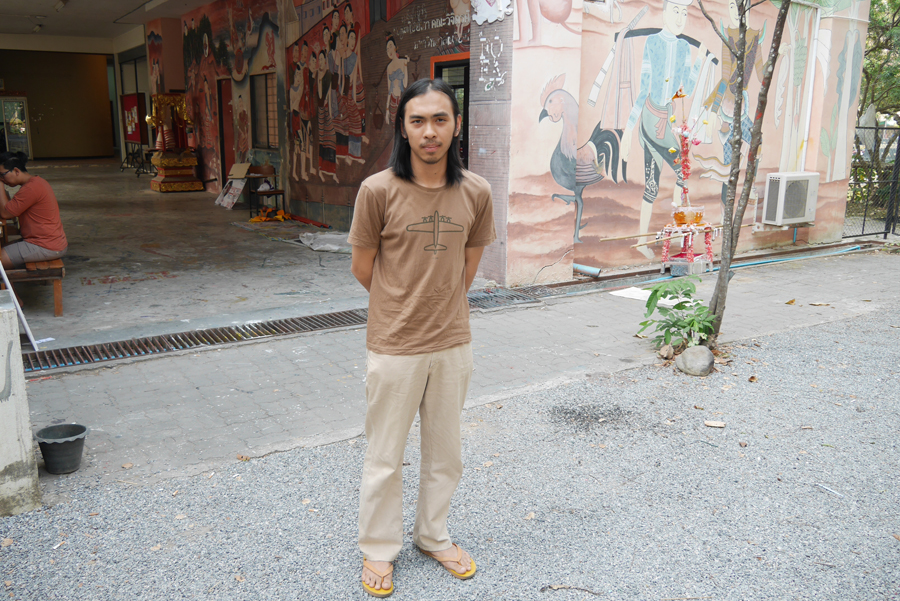 Hey Yhod, I have almost run out of energy. Can we finish our tour? Then we arrive at the last place. Here is Maa in Soi, a bar where many artists, designer and photographers gather. I hear this name means "Dog on a lane" in Thai. Ms. Chontida Pramede, the founder who gave it such a cool name started this bar so that artists could gather and talk to each other in a calm place. It is open until late at night.
Ms. Chontida Pramede, managing the place on her own.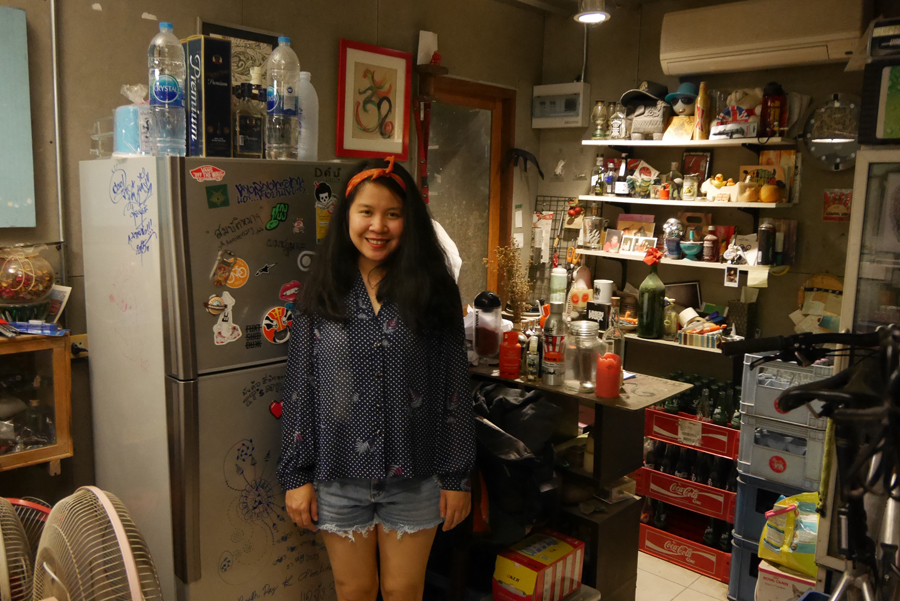 This tiny bar stands in the middle of a residential area. Of course various people as well as artists come and chat. Also on this day young artists come, one after another. Our artists from ongoing come as well. Everyone gets really lively, while I am already exhausted and almost fell asleep.
Excited Ide.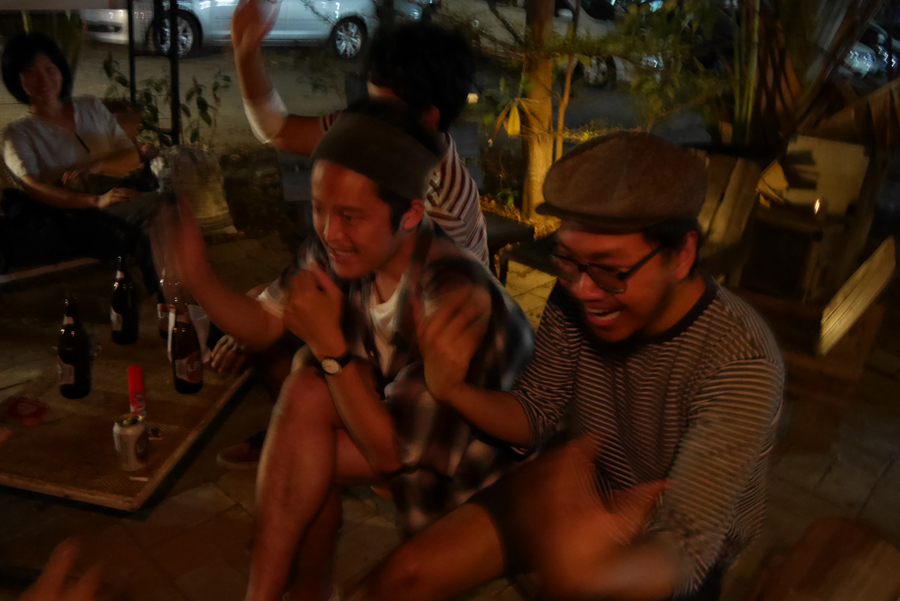 Probably there are not so many places like this in Chiang Mai. It is very cozy and lovely here. Even though I am half asleep, I can feel that.
We end by taking a picture with everybody. The guy with a bandage is my man Yhod.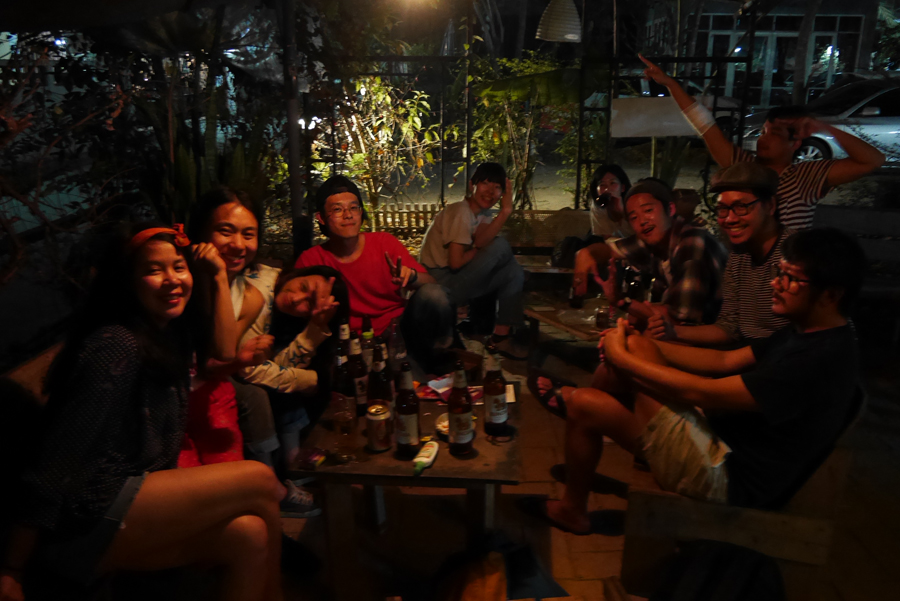 Dogs playing and drinking.
Maa in Soi
https://www.facebook.com/maainsoicm/
Hey, man, I have toured a lot of places!
You made my day, Yhod! Looking forward to tomorrow too!!!
Ne'-Na Contemporary Art Space

99 M2 Phahonyotin Rd. Nanglae, Muang Chiang Rai
Established Year: 1998
Facility and Activity: Restaurant, Workshop, Residence, Talk, Music Event

The Land Foundation

48 Moo 1, T.Banmae A.Sanpathong, Chiang Mai
Established Year: 1998
Facility and Activity: Residence, Farming, Meditation

Pongnoi Community Art Space

Wat Pong Noi, Chiang Mai
Established Year: 2008
Facility and Activity: Gallery, Art Class, Workshop, Music Event

Maa in soi

Chomdoi Rd. Kankhlong Chonprathan Near Bang Chak Gas Station and University, Chiang Mai
Established Year: 2009
Facility and Activity: Bar, Talk