8 March 2016|International Art Space in a Village(Baan Noorg Collaborative Arts & Culture)
After leaving Myanmar, I came back to Thailand.
Well off we go again!
Last night I came back to Bangkok.The hotel I stayed at was surely haunted, and as I felt that there was some kind of weird presence, I could not sleep well. Anyway I should head to my next destination. Today I will go to a town called Ratchaburi by highway bus. After three hours of being jolted around and prepared to die in the speeding highway bus again, I get off when a kind fellow passenger tells me that it's my stop. But since I don't know the exact location of my destination, I have to walk around to find the place burdened with my heavy luggage. It is also as hot as hell! And on top of that, I can not find anywhere that looks even close to my destination. I go around under the blazing sun, and ask locals for directions, but nobody can speak English. As I roam around, almost crying, a young man from a car repair shop gives me a ride on his motorbike, as he feels too sorry for me. He also can not understand English, but when I show him the name of the place I need to get to, without any hesitation he takes me straight to the entrance of a mansion. Apparently this is my destinationl,Baan Noorg Collaborative Arts & Culture.
I'm really relieved when I arrive finally.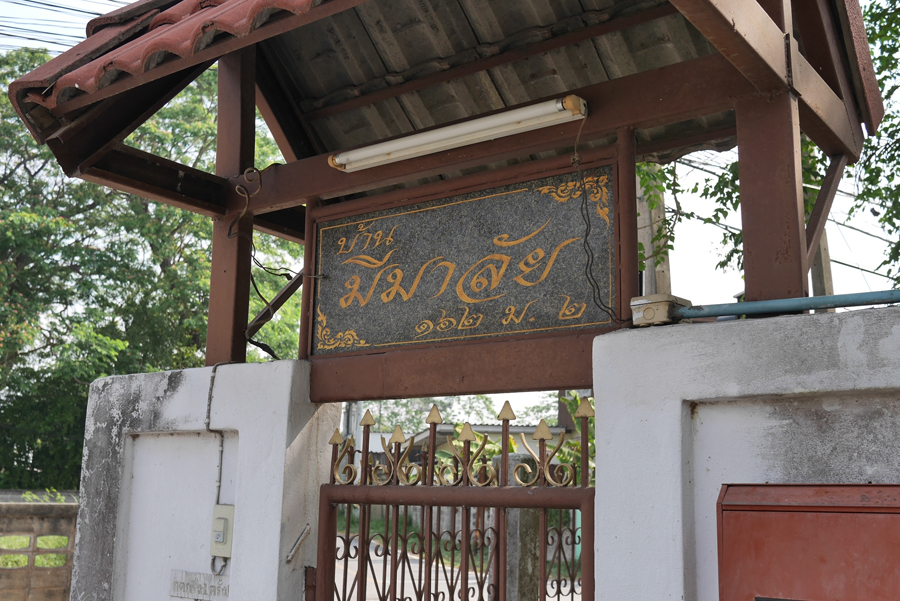 Mr. Jiradej Meemalai and Ms. Pornpilai Meemalai welcome me. They are the founders of the space and are also known as an artist unit "JIANDYIN".
It's a very beautiful place.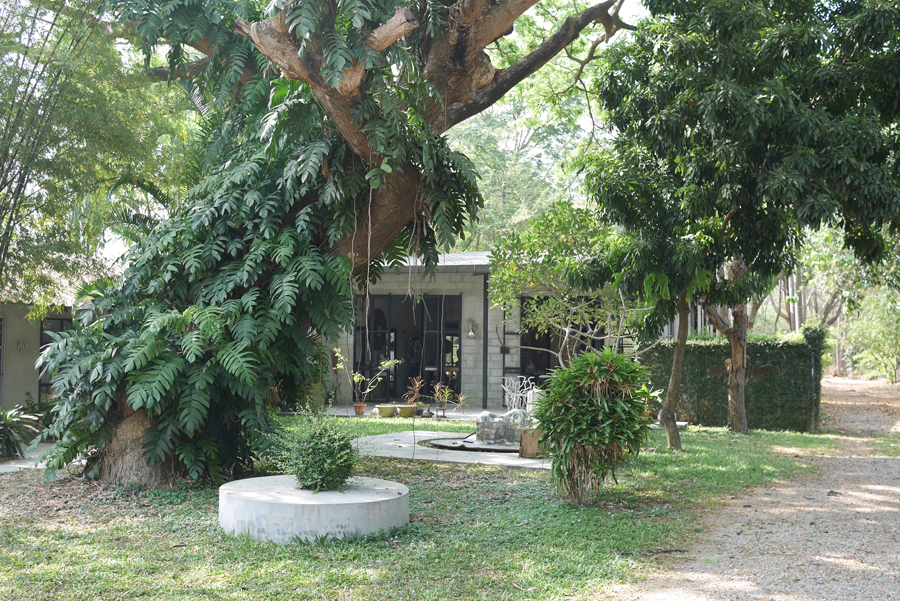 Mr. Meemalai was born in Ratchaburi but left this village when he was 15, and didn't come back until he was 32. In 2002 he started working with Ms. Pornpilai as the artist unit JIANDYIN and they participated in many exhibitions in Thailand and abroad.
This is Mr. Jiradej Meemalai a.k.a JI.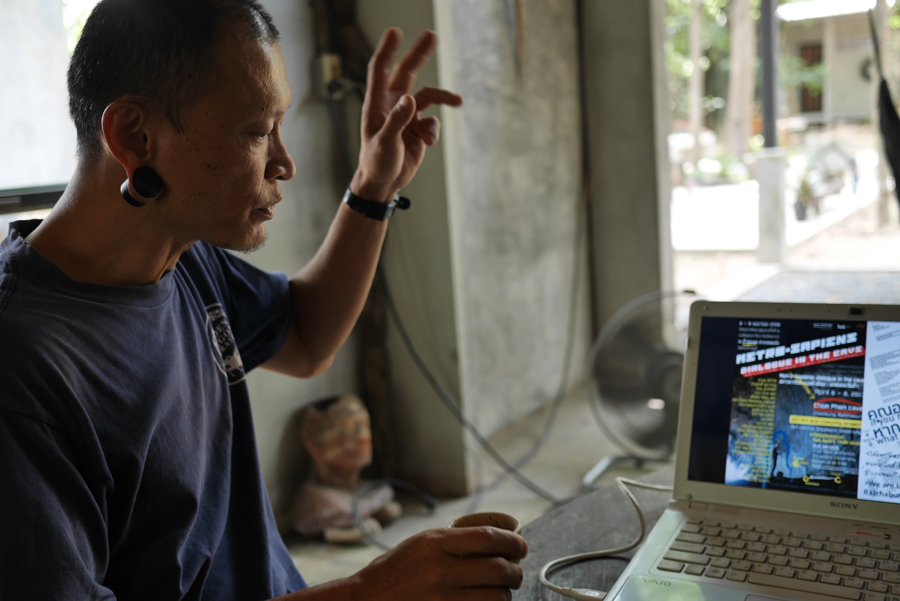 They began to build their studio themselves in Ratchaburi, Mr. Jiradej's hometown, in 2006, and completed it in 2008. At that time, they said that they came to realize how difficult it was for artists to communicate with local people living in rural areas. And after their solo show in 2009, they lost interest in continuing activities only in the contemporary art scene. They began to think that it was more important for them to make connections with the local community and that art should be used to make good relations among people, society and the environment. After that, they participated in an Asian Cultural Council (ACC) grant program for overseas research in 2010, where they learnt about different ways of surviving as artists all over the world. It was then in 2011 that they opened Baan Noorg Collaborative Arts & Culture.
The exterior of the residence and studio.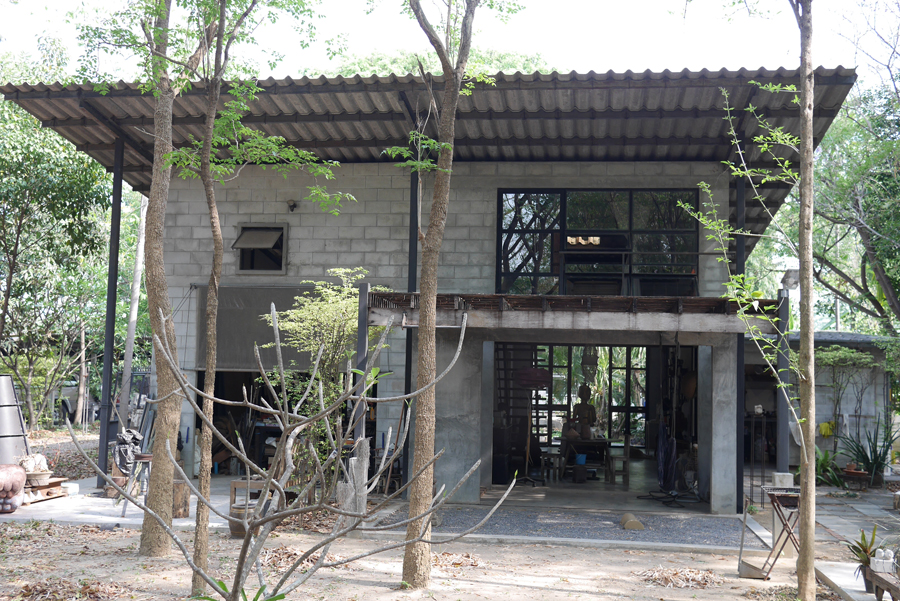 The residence space is on the second floor.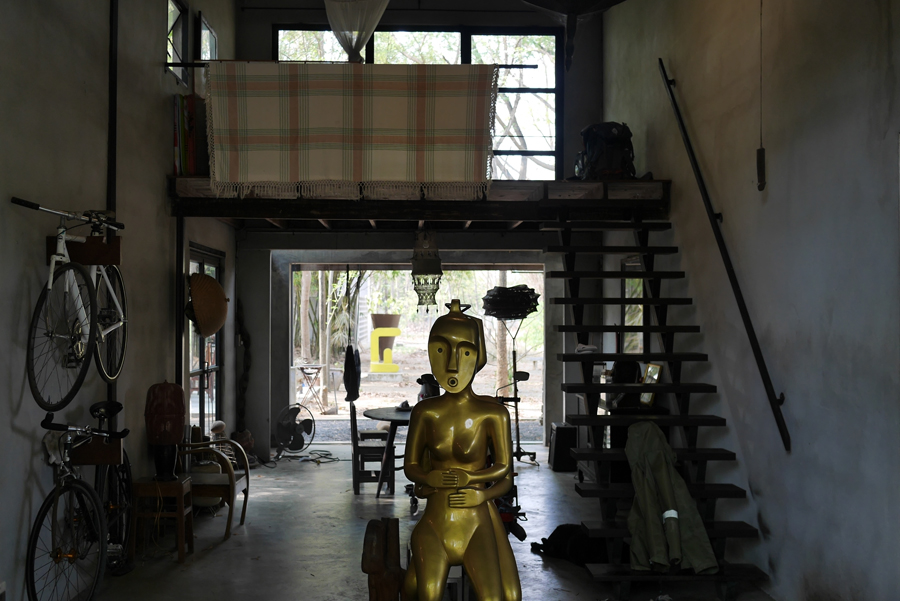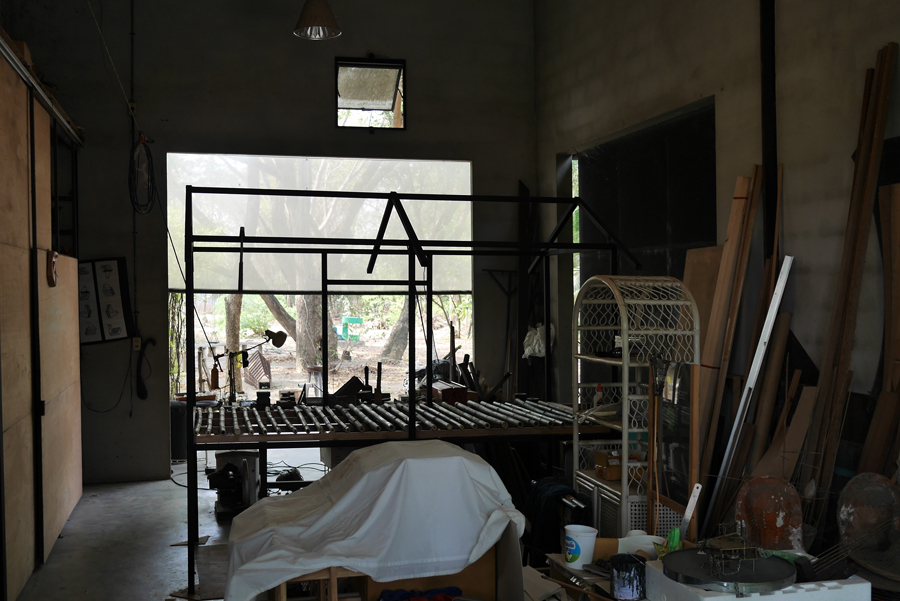 It has a huge garden. They planted the trees themselves.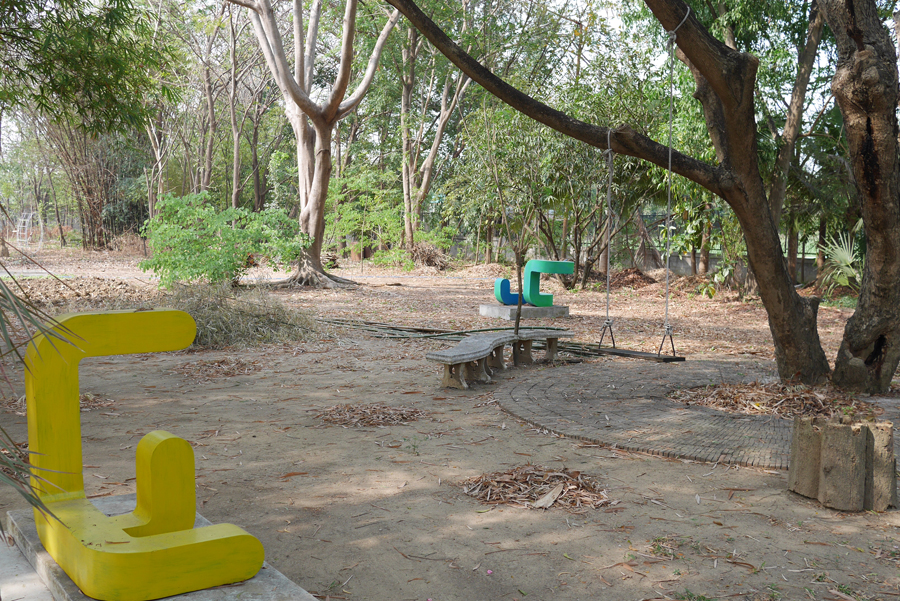 It also has a dining space in the garden.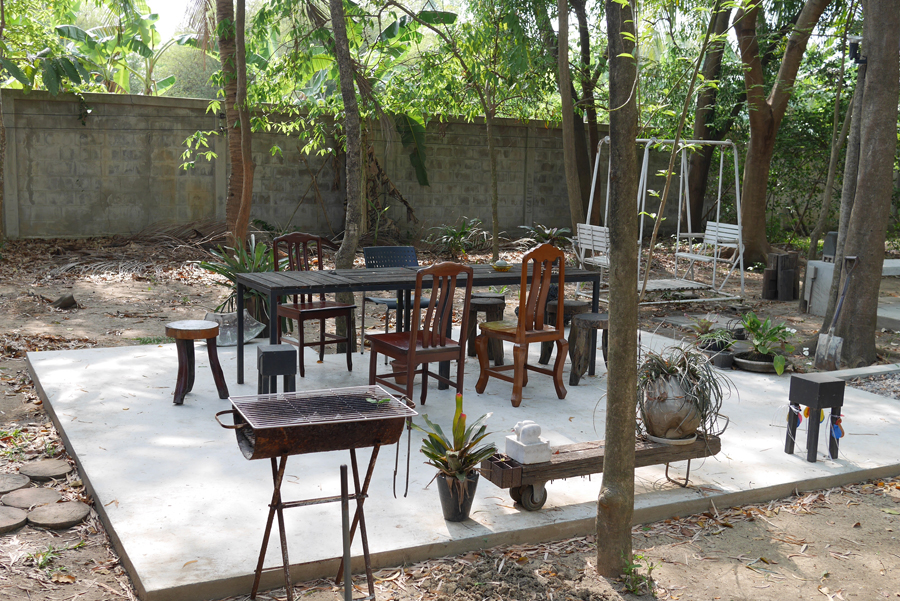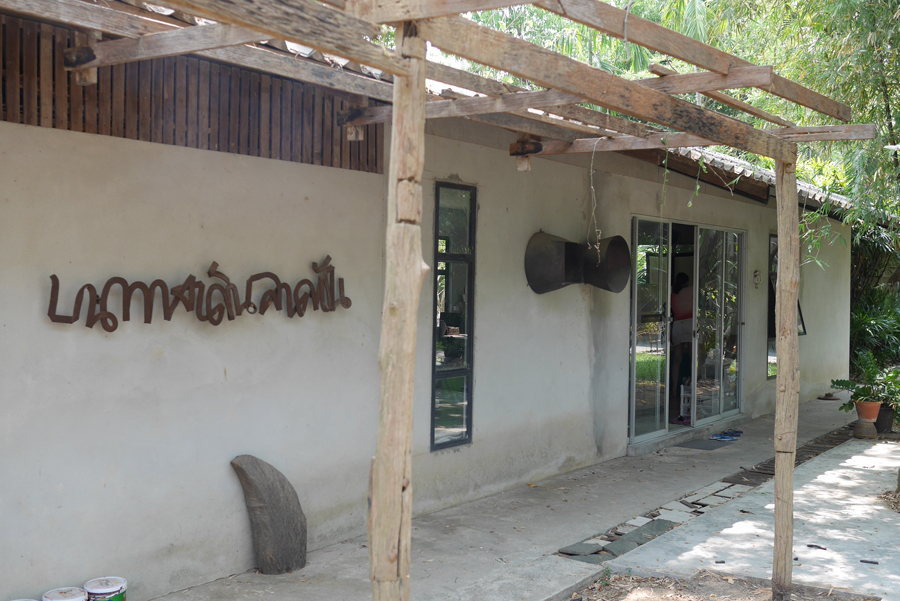 Artists can stay at the residence and work in the studio. They can also use it as their base whilst working on many projects in the surrounding areas. For instance one of their projects is a movie making workshop for children aged between 5 and 15 years. In this biannual project, contemporary artists participate as lecturers, and produce movies with children, afterwards the artists and children go abroad together to countries such as Taiwan or Germany and have screenings of the work they produced as well host workshops. In another project, the children who participated in the movie making workshops introduce young artists in their twenties to the local villages of the area. Both of these projects have a core concept of connecting local regions and foreign countries together through art. Perhaps it is because their actions have permeated so well throughout this local community that the young man at the car repair shop who helped me when I was lost, knew of this place straight away. I guess he thought that any foreigners who came to Ratchaburi would immediately be related to Baan Noorg Collaborative Arts & Culture.
Whilst Baan Noorg Collaborative Arts & Culture looks to spread out more and more internationally, at the center of all their actions lie the small villages, the local communities and the art which connects these together.
The two members of JIANDYIN.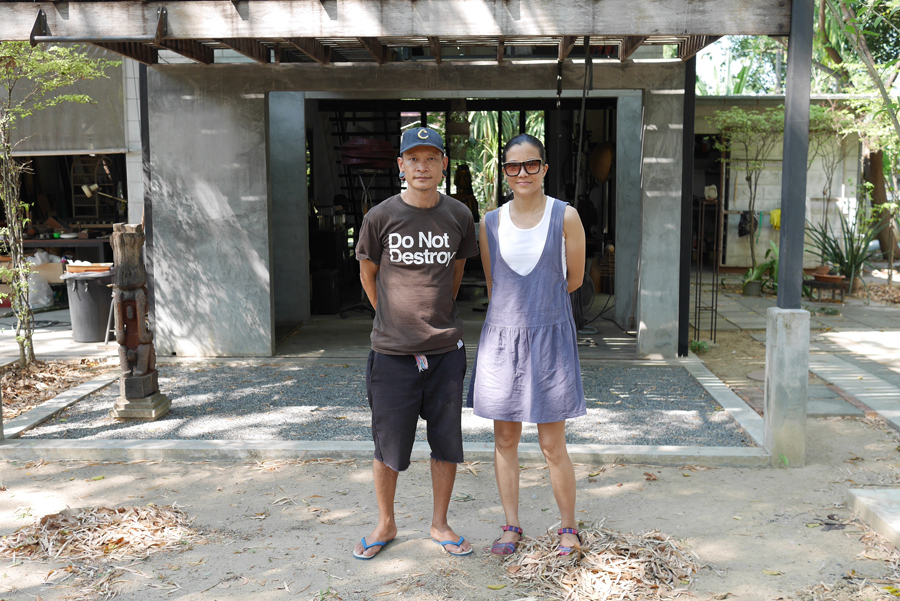 A village producing magnificent art.
Baan Noorg Collaborative Arts & Culture

https://www.facebook.com/baannoorg/?pnref=story
I also get to stay at this residence overnight. We have a BBQ dinner. It is very fun and relaxing here.
Building a fire.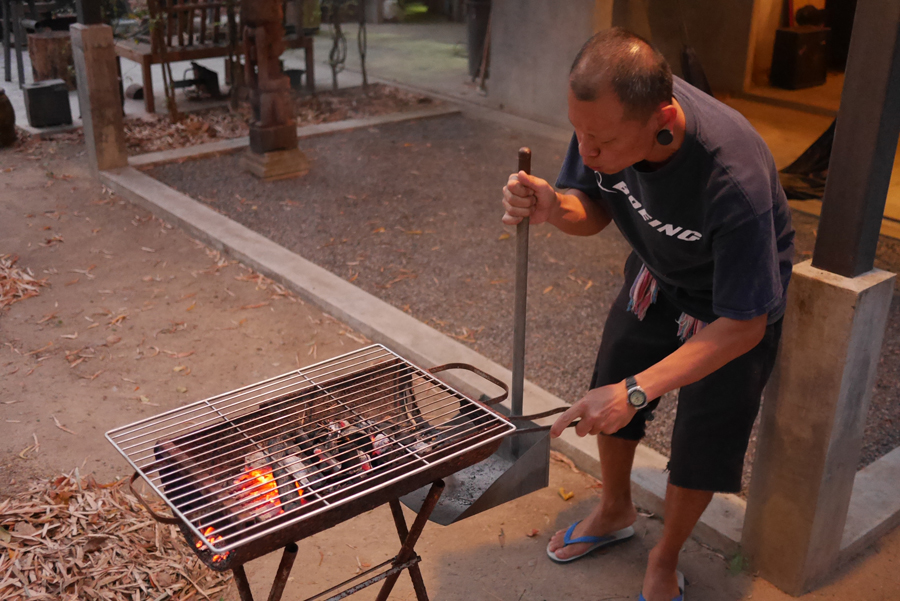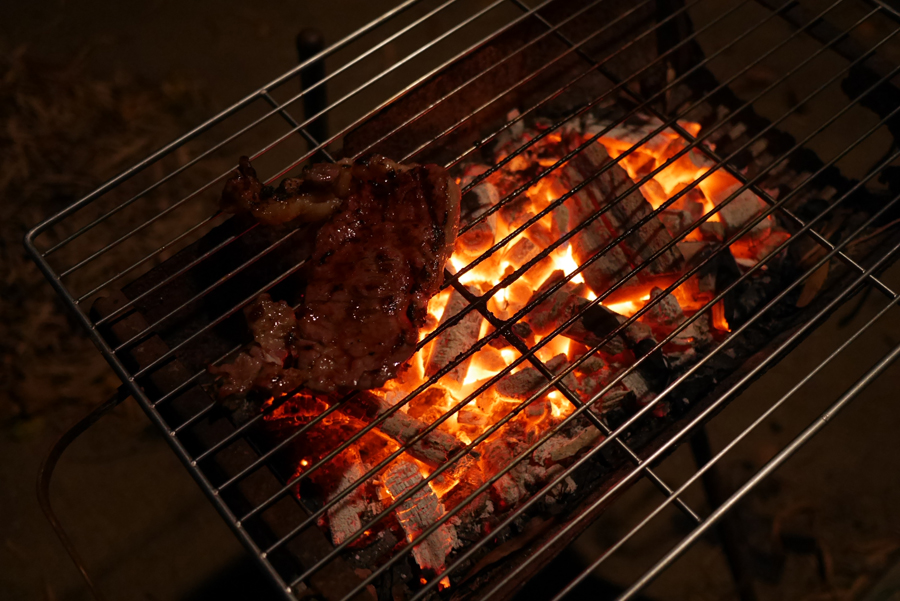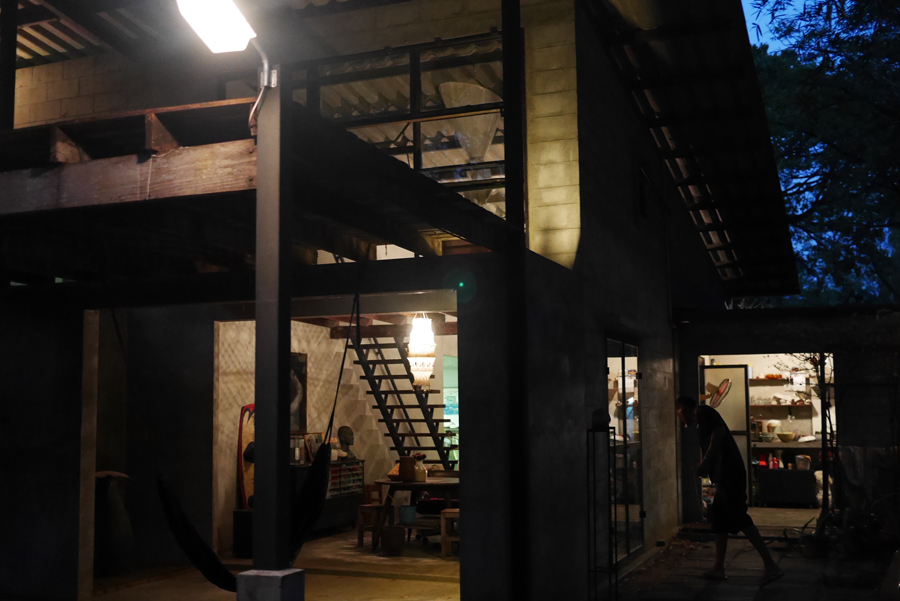 JIANDYIN are my reliable comrades. Thank you very much! I'm looking forward to working with you in the future!
Well to continue, next I will be going back to Bangkok.
Baan Noorg Collaborative art & culture

162 Moo 2 Nongpho, Potaram, Ratchburi
Established Year: 2011
Facility and Activity: Residence, Talk, Film Screening, Workshop, Planning and Coordination of Art Project