15 March 2016|Kindness Goes beyond Borders(Findars 無限發掘)
Three days have passed since entering Kuala Lumpur (KL). Today, I visit a space where I have taken part in a residency program on the top floor, Findars 無限發掘.
This is the 4th floor of the building.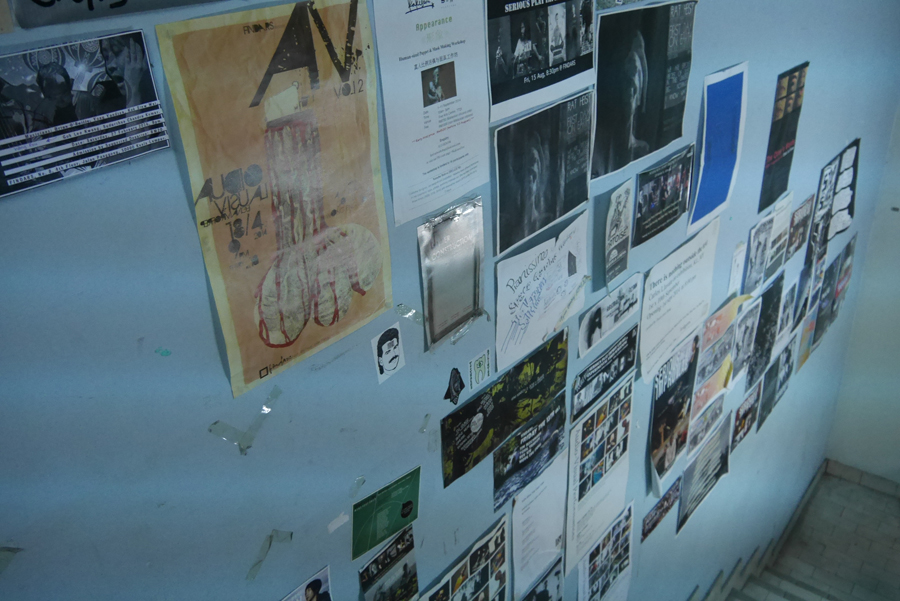 I speak with members, Mr. Wong Eng Leong, Mr. Tey Ben Tze, Ms. Wong Min Lik, Mr. Bannai Roo, and Mr. Lim Keh Soon. The same four people, who were attending the same art school in 2008, formed Findars. After that, through several changes in membership, it moved to its current space in 2013. In addition to visual art exhibitions, there are also live experimental music events, video screenings, talk events, workshops and more. Together with a bar inside the room, there are also residence spaces. The management depends on entrance fees, bar sales and rental fees to operate the space.
This is the main space.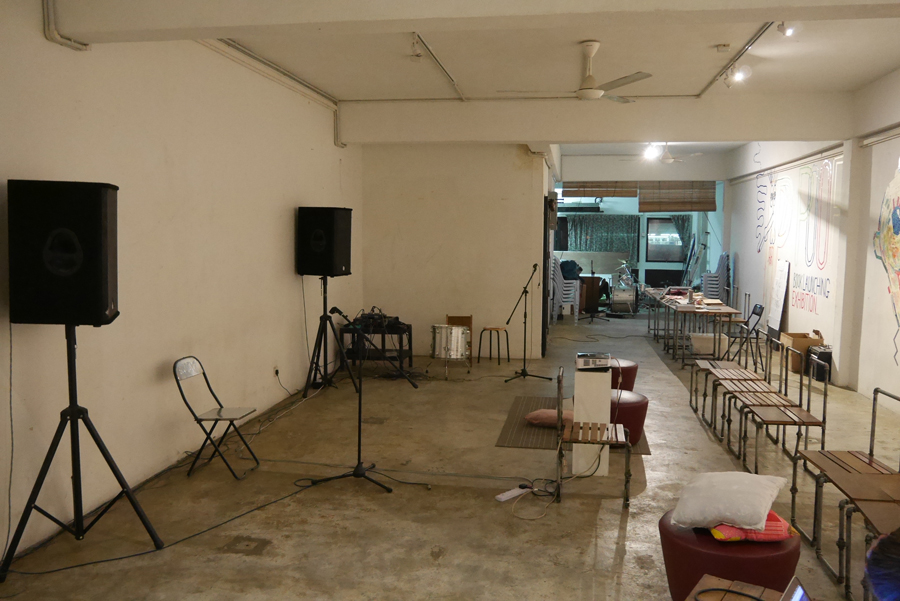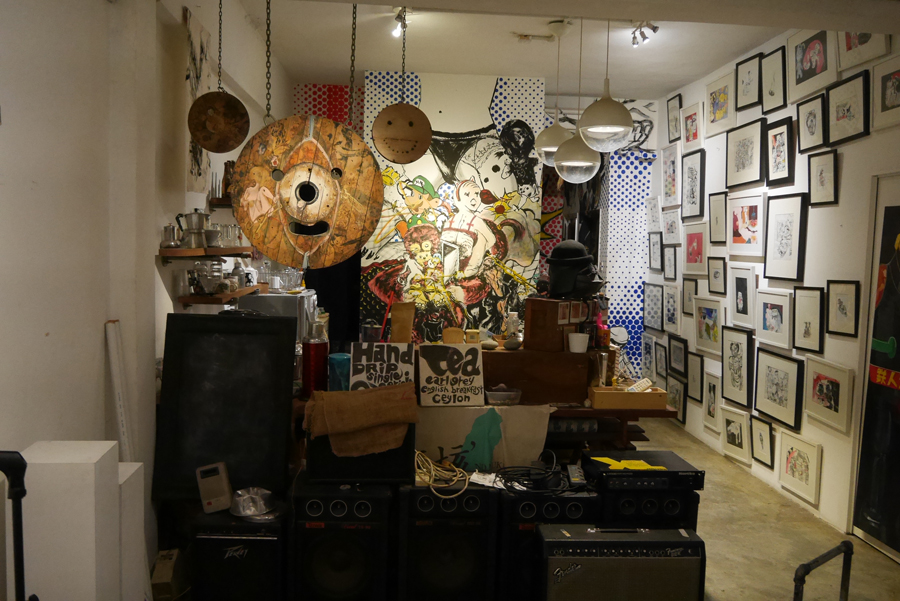 The day I visit the ZINE exhibition.
All of the members have work outside of the space, and at Findars they only organize projects that interest them. Conducting meetings on Facebook, they decide how to manage the space with everyone equally sharing and discussing their opinions.
Sometimes there is an impromptu music session.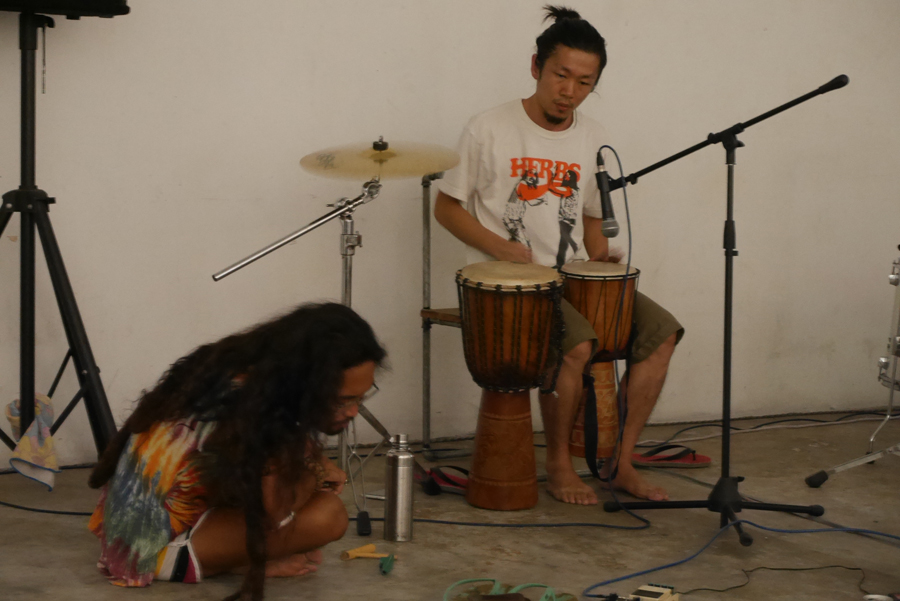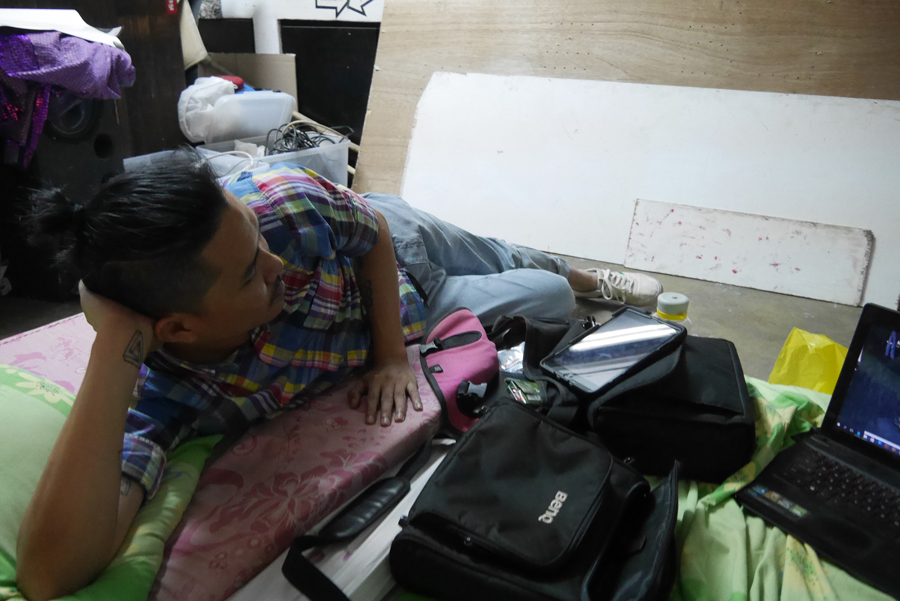 In Malaysia, there are three different ethnic groups: Malay, Chinese, and Indian. All members at Findars are Chinese but there is no race restriction for the audience. A large number of young people from various walks of life come in and out. Many times, international artists and musicians have also organized exhibitions and live performances. They sometimes carry out a project outside of the space and, altogether with artists and musicians, they hold anti-racism projects in town.
The member Tey Ben Tze (left) and Wong Eng Leong (right)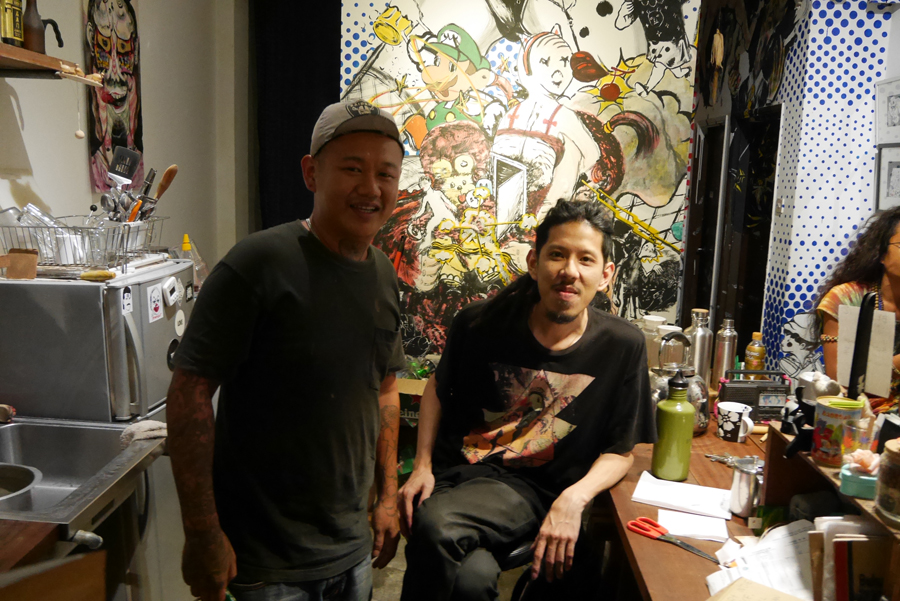 I ask the reason why they established this space and they laughingly tell me, "We were bored." They are almost all of the same generation as me, and the year they started the space is the same I did. It is not easy to manage and there are problems, but they continue because it is fun, they say. They are very kind and agreeable people.
During my stay, I visited the members' atelier.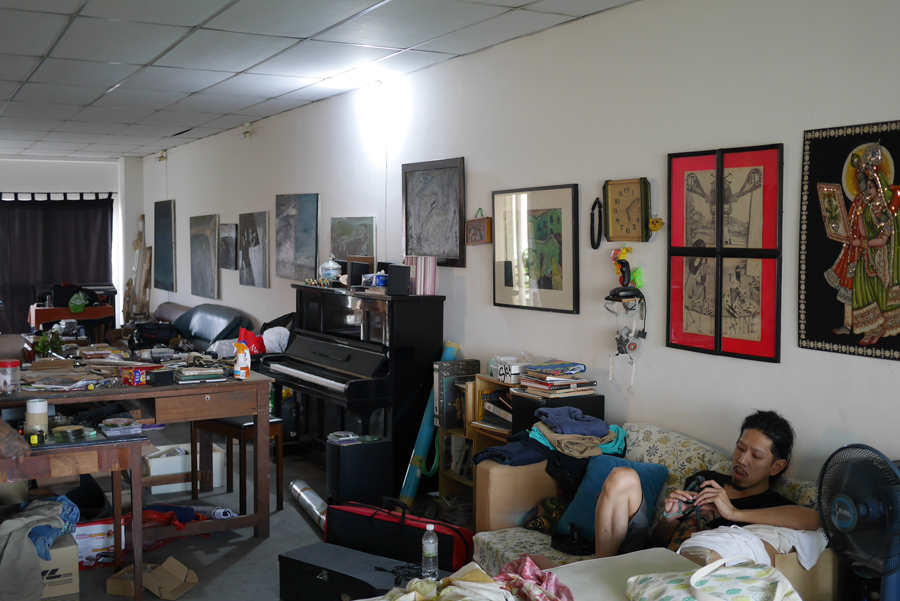 They share the atelier with musicians and it was really big.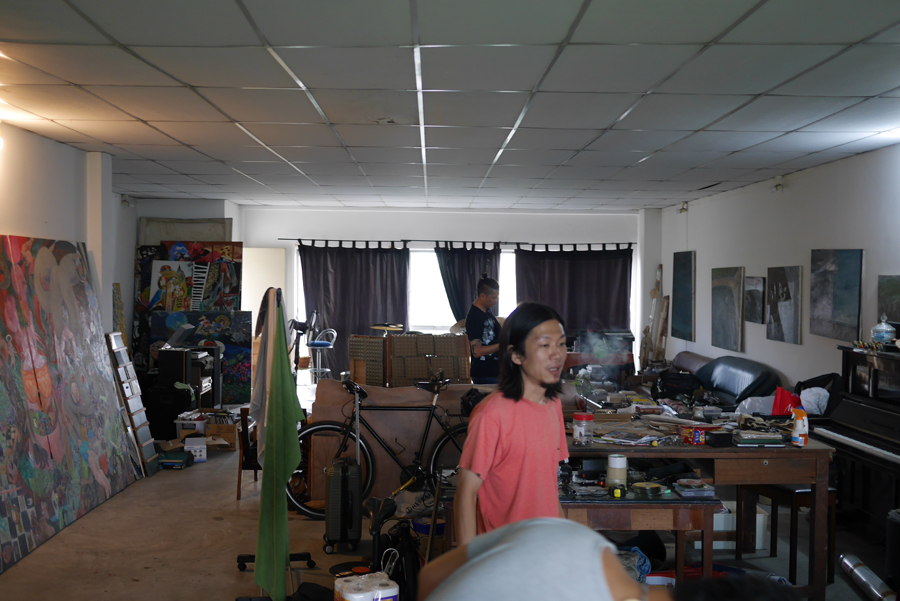 With video artists from Italy, who came for video and workshop events at Findars.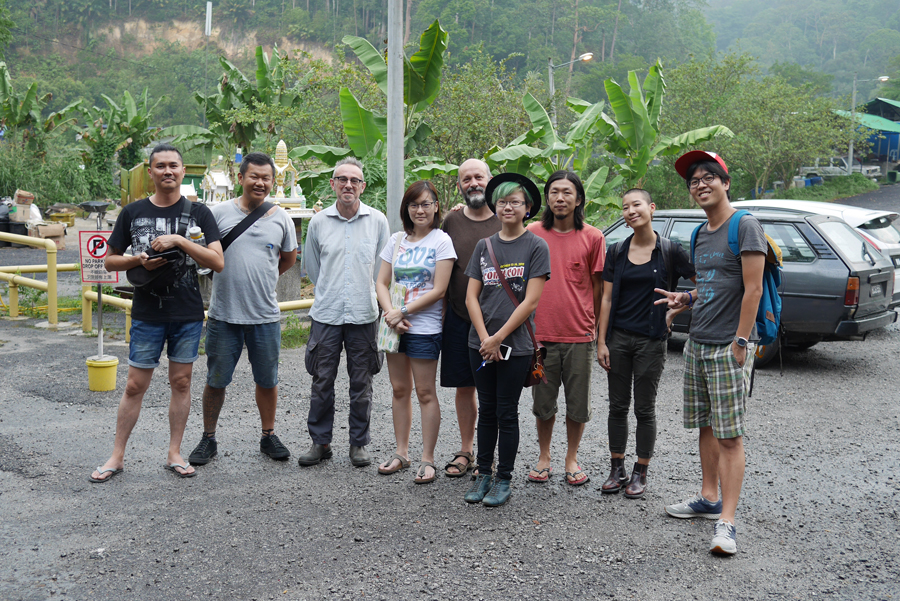 They took me to a lake on the top of the mountain.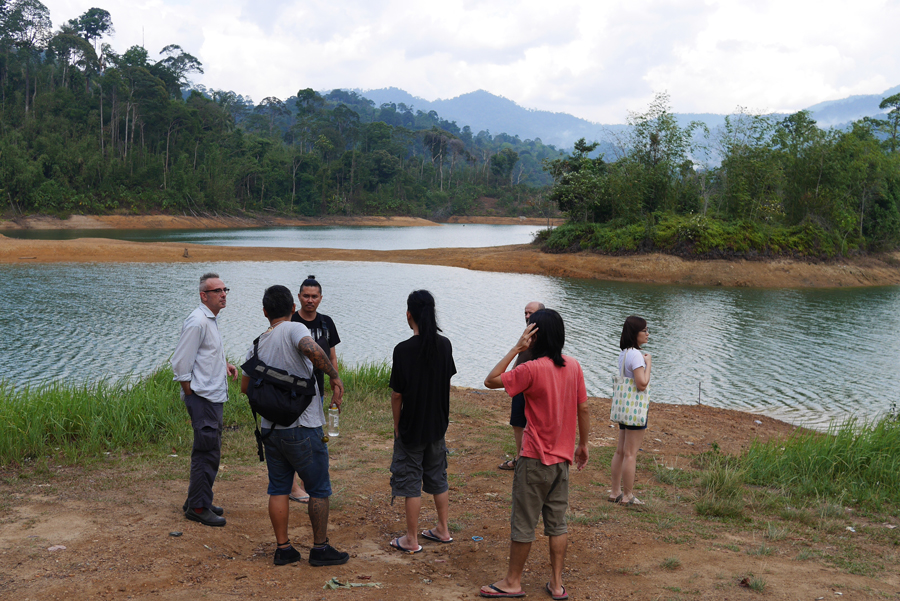 They are easy-going and always smile, and the art space is the kind of place that I can feel comfortable in.
Whichever, art, music, or even people.
Findars 無限發掘
http://findarskl.wix.com/findars
https://www.facebook.com/FINDARS/
From tomorrow I will go to a place a little outside of KL, in the suburbs.
無限發掘 FINDARS

No.8, 4th Floor, Jalan Panggong, Kuala Lumpur
Established Year: 2008
Facility and Activity: Gallery, Music Event, Residence, Talk, Film Screening, Workshop, Planning and Coordination of Art Project