16 March 2016|Art and Music in a Suburb(HOM Art Trans, Live Fact)
Today I come to Ampang from central Kuala Lumpur, an hour's drive by car. Ms. Suzy Sulaiman, a Malaysian researcher whom I met at 98B in Manila when we were both participating in a residency program, showed me around. She is also part of the Asia fellowship from Japan Foundation, and travel for 3 months to research about Japan and Philippines (bringing along her daughter, Teja!!). They returned to Malaysia a little while ago. Upon sending a message of my coming to Kuala Lumpur, she responded, saying that she would introduce me to two spaces that she knows well. It is a happy moment to meet with Teja again. Then we come to the art space "HOM Art Trans".
You will see it once you climb the stairs.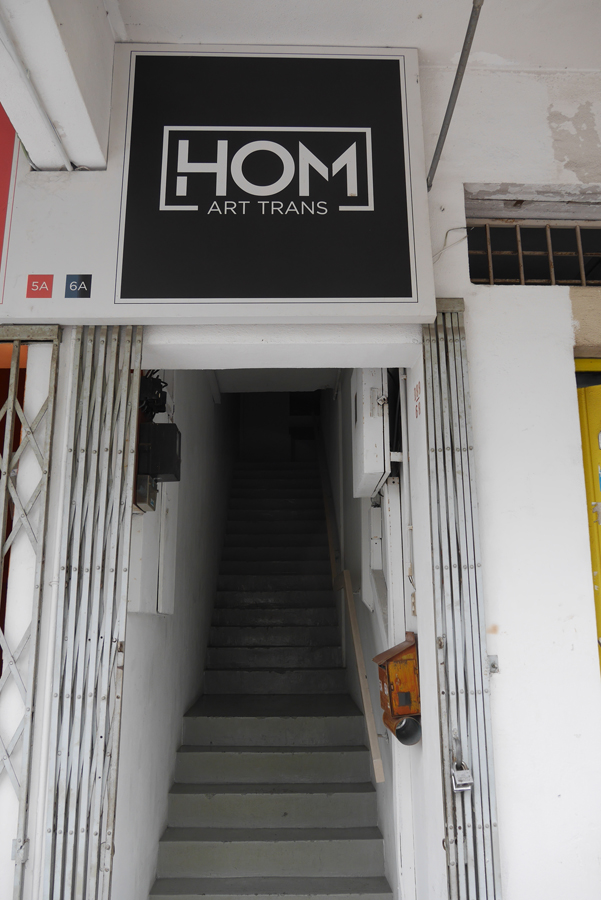 Suzy's friend, Ms. Mimie Baharuddin (the manager) talks to me. She is very Malaysian lady.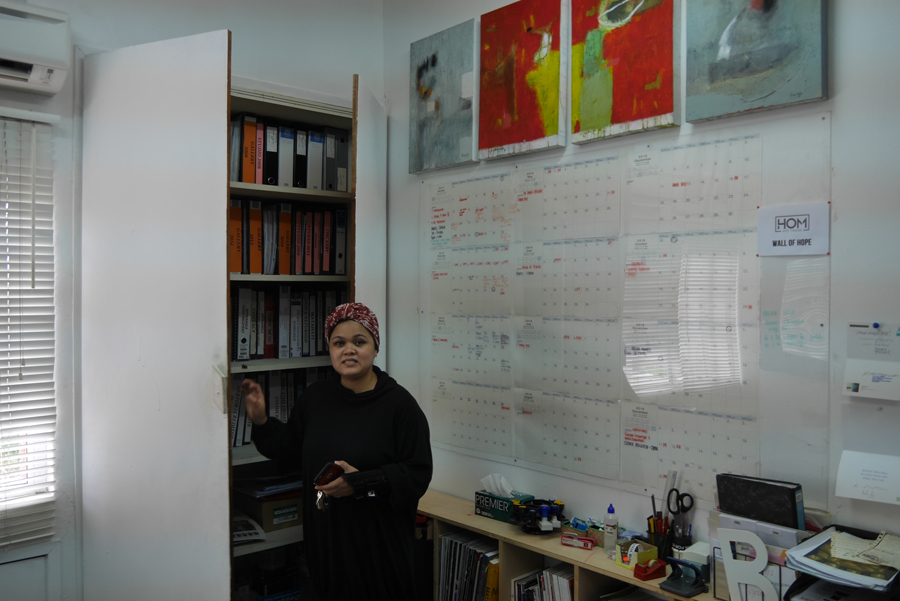 HOM Art Trans was established by an artist, Bayu Utomo Radjikin, in 2007. It is an art space containing a gallery, residence space, and archive rooms. Special exhibitions are held in the gallery every month and they introduce not only local artists, but also international artists, and they have exchange programs with Southeast Asian spaces.
A very remarkable gallery.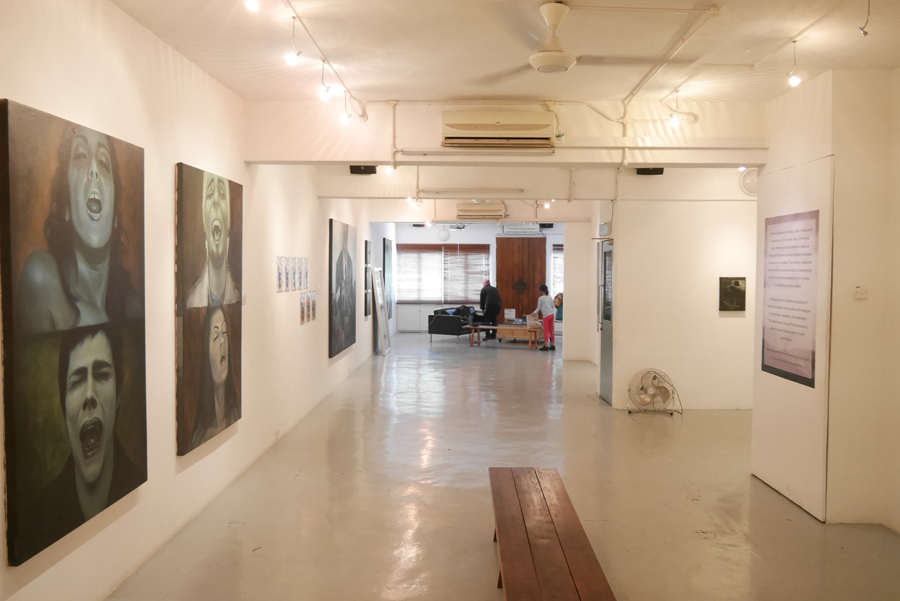 When I visit, they are holding a Southeast Asian artists' group exhibition.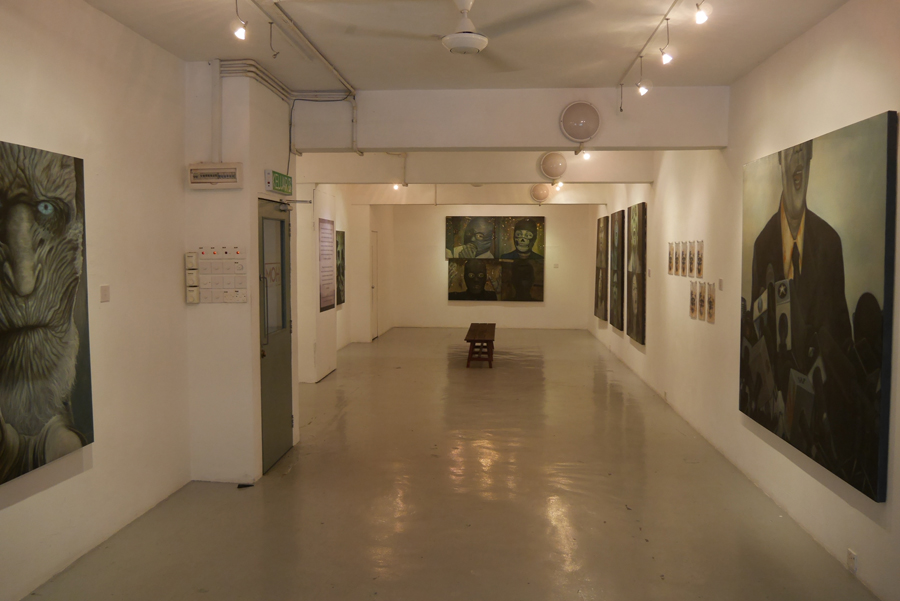 Once every two years, they host art awards, in addition to other events, targeting young artists, and I imagine it is not a privately managed art space but rather an institution. It keeps archives very well and I am overwhelmed by the abundance of past reference material.
Catalogues in a row for previously organized exhibitions.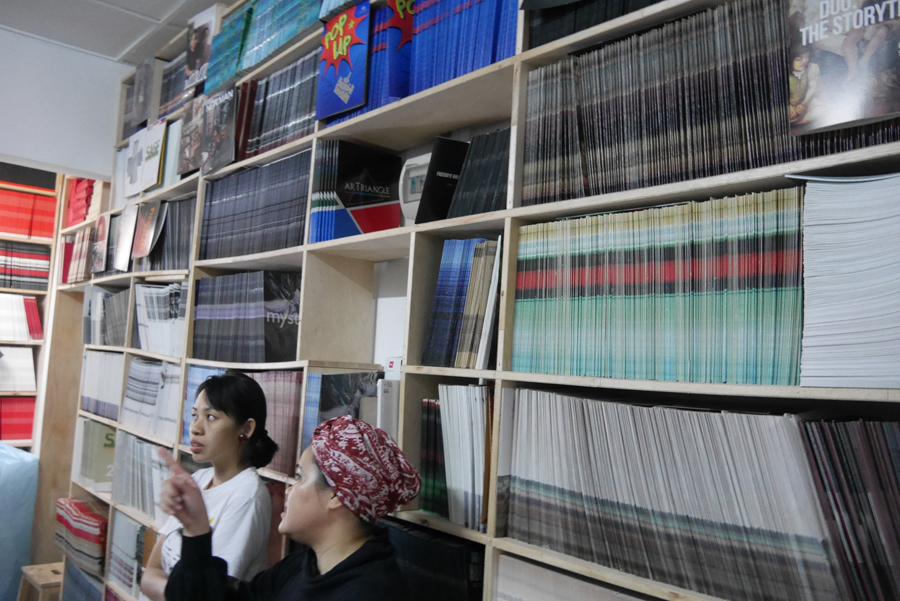 The stock room for works and at the back is the residence space.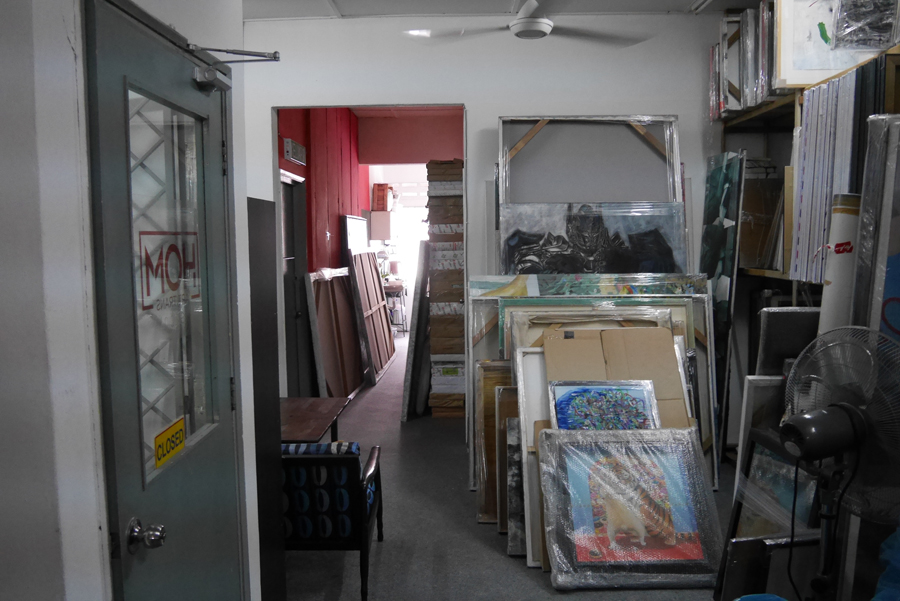 This is the archive space, divided by year.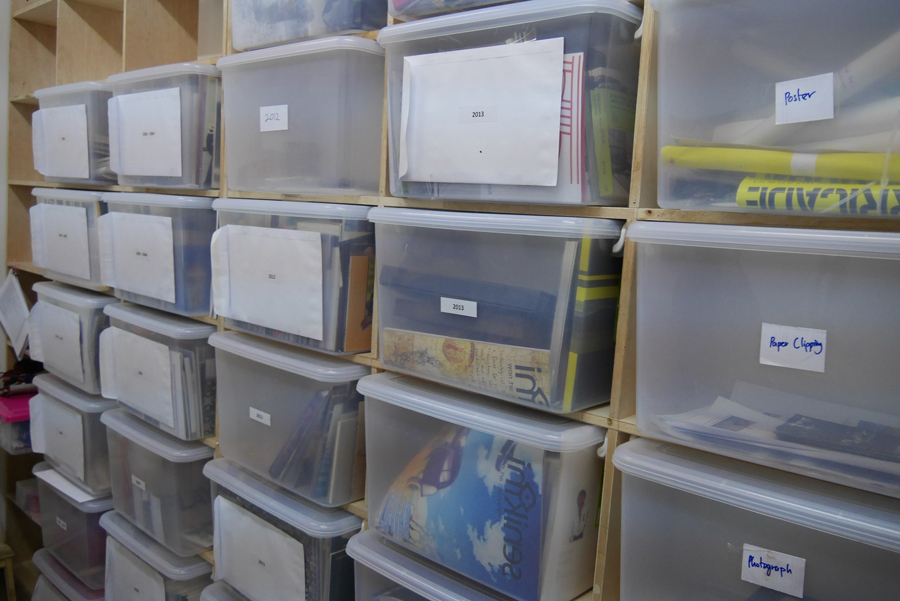 Not only artists, but sometimes curators also participate in the residency program and organize talks, symposiums, and workshops. The management generally depends on the gallery's profits and so I am given the impression that it functions as a commercial gallery. Well, it is very solid.
At the end, taking a photo together with Suzy and Teja.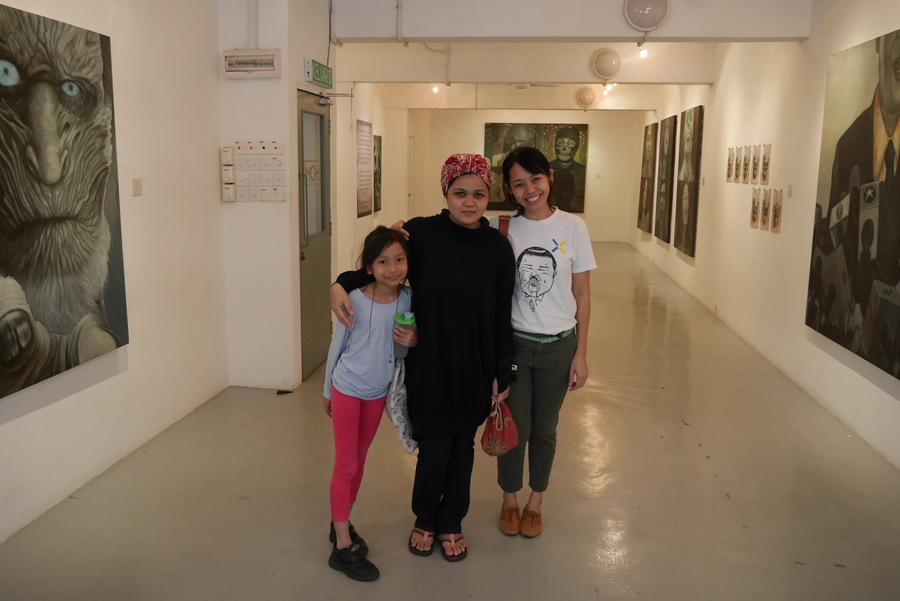 Amazing quality as a privately managed art space.
HOM Art Trans
http://www.homarttrans.com/
https://www.facebook.com/Homarttrans/
As the sun set, I come to Live Fact. It is a space for music rather than art. However, not only in Malaysia, but also in Southeast Asian countries, the music and art scenes are strongly connected, and the musicians and artists understand each other. I think it would be good if Japan were to become like that.
This is the door at the entrance.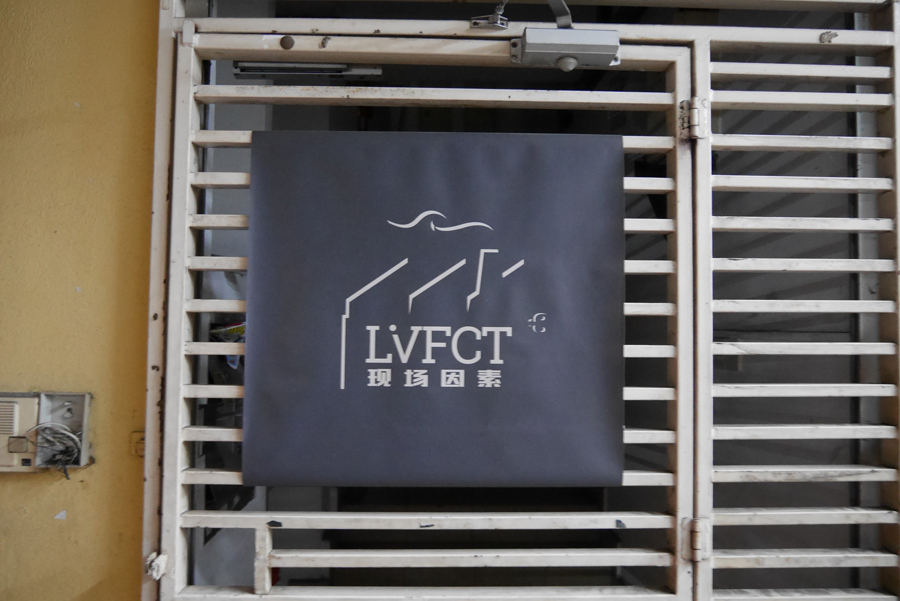 The person who speaks with me is a founder, Mr. Mak Wai Hoo. Live Fact was opened in May of 2015. It comprises a live space, recording room, and rehearsal space together. He shares with me that in addition to music events, they also organize talks, screenings, workshops and more, and carry out a visual artist collaboration project too. Mr. Mak Wai Hoo has been producing music events since 2001, under his own imprint – Soundscape Records.
Mr. Mak Wai Hoo. He looks dandy.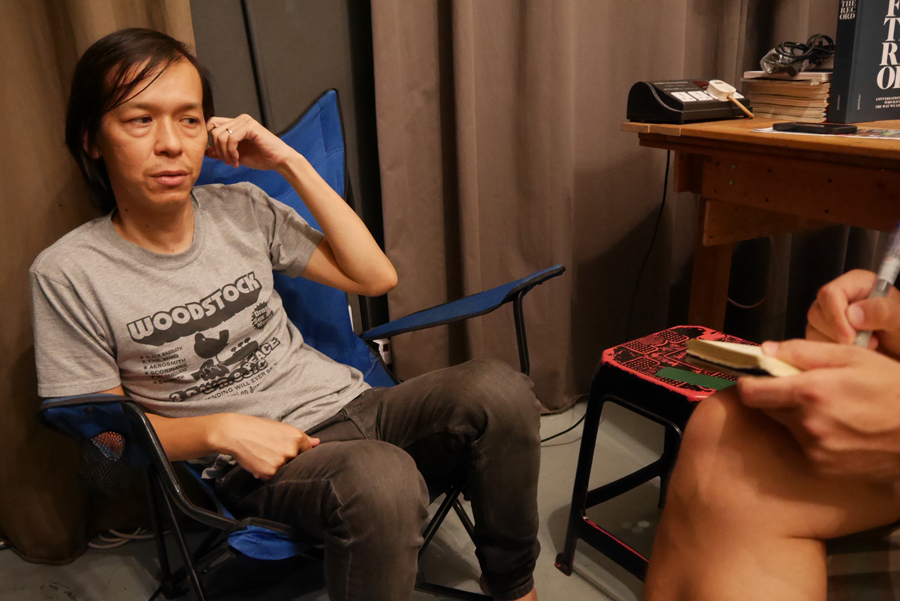 He has own music label and actually he is very talented. Personally he is a very gentle-mannered and good person. In response to that, Live Fact is a very comfortable space to be in.
Just recording.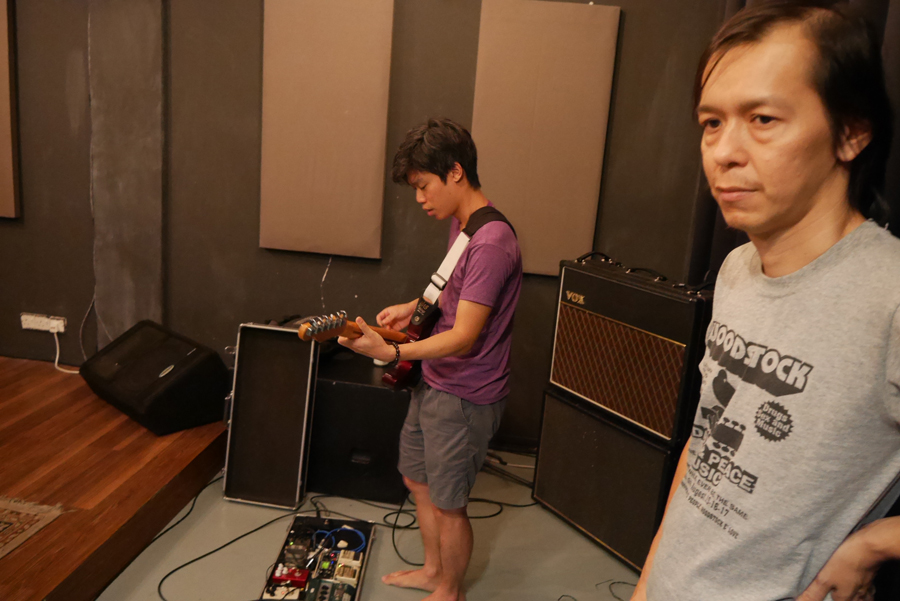 This is a poster of Guevarra. That is cool.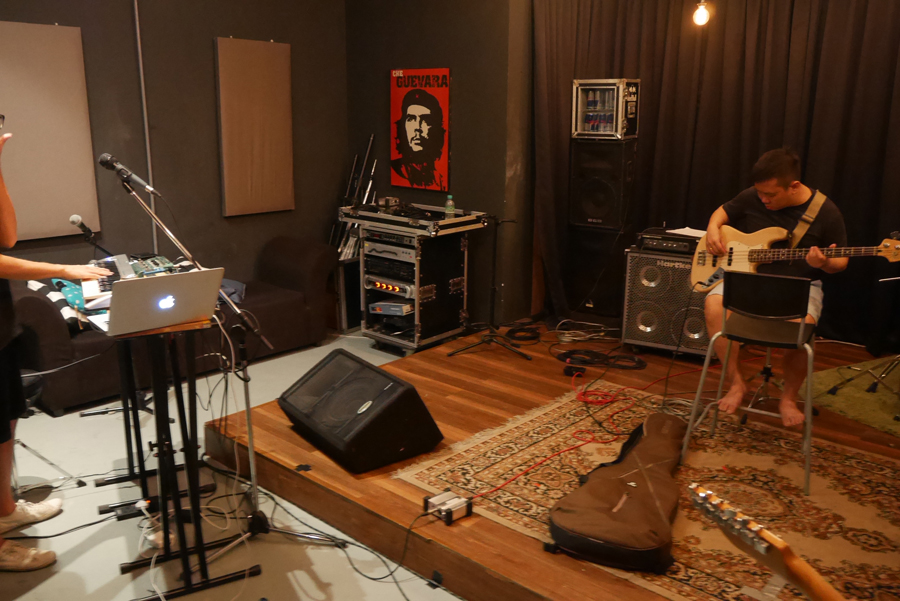 He shares that the management depends on entrance and rental fees for the space, and the money he earns from external music events. World-renowned bands such as toe and MONO from Japan are invited to those events and he seems to have an extensive world-wide network. If there were this kind of place in Japan, I would want to go.
Towing a music scene in Malaysia.
Live Fact

https://www.facebook.com/LVFCT/?fref=ts
HOM Art Trans

6A Jalan Cempaka 16, Taman Cempaka, Ampang
Established Year: 2007
Facility and Activity: Gallery, Residence, Talk, Workshop