18 March 2016|Our Generation Hasn't Lost Hope for the Future (REAL WORKS , Lostgens' Contemporary Art Space, Rumah Api)
Today I plan to hear the story of the space where I am staying, but before that, I say hello to the art space, REAL WORKS in KL.
This is the entrance continuing to the space on the second floor.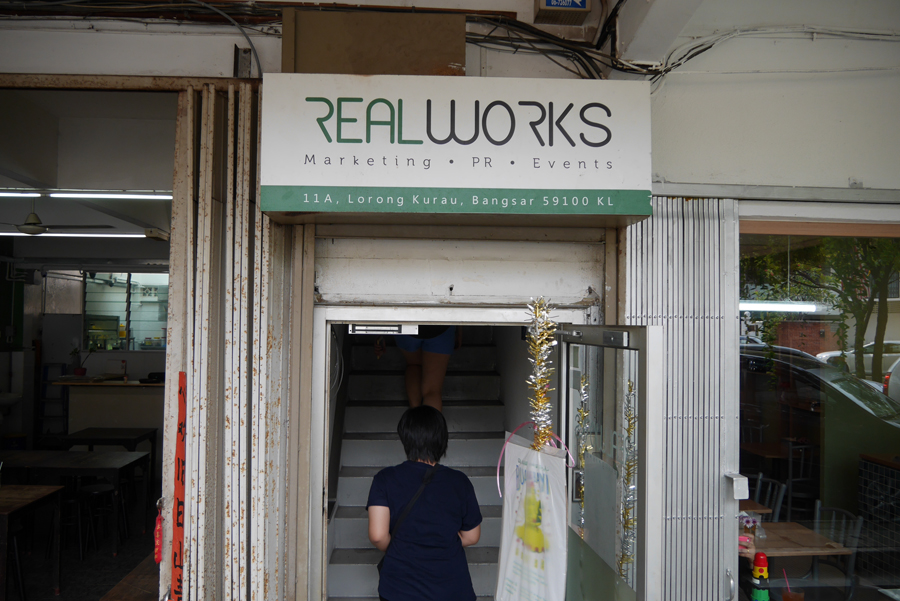 This is the art space managed by Mr. Joe Kidd, known as the God of punk in the music scene in Southeast Asia, and Ms. Yee I-Lann, a contemporary artist representing Malaysia, who used to participated in an exhibition at Yokohama Museum of Art. When I visit, they have a solo exhibition of artist Ms. Shieko Reto.
Holding a solo exhibition depicting LGBT.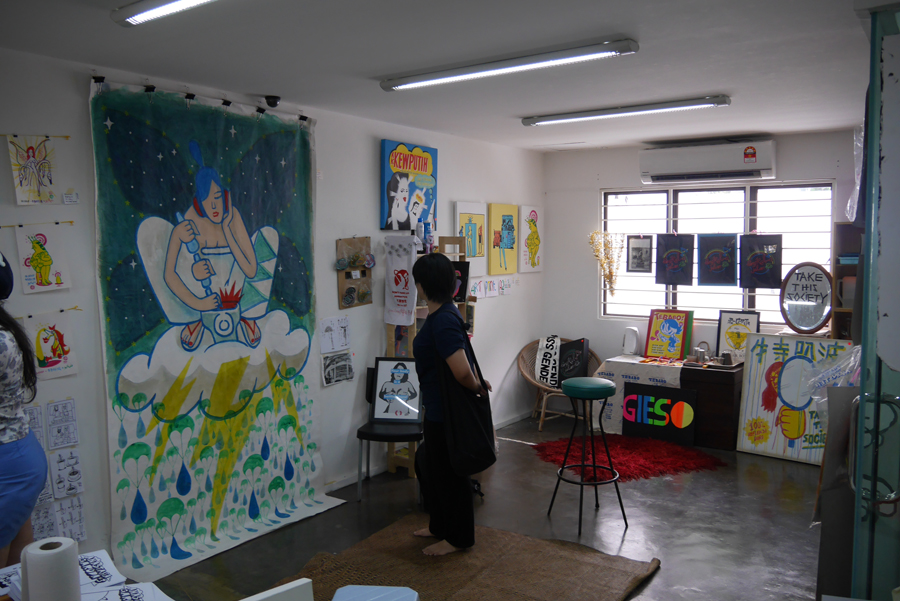 Ms. Shieko Reto, the artist posing in front of her work.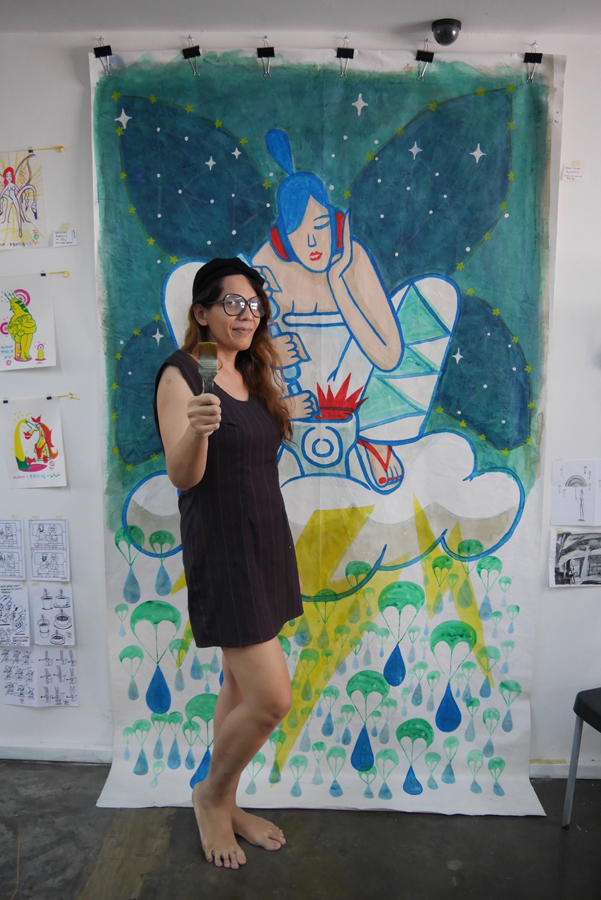 When I talk to Ms. Shieko, Mr. Joe Kidd is in the café downstairs. Ms. Yee I-Lann is busy with an upcoming exhibition and I can't meet with her, but I can meet with Mr. Joe and hear about the relationship between the punk scene and art scene in Southeast Asia in 90's. It is very interesting and good to hear!
A photo with the God of punk (the person wearing the sleeveless top in front of me).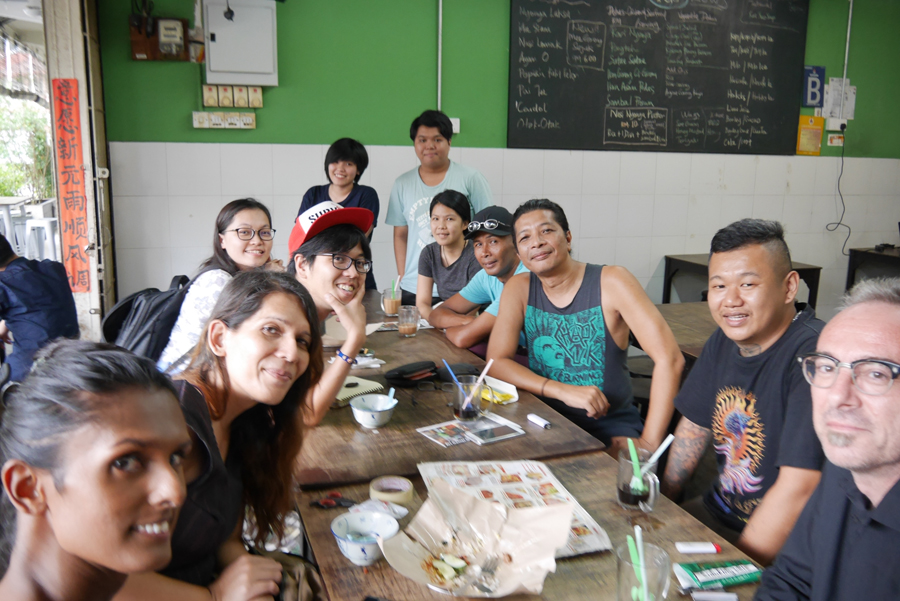 As the sun is setting, I go back to my place of stay first. The place where I am staying is Lostgens' Contemporary Art Space. It is an art space established as a gallery, multi-purpose space, and residence all together. Mr. Yeoh Lian Heng, the founder of Lostgens' Contemporary Art Space and the artist who takes care of me so much for my Malaysia stay this time, is sharing with me. He came to Japan too several times and he is a kind artist of the same generation as me, with worldwide networks.
The extreme left is Yeoh. The two young people are interns.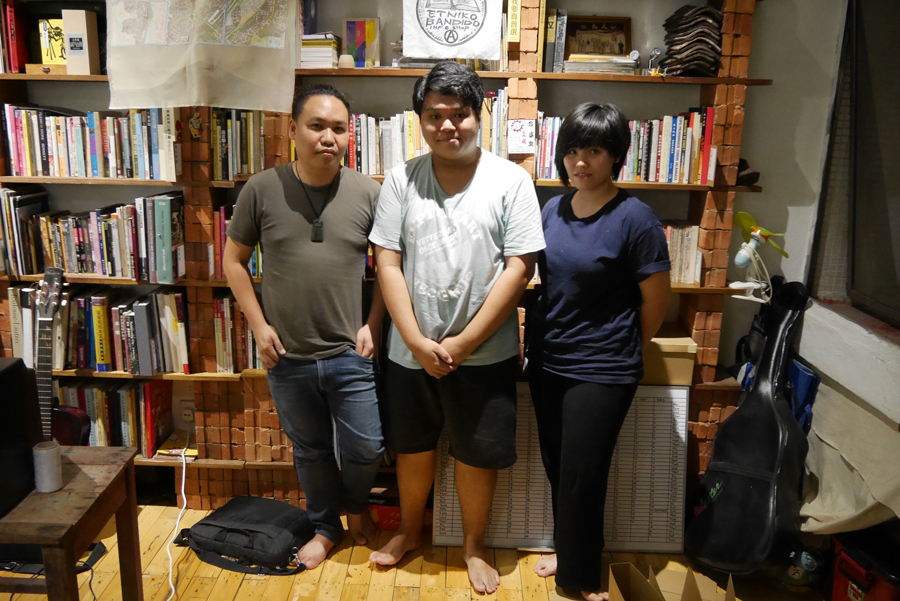 Lostgens' Contemporary Art Space was started by four artists in 2004. At the beginning, they carried out exhibitions and performances based at a big house with 10rooms and a garden. There, various people like artists as well as musicians, performers and so on went in and out and they built networks for the art scene in Malaysia. He shares with me that projects were carried out outside of the space and they organized art festivals several times, inviting not only Malaysians but also other Southeast Asian artists. Since around 2007, they have been interested in a community-based project and developed projects together with activists in the town and suburbs. Those projects reached out to poor people and children who usually do not interact with the arts, through workshops and outdoor performances. In 2004 when the government tried to get rid of a historical area where many Chinese Malaysians have been living since a long time ago, in order to build a new subway station, they organized a big art project against it. As a result, they shifted to the current space. In addition to the usual exhibitions here, they hold performance events, live music, workshops, screenings and recently philosophy classes.
This is a photo of a talk show at Lostgens' Contemporary Art Space on my last day of residence in Malaysia.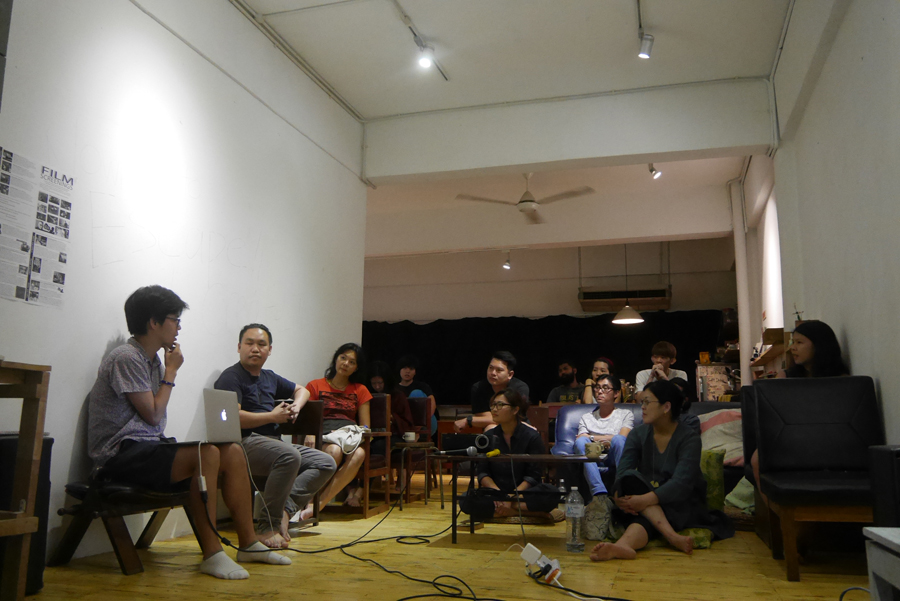 At the talk, Japan foundation worker, Ms. Yachita (a lady in the most front) is also there.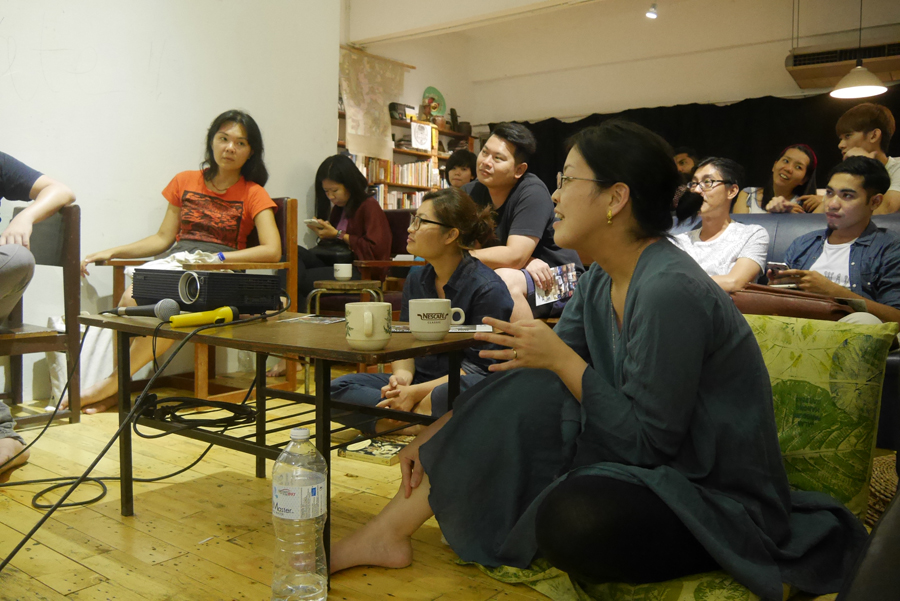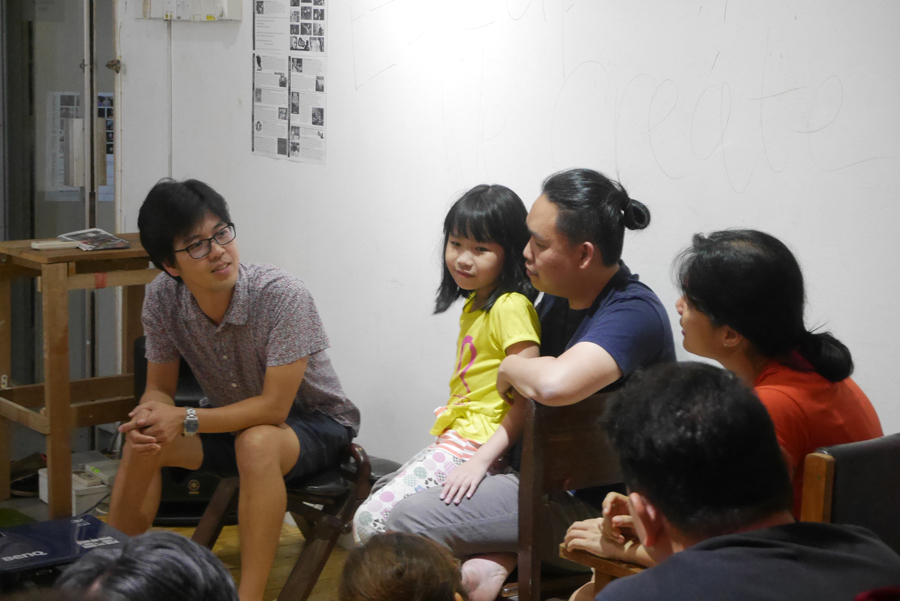 Taking a photo with everyone at the end of the talk. Everyone from Findars has come.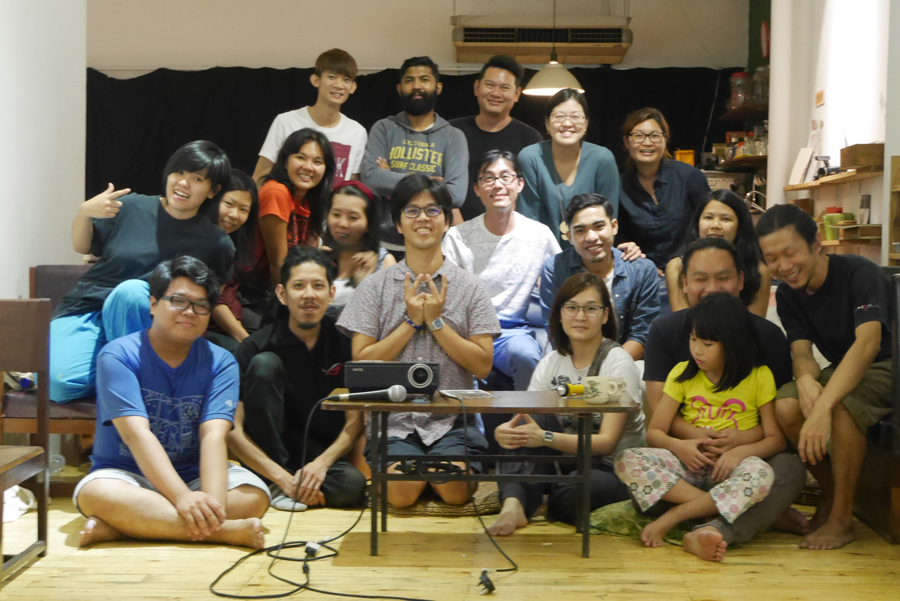 Yeoh not only carries out projects in this space, but also collaborates with various people by taking the initiative to go outside. Yeoh says he believes "Art can do something". Against bad policies by the government, he wants to oppose them through new strategies using the arts. His dream is to, through the arts, change the government that tries to control all by pushing citizens into a corner of ignorance. He talks about this dream shyly. I feel a certain future in his line of sight.
The dream is big and full of strong passion.
Lostgens' Contemporary Art Space
http://lostgenerationspace.blogspot.jp/
https://www.facebook.com/lostgens/
After an interview with Yeoh, I drive to the last art space that I have not yet visited. Here is Rumah Api, a rather big live house.
A seemingly risky entrance.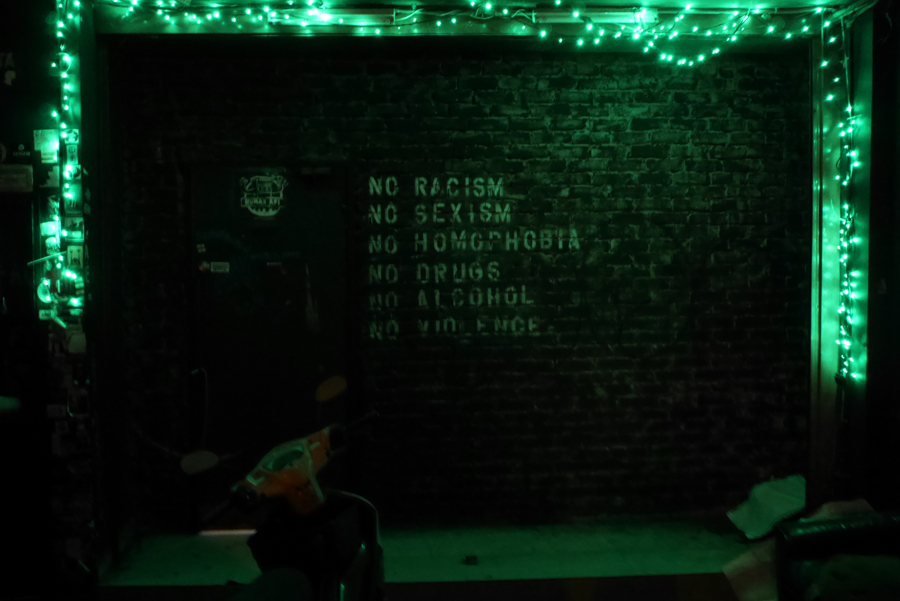 The person who speaks with me is the manager of the record shop established on the second floor, Mr. Wan Hazril. Rumah Api was opened in 2010. Malaysian musicians from various kinds of music genres such as punk, hardcore, metal, among other, gather around. He says they hold big music events outside.
There is a gig going on when I visit.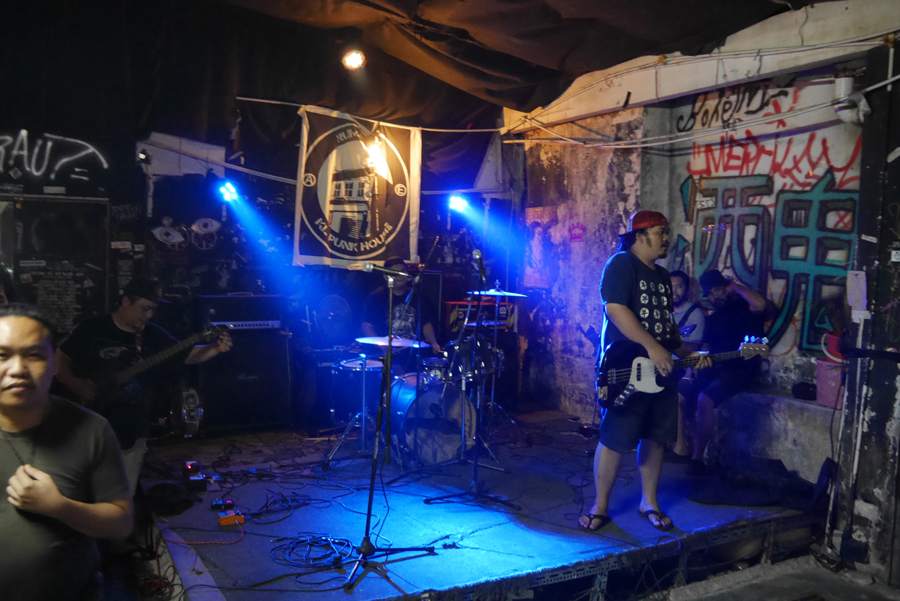 Stairs continuing to the second floor.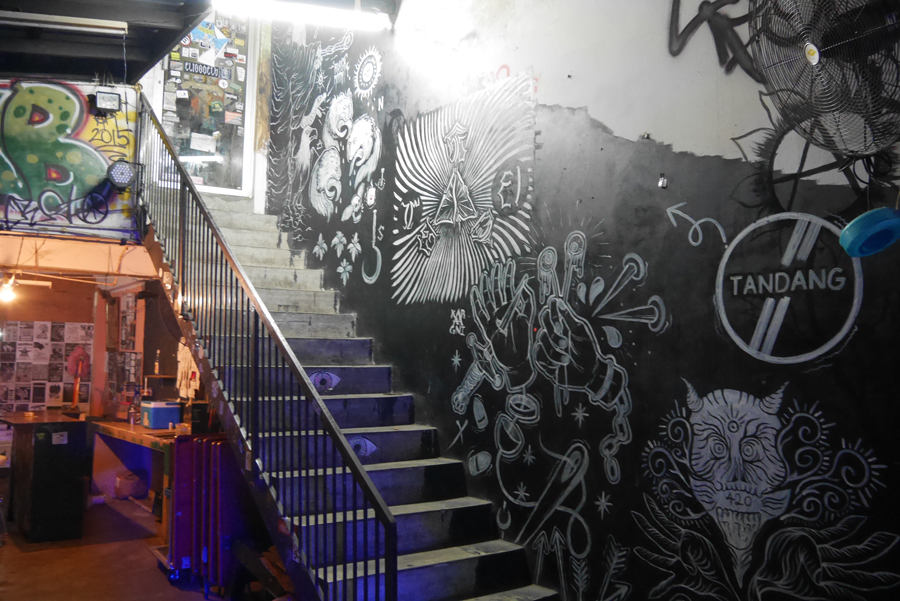 This is the record shop on the second floor. A collection of punk and hardcore music in a line.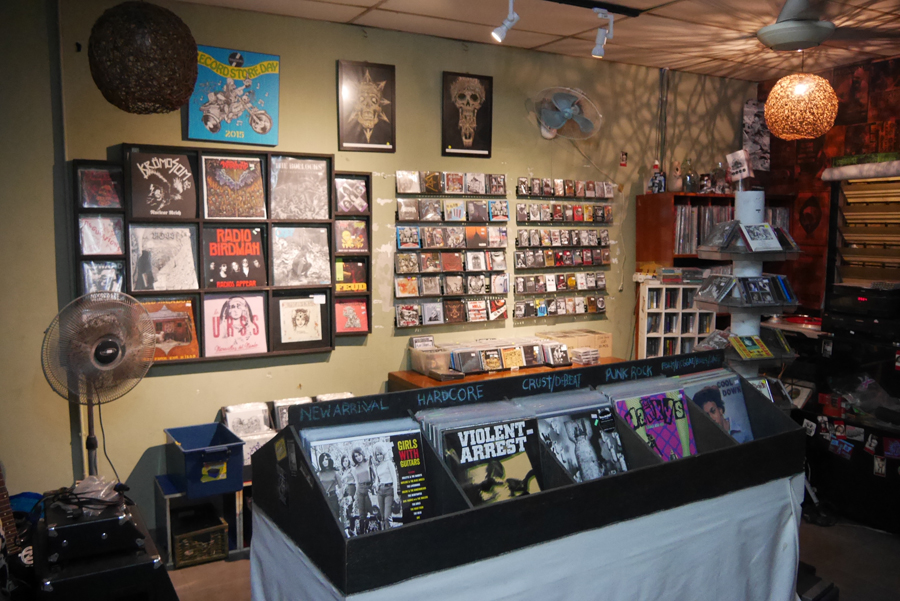 Not only musicians, but also activists go in and out of Rumah Api. The owner is also playing as a musician when I visit. Just before leaving, I can talk to him. I think he is a very aggressive activist because he runs such an underground space, but he is a very kind older brother and I have a good impression of him.
This is Mr. Wan Hazril (left) who talks to me, and Mr. Man Beranak (right), the owner.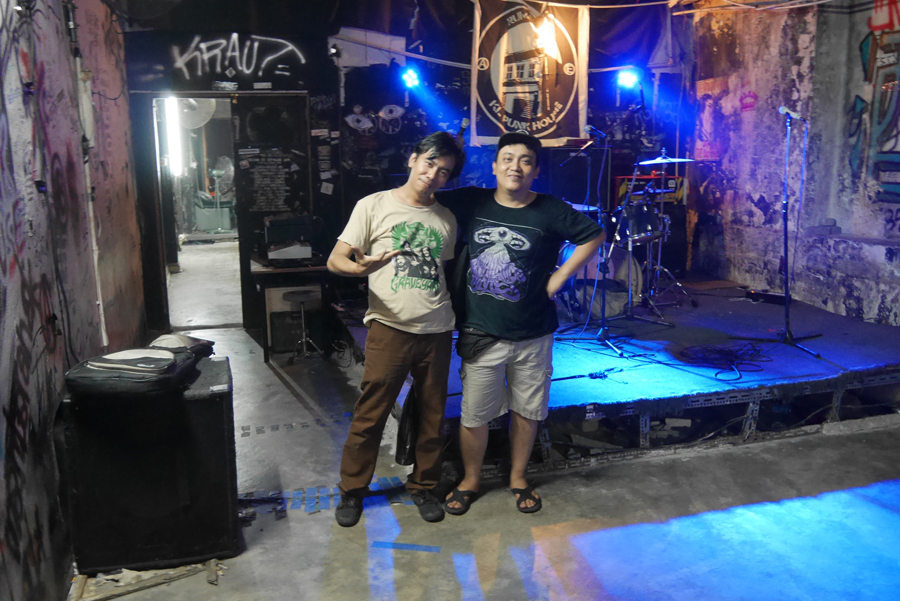 Many artists visit this place and I thought Malaysia is good because the music and the arts scenes are close.
Hardcore & underground & music space representing Malaysia.
Rumah Api
http://rumahapi.weebly.com/
https://www.facebook.com/Rumah-Api-157888934276502/?fref=ts
This is the end of my Malaysia series. Next is the start of the Vietnam series.
lostgens'

8c, jalan panggung, 50000 Kuala Lumpur
Established Year: 2004
Facility and Activity: Gallery, Residence, Talk, Film Screening, Workshop, Educational Program, Planning and Coordination of Art Project

Rumah Api

178 Jalan Merdeka, Kg Baru Ampang, Pekan Ampang
Established Year: 2010
Facility and Activity: Music Event, Shop