6 April 2016|Changes Brought by Overseas(SA SA BASSAC, JavaArts)
Goodbye to Vietnam, finally I have arrived in Cambodia, the last country to round off my long journey.
This is the capital city, Phnom Penh.
I feel that somehow, of all the countries I've visited across Southeast Asia so far, Cambodia will be the most "hard-boiled" experience yet.
Seeing many ill-matching couples of old white guys walking hand in hand with beautiful, twentysomething-or-under local girls(obviously for prostitution); as well as a mother (who must have been much younger than me)begging whilst holding two naked newborn babies; I could see at a glance the huge gap between rich and poor. Besides this, I'm not sure if it is a legacy from the dictatorial regime or not, but in several big squares I can see groups of middle-aged aerobicists frantically dancing to loud bursts of techno music. In the evening, crowds of people gather and hang around the banks of the great Mekong River. Anyway, I feel that this is so different from all the other Southeast Asian countries I have traveled to. I'm so nervous, I have pins and needles!!
Aerobics to loud techno music.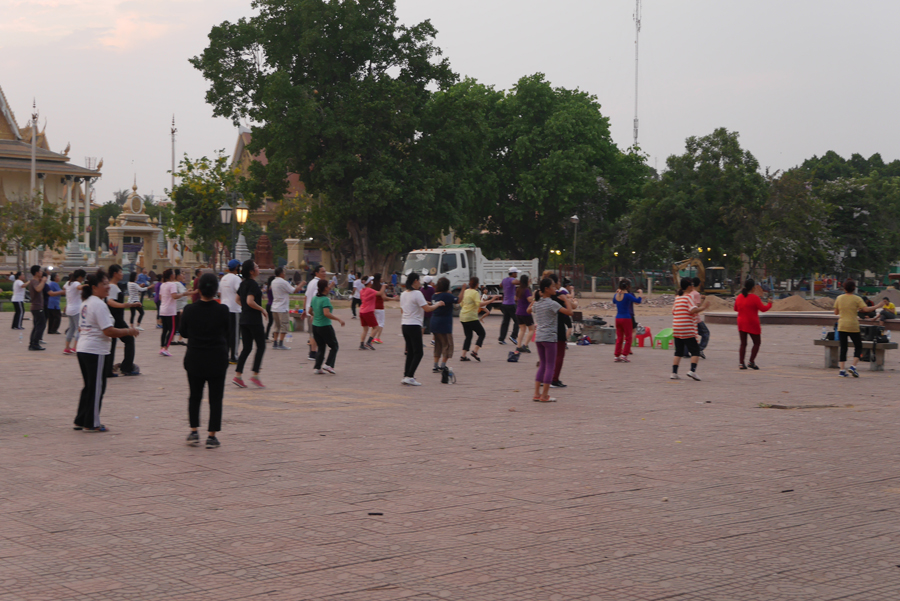 Large crowds of people gather by the Mekong riverside every evening.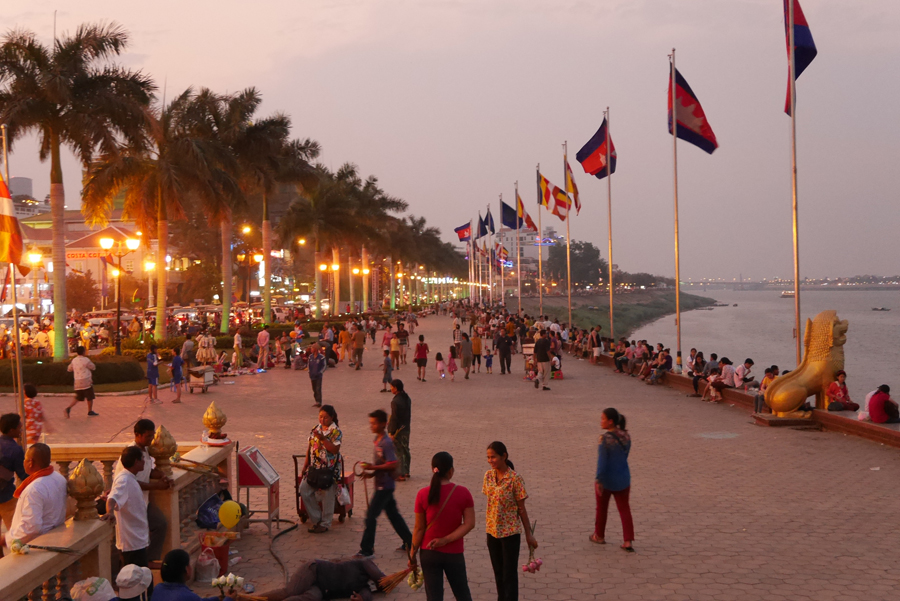 The King's portrait with shining decorations.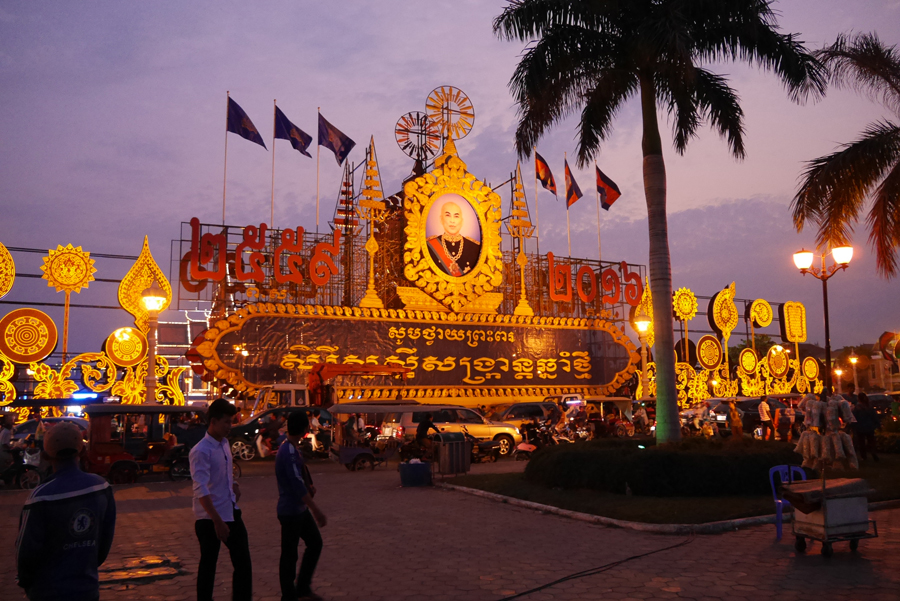 I had only half believed that there would be any art space here, however, with some information that Mami and UuDam in Vietnam gave me, I try to explore the city, the day after my arrival.
The first place I visit is SA SA BASSAC. The space, located on the second floor of a multi-tenant building, is a gallery for contemporary art, a rarity in Phnom Penh. Ms. Erin Gleeson, the curator and co-founder of the gallery came from the United States 14 or 15 years ago to do research in Cambodia and it was then that she met with local artists. Taking over the management of a local gallery in 2011, she opened SA SA BASSAC. She organizes six to seven exhibitions annually where she actively introduces Cambodian young artists.
When I visit, an exhibition of two young Cambodian artists is on display.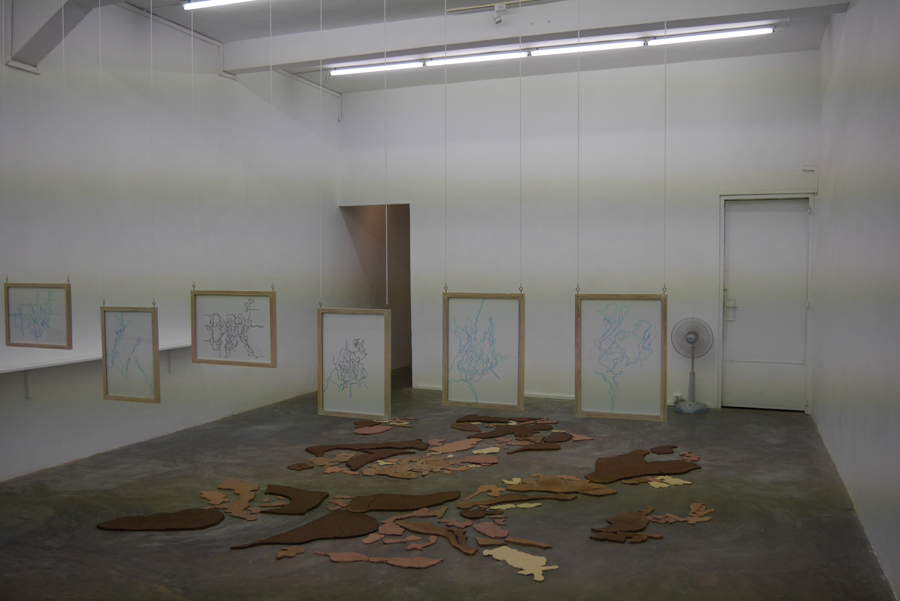 This is the library full of art books related to Cambodia and Southeast Asia.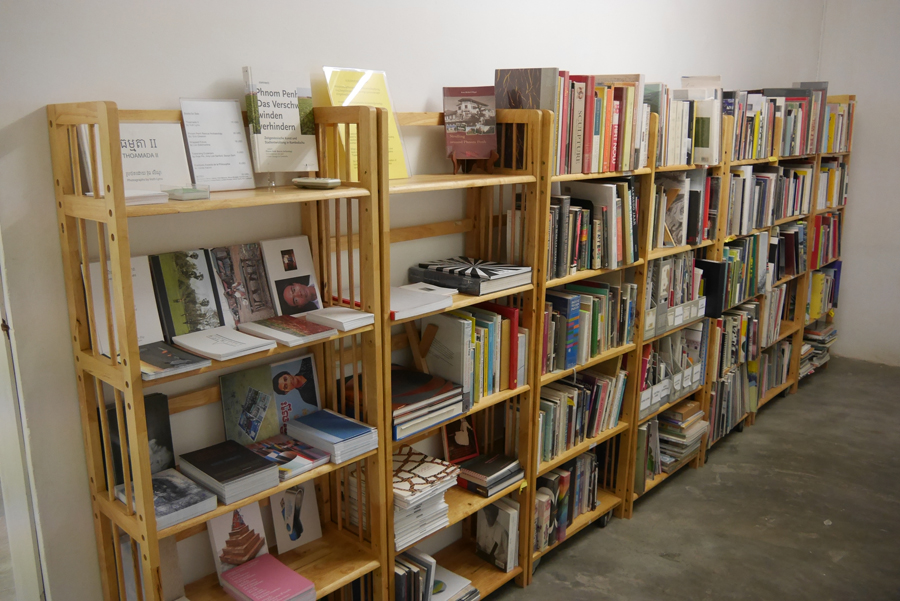 Since the art scene in Cambodia is small, the gallery takes on the roles of both commercial gallery and non-profit space, switching between them in accordance to the contents of each exhibition. Unfortunately I can't meet with Ms. Erin Gleeson in person because she is overseas doing research, however, it is the day of the current exhibition's opening reception and lots of local young artists gather in the space.
Packed with young people.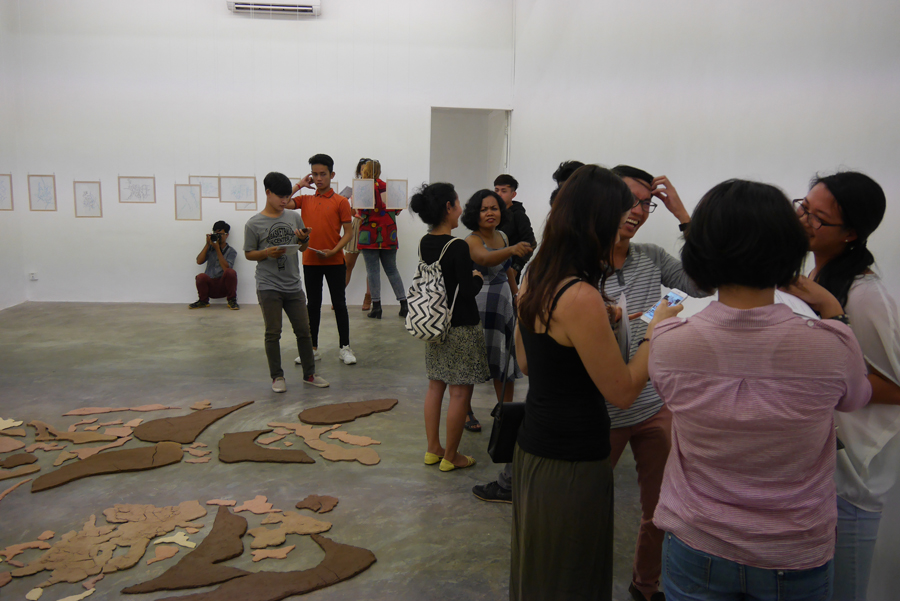 Mr. Dara Kong, standing in the center, is one of the artists from the current exhibition.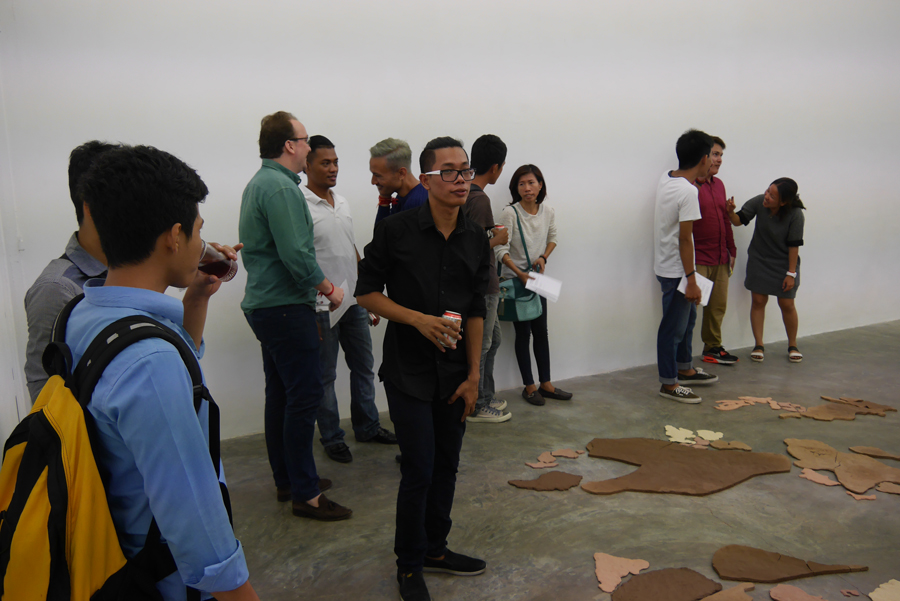 A rare, contemporary art space in Cambodia.
SA SA BASSAC
http://www.sasabassac.com/
https://www.facebook.com/sasabassac/?fref=ts
Today, let's go to one more place. Though my guidebook tells me that I should travel by tuk-tuk in Phnom Penh, the drivers often overcharge, and most of my destinations are within walking distance if I walk hard. After walking for half an hour from my accommodation, I arrived at Java Arts. The space is on the second floor, attached to a cafe.
The second floor art space. On the ground floor, there is a chic restaurant run by the same owner.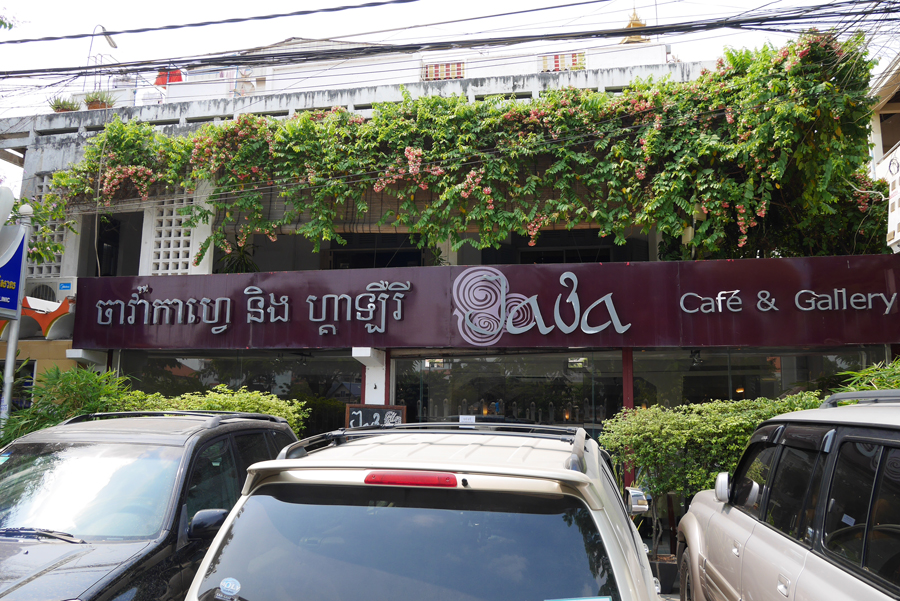 Going upstairs, there is a tasteful cafe terrace.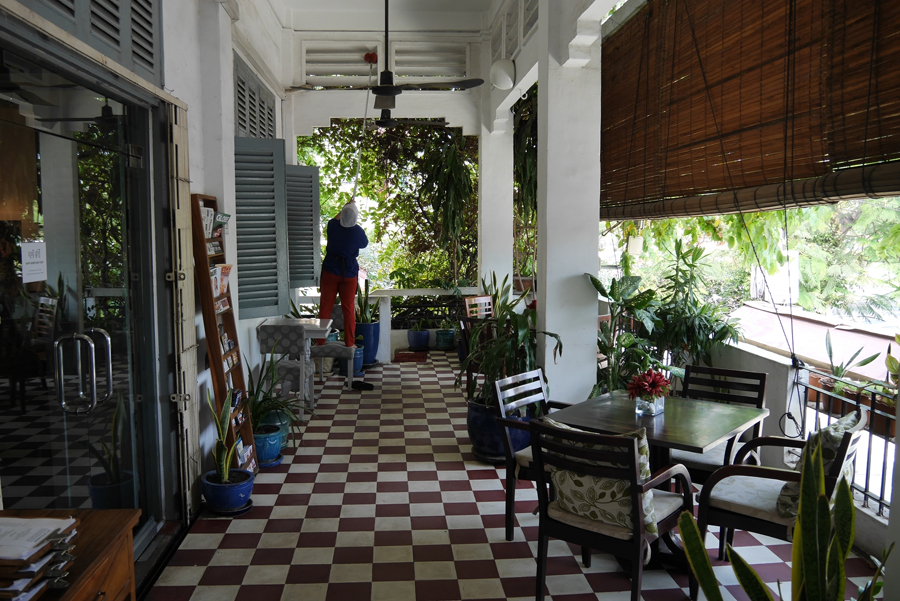 Ms. Dana Langlois, the founder of Java Arts, once visited Cambodia as a NGO staff in 1998 and found that there were few places to introduce contemporary art. In 2000, she started a space by herself. Java Arts organizes seven to eight exhibitions annually to introduce artists from Cambodia. Sometimes the space also organizes talk shows and performance events as well as hosting a residence program and screening films. The management is financed only by the income generated by the cafe and the customers are mostly foreigners. Foreign residents in Cambodia often buy art pieces here, highlighting the obvious division of social circumstances in Cambodia.
The walls of the cafe are used as their exhibition space.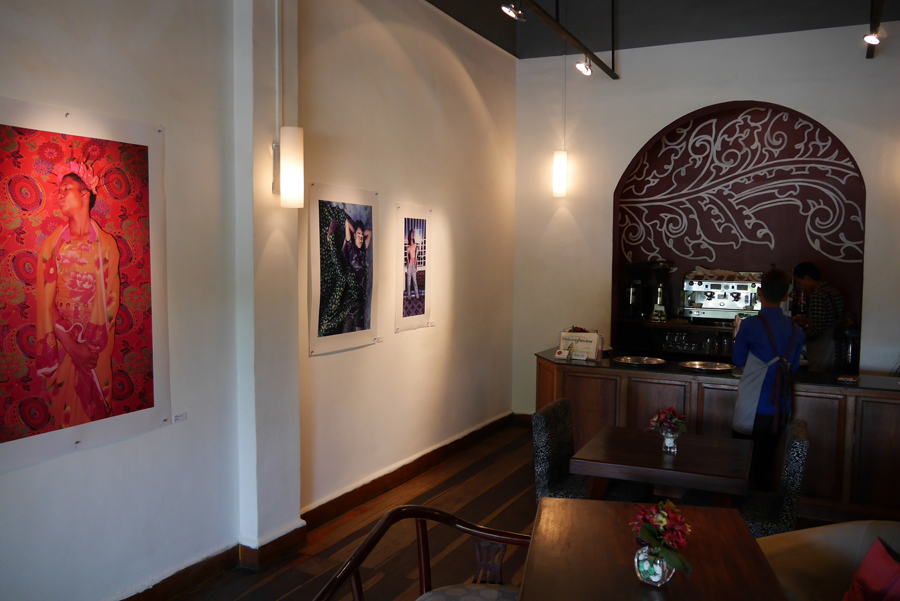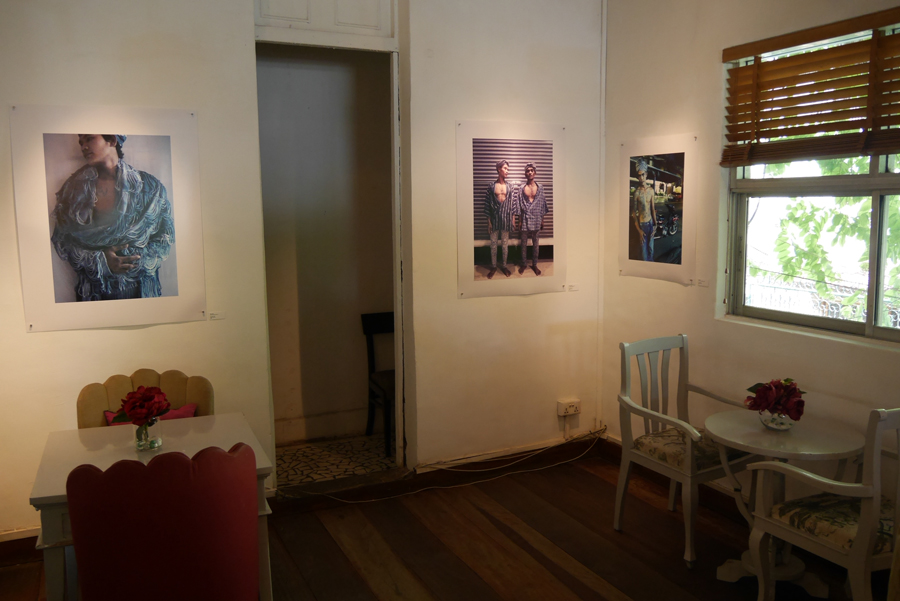 Postcards from exhibitions are on display inside the toilet too.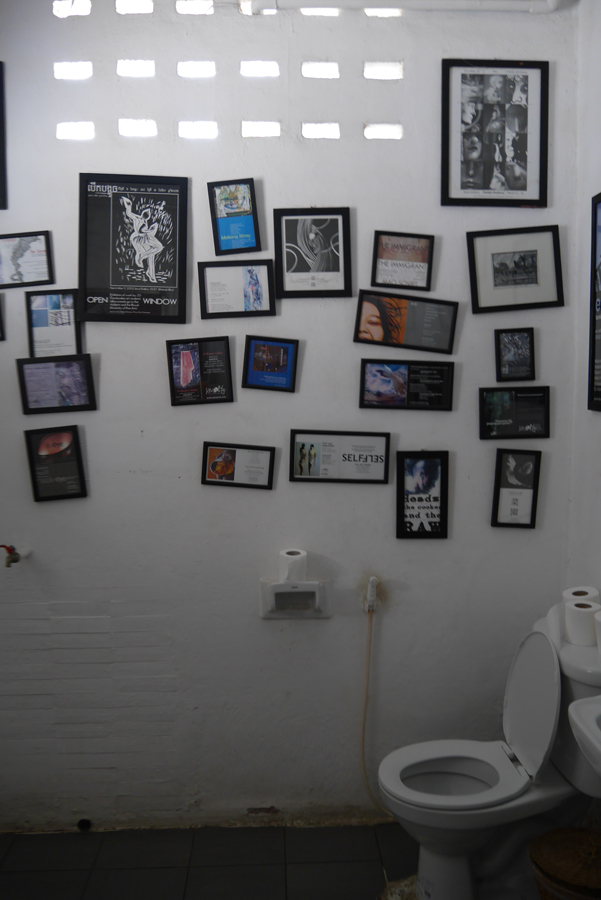 Currently, Ms. Dana Langlois is engaged in a project to convert an unfinished floating boat hotel into a new art space. Once it opens, it will definitely accelerate the growth of the art scene in Cambodia. Ms. Dana shared with me that her aim is to get Cambodian people to become more interested in the value of art. There is an energetic aura around this very capable art producer!!
This project had to be closed because of safety issues. However, she has initiated a private-public cooperation to develop a platform for modern and contemporary Cambodian art at the National Museum of Cambodia. It is completely unique and new for the country and will bring together leading arts organizers, researchers and curators to work collaboratively with the museum to present modern and contemporary art programs to the wider public.
Thank you Ms. Dana Langlois for sharing your artwork with me!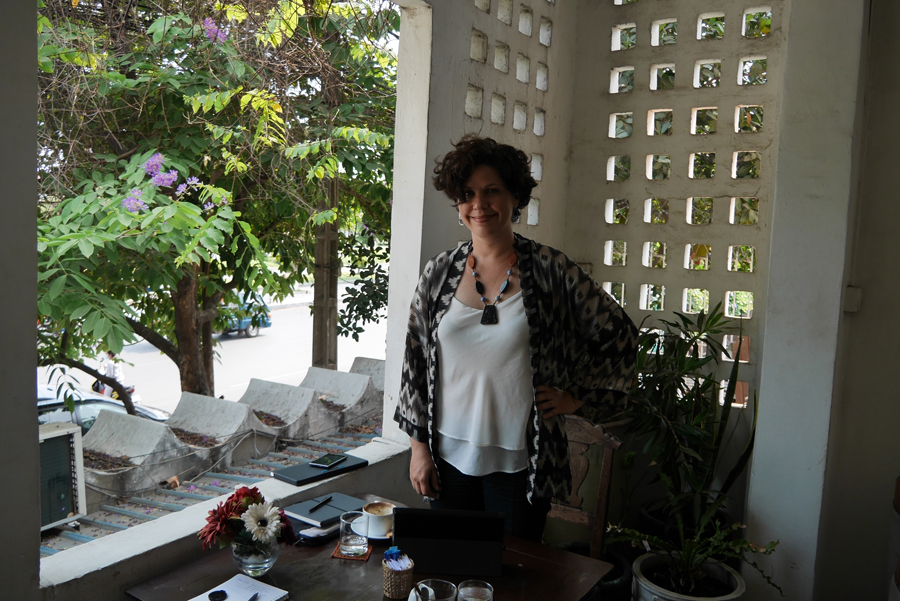 The space is still vigorously developing.
Java Arts
http://javaarts.org/
https://www.facebook.com/JavaArts-299442753493080/?fref=ts
Will Cambodia continue to become more and more Westernized from now? Hmm, I have mixed feelings about this one.
SA SA BASSAC

No. 18E2, Sothearos (St. 3), (between st 178 and st 154). 12206 Phnom Penh Samdach Sothearos Blvd Phnom Penh
Established Year: 2011
Facility and Activity: Gallery, Talk, Film Screening

JavaArts

56 Sihanouk Blvd, Phnom Penh
Established Year: 2000
Facility and Activity: Gallery, Café, Residence, Talk, Film Screening