04 February 2016|Bridge among People, Art and Puppets(Lir Space, Papermoon Puppet Theatre)
We head to the art space called Lir Space by scooter today. This place is on the north side of the city, even almost all of the other art spaces are on the south side since the rent in the south is cheaper. Then why is this place on the north side?
This is the outside of the building. It has a charming character, doesn't it?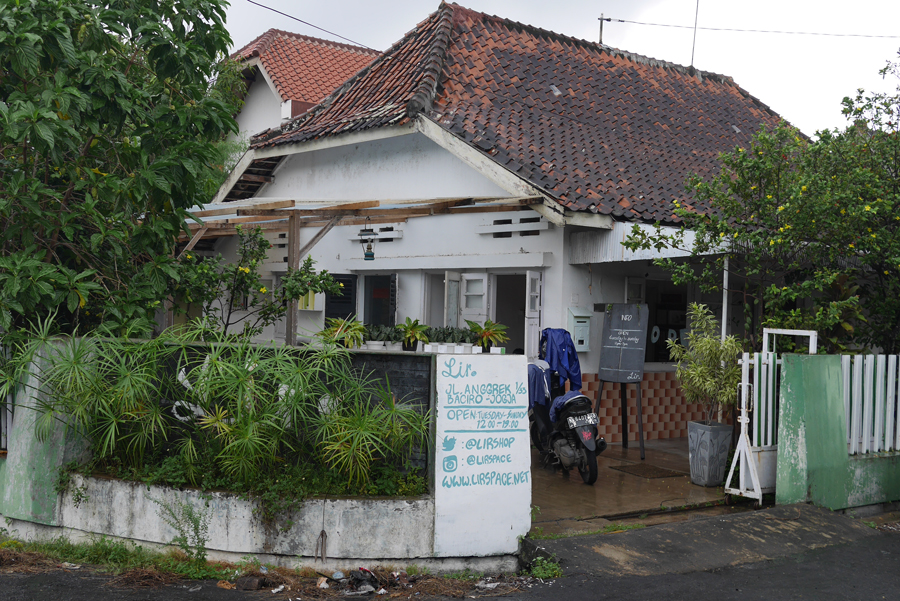 The founding couple behind this space, Mira Asriningtyas and Dito Yuwono, gaive their time to talk with me. This place was founded in 2011 and consists of a café, gallery, residence, and shop all set in a very cute atmosphere. I bet it would be really popular among young girls in Japan.
Mira Asriningtyas and Dito Yuwono.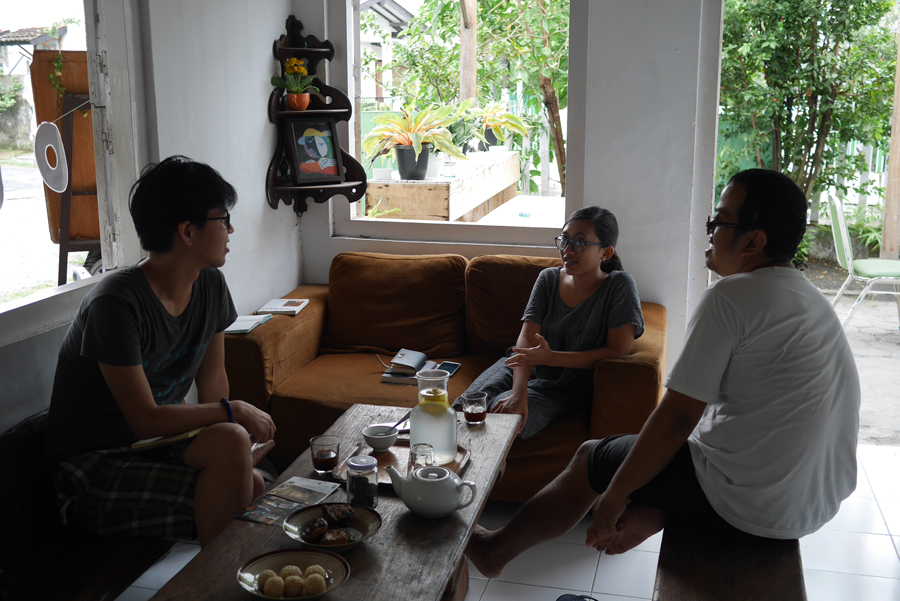 The concept of this space is to form a bridge between art and ordinary people.
I mentioned that this space is on the north side of the city, not like other art space on the south side, but this is actually connected with its concept. There are so many artists living in south side of Jogja, and there are also so many art places there at the same time. On the other hand, there are more residential areas or university towns of students on the north side of the city, and this is the exact reason why they chose here as their location.
Their programs are for public and local residents around that area, including students or those who has graduated from art school but have been apart from art for a long time.
This is their gallery.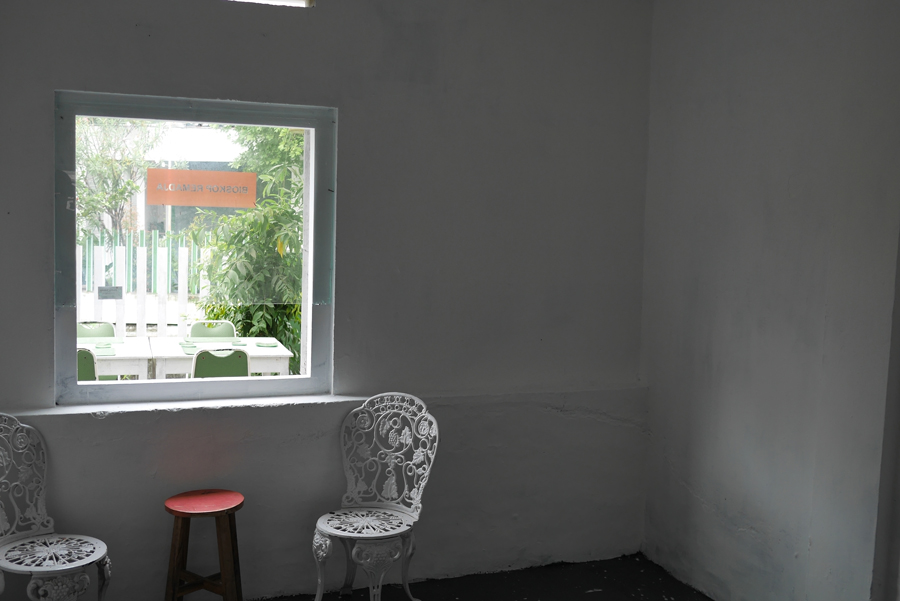 All of these small details are sure to win over a girl's heart.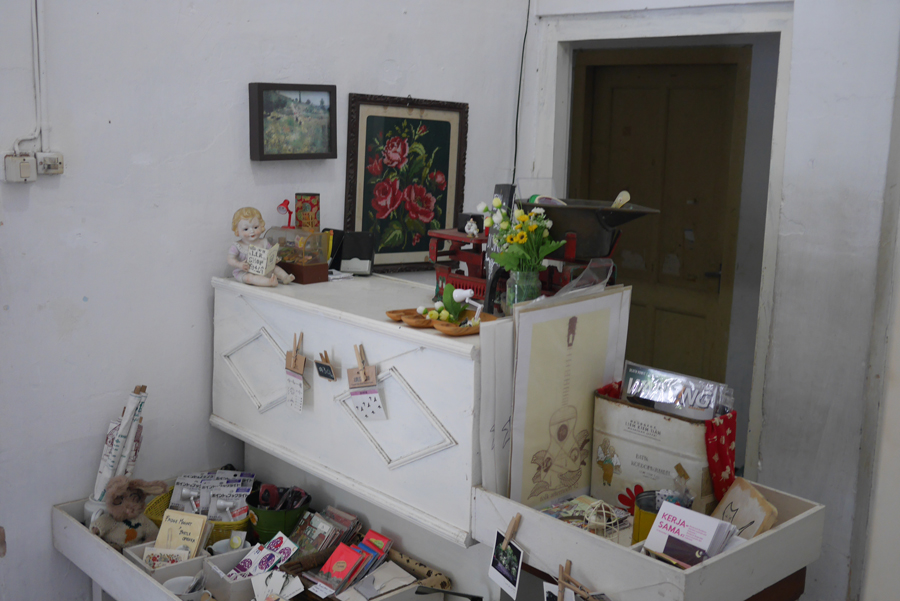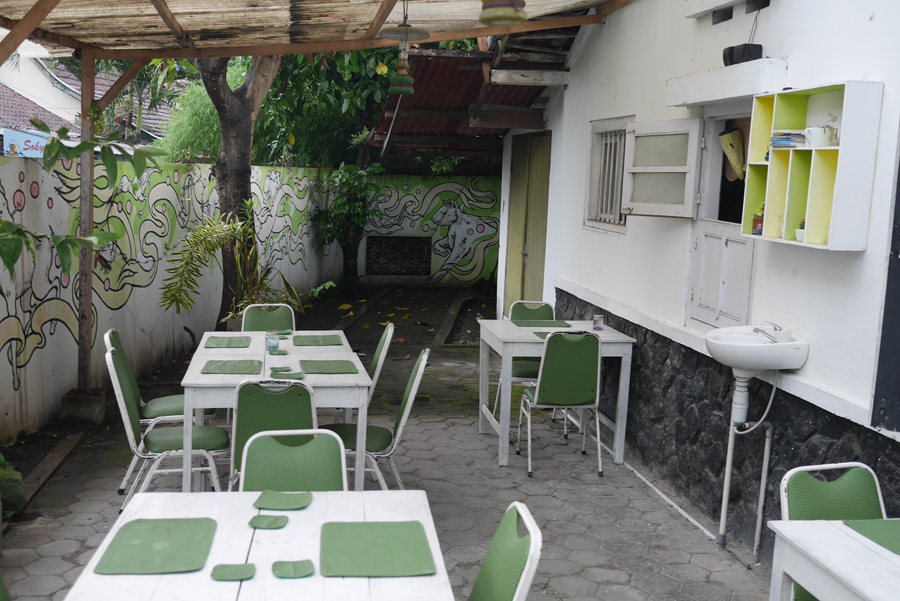 They also run lectures/workshops for the public too. Under the title "Video Laboratory and Exhibition(VLax)" they host a public program which teaches participants about video art over four months and gives them an opportunity to exhibit their work at the end. They even invite artists or researchers as special guest lecturers.
Some of the students who have participated in this program keep making their own art works, whilst others just go back to their normal lives. Either way, Lir Space believes it's important to give opportunities to many people towards the understanding of the essence of the art, no matter if this leads on to them becoming artists or not.
An art work drawn on the wall of the space by a resident artist.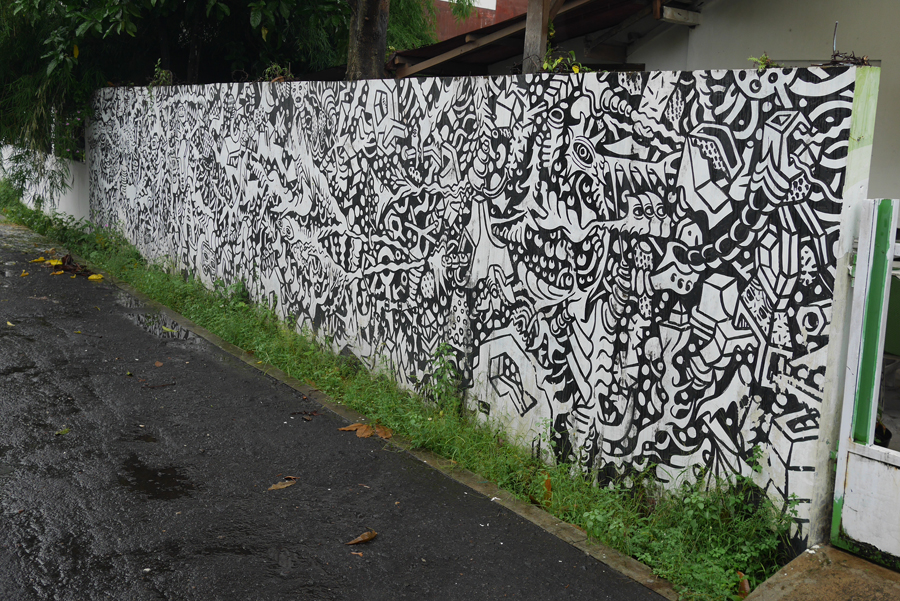 And the wall of their neighbors.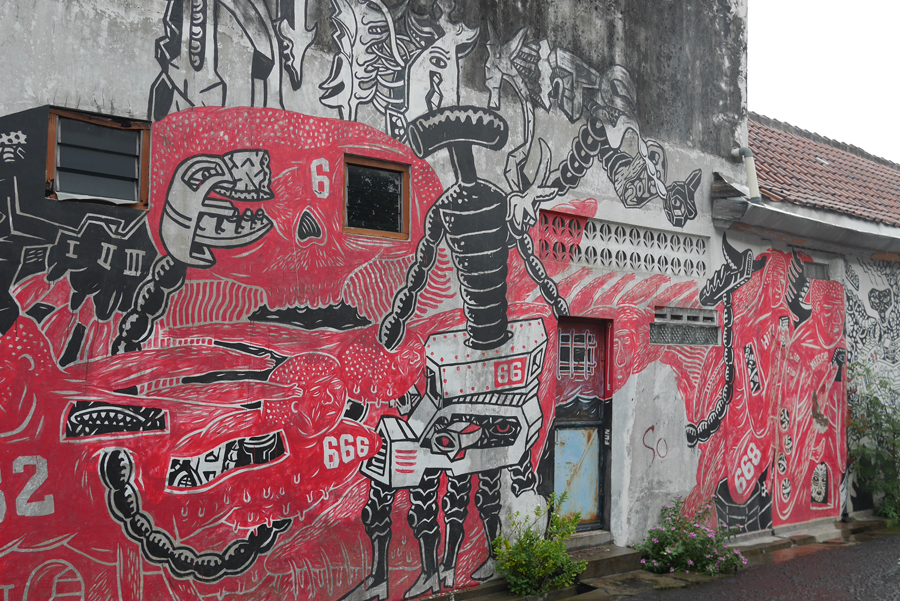 They also present an acoustic music event once a month, and there are so many people in the community who come to join them. Also, one time, a graffiti artist, who was invited by the space, created a mural upon the wall of the art space, which inspired visitors and made them want to get the same thing done to their own walls. This reflects how deeply rooted this place is within the community. The existence of such an artist place, which functions not only for artists but also for local people, makes the art field in Jogja much deeper and richer.
In front of their favorite bookshelf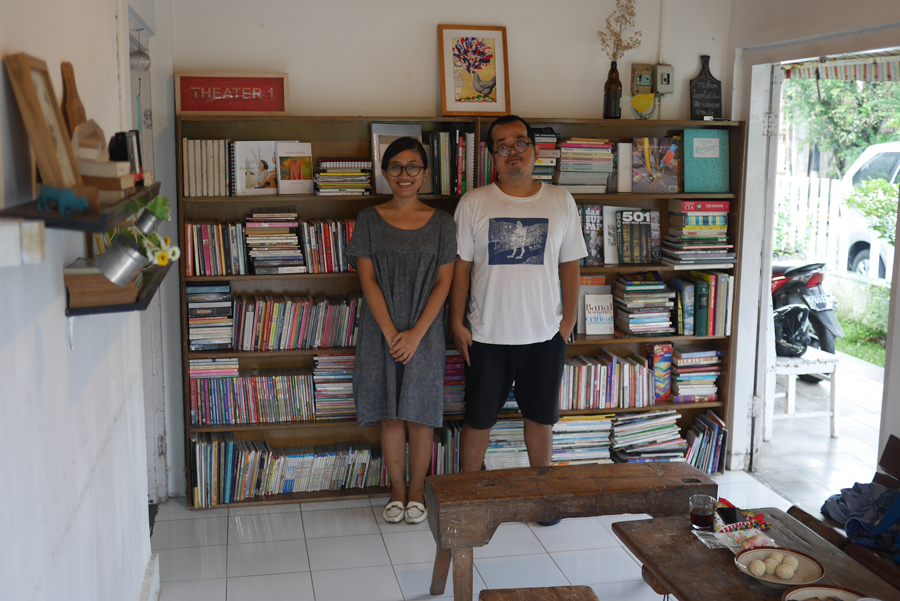 Let's do art me and you!
『Lir Space』
http://www.lirspace.net/
https://www.facebook.com/Lir-Shop-125619777517734/
My next destination is Papermoon Puppet Theatre. They are the first multi-media puppet theatre company in Indonesia which combines puppet theatre, video, music and performance. They have previously been invited to join Koganecho, Yokohama, and they are internationally renowned. I get to see the founding couple, Maria Tri Sulistyani and Iwan Effendi for the first time in a long time since we last met in Japan! They are so kind to remember about Ongoing!
Maria Tri Sulistyani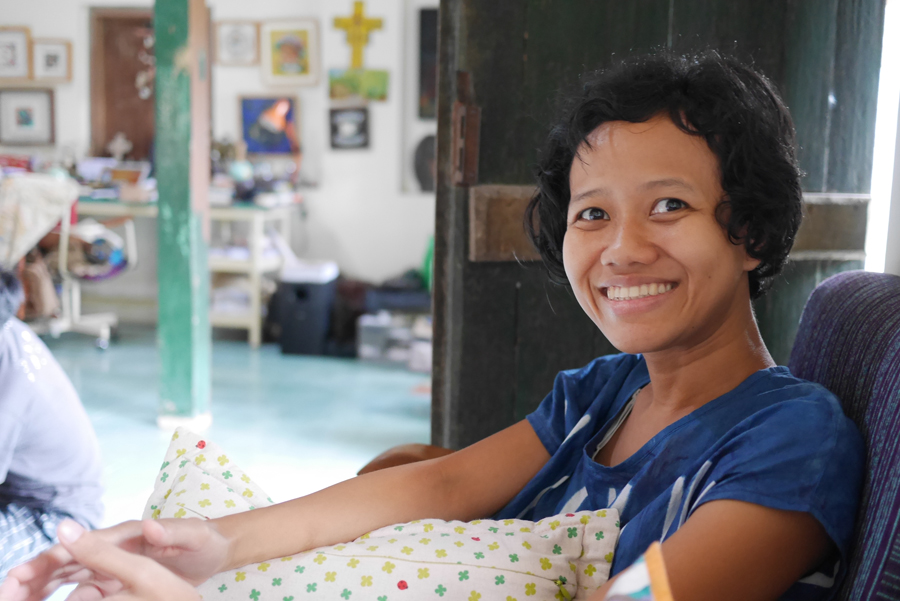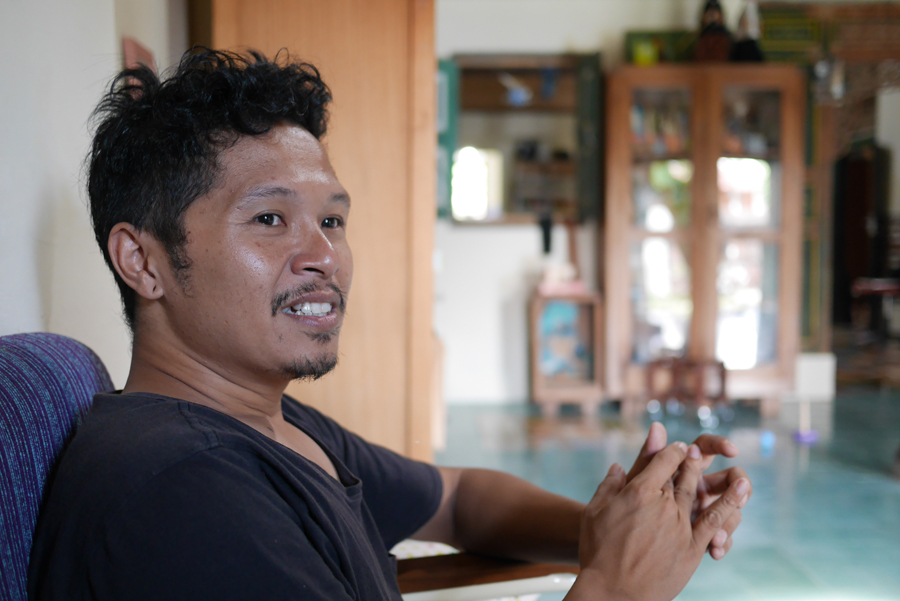 They started their activities as Papermoon Puppet Theatre in 2006. They ran workshops for kids in the first year, and they gradually began to expand their target from just kids to all of the generations. Their stories sometimes include Indonesian history or at other times they might be criticisms about society… so you can refer to this as a puppet theatre for adults.
Puppets in the studio. Pretty neat, huh?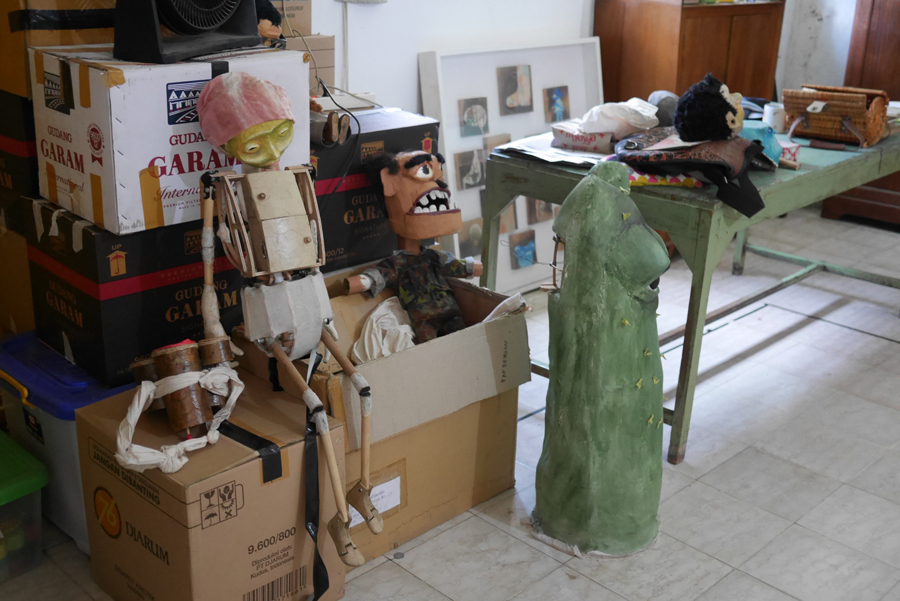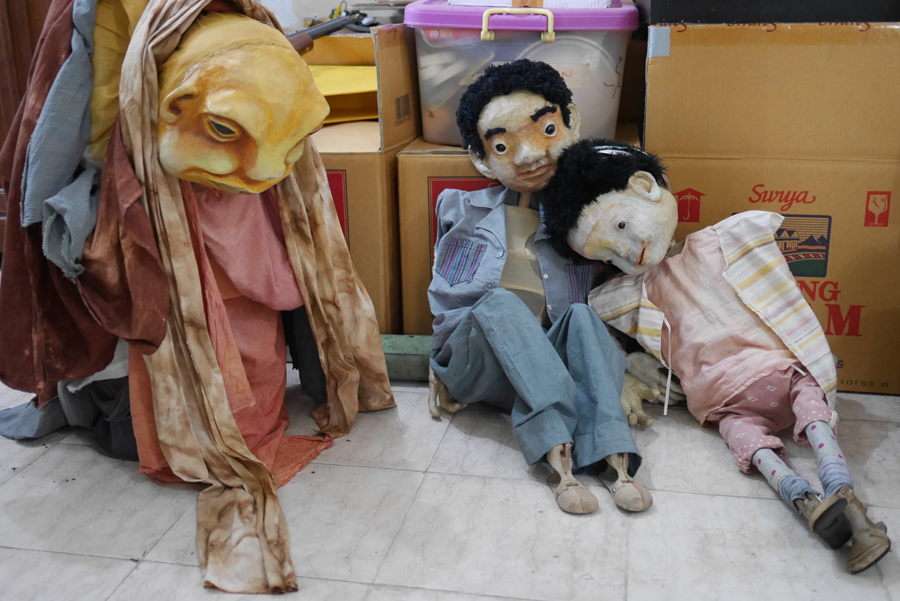 When I ask who taught them how to make this, they say it's completely their own original idea. Of course, there is a long history of puppet theatre in Indonesia already, but there are few examples of such combination with music and videos. Over the last few years they have been invited to perform not only across Asia but all over the world.
Those ones in front aren't puppets, their kids! Such darlings.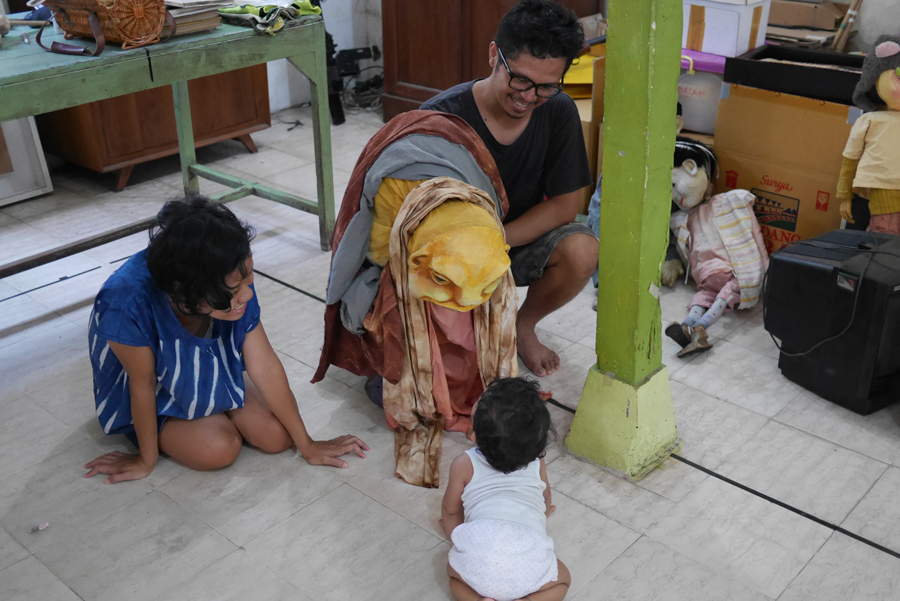 They also hold a puppet theatre festival every two years. Whilst it is called a "puppet theatre festival", the medium is open and free, so it could take the form of dance, animation, photography, media art, or anything else, as long as it has some connection to the theme of puppets. They must have such a love for puppets to be touring the world and running this local program at the same time. Now they have six members of their team. They are also pouring their efforts into the education field too by hosting workshops or collaborating with educational associations. While at the moment they just have a studio now, they tell me that they want to establish a more public space for people in Jogja in the future.
A picture with everyone together!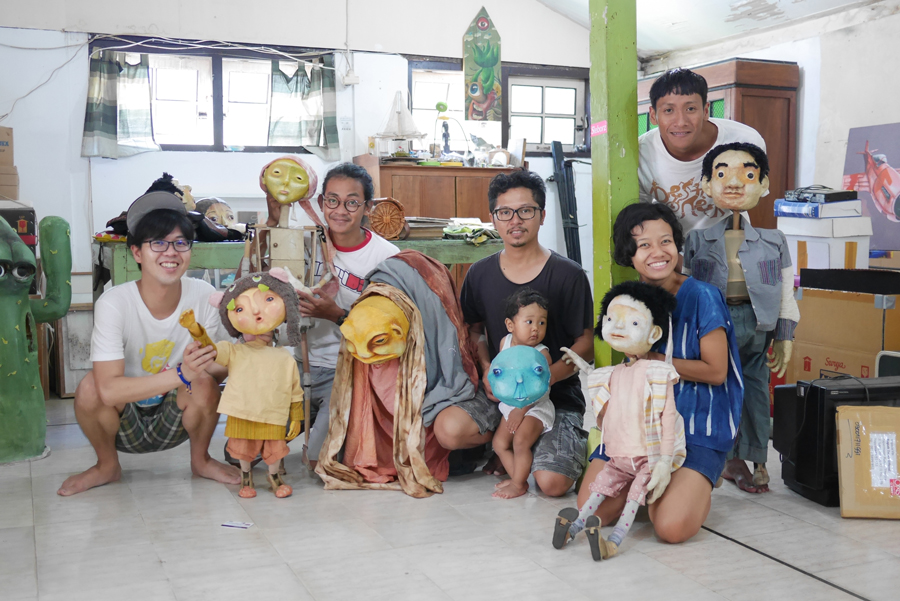 And all the world a stage – for puppets
Papermoon Puppet Theatre
http://www.papermoonpuppet.com/
Lir Space

Jl.Anggrek 1/33 Baciro, Jogjakarta
Established Year: 2011
Facility and Activity: Gallery, Residence, Shop, Café, Workshop, Educational Program, Music Event

Papermoon Puppet Theater

Jogjakarta
Established Year: 2006
Facility and Activity: Workshop, Planning and Coordination of Art Project