22 February 2016|A Tough guy and a Cool Guy(The Godung, Gallery Seescape)
At the opening reception two days ago, I had tons of booze again. So the next day I was in bed all day with a hangover. Today I still feel dizzy, but I'm excitedly touring the Chiang Mai art scene. First I visit Arnont's shared studio,The Godung, which he runs with his artist friends.
We arrive at the studio. Yup! This is what a studio is supposed to look like!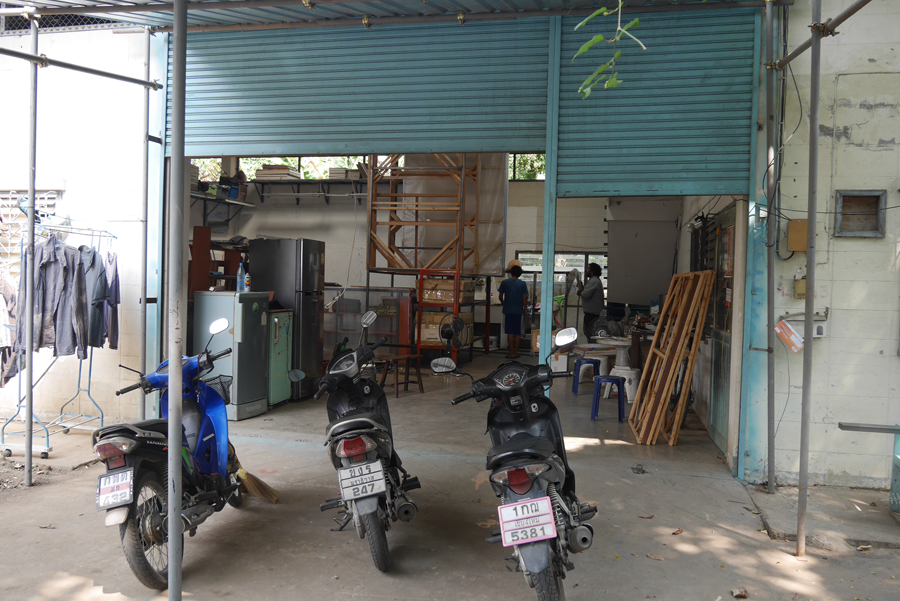 They started working at this studio in 2013. It used to be a big warehouse but now 4 artists live and work here. The director of the studio is Mr. Paphonsak La-or. "La-or" sounds a lot like "Raoh", the worst super-villain from the Japanese comic Fist of the North Star, so I was a bit scared of him at first. But actually, La-or is very kind and gentle. I might have read too much of that comic…
Mr. La-or at the back with a studio member in front of him.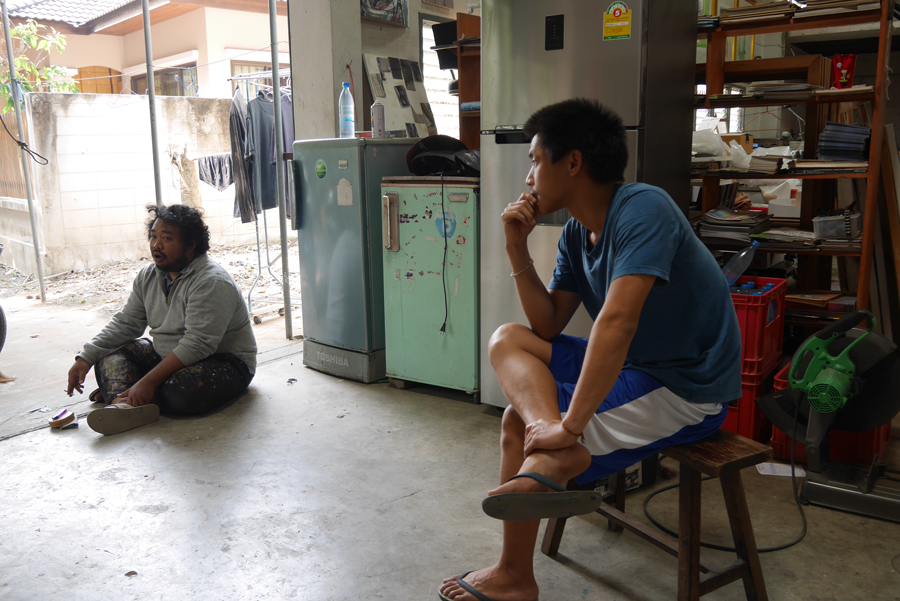 They hold concerts, public talks and workshops here. They have more space in the building that they aren't using yet and they're planning to renovate it into a gallery.
Arnont Nongyao. They are busy cleaning today.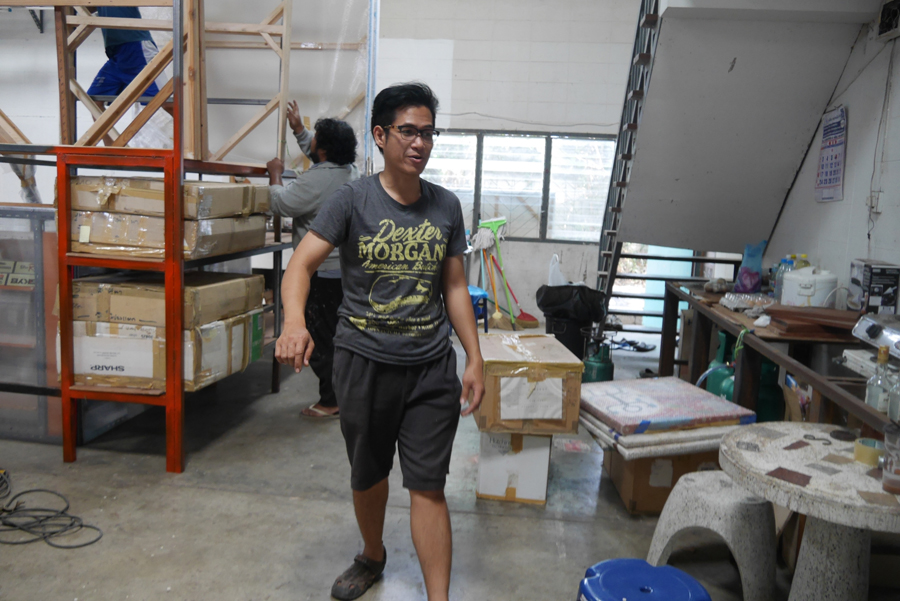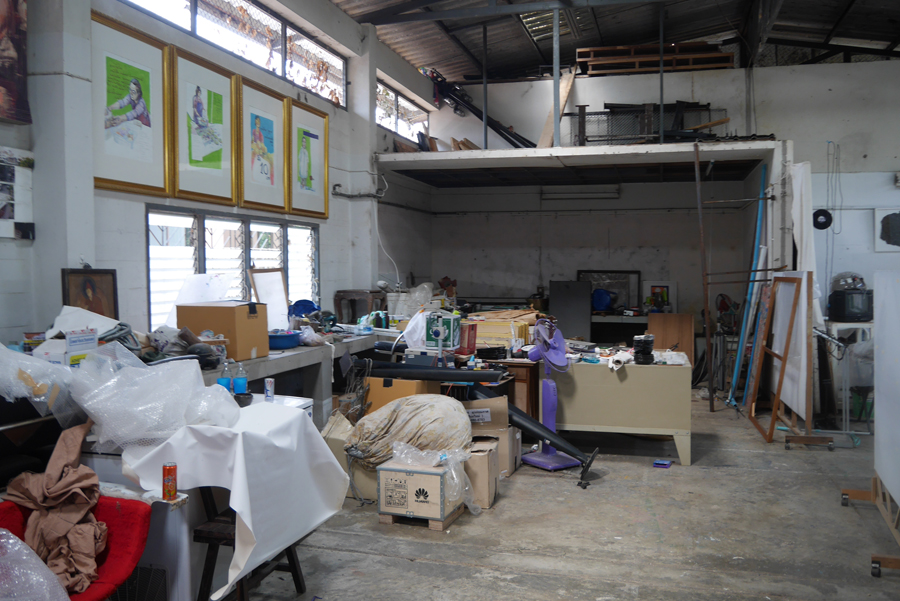 At the back here is La-or's wife, who is a painter and a member of the studio.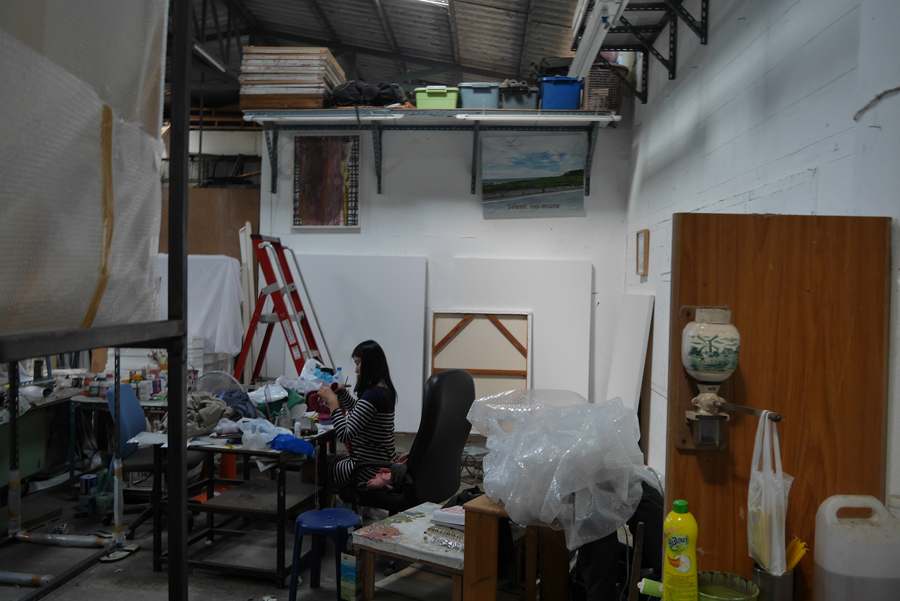 This is the space that they're planning to turn into a gallery.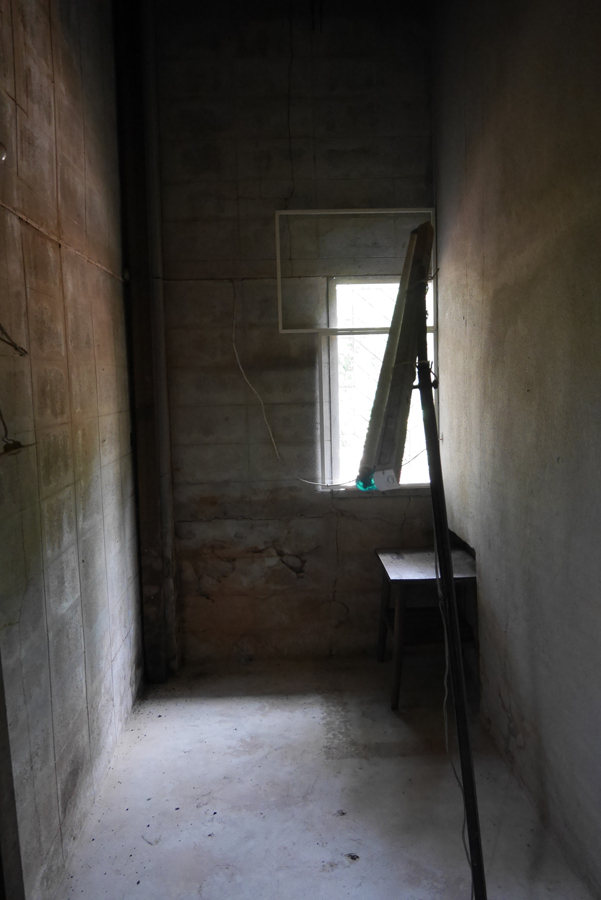 Arnont has been to Japan twice. He is a gentle guy who is also a close friend of Mr. Kotaka: an adventurous artist in Ongoing. Arnont's work is political and clever, but most importantly it all has a fascinatingly anarchic side. Such a talented artist working in such an interesting artist-run space! We should keep our eye on The Godung.
All of the studio members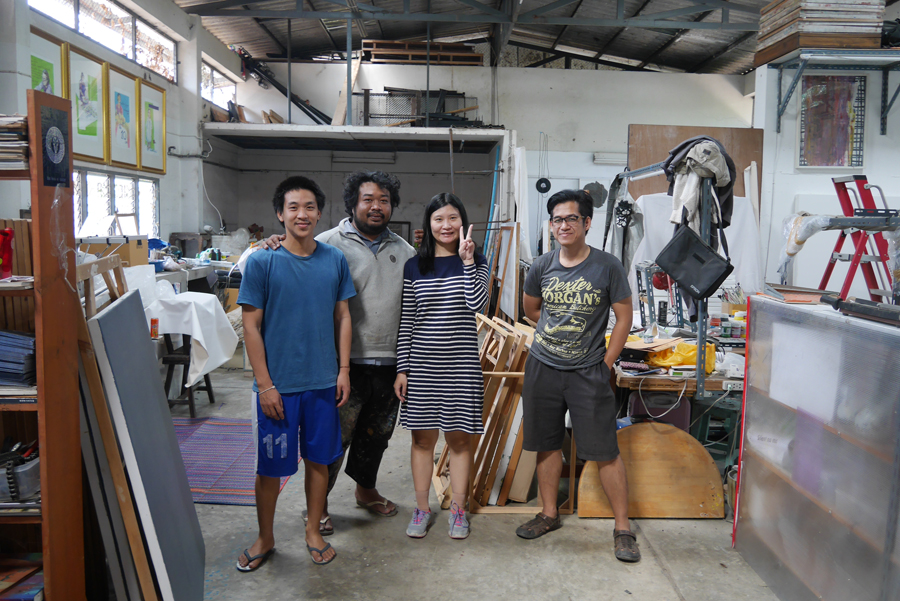 The great artist-run space, Power Level: Super Saiyan.
『The Godung』
https://www.facebook.com/thegodung
Next I head over to Gallery Seescape, an alternative space in the middle of a fashionable part of Chiang Mai. The artist Torlarp Larpjaroensook started this space in 2008. Torlarp is another artist who I met in Japan at the Koganecho Bazar in 2013, in Japan. That's one reason why the Koganecho Bazar is so great! It's acting as a bridge between the different art worlds of Asia. Thank you to Mr. Yamano, the director of Koganecho Bazar, to Ms. Hirano, Ms. Sawaki, and all of the staff for your wonderful efforts!
Arriving at Gallery Seescape.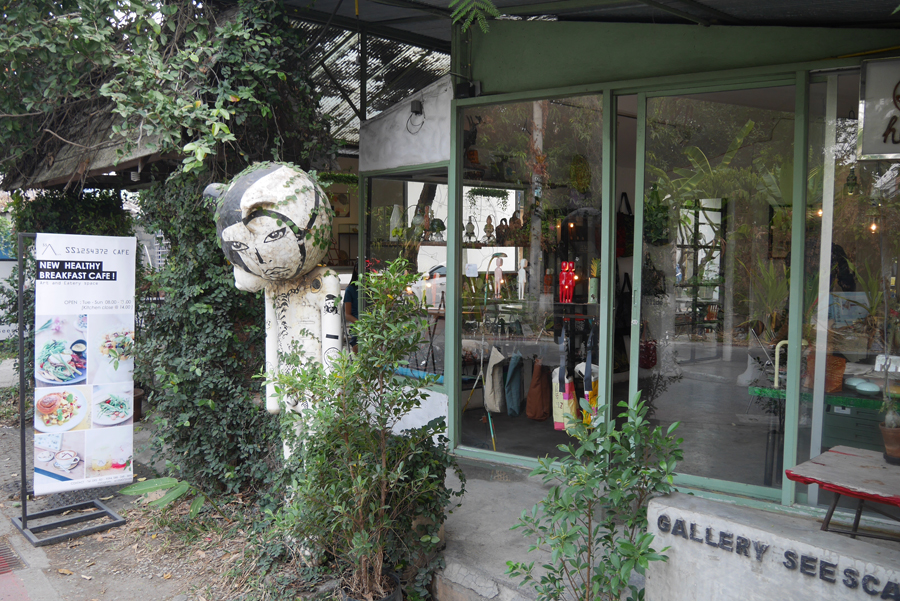 Even though I arrive whout notice, Torlarp remembers me and kindly shows me around his place. Gallery Seescape has a gallery, a shop and a café. Torlarp opened this space to make the people of Chiang Mai more familiar with contemporary art, when it wasn't yet that popular. Since then he's been thinking that art can be a record of local history if it is connected to local communities. At first, most people didn't understand or care what he was trying to do at all, and lumped modern art in with souvenirs! So he has been making efforts to help people understand contemporary art and the concepts behind it. For example, he puts explanatory notes alongside work in the gallery, as well as alongside the small pieces being sold in the shop. The gallery space often exhibits installations and other experimental art, and it's still hard to sell. But small pieces being sold through the shop help to finance the running of the place.
This is the gallery space.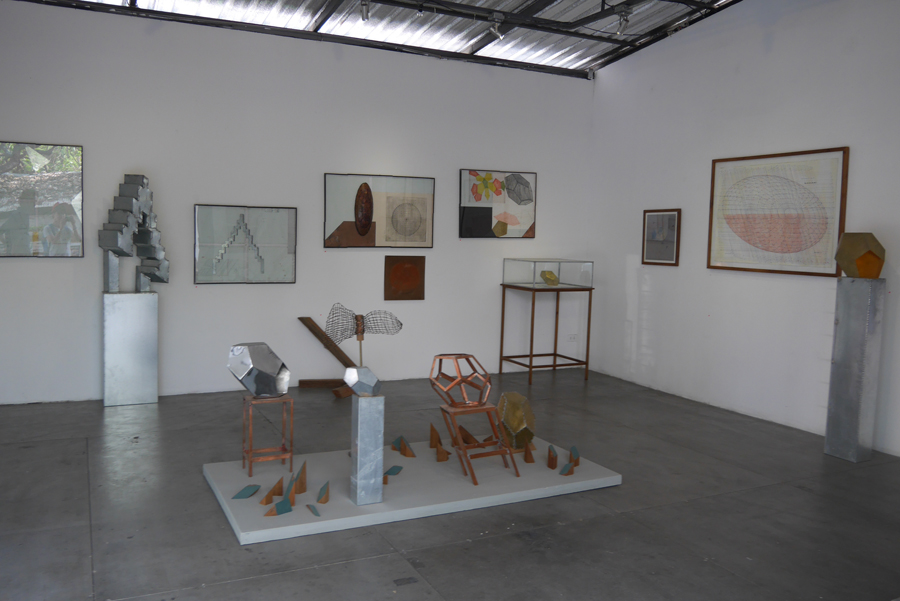 This is the shop, full of small art pieces.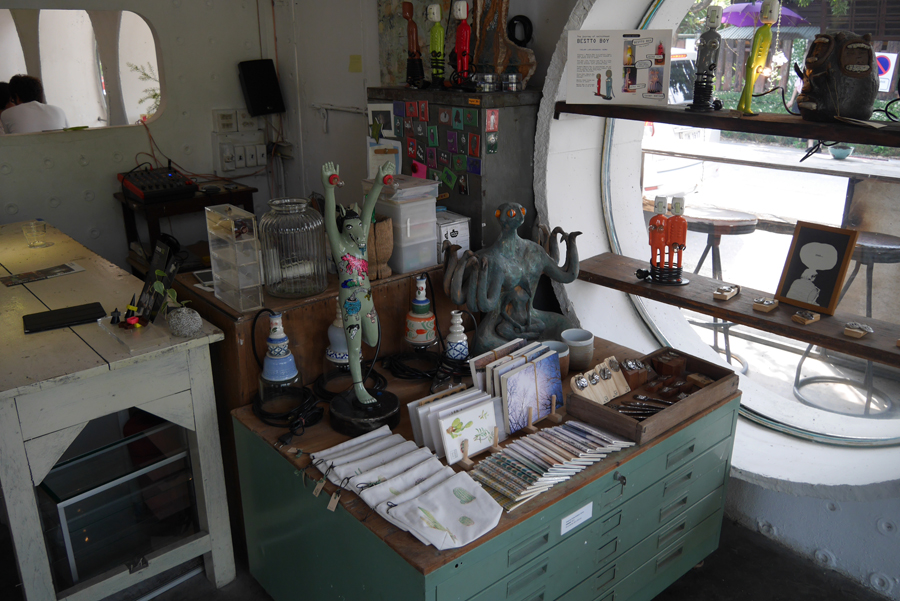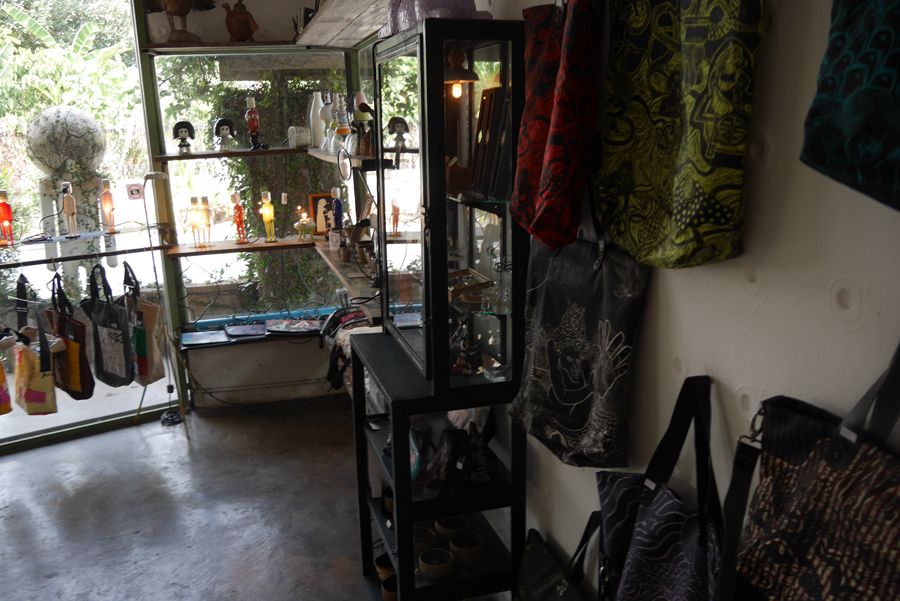 The coolest artist in Thailand: Torlarp is explaining his space to me.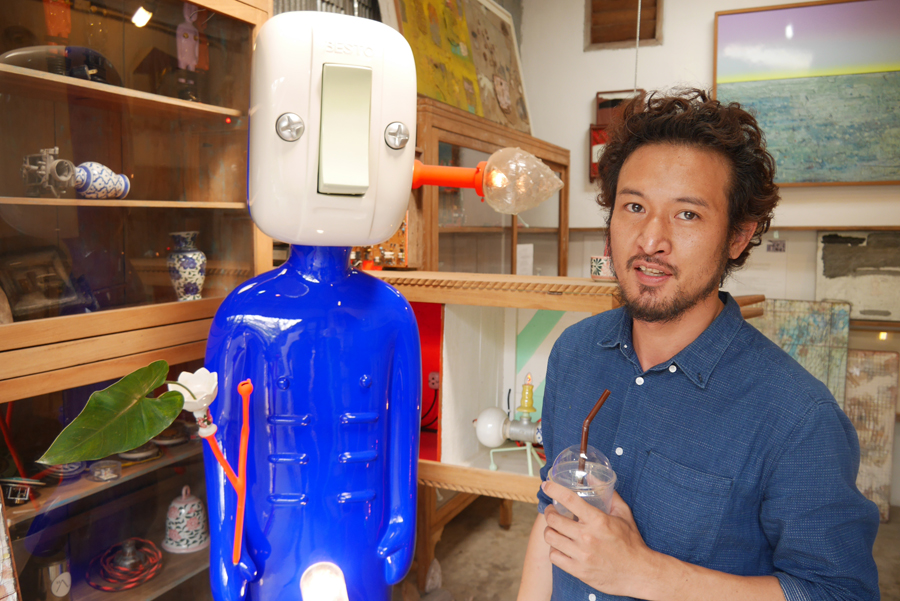 Gallery Seescape opened its café seven months ago. Many customers come for the café and pop into the gallery and shop whilst they're here.
The café. Torlarp did all of the design and construction, including the furniture. He has so many talents!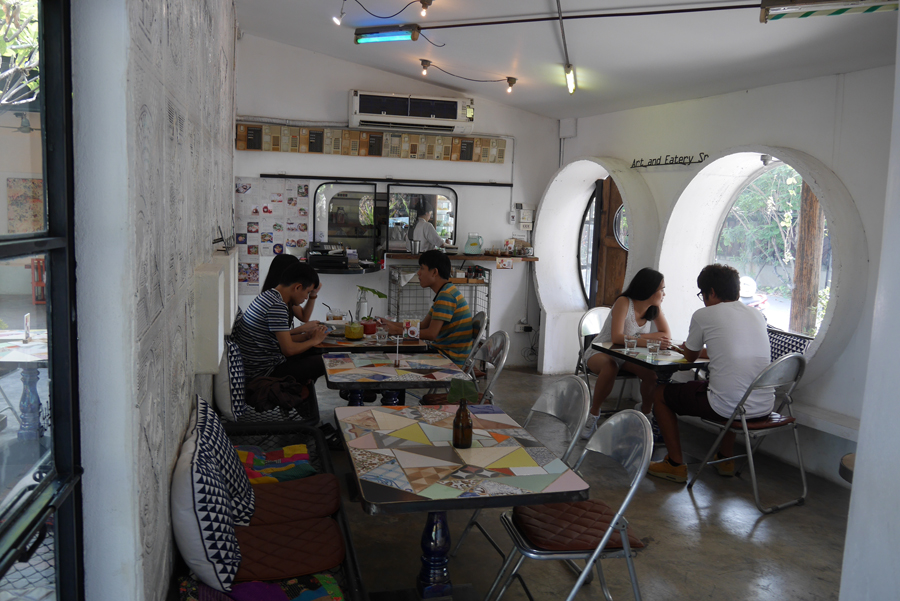 He also holds projection events, concerts, public lectures and artist workshops, as well as residency programs here. I'm surprised by his story, because Art Center Ongoing is doing exactly the same thing in Japan. Coincidentally we both opened our spaces at almost the exact same time, and he is just one year younger than me. He seems impressed with what I tell him about Ongoing too. But surprisingly, Gallery Seescape employs nine staff members!! Don't worry, he pays them properly. His business is much more successful than mine! I say that he must be making a lot of sales. He tells me that the business side of managing the space is still hard, so he makes up for financial shortfalls with the sale of his own work. He never relies on grants or support from other institutions. I really empathize. It's not easy to run an art space anywhere.
Yes, he's one cool dude.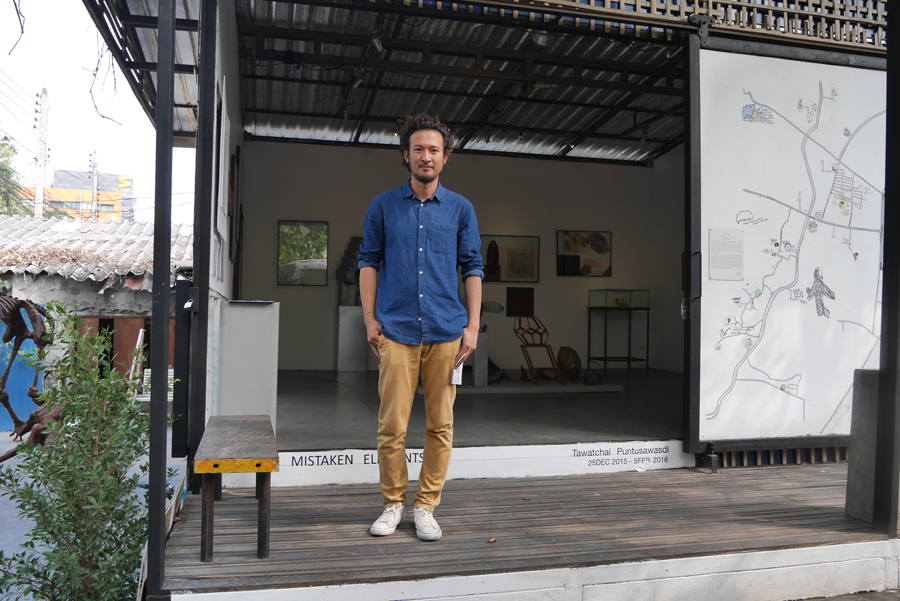 Looking stylish but surviving in a tough environment.
『Gallery Seescape』
http://seescapechiangmai.blogspot.com/
After that, he invites me to his house and studio. They're pretty stylish as well! I feel like I'm in a picture from an architecture magazine. Torlarp likes reusing waste materials, so he made almost everything with reused materials that he found on the street or got from other people. Every single part of his house is packed with ideas. Super cool.
This is his house. He designed and built this himself, too.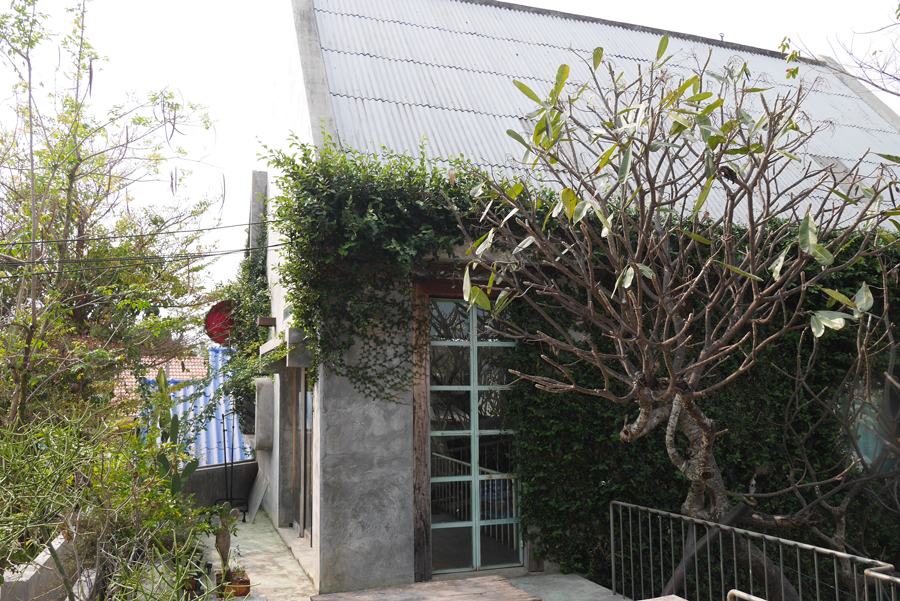 This is the interior. Lots of artwork.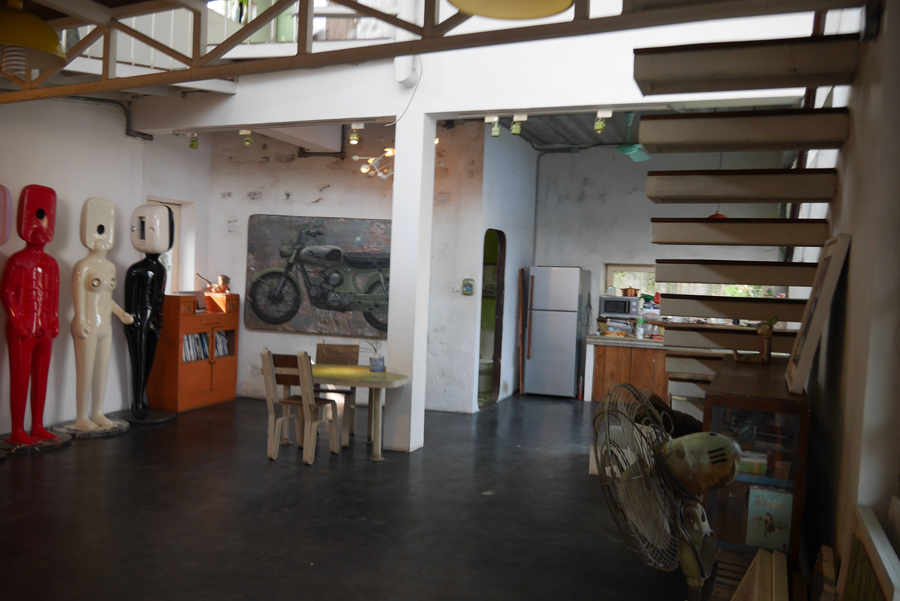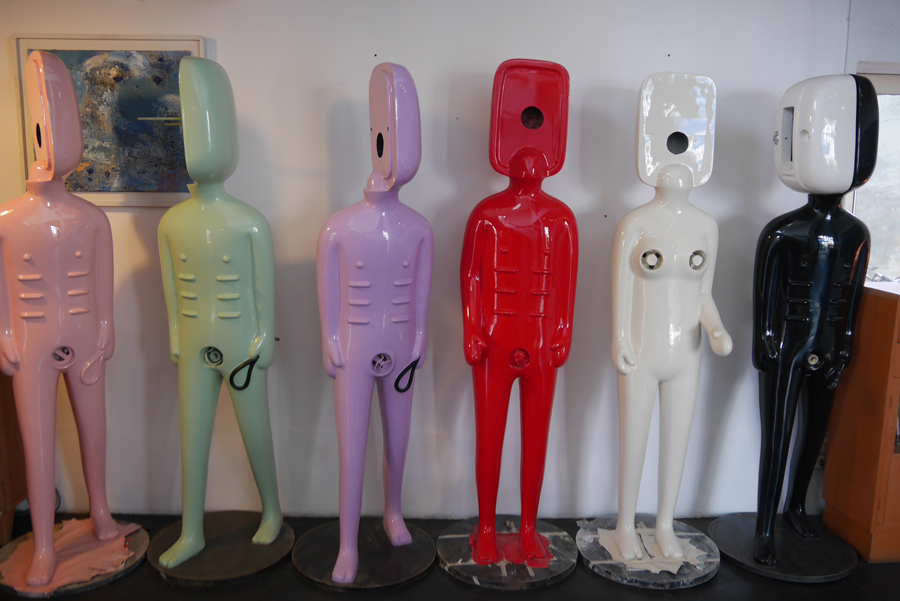 This is the shower room. He even made this tiled wall from reused materials.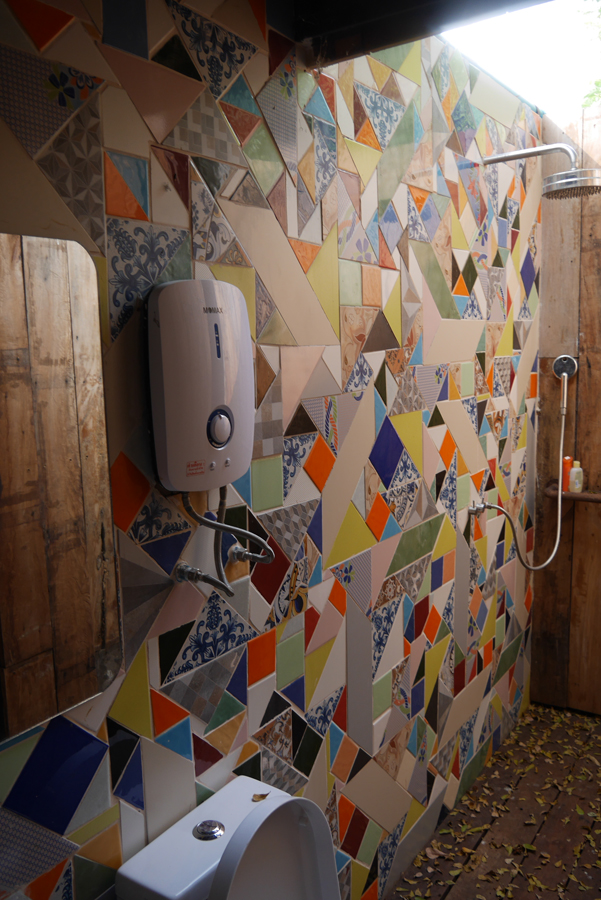 This is the new studio that is currently under construction. Of course, this is also Torlarp's design.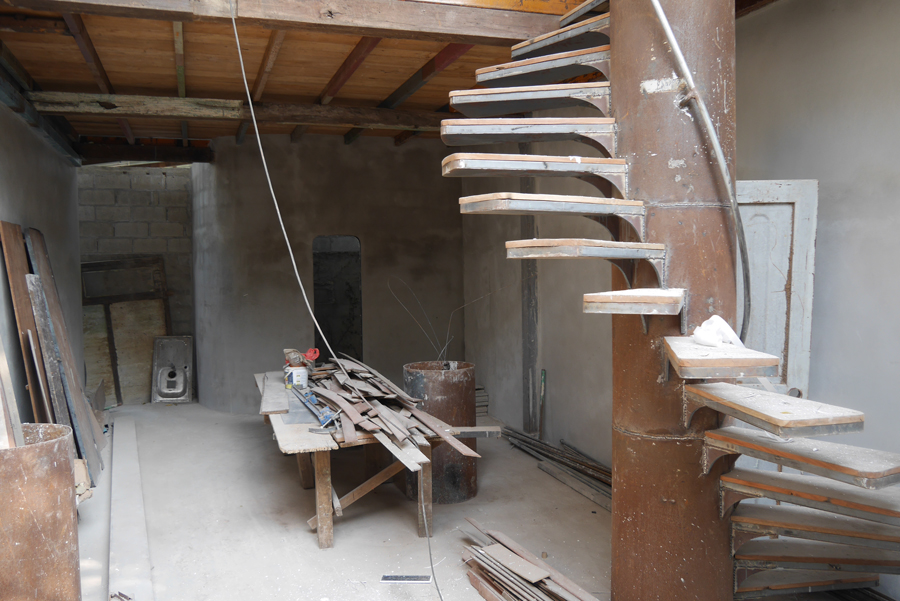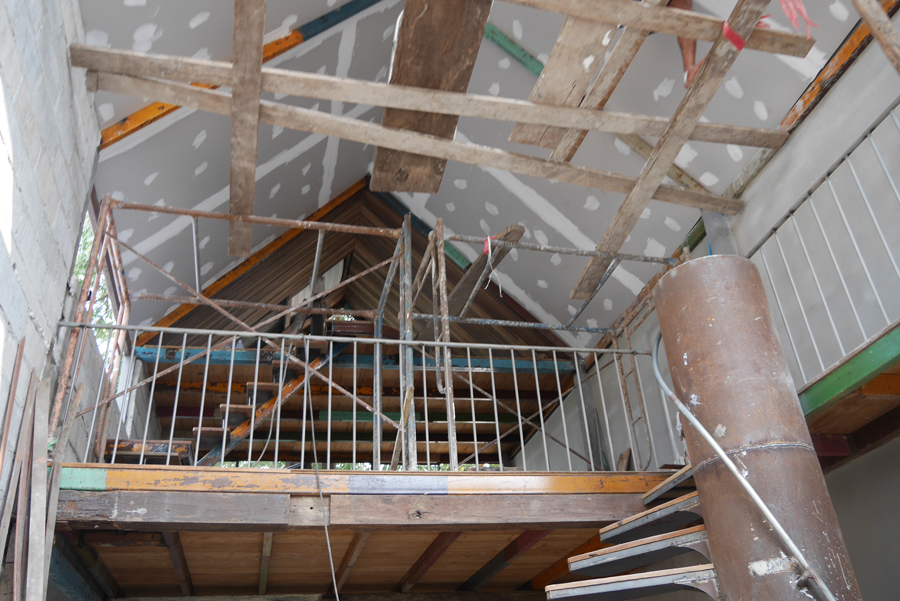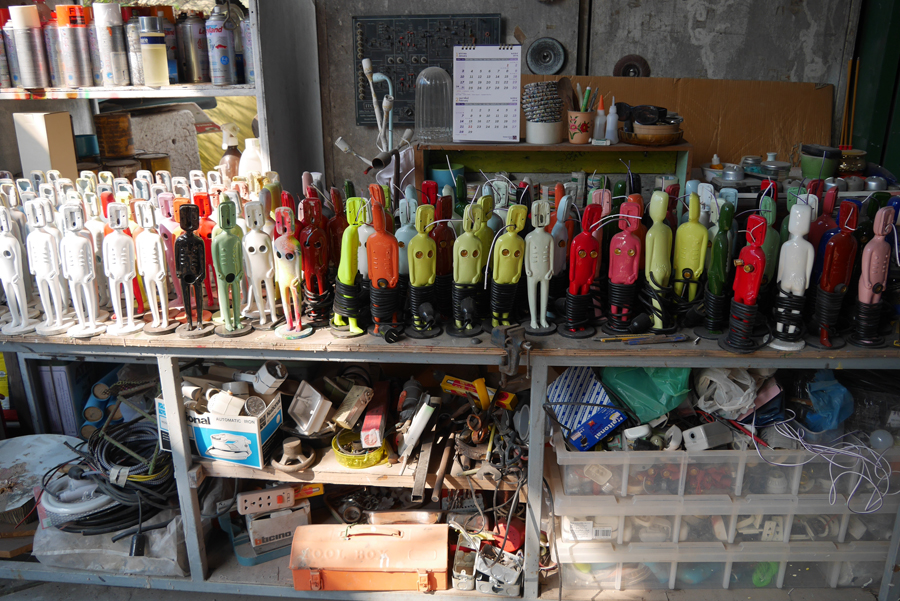 This is the studio he's using now.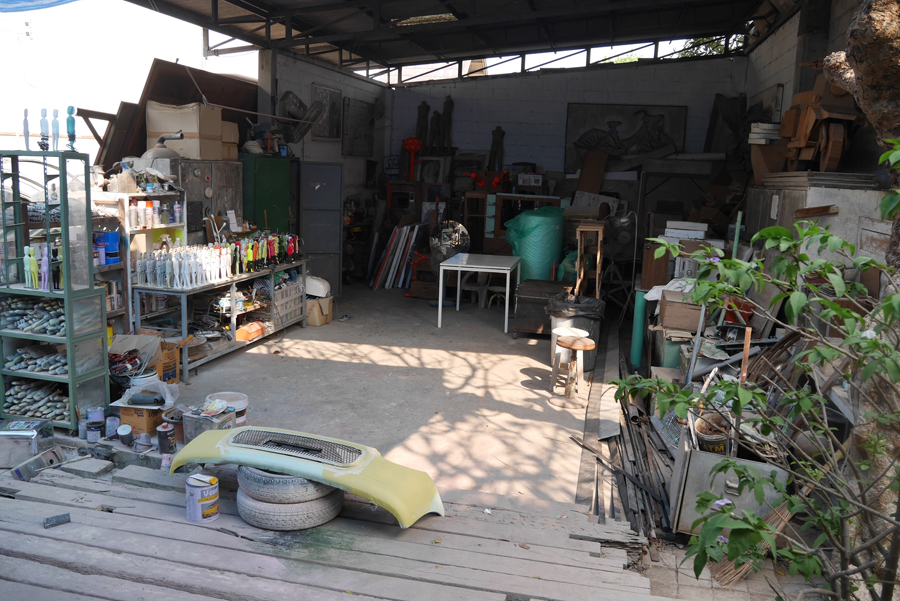 He's producing art pieces for sale at Gallery Seescape in this studio. I'm happy because I feel like he's showing me backstage. He is a simple, unaffected and charmingly nice guy, in spite of being so handsome and running his own art space. He also has quite a high voice, which is charming. There are so many nice people in Thailand! See you again, Torlarp!
In the evening, I meet up with the guys from Ongoing. We go to a night market, and have dinner at an Indian restaurant.
The curry is superb.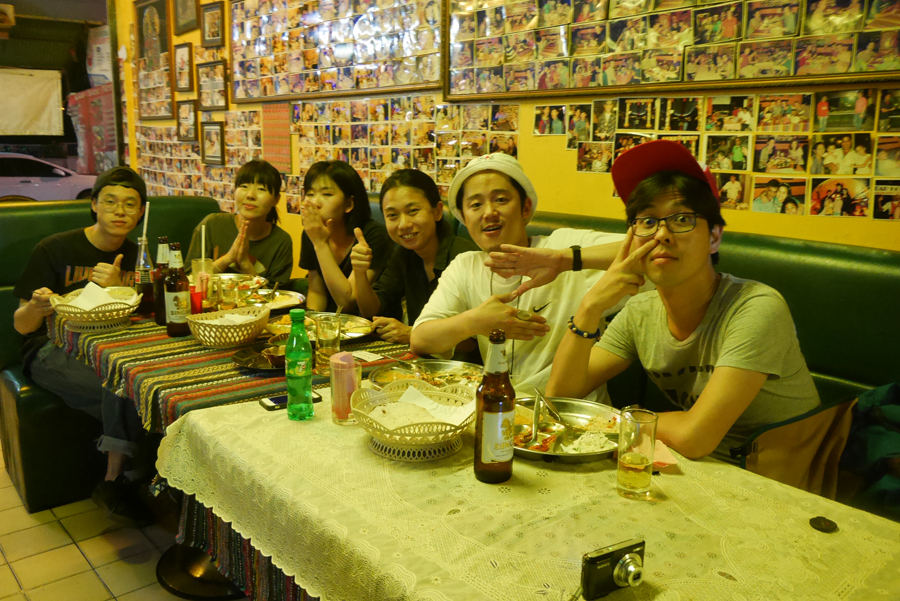 Then we take a walk around a temple at night.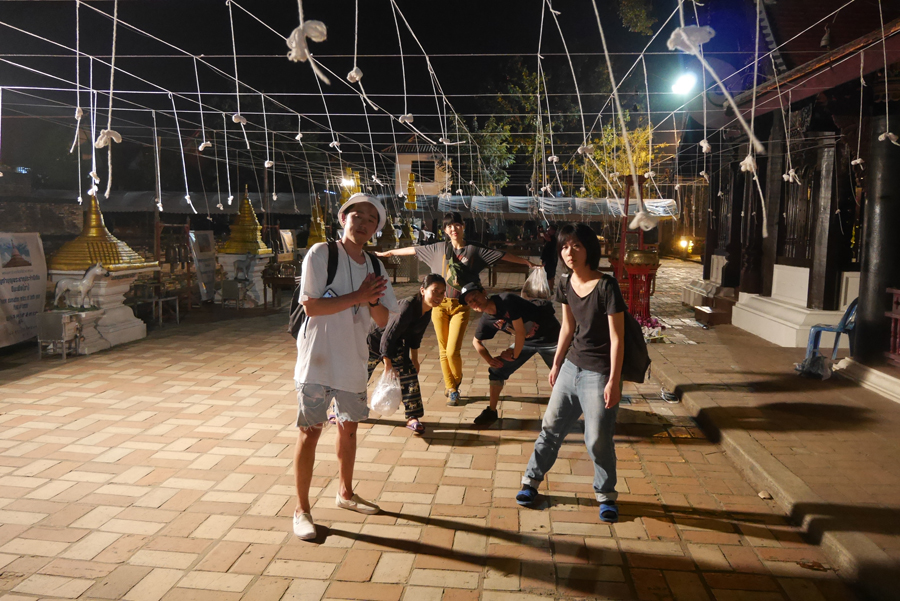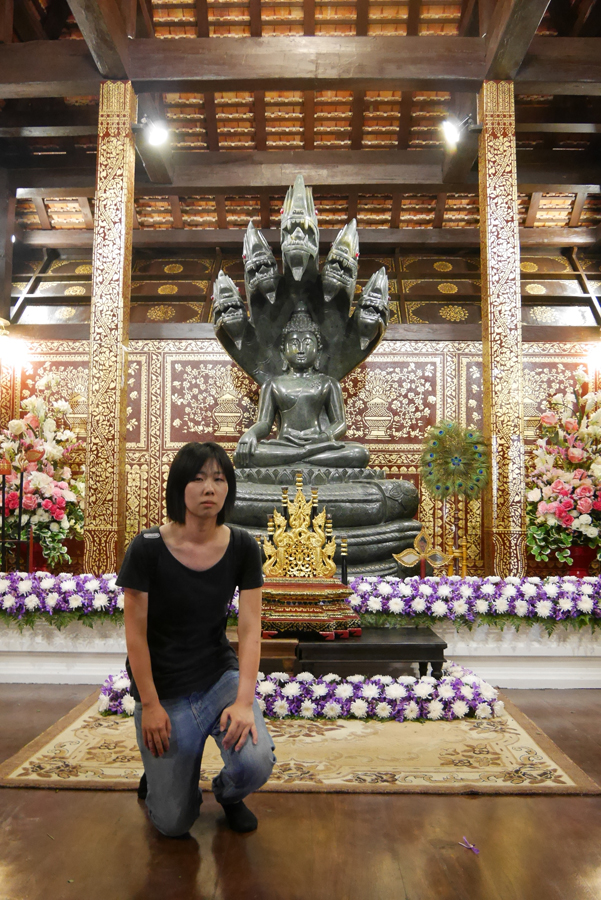 Mr. Ide and I end up getting outdoor foot massages in the night market, whilst a gentle breeze is blowing. It's soooo awesome.
Well, that's it for today. Tomorrow we head to Chiang Rai.
The Godung

Chiang Mai
Established Year: 2013
Facility and Activity: Gallery, Workshop, Music Event

Gallery Seescape

22/1 Nimmanhemin Rd. Soi 17, Muang Chiang Mai
Established Year: 2008
Facility and Activity: Gallery, Shop, Café, Restaurant, Workshop, Residence, Talk, Music Event